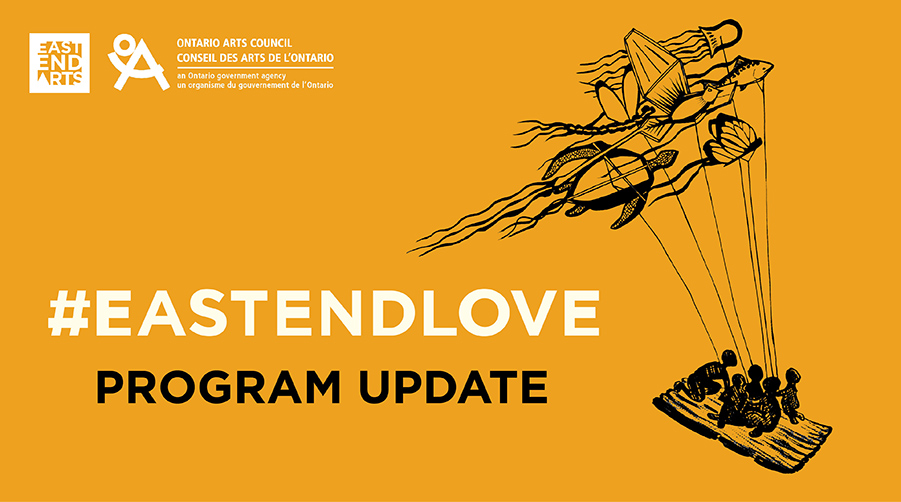 The #EastEndLove program is in full swing, and we are thrilled to share some exciting updates with you!
East End Arts, lead artist Lara Lucretia, and youth mentee Sarafina have hosted three #EastEndLove workshops over the past two months. Together, we've worked with community members from across east Toronto neighbourhoods and beyond to create images of love, acceptance, anti-hate, anti-discrimination, and anti-racism.
In each workshop, participants worked together to break down big ideas, share personal stories and anecdotes, and use stencil screen printing to interpret their feelings, ideas, and desires into works of collaborative visual art. The workshops have hosted over 50 participants from diverse backgrounds, neighbourhoods, and generations, and produced over 15 collaborative artworks. Workshops have been held at AccessPoint on Danforth, the Crescent Town Club, and at East End Arts – St. Matthew's Clubhouse with the Triangle Program – an LGBTQ2S+ Alternative School. The next stop for our #EastEndLove workshops will be on June 7 with youth and staff at the Kennedy House Youth Shelter!
East End Arts would like to acknowledge the generous support of the #EastEndLove project from the Ontario Arts Council. East End Arts would also like to thank our Community Partners, East Enders Against Racism, for their continued support of the #EastEndLove project.
Here's what participants have had to say so far:
"This helped me learn about issues that community members face. This also helped me think and organize my thoughts about systems of oppression" – Workshop Participant

"I learned about the importance of collective brainstorming/mind-mapping to talk about big issues like systemic violence" – Workshop Participant

"I have been involved in other community arts projects but ever with this theme. Just what we need today." – Workshop Participant
Check out photos of the workshops below:
Coming Soon + Impact Report
In June 2019, east Toronto community members will have the chance to check out #EastEndLove images created by community members on display in their neighbourhoods as public art! Keep an eye out for screen printed #EastEndLove images on poles, in storefront windows, in the windows of your neighbours, as well as an exciting, large-scale, wheat pasting installation and group exhibition! Full details on our final exhibition will be announced closer to June 2019 – stay tuned!
An Impact Report will also be developed by East End Arts to share and showcase the impact of the #EastEndLove project, and how the initiative can serve as a model for using collaborative, public art to build community and combat hate in our communities.
Questions about the #EastEndLove workshop? Email Program Coordinator, Adom Acheampong, at adom@eastendarts.ca.