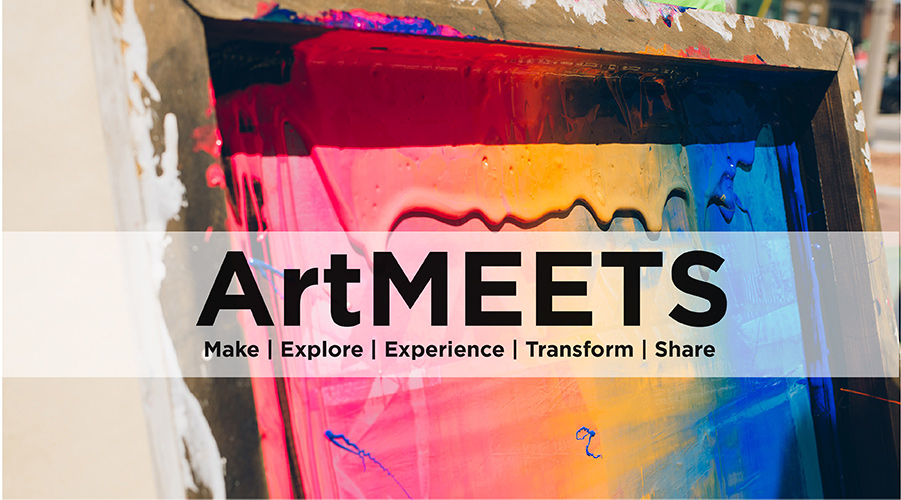 I think it is an amazing program. As a starving artist I don't take vacation in [the] summer. I got to meet amazing people and gain some inspiration and learned new techniques. Best part of my summer! The instructors were friendly and helpful and open-minded. So happy I enrolled for the workshops. East End Arts is the best! – ArtMEETS 2018 Participant
Back by popular demand! East End Arts is thrilled to announce that ArtMEETS is coming back for a third year, and we are excited to share a few program updates with you.
ArtMEETS is a series of arts workshops and experiences geared towards adults, which invite community members to make, explore, experience, transform, and share. Led by talented, engaging, and supportive artist facilitators, each ArtMEETS workshop is an opportunity to learn a new art skill, meet new people, and let your creative side shine! Now in its third year, ArtMEETS has featured 16 workshops experienced by over 200 participants. ArtMEETS workshops have always been in high demand, and in an effort to ensure that the workshops are accessible to community members and sustainable for the future, we are making a few changes to the program, as well as offering a sneak peak into this year's ArtMEETS lineup!
Workshops take place every Saturday, from July 6 – August 24, 2019
1:00-4:00pm
East End Arts, St. Matthew's Clubhouse
$10/workshop (Free spots available via Energy Exchange!)
COST
In order to continue to support the ArtMEETS program and its facilitators, as well as to offset the cost of high quality art supplies provided during each workshop, each ArtMEETS workshop will be $10. Payment is to be made online at the time of registration, which will be done via Eventbrite. Payments through Eventbrite can be made with any major credit card, or through PayPal. If you find you are having issues processing your registration via Eventbrite, or would like support during this process, East End Arts is here to help! Interested participants will be able to phone in their registrations as well.
Unfortunately, East End Arts is not able of offer refunds or exchanges at this time. If you are not able to attend an ArtMEETS workshop that you've registered for, please feel free to transfer your ticket to a friend! If you're transferring your spot to another person, be sure to email them your ticket or hand it to them personally, and let East End Arts know in advance – thank you!
REGISTRATION
Due to the overwhelming demand, in an effort to to make the ArtMEETS registration process a more equitable experience for community members, East End Arts will be introducing tiered registration dates. Registration for ArtMEETS workshops taking place in July will open starting Tuesday, June 4, 2019, 10am. Registration for ArtMEETS workshops taking place in August will open starting Tuesday, July 9, 2019, 10am. Capacity for each workshop is 25 participants.
ENERGY EXCHANGE
To ensure that the cost of each workshop does not serve as a barrier to participation, community members will have the opportunity to participate in an ArtMEETS workshop for free via Energy Exchange! An Energy Exchange is a way for you to pay for an ArtMEETS workshop with energy and time, as opposed to with money. Energy Exchange positions will include setting/packing up tables and chairs before and after an ArtMEETS workshop, participating in an ArtMEETS focus group, and more. Energy Exchange positions will be provided on a first-come, first-serve basis, with preference being given to individuals from low-income households, and/or those who identify as belonging to one or more of the following equity priority groups, as identified by the Toronto Arts Council and the Ontario Arts Council:
2SLGBTQIAP
Indigenous
Francophone
Person of Colour
Deaf
Person with Disability/ies
Person Living with Mental Illness
ArtMEETS 2019 WORKSHOPS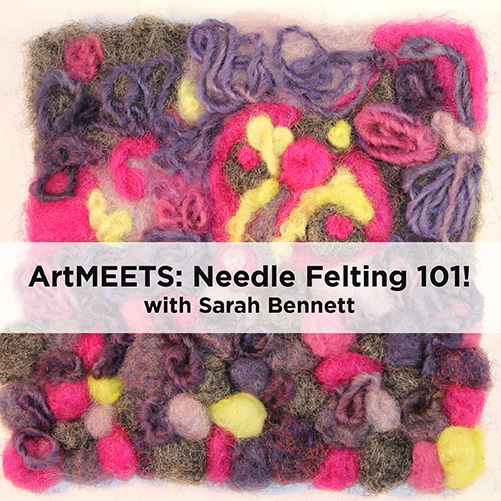 ArtMEETS: Needle Felting 101!
Facilitator: Sarah Bennett
Saturday, July 6, 2019 | 1-4pm
$10
Felting for fun!
Felting is a simple art skill, with endless possibilities to explore. Learn how to create everything from flat pieces of abstract art, to more complex, three-dimensional pieces and beyond. Participants will each take home their own felting needle and other materials to continue using their newfound art skill at home!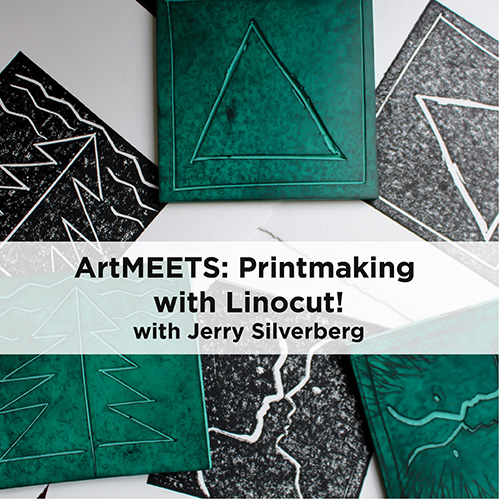 ArtMEETS: Printmaking with Linocut!
Facilitator: Jerry Silverberg
Saturday, July 13, 2019 | 1-4pm
$10
Hand-cut and print your own piece of art!
Linocut printmaking is a simple technique that offers a rewarding process for transferring ideas onto an easy to cut plate, which can then be printed as many times as you'd like! Learn how to cut your artwork skillfully into a lino block, and hand-print those illustrations to create multiple unique, vibrant pieces of artwork.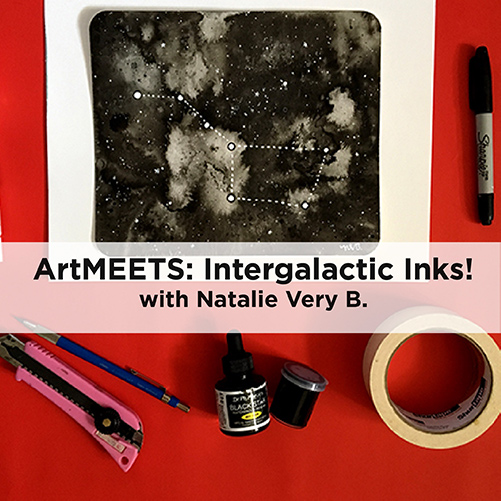 ArtMEETS: Intergalactic Inks!
Facilitator: Natalie Very B.
Saturday, July 20, 2019 | 1-4pm
$10
Experiment with Indian ink to create a galaxy-inspired art!
Indian ink is a highly pigmented media that can create fabulous textures on watercolour paper to become a magical background for unique intergalactic artwork. Learn about creative techniques such as egg drop, bloom, bleed, wet-on-wet, and more to create your unique cosmic landscape filled with stars, constellations, and faraway galaxies.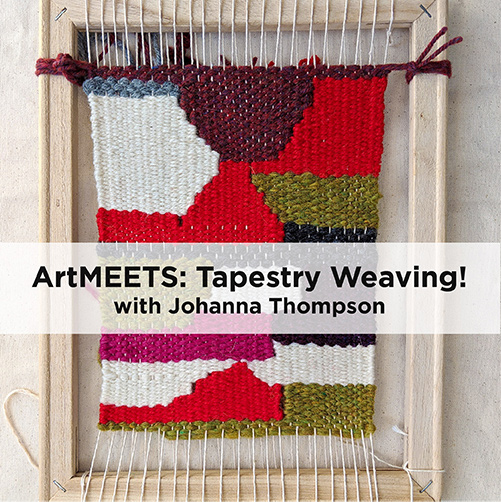 ArtMEETS: Tapestry Weaving!
Facilitator: Johanna Thompson
Saturday, July 27, 2019 | 1-4pm
$10
Make your very own 8×10" wall tapestry!
Explore colour and geometric organic form while designing and weaving your own unique piece of tapestry artwork. Learn every step of the way, including wrapping a basic frame loom, creative techniques such as plain weaves, soumak stitches, rya knots, and more! Participants will not only take home a unique piece of tapestry art, but also the confidence to use their newly acquired skills on their own.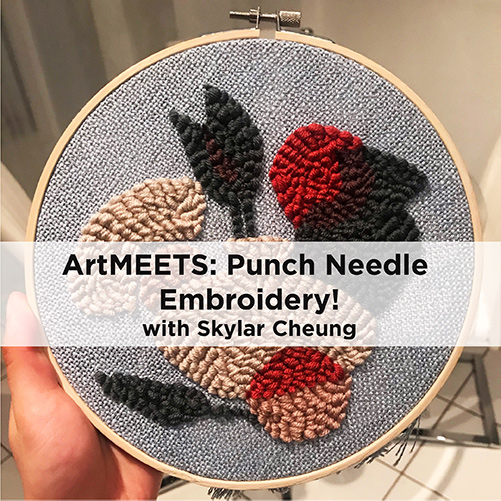 ArtMEETS: Punch Needle Embroidery!
Facilitator: Skylar Cheung
Saturday, August 3, 2019 (Civic Long Weekend) | 1-4pm
$10
Create original designs on fabric using creative embroidery techniques!
Punch needle embroidery is a safe, fast, and fun way to create original designs on any type of non-stretch fabric. Embroidered artwork can be used for wall hangings, clothing patches, tote bag pins, and more! Learn the basics on punch needle embroidery, including setting up your needle, proper sewing techniques, and best practices. The best part, you take home all your supplies with you!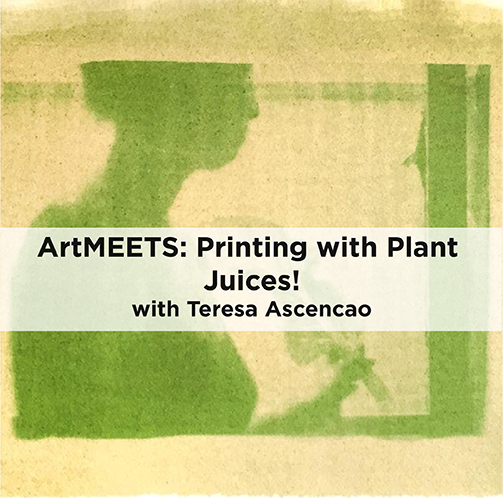 ArtMEETS: Anthotypes – Printing Photos with Plant Juices!
Facilitator: Teresa Ascencao
Saturday, August 10, 2019 | 1-4pm
$10
Spinach, beets & kale – oh my!
Learn the ins and outs of making anthotype photographs made from plant juice emulsions such as flower petals, roots, and leaves, while also learning about the history of anthotypes. In this workshop, participants will be guided through the entire process from start to finish, including the extraction process, and how to expose your photographs to get the best result!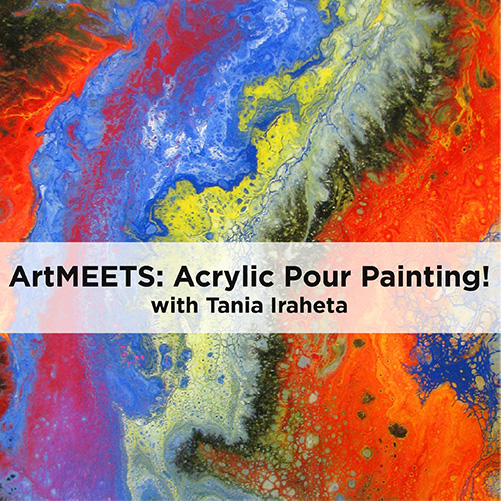 ArtMEETS: Acrylic Pour Painting!
Facilitator: Tania Iraheta
Saturday, August 17, 2019 | 1-4pm
$10
Come pour your heart out with paint!
Ditch your paintbrush, and let gravity do the work! Using subtle movements and acrylic paint, learn to create beautiful, unique pieces of artwork, while exploring a variety of paint pouring techniques to create vivid effects, including marbling, cell formations, and more. Participants will create one large piece, and get the opportunity to make several smaller pieces.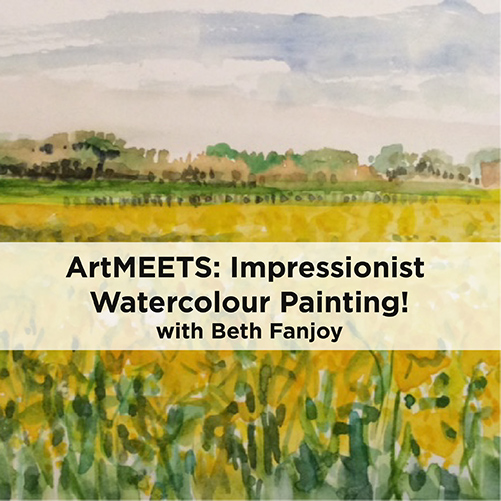 ArtMEETS: Impressionist Watercolour Painting!
Facilitator: Beth Fanjoy
Saturday, August 24, 2019 | 1-4pm
$10
Take a cue from the Impressionists to create beautiful watercolour pieces!
Capture the shifting nature of light, and focus on spontaneity over realistic depictions of life using watercolour. Creative techniques will be introduced such as the "dot" technique reminiscent of Seurat, dry bush on rough paper, wax resist, as well as playing with wet-in-wet. Each technique will reveal new ways of creating movement and light, while exploring the unique transparent and fluid nature of watercolour.