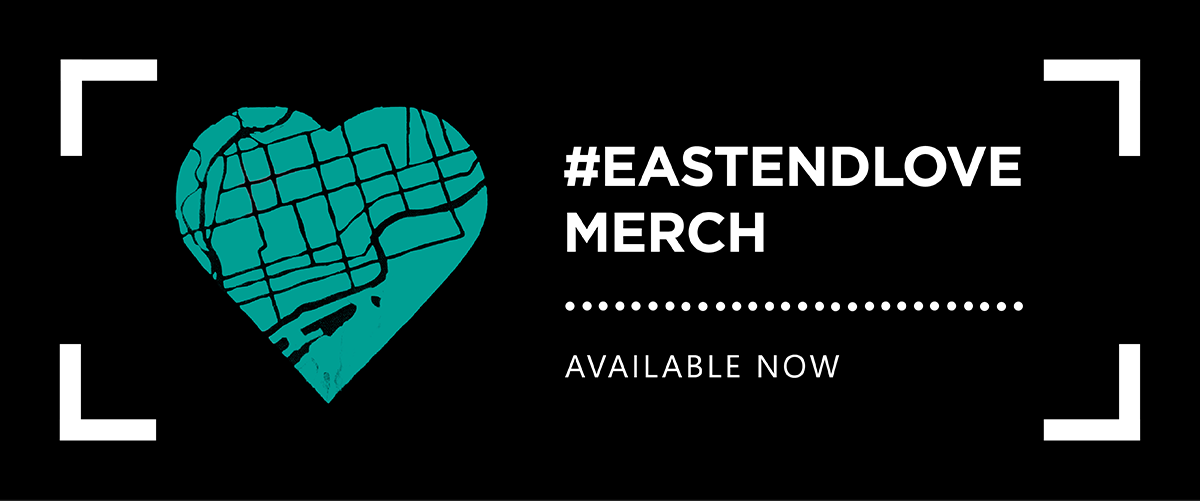 East End Arts is excited to announce a brand new partnership with local artists and makers, BBJ, to present a new collection of merchandise in celebration of #EastEndLove! 
New #EastEndLove Merch For Sale!
We've said it before and we will say it again: there can never be too much #EastEndLove in our east Toronto communities! #EastEndLove was an East End Arts 2019 program that was born as a way to unite community members and spread some much needed love in our neighbourhoods. Now, we're continuing to build on this legacy with a unique way for you to wear your heart on your sleeve (literally), support the arts, and show off your east end pride!
This new line of merchandise – featuring a t-shirt, snapback hat, tote bag and heart pin –  is in partnership with two east end artists and creators that we love, Robin and Ange from BBJ! We haven't tried anything like this before, but we are really excited about working with local artists and engaging our communities in a new and fun way for 2021-2022! With this initiative you not only get to support East End Arts, but you also support local makers and their small business – it's a win win!
Please join us in showing off your #EastEndLove and #EastEndPride with this new line of custom merchandise! All proceeds directed to East End Arts from this special #EastEndLove collaboration will go towards our youth programs specifically; when you buy a tote (or a shirt, sweater, hat or pin) you'll get to show off how much you love local artists, your east end neighbourhood, and that you support local arts programs for youth where they can grow and express themselves, like EEA's Gen Z-ines and Girls Mural Camp!
About the Design:
Ange from BBJ had the idea for a heart-shaped map fragment of the East End. Robin from BBJ let the geography dictate the outline: the curves of the Don River, the eastern shoreline and the base of Tommy Thompson Park defined the placement. So if you love the East End and your home is outside the heart, you are included! The extra-fun part is an opalescent, transparent layer representing water and parklands, like the interplay of nature and city that we all love so much about this area.
*To purchase any of the following merchandise, please visit the BBJ website*
The Merch:
CLICK HERE to head over to the BBJ website to buy your own #EastEndLove merch now!