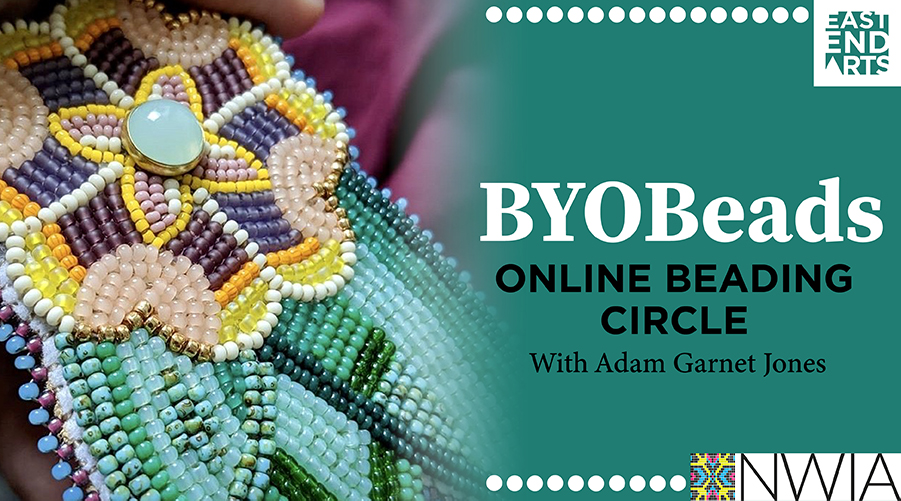 BYOBeads Indigenous ONLINE Beading Circle
Online Using Zoom & Registration via EventBrite
Thursday Evenings, May-June
7-9pm – tune in any time!
FREE
Led by Queer Metis bead-artist, novelist, & film-maker, Adam Garnet Jones and hosted by East End Arts, BYOBeads is an intimate opportunity for traditional bead artists, hobby-beaders just learning their craft, experts, elders, and enthusiasts to gather and work together on current project(s), share skills, and show off the beautiful things they've been working on!
Once again, we are thrilled to be partnering with Native Women in the Arts to present an amazing selection of Indigenous guest artists as part of BYOBeads! Each month, we invite a special Indigenous guest artist from a multi-disciplinary art form to share their work at one of our beading circles, and to have a discussion with our participants, making it a true celebration of Indigenous artistry & talent! Guest artists are drawn from Indigenous arts communities all over Canada, featuring music, playwrights, actors, storytellers, visual artists and more, celebrating the broad range of Indigenous artists from east Toronto and beyond.
So come meet online, bring a cup of your favourite tea, share your bead work, share your tips, enjoy a performance, and gather socially (from a distance!) with people who share your love of this traditional craft.
NOTE: Participants are not required to call in with video – We all know how zoomed out things can get these days, so please, feel free to join us however you feel comfortable (though we would LOVE to see your work!)
UPCOMING BEADING NIGHTS:
Stay tuned for future dates in the fall of 2021!
A note to settlers interested in attending BYOBeads:
1) This is primarily an Indigenous circle, which is open for non-Indigenous folks to attend. Please don't ask questions about culture, history, or politics. Lots of folk come here to unwind, and your questions are likely loaded in ways you may not understand. Hang out, listen, laugh, and be mindful of not taking up too much space. 
2) If you are a settler looking to learn about beading, we strongly encourage you to seek out artists who offer workshops and classes, or who have made videos teaching – or heck, you could just offer somebody whose work you admire money to share what they know with you. The worst that could happen is that they say no, and one of the easiest ways that we can be allies is with our dollars. 
This is a space that strives to be inclusive of all identities, but we don't always get it right.  Let us know if we can do anything to bring you in.
CIRCLE SCHEDULE:
BYOBeads is a very casual vibe, but for those of you looking for a bit of structure this is the approximate schedule for the evening:
7:00-7:15 – Welcome, Introductions
7:15 – Show and tell/update on Beadwork Projects
7:30-7:45 – Presentation by Guest Artist
7:45-8:00 – Discussion
8:00-8:45 – BEADS, BEADS, BEADS!
8:45-9:00 – Final Presentation by Guest Artist & Closing Thoughts
PAST GUEST STARS:
Nico Williams – June, 2021

Website | Facebook | Instagram
Nico Williams, ᐅᑌᒥᐣ is an Anishinaabe multidisciplinary artist from Aamjiwnaang First Nation. His studio practice is based in Tiohtiá:ke| Mooniyang| Montréal. Nico uses beadwork to create experimental forms and create a dialogue with his own experiences of being NDN. Nico recently exhibited work at The Musée d'art contemporain de Montréal as apart of a group exhibition. He also facilitated and presented a community-based project at the PHI Foundation.
He works with Japanese glass Delicas and creates experimental forms using geometric beadwork. He is an active member in the urban Indigenous Montreal Arts community and is a board member for the Biennale d'Art Contemporain Autochtone (Contemporary Native Art Biennial). In 2018, Williams was included in a feature article and film spot in National Geographic. In 2019, he became a core member in the Contemporary Geometric Beadwork Project research team when he was invited to participate in a creation session entitled "Art, Architecture, and Models of Hyperbolic Energy" at the Massachusetts Institute of Technology in Boston. His work has been exhibited in solo and group exhibitions across Canada and internationally, including his recent exhibition Beading Now at La Guilde, in which he presented works from 2014-2018.
Tasha Hubbard – May, 2021

Dr. Tasha Hubbard is a filmmaker and an associate professor in the Faculty of Native Studies/Department of English and Film at the University of Alberta. She is from Peepeekisis First Nation in Treaty Four Territory and has ties to Thunderchild First Nation in Treaty Six Territory. She is also the mother of a fourteen-year-old son.
Her academic research is on Indigenous efforts to return the buffalo to the lands and Indigenous film in North America. Her first solo writing/directing project Two Worlds Colliding, about Saskatoon's infamous Starlight Tours, premiered at ImagineNATIVE in 2004 and won the Canada Award at the Gemini Awards in 2005. In 2016, she directed an NFB-produced feature documentary called Birth of a Family about a 60s Scoop family coming together for the first time during a holiday in Banff. It premiered at Hot Docs International Film Festival and landed in the top ten audience choice list. It also won the Audience Favourite for Feature Documentary at the Edmonton International Film Festival and the Moon Jury prize at ImagineNATIVE.
Her latest feature documentary is called nîpawistamâsowin: We Will Stand Up, a personal exploration of the impact of the death of Colten Boushie and the advocacy of his family to achieve justice. It opened the Hot Docs International Film Festival in 2019, the first time an Indigenous film opened the festival, and it won the top Canadian documentary prize. The film has won other numerous awards, including the Colin Low Award for the top Canadian film at the DOXA International Film Festival, the Sun Jury Award at ImagineNATIVE, and the Canadian Screen Award for Best Feature Documentary.

Beatrice Deer – April 2021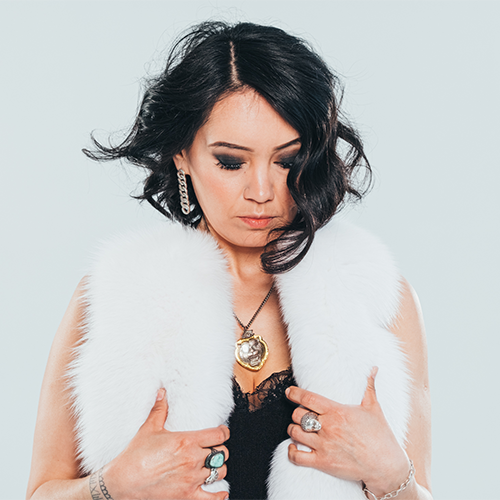 Website | Facebook | Twitter | Soundcloud | Instagram | Spotify
Canadian Aboriginal Music Award-winning singer-songwriter Beatrice Deer hails from Nunavik. Half-Inuk and half-Mohawk, Deer left her small hometown of Quaqtaq, Quebec (population: 376) in 2007 for three life-changing reasons:
1) To get serious about making music—and it worked. Deer has now released five albums, (including My All to You, her fifth record) each deepening her trademark blend of traditional Inuit throat singing with contemporary indie rock. Her themes range from classical Inuit folk tales and legends to the importance of finding understanding and the search for meaning within personal growth. She sings in three languages: Inuktitut, English, and French.
2) To pursue higher education—and to ensure that her two daughters (now aged 16 and 18) also had access to proper schooling as well. Deer's artistic experience manifests itself in countless ways: she has been everything from a book designer to an actor to a model. A highly regarded seamstress, she's also the voice of safety briefings on First Air and can be heard on children's TV shows. But above all, her primary medium is music, both as a singer and a songwriter.
3) To get therapy. "My All to You is all about owning up," she explains. "It's about reconciliation with your self—which is the hardest thing to do. And I mean that on a personal level as well as on a national level." At this moment in the country's history, when reconciliation between Canadians and First Peoples has finally become a central issue, Deer has an important message to share: she believes that reconciliation begins with each of us. "You can't be a changemaker if you haven't gone through it yourself," she says. "You can't help if you haven't gone through healing yourself. It's a lot easier to forgive other people than it is to forgive yourself. To get to where I am today I had to forgive myself many, many times. I still work on it."
As a role model for her community and an advocate for healthy living, Deer is often asked to do speaking engagements. Her primary message is that each of us must take control of our own life. "Nobody else can do it for you," she insists. "You can't change what happened. You can only change how you deal with it."
Dayna Danger – March, 2021

Dayna Danger is a 2Spirit/Queer, Metis/Saulteaux/Polish visual artist raised in so called Winnipeg, MB. Using photography, sculpture, performance and video, Dayna Danger's practice questions the line between empowerment and objectification by claiming space with her larger than life scale work.
Danger's current use of BDSM and beading leather fetish masks explores the complicated dynamics of sexuality, gender, and power in a consensual and feminist manner. Danger is currently based in Tio'tia:ke.
Danger holds a MFA in Photography from Concordia University. Danger has exhibited her work in Santa Fe, Winnipeg, Ottawa, Montreal, Peterborough, North Bay, Vancouver, Edmonton and Banff. Danger currently serves as a board member for the Aboriginal Curatorial Collective (ACC/CCA).
Vanessa Dion Fletcher – February, 2021

Vanessa Dion Fletcher is a Lenape and Potawatomi neurodiverse Artist. Her family is from Eelūnaapèewii Lahkèewiitt (displaced from Lenapehoking) and European settlers. She Employs porcupine quills, Wampum belts, and menstrual blood revealing the complexities of what defines a body physically and culturally. Reflecting on an indigenous feminist body with a neurodiverse mind Dion Fletcher creates art using composite media, primarily working in performance, textiles, video.
​She graduated from The School of the Art Institute of Chicago in 2016 with an MFA in performance and York University in 2009 with a Bachelor of Fine Arts. She has exhibited across Canada and the US, at Art Mur Montreal, Eastern Edge Gallery Newfoundland, The Queer Arts Festival Vancouver, Satellite Art show Miami. Her work is in the Indigenous Art Centre, Joan Flasch Artist Book collection, Vtape, Seneca College, and the Archives of American Art. Vanessa is a 2020-2021 Jackman Humanities Institute fellow at the University of Toronto.
Joshua Whitehead – December, 2020
Joshua Whitehead is an Oji-nêhiyaw, Two-Spirit member of Peguis First Nation (Treaty 1). He is the author of full-metal indigiqueer (Talonbooks 2017), Jonny Appleseed (Arsenal Pulp 2018), the editor of the anthology, Love after the End (Arsenal Pulp 2020) and is currently working on a creative non-fiction manuscript interrogating Indigeneity, queerness, and mental health, slated to release in Fall 2021 with Knopf Canada. Currently he is working as an ABD doctoral student in Treaty 7, Mohkinstsis.
Lindsay Nixon – November, 2020
Lindsay Nixon is a Toronto-based Cree-Métis-Saulteaux SSHRC doctoral scholarship recipient, a McGill University Art History Ph.D. candidate, and an assistant professor in Ryerson University's Department of English. They previously held the position of Editor-at-Large forCanadian Art and twice served as the Arts and Literary Summit programmer for MagNet. Nixon's first book nîtisânak (Metonymy Press, 2018) won the prestigious 2019 Dayne Ogilive Prize and a 2019 Quebec Writer's Federation first book prize, and has been nominated for a Lambda Literary Award and an Indigenous Voices Literary Award.
Nixon is the co-founder of gijiit: a curatorial collective that focuses on community-engaged Indigenous art curations, gatherings, and research dealing with themes of gender, sex, and sexuality. They are a REVEAL Indigenous Art Award recipient, and have been awarded national Magazine Awards in the Essay category for "Stories Not Told" and in the Best-Editorial Package category for "#MeToo and the Secrets Indigenous Women Keep." For their work as lead editor for the summer 2017 issue of Canadian Art, an issue on the theme of "Kinship," they were also nominated for a National Magazine Award in the "Best Editorial Package" category. Nixon's writing has appeared in The Walrus, Malahat Review, Room, GUTS, esse, Teen Vogue, CV2/Prairie Fire, The New Inquiry and other publications.
Caitlyn Bird – November, 2020
Caitlyn Bird is an Anishnaabe bead artist from Naotkamegwanning First Nation. She developed her passion for beading at the age of sixteen drawing on inspiration from her culture, elder objects, family history and knowledge. She continues to hone her craft by exploring new techniques and methods of articulation with materials such as: Czech seed beads, antique/vintage seed beads, and smoked brain tanned hide. In 2018, she was the recipient of the Native Women in the Arts "The Barbara Laronde Award" She recently graduated from the Institute of American Indian Arts in Santa Fe, New Mexico where she earned her BFA in Museum Studies. She currently lives in Thunder Bay, Ontario where she continues to practice beading having recently shown her beadwork at the Thunder Bay Art Gallery exhibit "Their Breath in Beads" (2019).
Iskwē – October, 2020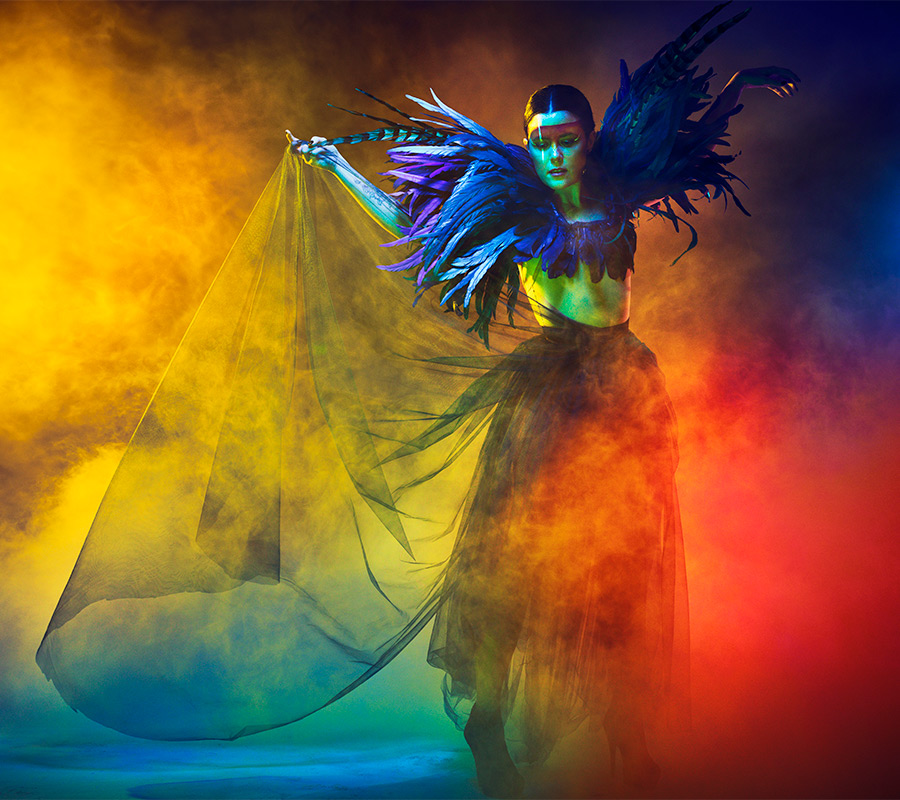 Website | Facebook | Instagram | Twitter | Spotify | YouTube
iskwē | ᐃᐢᑫᐧᐤ is, among many other things, an artist – a creator and communicator of music and of movement, of pictures, poetry and prose. And through it all, she's a teller of stories that have impacted our past and will inform our future. acākosīk | ᐊᒐᑯᓯᐠ is the culmination of her creation and collaboration to this point. It's a collection of seven sonic explorations that not only blur lines between sources and styles, but also between the actual and the ideal, the real and imagined. acākosīk has received critical praise since the release on November 8, 2019. The video for "Little Star" garnered a JUNO Award for Best Music Video in 2020, the album was nominated for Adult Alternative Album of the Year, and "Breaking Down" was nominated for a Prism Prize and SOCAN Songwriting Prize. Building on the foundation of potent, cross-cultural electro-pop established on her self-titled 2013 debut and the Juno-nominated, Polaris Music Prize Long-Listed 2017 follow-up The Fight Within, acākosīk incorporates more intense and urgent tinges of alternative, post-rock, and even industrial. The cohesive-yet-combustible result tips a cap to modern innovators like Florence + The Machine and FKA twigs while simultaneously borrowing sounds accumulated over centuries by iskwē's cree and Métis ancestors.
SAGE PAUL – September, 2020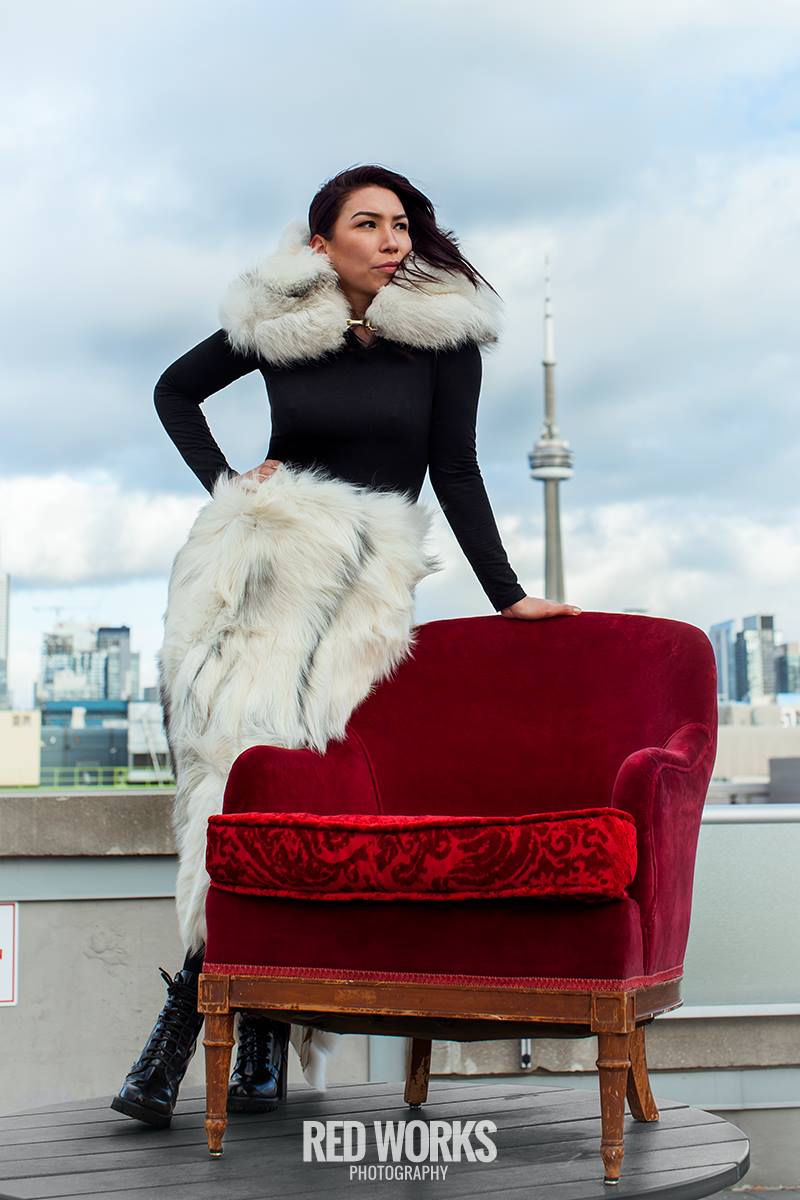 Website | Facebook | Instagram | Twitter
Sage Paul is an urban Denesuliné tskwe based in Toronto and a member of English River First Nation. Sage is an award-winning artist & designer and a recognized leader of Indigenous fashion, craft and textiles. Her work centres family, sovereignty and resistance for balance. Sage is also founding collective member and Artistic Director of Indigenous Fashion Week Toronto. Her art and design practice is conceptual, creating narrative-driven garments, crafts and costumes for artistic presentation, fashion, film, TV and theatre. Sage Paul is a sought after and artistically diverse designer; She is creatively curious and informed, with excellent and resourceful craftsmanship. Sage has a strong, broad understanding for how she and her audiences interact with and feel fashion. Some of Sage's art and design has shown at the Art Gallery of Ontario's First Thursday, Harbourfront Centre, The Centre for Craft, Creativity and Design (North Carolina, USA), and a curated program at Western Canada Fashion Week by Ociciwan Contemporary Art Collective. She has designed costumes for Kent Monkman, Darlene Naponse, Danis Goulet and more. Sage speaks about Indigenous fashion including engagements at Canada House (London, UK), The Walrus Magazine, Ryerson University, Toronto Women's Fashion Week and South Africa Fashion Week. Most recently, Sage presented her collection "Giving Life" at Festival de Mode & Design (Montreal) and Ohtaapiahki Fashion Week (Calgary). 
Sage received the Design Exchange RBC Emerging Designer Award (2017) and was recognized as a Woman of Influence(2018), a Change Maker by the Toronto Star (2018), top 100 talented & driven Canadian women by Flare Magazine (2017), a Toronto "cool girl" by Vogue (2018), and was honoured by the Ontario Minister of the Status of Women as a trailblazing woman who is transforming Ontario (2017). In 2019, Sage was nominated for the Virginia and Myrtle Cooper Award in Costume Design and the Indigenous Arts Award, both at the Ontario Arts Council.
Sage sits on the Ryerson School of Fashion Advisory Board, sits on the Board of Directors for Red Pepper Spectacle Arts and is developing an Indigenous Fashion elective course for George Brown College.
CHRISTA COUTURE – July, 2020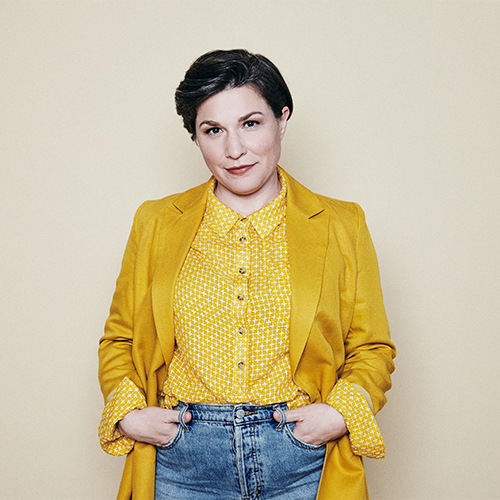 Christa Couture is an award-winning performing and recording artist, non-fiction writer, and broadcaster. She is also proudly Indigenous (mixed Cree and Scandinavian), disabled, queer, and a mom. Her seventh recording, Safe Harbour, was released on Coax Records in 2020. As a writer and storyteller, she has been published in Room, Shameless, and Augur magazines, and on cbc.ca. In 2018, her CBC article and photos on disability and pregnancy went viral. Couture is a frequent contributor to CBC Radio and is currently the weekday afternoon host at 106.5 elmnt fm in Toronto. Her memoir How to Lose Everything publishes in 2020 with Douglas & McIntyre. Couture lived for many years in Vancouver, BC, but now calls Toronto home.
Through her son's heart transplant, his death, his brother's single day of life, the amputation of her leg as a cure for bone cancer, abortion, divorce, and a move across the country to start over after it all, Christa Couture has come to know every corner of grief – its shifting blurry edges, its traps, its pulse of love at the centre, and its bittersweet truth that resilience is borne of suffering. How to Lose Everything is a collection of personal, vulnerable essays, invitations, into how Couture knows that place of exile-and how she survived it.
The stories connect dots of sorrow, despair, reprieve, and hard-won hope; part portrait of grief and part frank revealing of the emotional and psychological experiences of motherhood, partnership, and change.
It's a book for people who want to know about losses they haven't had; an insight into extreme experiences and emotions. It's a book for people who want their own losses to be named. and it's a book that aims to be a friend to anyone who's experienced loss of any kind.
FALEN JOHNSON – June, 2020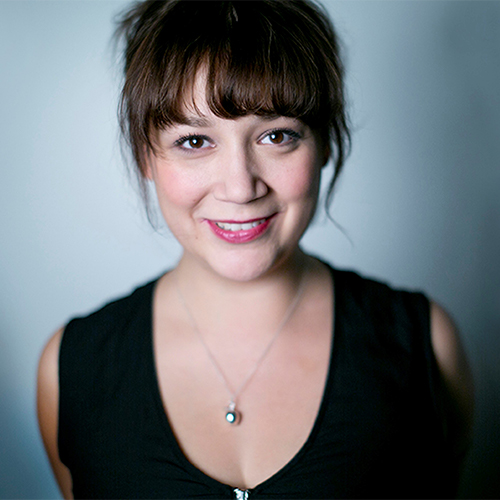 Join us on Thursday June 25th to experience a special performance from Falen Johnson! Falen Johnson is Mohawk/Tuscarora (Bear Clan) from Six Nations Grand River Territory. She is a writer and podcaster. Her plays include Salt Baby, Two Indians, and Ipperwash have played across Canada. Her writing has been featured in Brick, The Canadian Theatre Review, and Granta Magazine. She co-hosts The Secret Life of Canada (CBC Podcasts) with Leah Simone Bowen. She has written for Urban Native Girl and Merchants of the Wild on APTN and was scripted the 2020 Inspire Awards which will air on CBC in June. She was named one of Maclean's 20 to watch in 2020.
FUNDER: