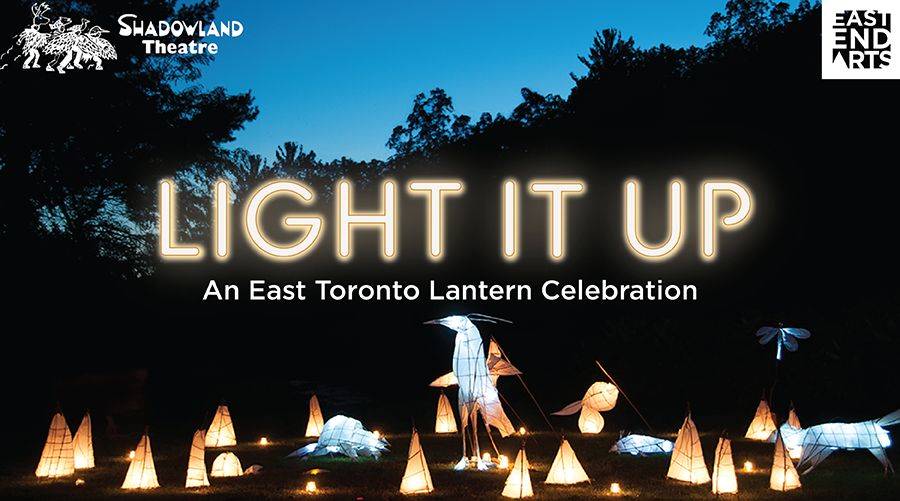 Light it Up: An East Toronto Lantern Celebration
Presented by, Shadowland Theatre & East End Arts
Live Q&A with Shadowland: March 16, 3pm on Shadowland's FB Live
Community Lantern Celebration: Saturday March 20, 2021 @7:30pm
Location: Safe from the comfort of home!
Free to participate
On Spring Equinox, day and night are equal, light and dark are in perfect balance. Let's celebrate the return of the sun, of balance, and of the love that got us through the dark of winter by filling the east end with light – inside lanterns! We may not yet be able to gather, but let's all create something together. Shadowland Theatre and East End Arts invite you and your family to join us, to learn how to create your own lantern of light and love!
The masters of community lantern making, Shadowland Theatre (who you may remember from their incredible parade in Crescent Town last summer) have created a step-by-step video tutorial on lantern making (see below!), so you can follow the instructions to make your lantern any time before Spring Equinox on March 20! Have questions? Join Shadowland's Facebook live Q&A on March 16, at 3pm.
At 7:30pm on March 20, to mark the equinox when light and dark are in balance, we will all bring our lanterns on to our porches or balconies or driveways or windows, and share some light with our neighbours.
HOW TO PARTICIPATE
Make a lantern with us following the instructional video provided by Shadowland Theatre below, or by creating something all your own! On March 20 at 7:30pm, we will all light our lanterns at the same time to celebrate the return of spring! Join the conversation over on our Facebook Event and share your lantern on March 20 using the hashtags #EastEndLove (don't forget to tag us!)
Lanterns have been designed to be made at home using materials you have on hand. Starting March 1st, a limited number of Make-Your-Own-Lantern Materials Kits are available for pick-up at Old's Cool General Store. These kits are meant for residents of Crescent Town, the neighbourhoods around Dentonia Park, and others from the east end who may need support to participate. These are first come first-serve, so please only pick up a kit if you need it. Please email Adam our Programmer, if you have questions: adam@eastendarts.ca
If you have the means to purchase your own materials (or you have them around the house already), here is what you will need:
Sheet of sturdy paper approx. 15" x 8" or 38cms x 20cms

Strip of card/Bristol Board approx. 16" or 41cms x 3⁄4" or 1.5cms

Coloured markers, (pencil crayons are possible)

A pencil and ruler

2 small rags or pieces of paper towel

Cooking oil

Tray or table covering (eg. plastic, newsprint, aluminum foil)

1 piece of wire or string approx. 18" or 46cms

1 tea light, small battery light or glow stick

Masking tape or clear tape, or white glue

Stapler, or straight pins

Scissors

Hole punch (optional)
ABOUT SHADOWLAND THEATRE
Shadowland Theatre's primary focus is to work with a wide range of communities to unearth their distinctive histories, create new stories and celebrate special events. They are known for animating streets, parks, and communities with their bold design sensibility and raucous theatricality. Community collaborations can take place over a number of weeks or months, culminating in large-scale, outdoor shows that leave a legacy of skills and inspiration. Shadowland works in rural and urban landscapes, and has a strong commitment to environmentally-themed, site-engaged work that connects us to the rhythms of our natural world.
A NOTE ON SAFETY
The goal of this program is to celebrate safely without gathering. Depending on the status of safe gatherings on March 20th, 2021, Shadowland hopes to parade some of their most spectacular lanterns through the community, but we ask that you plan to participate by sharing your lantern from your porch, balcony, front yard or window, and share pictures with us and your neighbours online using the hashtag #EastEndLove rather than gathering in person. We are all in this together, apart!