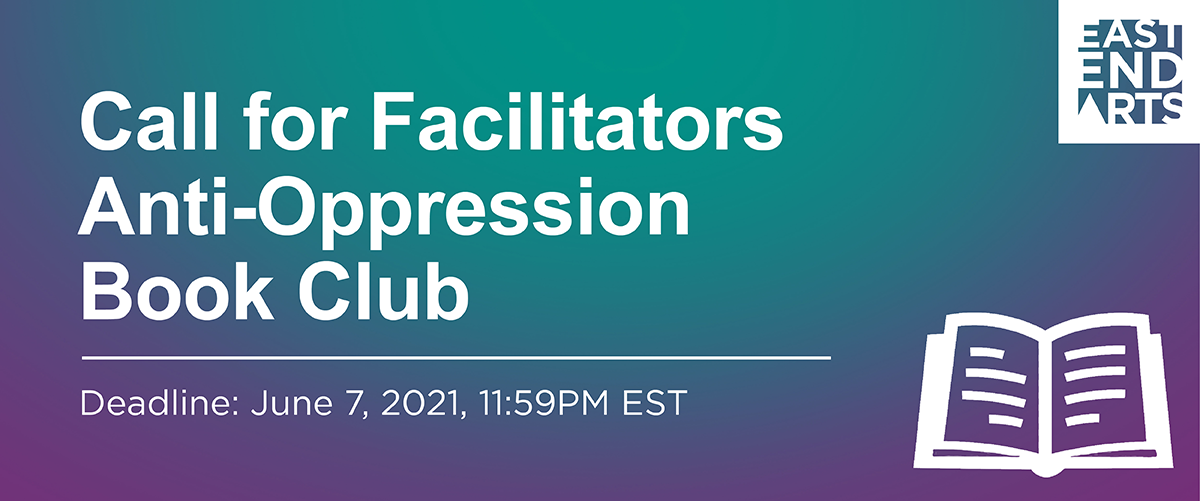 Please note that the deadline for this call has now passed. We thank everyone who applied! East End Arts invites facilitators to submit an application to lead our Anti-Oppression Book Club! The deadline for this call is June 7, 2021 at 11:59 PM EST.
ABOUT OUR ANTI-OPPRESSION BOOK CLUB
At the start of 2021 the EEA team decided that we wanted to start a Book Club. As an organization we continue to build and activate more accountable and inclusive practices into everything that we do, but we wondered how we could invite community members to be a more vocal part of this journey and practice with us. Being a team of readers and book lovers, the answer seemed to click: let's start an Anti-Oppression Book Club! Book Clubs are magical for a myriad of reasons, including providing a sense of community; championing diverse voices and points of view; providing a space to talk about important, timely topics; and diving deeper into books to find hidden messages and meanings!
The Anti-O Book Club will endeavour to be a space where people can share ideas, ask important questions, and share their love of literature and social justice in an inclusive and respectful environment. Led by a talented artist facilitator, our Book Club will meet bi-monthly on Zoom starting in September of 2021, with a focus on literature like memoirs/autobiographies, fiction and short stories by diverse voices, and general 'How to Be a Better Ally' books. Apply to help us lead this new and important online space!
ABOUT THIS CALL FOR FACILITATORS
Are you an experienced facilitator with a love of literature and a passion for diversity? EEA is excited to be starting an Anti-Oppression Book Club, and we are looking for an online facilitator to lead this exciting new program! We are looking for a local literati with a strong background in social justice to lead this new program. We hope to create an online space where community members can come together to explore new and classic work from authors on the margins. We would love some one to guide us through readings as varied as Jonny Appleseed, The Skin We're In, Butter Honey Pig Bread, and all the incredible books we don't know about that you love! The Anti-O Book Club Facilitator will help select final books for the book club along with EEA staff, lead discussions at monthly sessions, and curate additional resources for each book we read.
SELECTION PROCESS
Priority will be given to artists from EEA's Priority Groups, with particular weight given to applications from artists or arts facilitators who have a literary and/or social justice background.
For each bi-monthly book club (5 in total), the selected facilitator will be paid $350 to facilitate online, plus $225 for prep, including correspondence & admin, as well as the creation of discussion questions, and post reading resources.
IMPORTANT DATES
Deadline for submissions: June 7, 2021
Launch of Book Club, including book line up: August 1, 2021
First Online Book Club: TBD – September 28, 2021
Book Clubs will take place every 2-months from September 2021 – May or June 2022
HOW TO APPLY TO THE ANTI-OPPRESSION BOOK CLUB CALL FOR FACILITATORS
Thank you for your interest in our Anti-Oppression Book Club! To apply, please email one single PDF document, which includes your answers and all support material, to submissions@eastendarts.ca, with the following information:
Name of Facilitator:
Postal Code:
Website:
Social Handles:

How would you lead a group of online east enders in learning more about anti-oppressive practices through literature?(max 200 words)

Which five books would you choose for our bi-monthly readings, and why? (max 200 words)

Please provide an artist bio (200 words), attach a CV

& promotional headshot




** This Bio & Headshot  will be used as promotional material for selected artists.

Please confirm if you are a member of any of East End Arts' Equity Seeking Groups:




-Local East Toronto Resident




-Female/Non-Binary Identifying




-Indigenous




-Black




-Person of Colour




-Person living with Disabilities and/or Mental Illness




-LGBTQ2+




-Newcomer




-Senior




-Youth




-Low Income Community Member




-High Density Tower Community Member




-Crescent Town Community Member




-Bengali Community Member




-Francophone
Please save your single PDF document with your name in the file name, and AntiOClub at the end, i.e. Robin_Smith_AntiOClub.pdf.
If you have any questions about the application process you can email our Programming Coordinator Adam, adam@eastendarts.ca. No phone calls, please.
Deadline for submissions: June 7, 2021 11:59PM EST