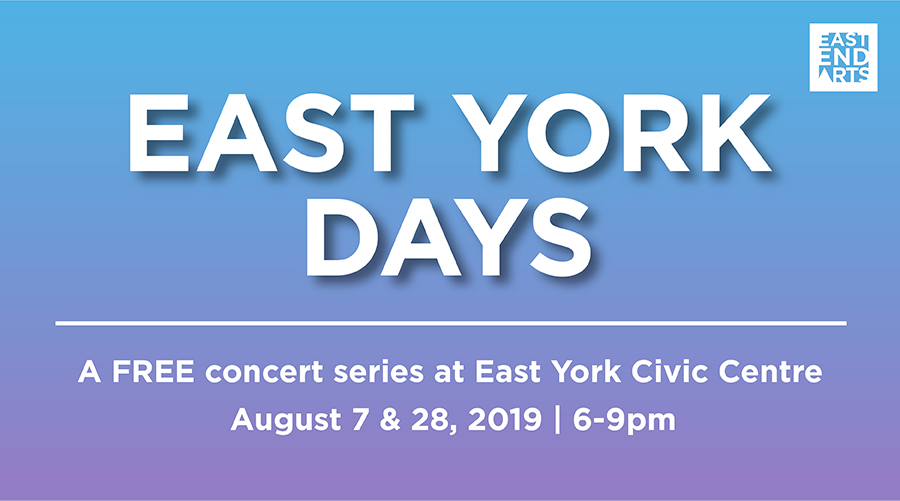 East York Days is a FREE outdoor concert series at East York Civic Centre on August 7 and 28th from 6-9 pm!
East York Days 2019
Wednesday, August 7, 2019 | 6:00 – 9:00 pm
Wednesday, August 28, 2019 | 6:00 – 9:00 pm
East York Civic Centre | 850 Coxwell Avenue
FREE! | Facebook Event Page
Presented by East End Arts in collaboration with Councillor Paula Fletcher (Ward 14), the City of Toronto's City Hall Live program, and hosted by Errol Nazareth from CBC's Big City Small World, East York Days is a celebration of community featuring live music by local musicians, an artisan marketplace, and a variety of some of Toronto's favourite food trucks. This event is free, so bring the family, a blanket or lawn chair, and enjoy local sounds and tastes!
This is East End Arts' 2nd year hosting this event, after a successful pilot in 2018 with Councillor Mary Fragedakis. We welcome all to join in by applying to be an artisan vendor, signing up to volunteer (it takes a village to make events like this happen!) or simply marking Wednesday August 7th and 28th (6 to 9 pm) in your calendars, so you don't miss out on the fun!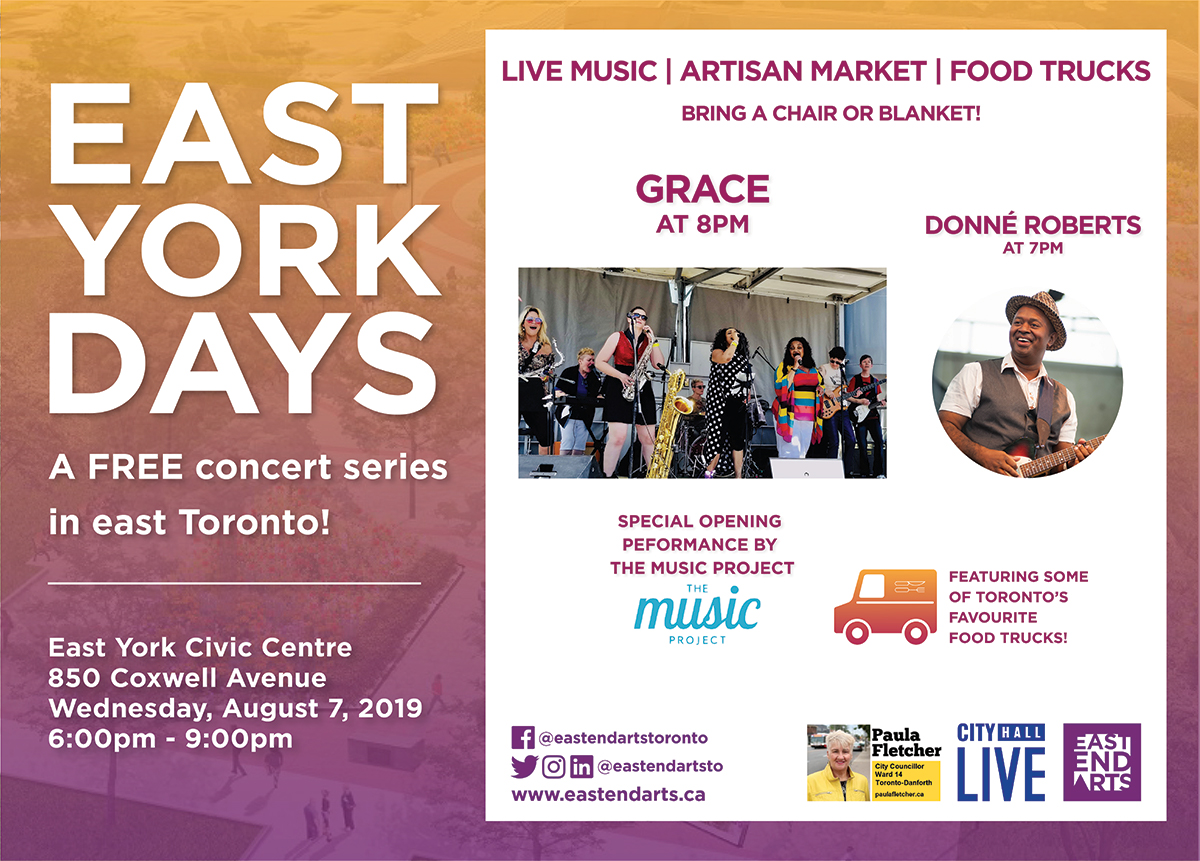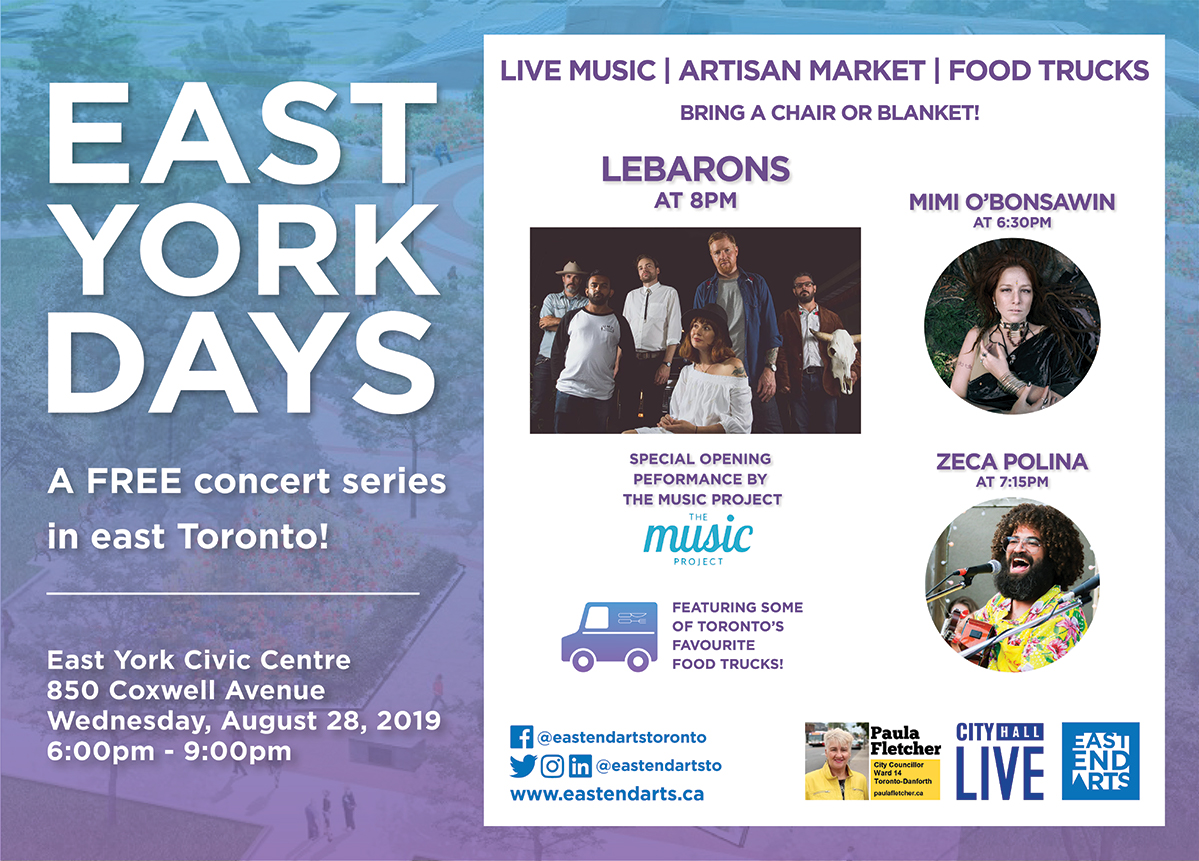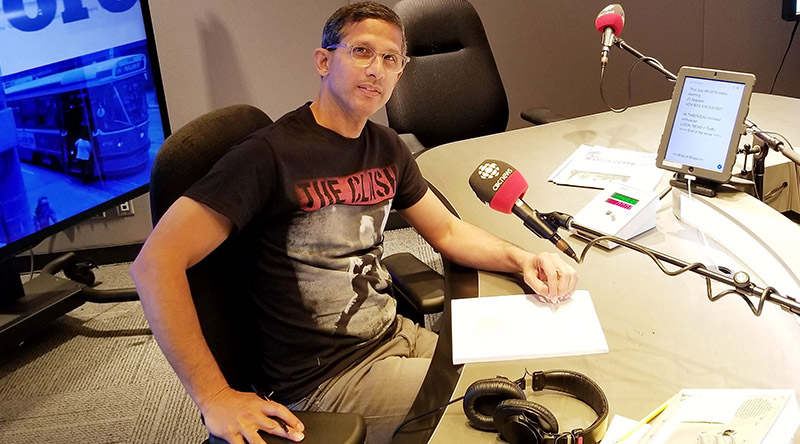 Errol Nazareth is a music journalist who's been playing with words professionally for over 20 years. He's a regular contributor to CBC Radio's Metro Morning and Big City Small World shows, he's hosted his own national shows on Radio One, and he's talked about musical trends on Definitely Not The Opera and Sounds Like Canada. Nazareth also worked as a music columnist withThe Toronto Sun and Eye Weekly. He currently works at CBC as a digital journalist and teaches a media writing course at Centennial College.
MUSICAL LINEUP
Wednesday August 7, 2019, 6-9pm
Headliner, 8pm – GRACE
GRACE is an all-women disco, R&B, funk, soul, and rock band that invites you to boogie on down and move to the music! GRACE covers hits by everyone from Sly and the Family Stone to Bruno Mars and The Weekend. Featuring powerhouse vocals, spine-tingling harmonies, a sensational horn section, and one of the best rhythm sections you'll ever hear, GRACE is a band of über-talented women who will keep you on your feet! Formed in the summer of 2014 by Mae Cromwell and Rhonda Bruce, GRACE is a Toronto-based funksoulicious band bringing you bombastic brass, groovin' rhythms, killer vocals, and a whole lotta love! Members include: Mae Cromwell – Lead Vocals, Rhonda Bruce – Bass/Vocals, Cathy Marchese – Drums, Janet Whiteway – Keys/Vocals, Aimee O'Connor – Guitar, Naomi Higgins – Sax, Ashly Kurkjian – Sax, and AshE – Vocals.
Opening Act, 7pm – Donné Roberts
Donné Roberts is a passionate performer, guitarist, singer, and songwriter from Madagascar. When he hits the stage, he carries with him an energy that immediately exhilarates the crowd, even if they've never heard his music before. Donné performs mainly in Malagasy, his mother tongue from his birthplace of Madagascar; yet, this never proves to be a barrier to the audience, providing living proof that music truly does transcend language.Donné came to wider recognition after he released his albums "Rhythm Was Born" and "Internation", and for his contribution as one of the members of the African Guitar Summit project, which won a JUNO in 2005 and was nominated for another one in 2007. Donné was raised and educated in Moscow, Russia and now lives in Toronto. In Moscow, he was the first black VJ on MTV Russia. Touring Canada, he introduces his music to new fans that might be unfamiliar with the kinds of rhythms his music conveys, and his fusion of seemingly dissimilar sounds. On this new album, the language combinations melt with his musical compositions to great effect. Though the songs were created for this project, they have a way of sounding familiar and new at the same time.
Special Performance, 6:30pm – The Music Project
Enjoy a special opening performance by students from The Music Project, a non-profit music school that serves children in grades K-12 in Toronto's east end. With a focus on collaborative music-making and performance experiences, The Music Project offers lessons in music foundations, guitar, piano, drumming & percussion, ukulele, and choir. The Music Project is open to all children, with a focus on kids who otherwise would not have access to music-making opportunities or education. East End Arts is proud to be a community partner supporting The Music Project.
Wednesday August 28, 2019, 6-9pm
Washrooms
Washrooms are located in the East York Civic Centre at the west end of the Square. Note there are washrooms on both floors.
Accessibility
The square at East York Civic Centre is fully accessible, including the washrooms.
FOOD TRUCKS
Food and drinks will be available for purchase from our amazing Food Truck vendors during the event from 6:00 – 9:00 pm.
The Pop Stand offers delicious, handcrafted ice pops and cordials.
Wickedly Sinful specializes in poutine creations, seasonal specials and sinfully delicious desserts.
Queen Arepa makes scrumptious Venezuelan arepas and cachapas.
ARTISAN VENDORS
Rain Date
The event goes on, rain or shine!