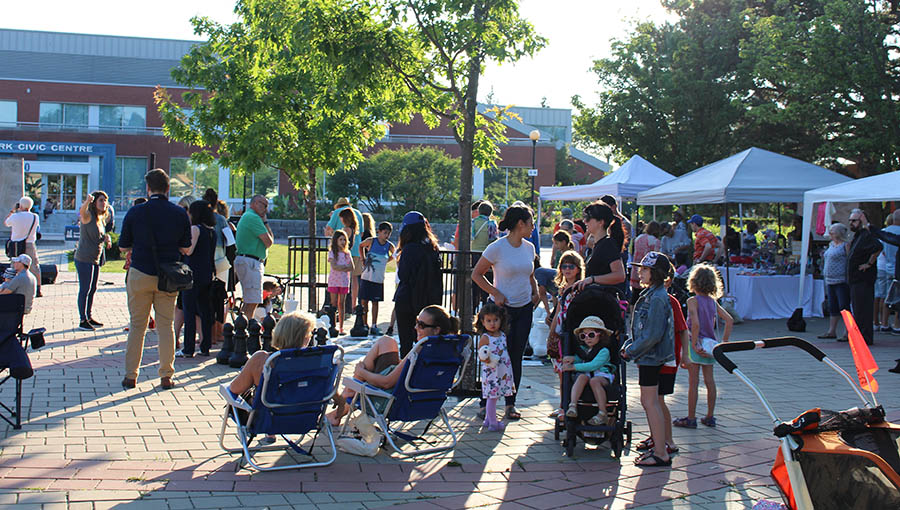 East End Arts is looking for volunteers to help with our East York Days concert series this summer! Keep reading to learn more about East York Days and the available volunteer positions.
ABOUT EAST YORK DAYS
Presented by East End Arts in collaboration with Councillor Paula Fletcher and the City of Toronto's City Hall Live program, East York Days is a celebration of community featuring live music, an artisan marketplace, and some of Toronto's best food trucks!
Dates: Wednesday, August 7th, and Wednesday, August 28, 2019
Time: 6:00-9:00 pm
Location: East York Civic Centre, 850 Coxwell Avenue
VOLUNTEER PERKS & RECOGNITION!
In recognition of your incredible support, all volunteers will be thanked and recognized in the following ways:
Eat up! All volunteers will receive a delicious pizza dinner during their volunteer shift.
Enjoy the view! All volunteers will receive exclusive access to a private balcony at the East York Civic Centre to enjoy the performances from an incredible vantage point. The balcony will be attached to a private Volunteer Space, stocked with drinks, pizza, and healthy snacks to enjoy during breaks.
Carry some #EastEndLove with you wherever you go! Individuals who volunteer for both evenings will receive a free #EastEndLove tote bag.
Volunteers will also receive volunteer hours for school and/or other uses. Please note, individuals who require sign-off on volunteer hours should bring all necessary paperwork with them on the day of their volunteer shift.
AVAILABLE ROLES & RESPONSIBILITIES
East End Arts Tent Attendant 
Help us give a warm welcome to our event attendees! As the Tent Attendant, you will be stationed at East End Arts' tent for the duration of the event. You will be responsible for greeting attendees, sharing information about East York Days, answering questions about event logistics (washrooms, performance showtimes, etc.), and more.
Arrival Time: 5:30 pm
Departure Time: 9:00 pm
Notes: Individuals in the role should be comfortable standing and/or sitting for prolonged periods of time. Individuals in this role should also be comfortable speaking and interacting with the general public.
Set-Up/Strike 
Help us set the stage! As our Set-Up/Strike volunteer, you will be responsible for setting up various equipment with support and guidance from East End Arts staff. Equipment includes tents, tables, chairs, food & drink, artist & volunteer green room, and more. During the event, volunteers in this role will also navigate the event as floaters, providing help when and where possible! After the event, volunteers will be required to strike (take down) all equipment with support and guidance from East End Arts staff.
Arrival Time: 4:30 pm
Departure Time: 10:00 pm
Notes: Individuals in the role should be comfortable lifting and walking with heavy equipment such as tables, chairs, banners, cases of water, and more. Individuals in this role should also be comfortable with light cleaning tasks, such as wiping down tables, collecting small amounts of garbage/recycling, etc. Accommodations can be made for volunteers with accessibility needs.
See a role you're interested in volunteering in? Great! Fill out the application below and a member form the East End Arts team will be in touch.