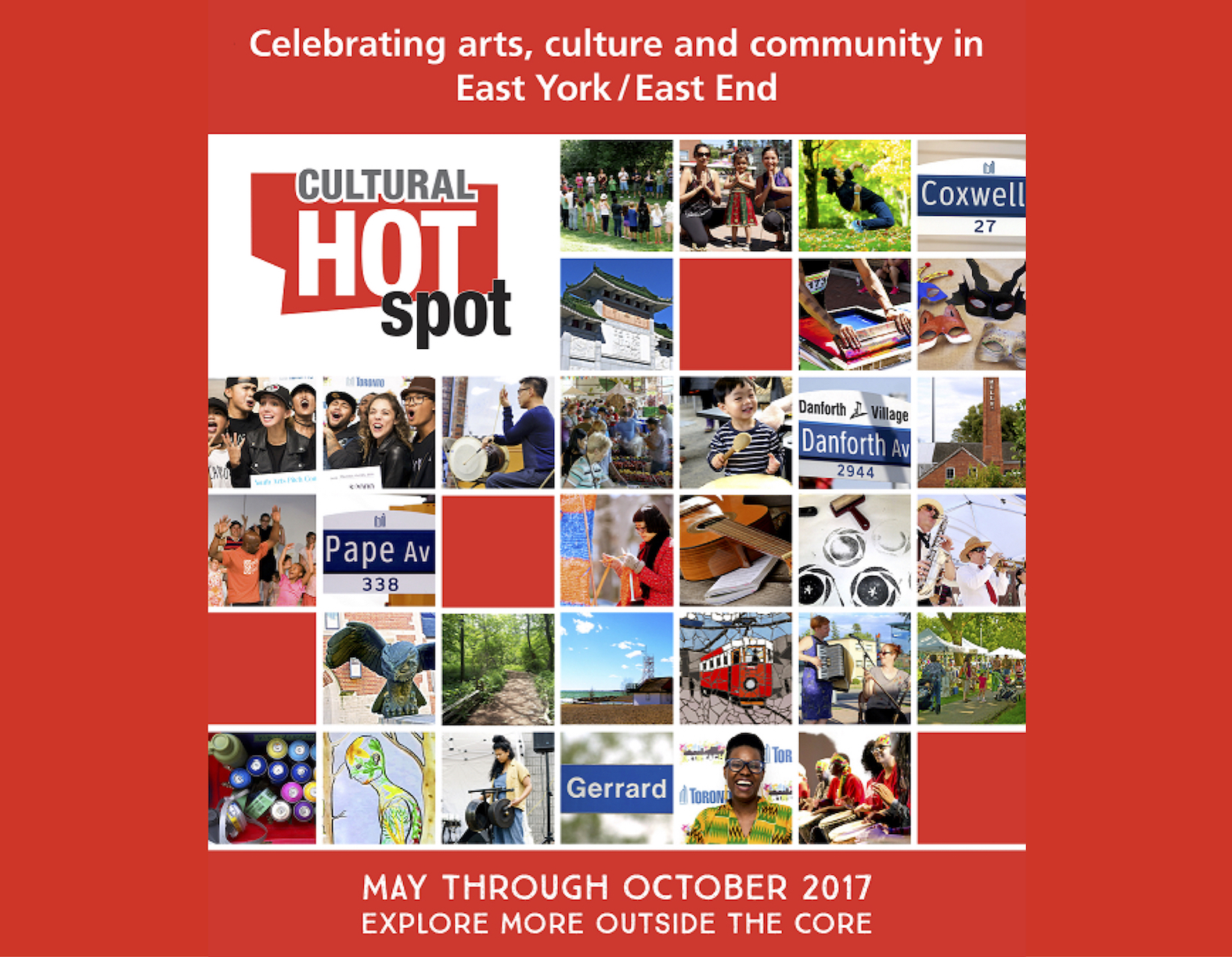 Cultural Hotspot East
May–October 2017
Toronto's East York / East End

Cultural Hotspot is a project that celebrates culture, creativity, and community in Toronto. From May through October 2017, the Cultural Hotspot program will shine a spotlight on arts, culture, and community in East York, inspiring new ideas about where culture thrives in Toronto. This City of Toronto and partner-produced initiative features a series of signature projects that include visual arts, performance, youth mentorship and employment, and more.
The Cultural Hotspot website features a list of Events, Program Guide, Projects, the Cultural Loops Guide (coming soon), and HOT Eats (coming soon) directory to help you explore and navigate your arts, culture, community, and culinary experiences in the east end.
Cultural Hotspot is presented by Toronto Arts & Culture.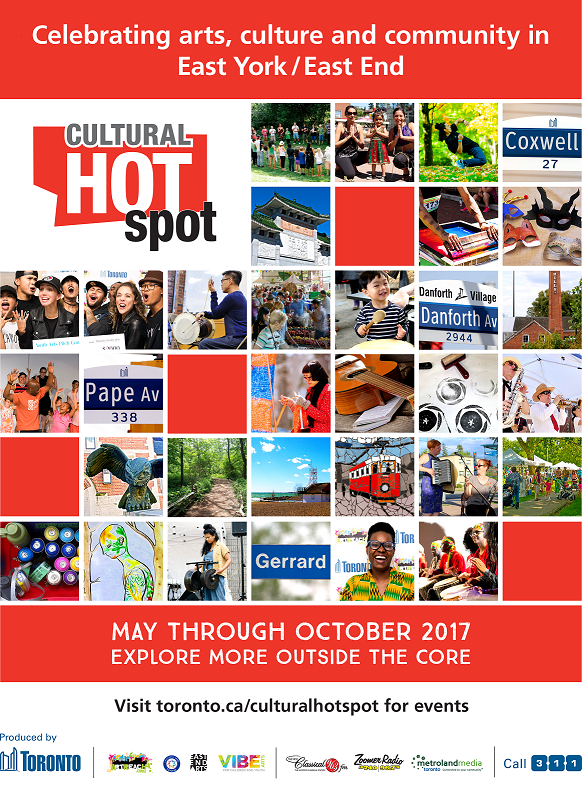 ---
Cultural Hotspot Celebration and Launch
Celebrating Arts, Culture and Community in East York
When: June 17, 2017, 1–4pm
Where: East York Civic Centre, 850 Coxwell Avenue, Toronto
Free Event | All Welcome
An afternoon of arts, culture and community on the newly renovated grounds of the East York Civic Centre. Join Cultural Hotspot for an exciting mix of dance and music performances, interactive art installations, and craft-making. Enjoy delicious treats, learn a new art skill, and meet the people behind some of the most creative and community-based projects in the area. This one-day event will have something for everyone, so drop by for a fun filled, festival style day celebrating the 2017 Cultural Hotspot – East York and the east end. Visit toronto.ca/culturalhotspot for details.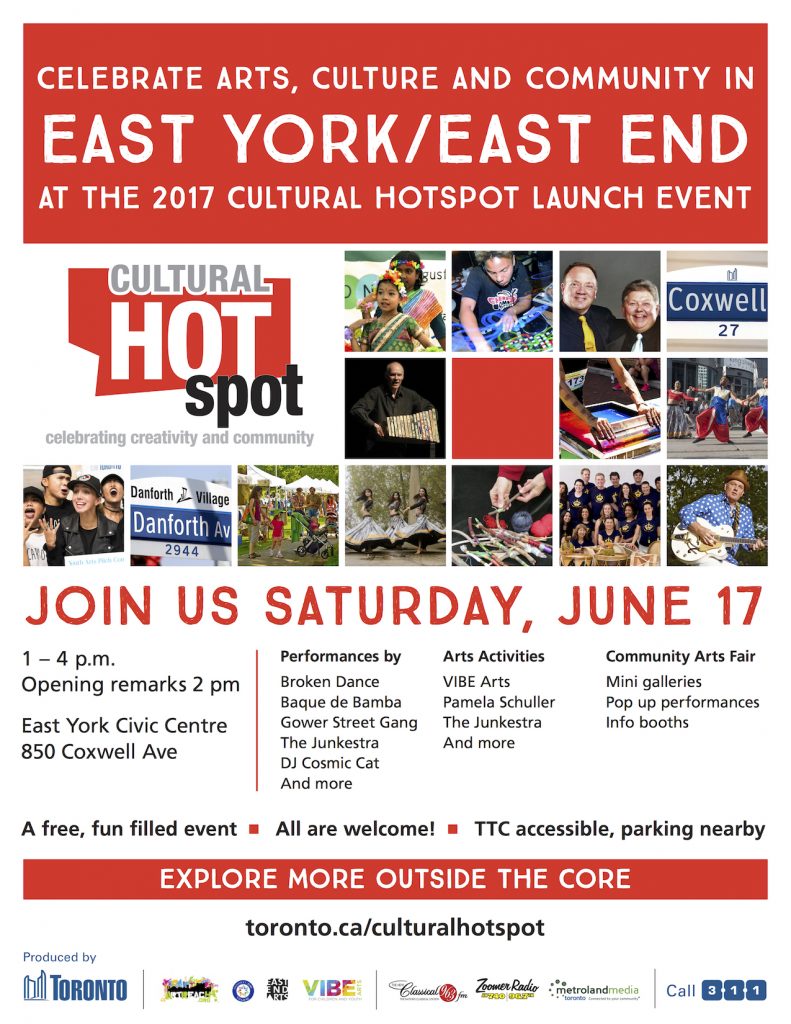 ---
Following is a list of Cultural Hotspot Signature and SPARK Projects:
Cultural Hotspot SPARK Projects
Through seed funding and partnerships, SPARK promotes emerging artists from diverse communities – boosting artistic talents that light up the Hotspot, promoting local organizations and bringing guest artists into the neighbourhood. SPARK projects are supported through Live Arts, City of Toronto Arts & Culture Services to provide access to the arts for all.
For more detailed information visit toronto.ca/culturalhotspot
---
Animating Danforth East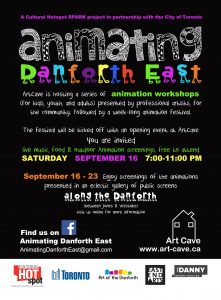 Workshops
When: May–September 2017
Where: ArtCave, 155 Lamb Avenue, Toronto
FREE
Festival
When: September 16–23 2017
Where: Along Danforth Avenue, Toronto
FREE
Animating Danforth East is a local Animation Festival presented by ArtCave featuring free community animation workshops and an exhibition and festival.
A series of free animation workshops for kids, youth, and adults will be held from May-September 2017 by emerging and established local artists and animators.
A week-long animation festival involving display of all the animations created during the workshops will be presented from September 16-23, 2017 in an eclectic gallery of public screens in businesses along the Danforth (between Greenwood and Woodbine). The festival will be kicked off with an opening celebration, and outdoor projection at ArtCave on September 16, 2017 from 7-11pm.
About ArtCave
ArtCave is an art studio and collective of two professional artists and certi ed educators, founded in 2013. ArtCave offers art programs, classes and workshops, in a wide range of visual art, media and design subjects. ArtCave is always nding ways to push the boundaries of our space, for accessible and community-involved projects.
---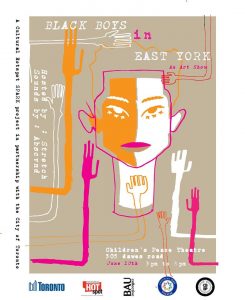 Black Boys in East York
When: Saturday, June 10, 2017, 2–8pm
Where: Children's Peace Theatre, 305 Dawes Road, Toronto
FREE
Facebook Event Page
Black boys, captured, immortalized, written, and produced by black boys. The Carefree Black Boy Project invites you to see us through a tender lens. This event will put an emphasis on East African Black Boys within East York capturing the wondrous worlds we can imagine, through photographs, short films, and performances by local talent in this one-night event.
About The Carefree Black Boy Project
Since its inception, The Carefree Black Boy Project has aimed to create space for black boys to explore themselves without limits and to question the standard ideas around sexuality, spirituality, masculinity and identity as a whole. We strongly believe in self-care and creating events and content that treats our livelihoods as something to protect and nurture. We're artists, community builders, and most important, we're carefree black boys.
---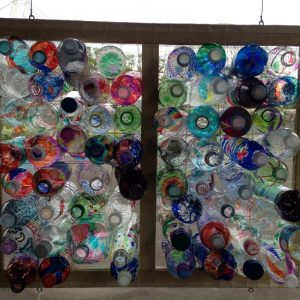 Beautiful Waste
Public Workshop/Exhibition
When: Saturday, August 12, 2017, noon–8pm
Where: Monarch Park, 115 Felstead Avenue, Toronto
FREE
The Beautiful Waste project engages community members in the creation of a massive art installation made of the "beautiful waste". This project explores the history of Toronto's waterfront, both its natural habitat and human-made aspects, including areas partially created from land ll. Collaborating with Thinking Forward, participants will be engaged in the creation of an interactive installation where disposable water bottles will be turned into objects of beauty. The final Beautiful Waste Interactive Art Workshop will take place at the Monarch Park Arts and Music Festival and is open to the public.
About Blank Canvases
Blank Canvases is an arts education program using the inspiration of local artists as the impetus for their programming. They offer school programs across the city. Blank Canvases also leads various classes, workshops and events for all ages, working with partners like In/Future arts festival, Harbourfront Centre, OCADU GradX and the Queen West Art Crawl.
---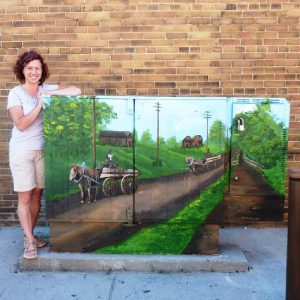 Bell Box Murals – Toronto East Neighbourhood Murals 2017
Since 2009, artists from the Bell Boxes Murals Project have painted 172 murals on Bell Canada outdoor utility boxes in 23 communities throughout Toronto, Southern Ontario and Quebec. In the summer of 2017, they will be painting eight murals on outdoor utility boxes in east Toronto, in partnership with the City of Toronto's Cultural Hotspot program, East End Arts, Community Centre 55, Beach Village BIA, Friends of Glen Stewart Ravine, Bell Canada, Community Matters Toronto, and Benjamin Moore Paint.
About Community Matters Toronto
Community Matters Toronto is a neighbourhood group from the community of St. James Town organizing a variety of programs and services for over 500 newcomers each month. The organization is committed to recognizing and sharing the talents of artists from different cultures and countries under their motto "Neighbours Helping Neighbours".
---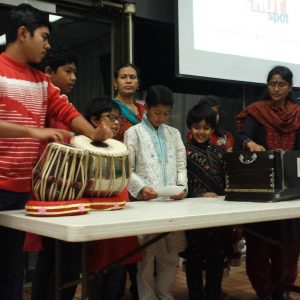 Community Children's Choir Celebration
Performance Workshops
When: Saturdays, 11am–2pm, from May 28 to October 1, 2017
Where: Crescent Town Club, 2A The Market Place, Toronto
FREE
Community Celebration
When: Sunday, October 1, 2017
Where: Crescent Town Club, 2A The Market Place, Toronto
FREE
All are welcome to attend this one-day community- engaged celebration featuring multidisciplinary performances by the Community Children's Choir. This celebration is the culmination of a series of weekly workshops focused on music and dance. Enjoy performances, a film, and refreshments.
Community Children's Choir
The Community Children's Choir is a creative and innovative local group initiative in the Taylor Massey neighbourhood, which provides children with an increased capacity in language, culture, history and traditional music and dance. The choir takes part in local celebrations and events, providing entertainment for the local community.
---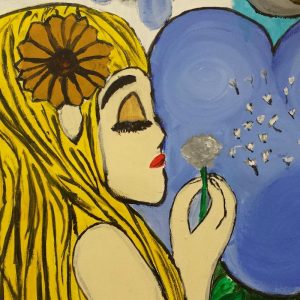 Creative Foundations – Years Together Art Program
Program
When: July 6 to August 24, 2017, Thursdays, 11:30am–1pm
Where: Greenwood Towers, 145 Strathmore Blvd., Toronto
FREE
Exhibition & Celebration
When: Thursday, August 24, 2017, time TBA
Where: Greenwood Towers, 145 Strathmore Blvd., Toronto
FREE
This program is about artistic conversations with the theme of deep and profound words. Participants will create artwork using acrylic or watercolour on canvas. Through exercises, discussion and activities, participants will get to know each other and what one chosen 'deep and profound word' means to each of them and their generation. Their artwork will become part of a collaborative exhibition, with pieces hanging as a mural of collective intergenerational imagining.
About Dreamation
Inspiration for generations! Dreamation inspires a collaborative young generation to become positive and compassionate role models for present and future generations via multiple learning, sharing, and creative platforms with values including: consciousness/awareness, authenticity, vision and empathy and skills including: communication, leadership, collaboration, energy dynamics, personal growth, and relational skills.
---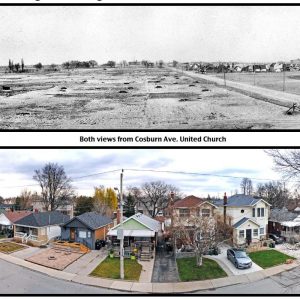 East York – A Living History
When: Saturday, October 14, 2017, 10am–6pm
Where: Cosburn Arts Centre, 1108 Greenwood Avenue, Toronto
FREE
Cosburn Arts Centre hosts a pop-up museum showcasing the history of East York. This museum will feature artifacts, photos and other memorabilia that tell the history of the East York community. A newly created photo wall will be revealed, comprising pictures taken by participating youth guided by professional photographer mentors. The photos will be on display at Cosburn Arts Centre before heading out for a tour throughout the community. This project will culminate with a photography contest, juried by professionals.
About Cosburn Arts Centre
Cosburn Arts Centre (CAC) is a space where people can come and participate in social, recreational and learning opportunities, located at the intersection of Greenwood and Cosburn. The centre provides space for a variety of creative endeavours focusing on arts and community. The CAC offers programs to young and old, in a financially accessible rental space.
---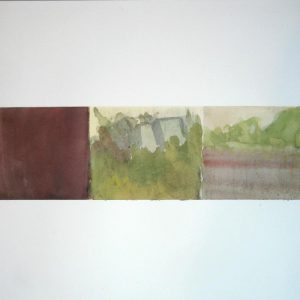 Intergenerational Watercolour Painting Workshops
When: July 3–7, 2017 from 10am–1pm
Where: Main Street Library, 137 Main Street, Toronto
FREE
A series of innovative and creative intergenerational watercolour painting workshops bring seniors together with youth (aged 18-35) to explore opportunities for independent and collaborative creative discovery. Local artist Stefan Nicoloff will lead participants with lessons in watercolour techniques and will facilitate the art-making process. Call 416-393-7700 to register.
About SPORE Contemporary Art Centre
SPORE Contemporary Art Centre promotes contemporary art through exhibition and educational programming in the east end of Toronto. Engaging the community and visitors through high-quality exhibitions and education programs, SPORE offers a meeting point for audiences to discuss the social, political, and economic value of contemporary art in today's society.
---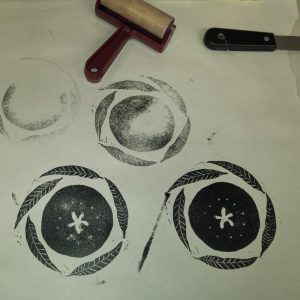 Inter-Museum Printmaking Exchange
Workshops
When: Afternoons, August 12, 20, 27 & September 9, 2017 (see website for times and rain dates)
Where: Todmorden Mills, 67 Pottery Road, Toronto
FREE
Exhibition and Celebration
When: Sunday afternoon, September 24, 2017, time TBA
Where: Todmorden Mills, 67 Pottery Road, Toronto
FREE
inPrint and First Story Toronto present the second iteration of the Inter-Museum Printmaking Exchange at Todmorden Mills. A free workshop series for youth ages 13 to 17, First Story will begin the sessions with a guided tour of Indigenous history and presence surrounding the area. With a First Story Artist Mentor, inPrint will facilitate a series of weekend afternoon printmaking workshops inspired by the tour. This series began with Gibson House and will continue on to two other Toronto community museums, after which prints made by youth will be exchanged between all participating sites.
About inPrint Collective
The inPrint Collective is a Toronto-based, not-for-profit artist group dedicated to the love of printmaking. Founded in 2008, inPrint is currently made up of five members who work together to organize exhibitions, demonstrations, installations, and other community-engaged events across the city.
About First Story Toronto
Since 1995, First Story Toronto has been researching and preserving the Indigenous history of Toronto with the goal of building awareness of and pride in the long Indigenous presence and contributions to the city. First Story Toronto shares this history through a variety of initiatives such as tours, accessible archives, and a smartphone app.
---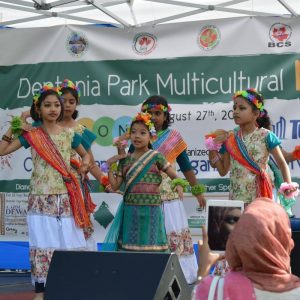 Let's Dance with 'Peacock'
Canada150 night of Celebration Gala
When: Saturday, May 20, 2017, 6–9pm
Where: Royal Canadian Legion Branch 11, 9 Dawes Road, Toronto
CBON Community Festival
When: Saturday, July 8, 2017, 11am–8pm
Where: Dentonia Park, 80 Thyra Avenue, Toronto
All events are Free
BCS Volunteer Appreciation Event
When: Saturday, September 23, 2017, 2:30–4:30pm
Where: AccessPoint on Danforth, 3079 Danforth Avenue, Toronto
Let's Dance with Peacock (closing event)
When: See website for details.
Where: AccessPoint on Danforth, 3079 Danforth Avenue, Toronto
The Peacock Dance Group is made up of participants in the Bangladeshi-Canadian Community Services (BCS) afterschool program. The dancers range in age from six to 13 years and attend classes once a week, where they learn a variety of different dance styles including: Bengali (folk, modern, classical) and Hindi (modern). The Peacock Dance Group will use the performance skills and choreography learned in the program, showcasing what they have learned at a series of performances from May through October 2017.
About Bangladeshi-Canadian Community Services
Bangladeshi-Canadian Community Services (BCS) is a non-profit organization that serves the Crescent Town Area. Their programs and services include: settlement & referral, free tutoring, annual sport events and youth/senior programs.
---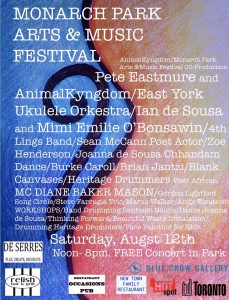 Monarch Park Arts and Music Festival
When: Saturday, August 12, 2017, noon–8pm
Where: Monarch Park, 115 Felstead Avenue
FREE
Facebook Event Page
Enjoy an incredible array of local talent at the Monarch Park Arts and Music Festival! Performances include: dance troupes from the India Bazaar, a large youth ukulele orchestra, Roots Americana music, songwriters, a cafe bohemian vibe, and fun workshops for all ages!
About Monarch Park Arts and Music Festival
This is the first year for this one-day outdoor community arts and music festival in beautiful Monarch Park. Celebrating artistic talents from the neighbourhood from the Gerrard India Bazaar to Danforth Avenue, the festival is organized by local musician Pete Eastmure.
---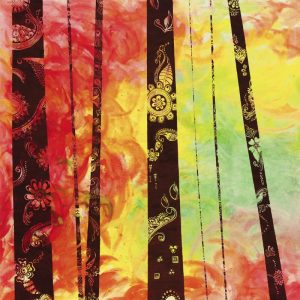 Multicoloured
Workshops:
When: May 3 to June 9, 2017
Where: Flemingdon Park Library, 29 St. Dennis Drive
FREE
Exhibit:
When: July 2017. See website for details.
Where: Flemingdon Park Library, 29 St. Dennis Drive
FREE
Thorncliffe Neighbourhood Office in partnership with artist Tasneem Dairywala present Multicoloured, a series of glass painting workshops for seniors from Flemingdon Park and Thorncliffe Park. Glass paints, which have historically graced the walls of churches, mosques and other significant buildings, will be used to show the communities of Flemingdon Park and Thorncliffe Park in another light. The workshops culminate with an exhibition in July.
About Thorncliffe Neighbourhood
Thorncliffe Neighbourhood Office (TNO) is a multicultural, multi-service agency providing a wide range of community services since 1985. It is a model for neighbourhood programming and community development in Ontario. In 2011, TNO was awarded the United Way Spirit Award for excellence in community giving.
---
My Art My New Land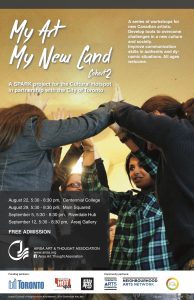 Workshops
When: August 22, 29, September 5 & 12, 2017 5:30–8:30pm
Where: Centennial College, Story Arts Centre; Main Squared (Main & Danforth); Riverdale Hub; and Areej Gallery
FREE
This is the second edition of a series of workshops for newcomer artists to improve their communication skills and ability to adapt to a new society and culture. These workshops will cover topics including adaptability, communication, networking, and marketing skills and will be taught using improv techniques and facilitated discussions. The workshops are being held in partnership with Cultural Hotspot, East End Arts, and Neighbourhood Arts Network.
About Airsa Art & Throught Association
AIRSA Art & Thought Association is a non-for-profit organization, and its mission is to support new Canadian artists through partnerships, cultural events, training opportunities, and community art initiatives.
---
Paint & Brush by Youth / Ankon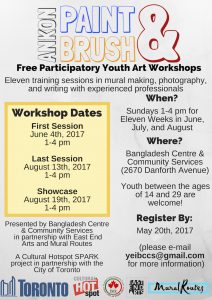 Workshops
When: June 14 to August 13, 2017
Where: Bangladesh Centre and Community Services (BCCS), 2670 Danforth Avenue, Toronto
FREE
Launch
When: August 19, 1–5pm
Where: Bangladesh Centre and Community Services (BCCS), 2670 Danforth Avenue, Toronto
FREE
Paint & Brush by Youth / Ankon (Bengali for "painting") is a series of free participatory arts workshops for youth. Over the course of eleven sessions, participating youth will be trained in mural-making basics, photography, and writing. As a group, they will choose a small mural project to complete over the summer months which will be presented to the public in a free celebratory event.
About Bangladesh Centre and Community Services
Bangladesh Centre and Community Services helps newcomers and long- time residents integrate into Canadian society through knowledge, skills and other support. They offer a range of services including: settlement support, employment and skill development training, English conversation, computer and sewing classes, health education, seniors' programs and youth programs.
---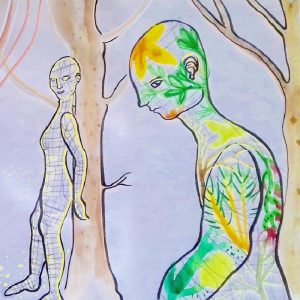 People and Trees
Workshops
When: See website for details.
FREE
Final Event
When: September 9, 2017
Where: Dentonia Park, 80 Thyra Avenue, Toronto. See website for details.
FREE
In partnership with Shwasti, artist Sarvenaz Rayati will engage community members of all ages through a series of visual arts workshops that will lead to an art installation of painted human lantern gures in Dentonia Park. This project will connect people with nature through art-making during weekly painting and drawing workshops for children and youth ages nine to 13. A fun festive community celebration for installation of the lanterns will take place at the park. See website for details.
About Shwasti
Shwasti is a grassroots community organization that works toward bringing peace and comfort towards family and community people.
---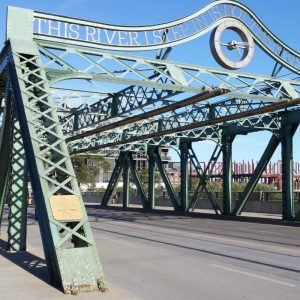 Riverside Roots
Unveiling
When: July 2017. See website for details.
Where: 650 Queen Street East, Toronto
FREE
The Riverside BIA is working with Aboriginal artist Odinamaad (Issac Weber), alongside other artists to create "Riverside Roots" an Aboriginal mural on Woodgreen Services at 650 Queen Street East. Throughout the spring, a series of workshops will engage local youth in the development of the mural, which will be painted in the summer of 2017.
About Riverside BIA
The Riverside Business Improvement Area (BIA) is a not-for-profit association whose mandate is to improve, beautify the Riverside area along Queen Street East; and promote Riverside as a business and cultural district through public programming.
---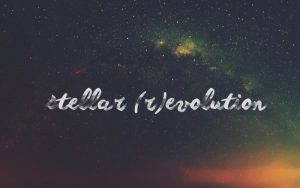 Stellar (R)evolution
Workshops
When: June 18, July 2, 16 & 30, August 13 & 27, September 10 & 24, 1–4pm
Where: See website for details.
FREE
Stellar (R)evolution is an eight-part workshop series that engages black Muslim youth ages 18-25 in exploring identity through spoken word poetry and monodrama playwriting. Through this series, participants will engage in critical storytelling to assert identity by taking back their stories and telling them on their own terms. Each participant will have the opportunity to contribute to a showcase performance and anthology publication documenting works emerging from the series. Please contact Timaj at timajgarad@gmail.com for more information.
About Indigenous Insight Africa
Indigenous InSight – Africa (I-InSight Africa) is a registered educational non-profit organization dedicated to promoting and advocating for a move towards critically engaging with the plural knowledge traditions that occupy our world.
---
Young Ruffian Apprenticeship Program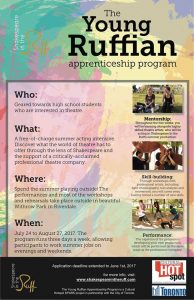 When: July 24 to August 27
Where: Final performance at Withrow Park, 725 Logan Avenue
FREE
The Young Ruffian Apprenticeship Program is a five-week program for 16 youth, consisting of three components – mentorship, skill-building, and performance. Each participant is paired up with an actor in the professional theatre company. The program culminates in a performance, created by the youth, to be performed as an opening act for Shakespeare in the Ruff's summer production, A Mid Summer Night's Dream. Applications are available HERE.
About Shakespeare in the Ruff
Shakespeare in the Ruff is a professional outdoor theatre company serving the diverse neighbourhoods of Toronto's east end. Our work lies at the intersection of outdoor theatre, education, and community building. We offer all of our programming free or pay-what-you-can to ensure accessibility for everyone.
---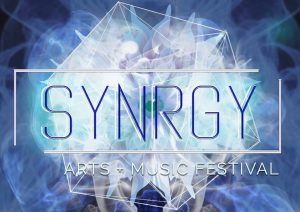 SYNRGY Arts + Music Festival
When: June 22, 3–8pm, June 23, 5–10pm, June 24, 2pm–midnight
Where: Children's Peace Theatre, 305 Dawes Road
FREE
Facebook Event Page
Dream House Collective hosts the 4th Annual SYNRGY Arts + Music Festival, in collaboration with Children's Peace Theatre. The festival features an Arts + Innovation Summit, art exhibitions and installations, and a Main Stage Music Festival.
About Dream House Collective
The Dream House Collective is a creative initiative that cultivate spaces and community for emerging independent artists within the city of Toronto. This includes the visual arts, design, music (production and performance), fashion, lm and new media arts. Dream House curates events that highlight art forms and artists, and provide mentorship to young artists.
---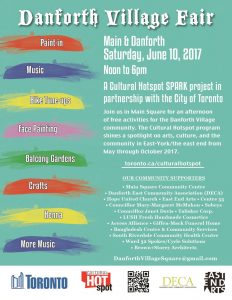 Danforth Village Fair
When: Saturday, June 10, 2017, noon–6pm
Where: Main Square (Main & Danforth)
FREE
Celebrate our local community with an afternoon of music and activities for the whole family. Join us for local musicians, workshops, interactive events, and children's activities celebrating our community and bringing neighbours together for a lively afternoon event in our local public square. With support from local businesses and community organizations, the Danforth Village Fair is an example of how community can work together to benefit everyone.
About Danforth Village Square
Danforth Village Square is a locally-driven project by residents of the Main and Danforth area (Danforth Village) who want to support their community with activities that bring neighbours together. Email DanforthVillageSquare@gmail.com for details.
---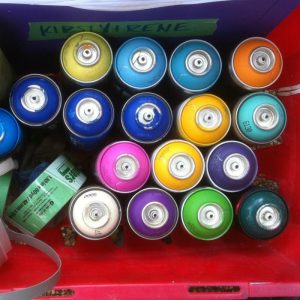 Women in the Walls
When: Saturday, August 26, 2017, noon–5pm
Where: Craven Rd, 1461 Gerrard Street East
FREE
This collaboration of women street artists will reclaim and animate public space, with an all-female street art jam! A free, public, live painting event will take place on site and local residents are invited to come out, interact with and meet the artists.
About Monica Wickeler
As a trained visual artist, Monica Wickeler has worked in the large-scale painting industry for many years, with experience producing commercial murals and painting scenic for film and television. She has discovered a love for community-based projects and is passionate about the way a large-scale public art project can bring the community together.
About East End Arts
This project is in partnership with East End Arts, a 2017 Cultural Hotspot Signature Partner.
---
Cultural Hotspot Signature Projects
The Cultural Hotspot celebrates the many events and programs already happening in the vibrant East York and east end communities. Collaborating with arts organizations currently active in the area, the Cultural Hotspot has developed dynamic transformative Signature Projects that provide new opportunities to engage the community and highlight the vibrancy in East York and the east end.
---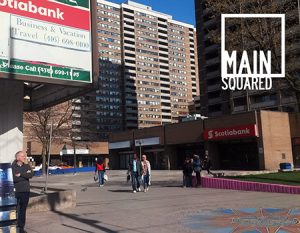 Main Squared
When: August 26 to September 3, 2017
Where: Main Square (Main & Danforth)
FREE
East End Arts presents Main Squared, a free, multi-disciplinary art festival that will activate and explore the public square at the corner of Main Street and Danforth Avenue. Drawing on historical clichés of "public squares" as well as tapping into community aspirations, Main Squared invites residents and community members to reimagine the site as a space for social engagement. Boldly mixing contemporary and community art, Main Squared features installations, interactive activities, performances, and more.
About East End Arts
East End Arts is one of six Local Arts Service Organizations in Toronto, with the mandate to unite, inspire, and enhance the communities of east Toronto (Wards 29-32) with the transformative power of the arts. East End Arts creates a network between artists and communities that allows for the exchange of ideas, energy, and resources; supports local artists in their practice and projects; promotes engagement with the arts as a means towards increased joy, vitality, and understanding; and encourages everyone to contribute to the evolving story of Toronto's east end through artistic dialogue.
---
My City My Six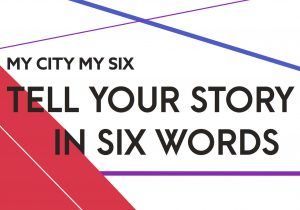 City Wide Exhibit Launch
FREE
Local Exhibits
When: September and October 2017
Where: Various locations across Toronto
FREE
My City My Six is a participatory public art project that reveals Toronto and its residents in celebration of Canada 150, six words at a time.
From January through August 2017, Torontonians of all ages and backgrounds are invited to share something essential about themselves in six words. A jury, including Toronto Poet Laureate Anne Michaels, will select 150 of the stories submitted before May 31. These will appear in a city-wide exhibition which will showcase the diverse lives that collectively make up this great city at this moment in time. The stories will be featured in an exhibit at City Hall and exhibited on transit shelters, transit posters, billboards and other public spaces across the city.
This project is led by Toronto Arts and Culture in collaboration with the city's six Local Arts Service Organizations (Arts Etobicoke, East End Arts, Lakeshore Arts, North York Arts, Scarborough Arts and UrbanArts).
---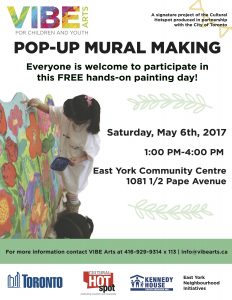 Cultivating Community Through Mural Art
Community Art Making Session
When: Saturday, May 6, 2017, 1–4pm
Where: East York Community Centre, 1081 1⁄2 Pape Ave.
FREE
Mural Unveiling
When: July. See website for details.
Where: East York Community Centre, 1081 1⁄2 Pape Ave.
FREE
Cultivating Community through Mural Art is a community-engaged arts project that brings together seven community groups to design and create a large-scale mural on the East York Community Centre. By leveraging local assets, such as a committed community volunteer group – the East York Neighbourhood Initiatives; a vibrant community garden and its dedicated stewards; and the demonstrated creative and civic agency of local youth groups, VIBE Arts, with our partners,will also facilitate a series of free mural-making workshops.
About VIBE Arts
Established in 1995, VIBE Arts is an award-winning charitable organization committed to providing children and youth in under-resourced communities with high quality community and school-based arts education. With a 20-year trajectory, VIBE Arts has become one of the most celebrated community arts organizations in Toronto.
About East York Neighbourhood Initiatives
East York Neighbourhood Initiatives aims to bring community together through sharing knowledge and skills. They support community-led initiatives in partnership with organizations and agencies who share an interest in supporting the neighbourhood.
---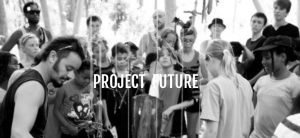 Project Future
When: September 21 to 24, 2017
Where: Children's Peace Theatre, 305 Dawes Road, Toronto
FREE
Children's Peace Theatre celebrates the voices of Indigenous and Black artists while offering mentorship and tools for a new future. Project Future offers land-based creative performance and permaculture workshops. The project culminates in the Language of the Land Festival in September 2017 featuring free public permaculture workshops, interactive tours, discussions and daily performances on the beautiful land that is stewarded by the Children's Peace Theatre. Visit our website for updates about free public permaculture workshops that will take place leading up to and during the Festival.
About Children's Peace Theatre
Children's Peace Theatre (CPT) was established in 2000 to create a culture
of peace by engaging children and youth in the process of collaborative art-making and con ict transformation. CPT creates spaces for new kinds of cross-cultural dialogue and deepening of relationships between diverse young people and with the land. They provide a wide range of arts programs, events and mentorship opportunities for young people and artists that promote personal and social transformation.
---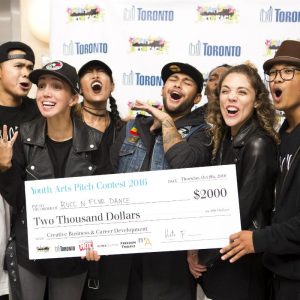 Youth Arts Pitch Contest
When and Where: Date and location TBA.
See website for details.
FREE
The Youth Arts Pitch Contest is an annual event produced by ArtReach Toronto and Toronto Arts & Culture Services with the goal of supporting young artists and entrepreneurs. Participants from across the city apply for a chance to pitch their idea live in front of an audience and a panel of judges made up of esteemed members of Toronto's arts community. This event provides training towards putting together a successful pitch and offers young artists access to hard-to-find financial resources for unique elements of their work. Each year the Pitch Contest moves to the new Cultural Hotspot, bringing youth from across the city to East York for the 2017 event.
About ArtReach Toronto
ArtReach Toronto supports community-based arts projects and the young people that make the matter. This is carried out through the provision of funds, training workshops, and access to a support network. These services are provided at no cost to young artists, youth leaders, and youth-led groups and organizations that engage youth with little or no access to the arts.
---