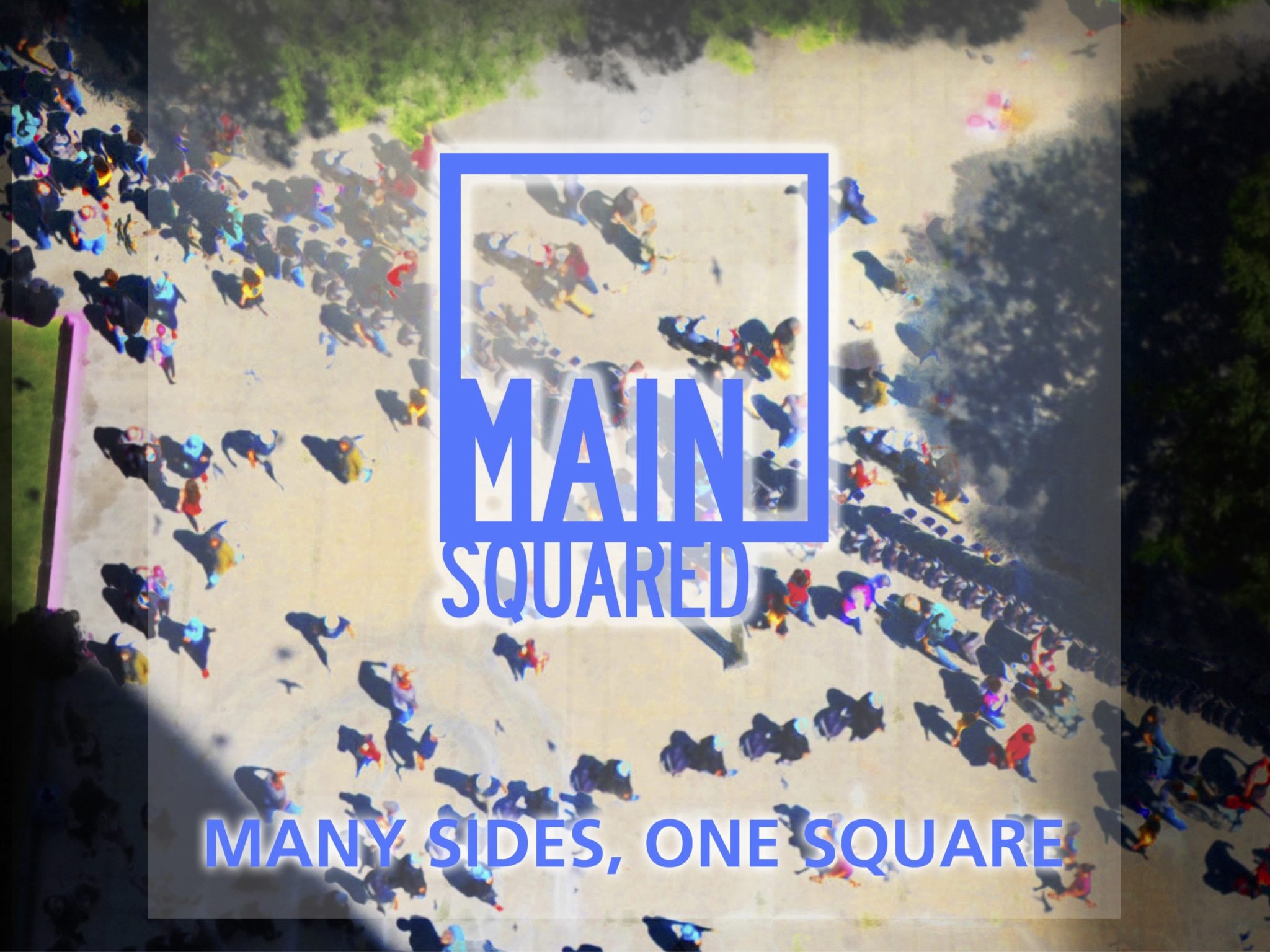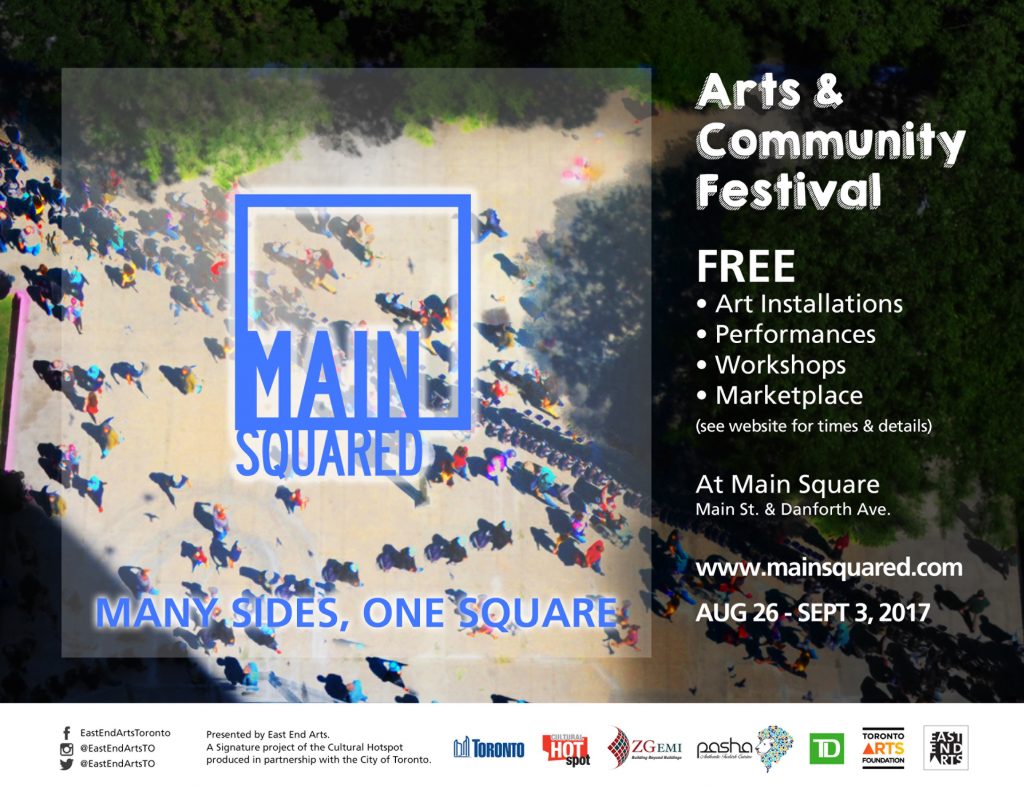 Main Squared
August 26 to September 3, 2017
Main and Danforth
FREE
Facebook Event Page
Blending contemporary art and community art projects, the Main Squared festival features art installations, interactive activities, workshops, performances, and more. Drawing inspiration and insight from historical "public squares" while tapping into community aspirations, the festival will invite residents, community members, and the general public to reimagine the square as a space for social engagement, discourse, and civic activism.
The Site:
Main Square is an apartment complex occupying a three-hectare site. It includes four high rise towers housing thousands of residents and a commercial plaza. The buildings are clustered around a "Town Square" situated at the corner of Main and Danforth. The space is highly frequented, being centrally located in the middle of a TTC subway station, a GO Train station, community centre, and public library.
The Opportunity:
Given its accessible location, diversity, and density of residents, close proximity to transit, and other amenities, Main Square is full of unrealized potential as a vibrant and unique cultural hub. Main Squared invites the community to see the space anew and to spark pride and engagement in the space as well as within the community.
Main Squared is produced by East Ends Arts. Contemporary art projects curated by Labspace Studio. Main Squared is a Signature Project of the 2017 Cultural Hotspot, produced in partnership with the City of Toronto.

Saturday, August 26, 12pm – 8pm
Contemporary Art Installations, curated by Labspace Studio
Marketplace (12pm – 8pm)
Life Size Collage drop-in workshop (12pm – 5pm)
Electronics Recycling Collection (12pm – 4pm)
Piñata Workshop, part of You Are Invited project (12pm – 3pm)
Face-painting from Bibzy Creations (12pm – 4pm)
Music by Joel Lightman from Great Canadian Dueling Pianos (1:15pm – 2pm)
Performance "Puppet WhatWhat and the Egg" (2pm – 3pm)
Story Staff textile workshop with artist Pamela Schuller (3pm – 6pm)
Performances from Mill House School of  Music (5pm – 7:30pm)
Sunday, August 27, 11am – 5pm
Contemporary Art Installations, curated by Labspace Studio
Marketplace (11am – 5pm)
You Are Invited birthday party celebrations (hourly from 11am – 4pm)
Life Size Collage drop-in workshop (12pm – 5pm)
Junkestra with Mark Sepic workshop & performance (12pm – 3pm)
Local History Walk (3:30pm – 5pm)
Music and Dance performances by Bangladesh Centre and Community Services (4:15pm- 5pm)
Monday, August 28, 1pm – 4pm
Contemporary Art Installations, curated by Labspace Studio
Life Size Collage drop-in workshop (5pm – 7pm)
Tuesday, August 29, 4pm – 8:30pm
Contemporary Art Installations, curated by Labspace Studio
Life Size Collage drop-in workshop (5pm – 7pm)
Ask a Grants Officer drop in Q&A with Toronto Arts Council (4pm – 5:30pm)
My Art, My New Land newcomer artists workshop by Airsa Art & Thought Association (5:30pm – 8:30pm) *registration is required
Wednesday, August 30, 1pm – 4pm
Contemporary Art Installations, curated by Labspace Studio
Robotics demonstration by Main Street Toronto Public Library branch (1pm – 4pm)
Sundials in the Square crafts workshop (2pm – 4pm)
Life Size Collage drop-in workshop (5pm – 7pm)
Thursday, August 31, 3pm – 6pm
Contemporary Art Installations, curated by Labspace Studio
Caricatures by the Toronto Caricature Guy (3pm – 6pm)
Caricatures by artist Charles Weiss (3pm – 6pm)
Participatory Portraits Workshop by artist Sarvenaz Rayati (3pm – 6pm)
Life Size Collage drop-in workshop (5pm – 7pm)
Friday, September 1, 2pm – 9pm
Contemporary Art Installations, curated by Labspace Studio
Acts of Kindness crochet picnic (2pm – 4pm)
Music by iSpy with Rebecca Everett (5:30pm – 6:15pm)
Main Stage Monologues (5pm & 6:30pm)
Life Size Collage drop-in workshop (5pm – 7pm)
Music by Black Suit Devil (7pm – 9pm)
Saturday, September 2, 11am – 4pm
Contemporary Art Installations, curated by Labspace Studio
Marketplace (11am – 4pm)
Mainiature creative mini-golf (11am – 4pm)
Music by Euba tuba quartet (1pm & 2pm)
Main Stage Monologues (1:30pm & 2:30pm)
Art Stroll with author Nathalie Prezeau & artist Maryanne Peters (1:45pm – 2:30pm)
Music & accordion try-out with Cathy Nosaty (2:45pm – 4pm)
Sunday, September 3, 12pm – 4pm
Contemporary Art Installations, curated by Labspace Studio
Marketplace (12pm – 4pm)
Mainiature creative mini-golf (12pm – 4pm)
Main Stage Monologues (12:30pm & 2:30pm)
Music by A Sprig of Rosemary (1pm – 2pm)
Ribbon making crafts table (2pm – 3pm)
Dog Show competition & awards (3pm – 4pm)
---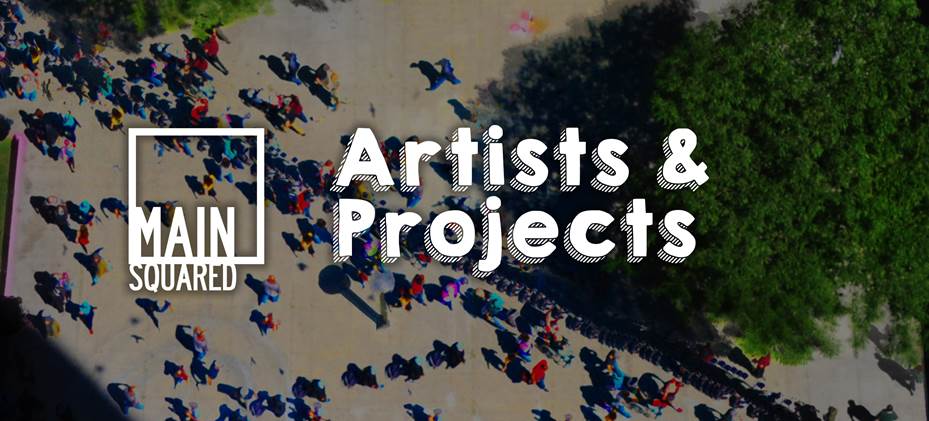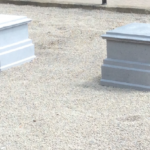 Artist: kipjones
Project: Echo is a work that uses cast iron and cast aluminum plinths to reference the notions of a "soap box" and "speakers corner" in a way that democratizes heroism.
Echo is an act of social engagement within the public realm. Echo acts as a playful engagement and a point of activation that refers to the historical functions of public plazas. It offers an interactive stage that references the political soap-box and London's Speakers Corner.
Echo consists of two scaled representations of a traditional monumental plinth, one in cast iron, and the other in cast aluminum, which are situated at a distance apart. Both plinths are installed with a mat sandblasted surface finish with the cast iron one rusting over the time of the event.
These two plinths offer the public a place to stand, pose, and/or speak of their issues or their hopes and dreams. This work is a chance for the community to express themselves in a formal outdoor setting and to speak to their future as a subjective act.
Echo speaks to the notions of anti-hero and offers the community a chance to engage and participate with the contemporary social realities of today.
"If we think of space as that which allows movement, then place is pause; each pause in movement makes it possible for a location to be transformed into place." – Yi-Fu Tuan, Space and Place: the perspective of experience, 1977, University of Minnesota Press
BIO: kipjones is an active and experienced public artist, sculptor and instructor living in Toronto. Over the past two decades he has created public and studio-based work that have addressed various issues of the critical and conceptual discourse of contemporary three-dimensionality. More specifically, he believes that contemporary sculpture is an open genre that speaks to "space" as a societal dimension, "gesture" as an action or event, and "time" as a response or reflection in a contemporary arrangement of content. Through his artistic research he addresses the complexity of space through immersive site-specific installations, public art, and object making. His permanent public art projects and ones co‐designed are installed at the Calgary International Airport, AB; Moncton City Hall, NB; Whistler, BC; Kelowna Public Library, BC; King's Square, Charlottetown, PEI; and Markham Museum, ON.
---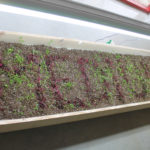 Artist: Paul Chartrand
Project: Living Text will be grown inside "The Pit" (an abandoned courtyard) to emphasize the marginalized life found at the periphery of urban spaces.
Small edible plants will be densely grown on a modular raised garden bed. From the ledges surrounding the lower space of "The Pit", an area that was once an outdoor courtyard but now sits empty and inaccessible, viewers will begin to discern the shapes of letters emerging as the plants sprout forth.
The text is grown on the floor of "The Pit" over the course of the exhibition and is harvested just before the closing reception and served as a small meal to the guests who wish to partake. Not only is the text an opportunity for critical engagement of the space but it can also be an apt symbolic metaphor for the consumption (and nourishing nature) of art, dialogue, and food; all of which enable a more fully functioning civic space.
BIO: Paul Chartrand works with constructed habitats built from found objects and integrated living components. His projects include various mediums and practical methodologies but focus particularly on sculpture and drawing. Paul finds inspiration in the blurry definitions of culture and nature; intending for his work to foster dialogue regarding this problematic dichotomy. Paul recently completed his Master of Fine Arts degree at Western University. He has exhibited at galleries including the Roadside Attractions (Toronto), Xpace Cultural Centre (Toronto), Younger Than Beyonce Gallery (Toronto), Boarding House Gallery (Guelph), Artlab and Satellite Gallery(London), Idea Exchange (Cambridge) and the CAFKA Biennial in Kitchener.
---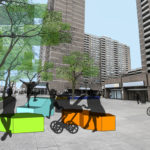 Artists: Ernestine Aying & Ryan Phyper
Project: Block Party is a vibrant and interactive seating installation that promotes play and discovery, creating a hub for community engagement.
Public squares are traditionally used as social spaces, an inclusive place of congregation at the heart of a community. Observations have found there is overlooked potential for community engagement within Main Square. Block Party aims to reactivate Main Square as a community hub, specifically targeting the lack of accessible seating, through the implementation of community-centric design. Block Party's primary goal is to empower members of the community to think differently about the possibilities for use and action within their public space.
Block Party is a functional seating system that encourages play and exploration, creating a hub of engagement helping to animate a public square. The installation consists of modular seating blocks, created from lumber frames clad in plywood. The blocks are constructed in various shapes and sizes, creating a non-prescriptive environment, allowing opportunities for both play and rest. To create a dynamic and engaging environment, the blocks feature subtle slopes and angles.
Block Party acts as a catalyst for community engagement within the Main and Danforth neighbourhood, promoting community participation within public spaces. Block Party will highlight the potential for future growth within the community, and allow community members to think differently about how they view and use public spaces.
BIO: Ernestine Aying is a designer from Brampton, interested in community development through urban design. In 2015, Ernestine received her Bachelor of Design degree from the Environmental Design program at OCAD University. Ernestine looks to create and design experiences and moments that form connections between people and spaces.
Ryan Phyper is an artist and designer from Toronto, interested in community engagement through art and design. In 2015, Ryan received his Bachelor of Design degree from the Environmental Design program at OCAD University. Ryan currently creates site-specific installation work, engaging with disused or abandoned spaces throughout the GTA.
---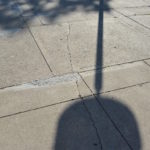 Artist: Emily DiCarlo
Project: To The Minute Unknown transforms a broken light post into a sundial-inspired, 24hr video surveilled timepiece, contrasting organic time-keeping with technological punctuality.
Long before every residence owned their own timepiece, locals would go to the nearby public square to tell time from the clock tower and sync up their activities for the day. For early urban planners, the clock tower became ubiquitous with the public square's design and function, making it a staple of everyday life.
To The Minute Unknown is one part intervention and one part video installation. The work begins by harnessing the earliest form of public timekeeping – the sundial – and transforms a broken light post into a 24hr video surveilled timepiece. The work continues as viewers enter a nearby business where the live footage streams on a small mounted tablet screen – functioning as a wall clock. The lack of time-keeping precision from the sundial contrasts against the contemporary reality of technological punctuality and the burden thereof.
BIO: Emily DiCarlo is a Toronto-based visual artist who works across all mediums. She has exhibited her work both locally and abroad including, but not limited to: MU artspace (Eindhoven, NL), NXNE Music Festival, Artscape Youngplace, Lakeshore Arts (Toronto, CA), The Orthodox Academy (Crete, EL), L'Oeil de Poisson (Quebec City, CA), and The Hungarian Museum of Travel and Tourism (Budapest, HU).
She has presented her theories and criticisms as part of the 14th Triennial Conference of the International Society for the Study of Time (Monte Verde, CR), International Artist-in-Residency Summer Program organized by the Hungarian Multicultural Centre (Budapest, HU) and the 16th Triennial Conference of the International Society for the Study of Time (ISST) at the University of Edinburgh. Her writing has been published in 1W3KND: On Social Practice and Collaboration, 48 Hours at a Time (Broken City Lab) and artist book Hydra Era (L'Œil de Poisson).
---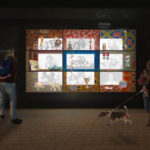 Artist: Aaron Hendershott
Project: Cross/Section invites residents of Main Square to adorn a storefront display with personal items that tell a story about their identity and culture, forming a mosaic which embodies the diversity of this community.
Cross/Section offers a glimpse into the homes and lives of Main Square residents. A storefront window box display provides a framework for nine families who have been invited to adorn the inside of each frame with personal items such as tea-sets, fabrics, photographs or other objects that tell a story about their identity, culture and values. As a whole, the display is intended to form an abstract mosaic which illustrates the diversity present in the Main Square community.
Cross/Section is not only a depiction of a building cross-section but also a cross-section of Toronto's population as represented in the varied makeup of this community.
BIO: Aaron Hendershott is a local architect with a background encompassing fashion, digital media, and public art. His work focuses on interaction, inclusiveness, storytelling, and the relationship between art, architecture, and public space. He is one of the organizers of the annual Winterstations competition and has received the Ontario Association of Architects Award and Toronto Urban Design Award for his work in public art. As a resident of the Main and Danforth community he is familiar with both the vibrancy and the challenges the Main Square community and is excited at the opportunity of exhibiting work in his neighbourhood.
---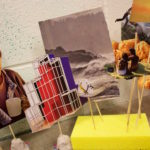 Artists: Emily Harrison & Tara Dorey
Project: Life Size Collage invites everyone to join in collaboratively building a diorama which will transform an empty storefront into a world which comes alive when we let ourselves mix imagination and play with glue, tape, and anything we can find!
Cutting and piecing together images from magazines, visitors are invited to co-create a sprawling life sized collage installation that will span across one of the Main Squared storefront space windows. Throughout the first few days of the festival, the installation will evolve, with community members constantly adding picture cut-outs and the artists occasionally aiding by moving and changing the arrangements. With imagery taken from various sources, from National Geographic, to comic books, fashion, and architectural magazines, the installation will create a playful landscape of our culture, where world events, pop stars, and imagery of the everyday will be in contrast. The clippings will intersect and attach to each other from all directions, attached to dowels or hanging from the ceiling, providing many ways for the installation to continually be remixed, moved, added to and changed.
The evolution of this life size collage will come into being much like a performance piece; its creation can be planned, but will ultimately result from the improvised interactions between the artists and the participation of the public. This creation process will be documented by the artists using time-lapse photography and stop motion animations, with a finished time lapse video. The video will be screened during the final weekend of the festival, for passersby to watch the playful process of how the life sized collage evolved.
BIO: Both Tara and Emily are visual artists with backgrounds in fine art, collaborative mural making, and public art.
Tara Dorey has been working in the community arts field since 2012, after graduating from OCAD University with a BFA in Drawing and Painting, alongside York University's Community Arts Practice Certificate. Her work with the public and community based art includes roles of program direction, management, facilitation, and arts education on murals, art programs, projects for groups such as Mural Routes, VIBE Arts for Children and Youth, Nuit Blanche, OCAD Student Gallery, and Toronto District School Board.
Emily Harrison has recently graduated with a BFA in Drawing and Painting from OCAD University, in addition to a degree in Urban Geography from Vancouver Island University. For the past four years, since moving to Toronto, Emily has been working as an artist educator with Mural Routes, VIBE Arts, and in the AGO's Education Department. Both artists are interested in further exploring how to connecting their art practices to the public in re-imagining urban environments. They are excited for opportunities to branch out beyond more traditional art education, to try out ideas for experimentation, creative play, and public engagement.
---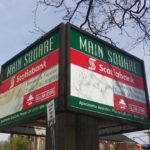 Artists: TIMEANDDESIRE
Project: Inverting Perspectives sheds light on Main Square's public space by altering vacant advertising sites on its main sign. The project aims to readdress the current and projected use of this particular public space.
By adding additional messages to its main sign, the project uses text to alter the viewer's experience of the space. The statements utilize word play, reflecting, and connecting to the physical use of the square. This, in conjunction with fresh, contrasting colour, will attempt to ignite the possibility of a perspective shift.
Artist Statement: A built-in feature of any belief is that you believe it to be true, whether it is or not. By examining the human experience and focusing on the inter-connective nature of beliefs, physical space and perception we look to create work that is a facilitator towards reshaping our viewer's experience. Belief systems influence our observation of the world— which in turn re-enforces how we construct our environment, culture and values. As conceptual artists we repeatedly reflect on how the authority of constructed space, the objects therein and our social systems influence who we are in the world and how we perceive each other in turn. We prompt those who experience our work to actively rethink these systems. By altering familiar entry points (such as advertisements and the language of messaging) we hope to question what is truly valuable.
BIO: St Marie φ Walker began exclusively collaborating in 2010 as the Toronto based collective TIMEANDDESIRE. Since that time they have installed art interventions in Japan, Chicago, Las Vegas, Victoria, The Canadian Prairies, Windsor, Toronto, and Montreal. They have exhibited their work in notable galleries such as the Art Gallery of Windsor, Art Gallery of Mississauga, Thames Art Gallery, Markham Museum, Whippersnapper, Harbourfront Centre, Latcham Gallery, and art events such as Nuit Blanche Toronto, Art in Transit, and the Toronto Urban Film Festival. In 2016 they collaboratively worked with New York based artist Steve Lambert to produce art intervention works for the International Aids Conference in South Africa. In 2017 the pair debuted their collaborative Masters work The Re-examined Life at the University of Waterloo Art Gallery (UWAG).
---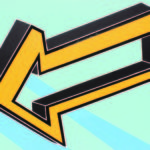 Artist: Erika James
Project: Let's All Meet Here! is a mural that aspires to draw in community and visitors to enjoy the festivities at Main Squared Festival.
Let's All Meet Here! is a bold text mural made of glitter and bright colours that entices the public to come gather at Main Squared Festival to explore and participate in its festivities. Located at an entry point to the square, the mural reads 'Let's All Meet Here!', drawing people into the heart of the plaza where they will discover a space transformed by art installations, interventions, and performances. The mural reminds us of what a public square could or should be; a place for meeting and gathering, civic engagement, and a place for conversation between neighbours, community, and people passing through.
This mural, like much of James' work, playfully connects people to art, using public space as a departure point for civic engagement. She strives to enable opportunities for community to come together for social discourse, and creative co-creation, bridging art and community. As Co-founder of the Open Field Collective, her goal is to bring contemporary art right onto the streets. This civic-minded volunteer operation involves installing mini-galleries on people's front yards in Toronto and Guelph, and local residents have become very attached to their "neighbourhood galleries".
Also known as street artist NIXO, James animates and explores the use of public space through her on-going guerilla Community Engagement Series. In these impromptu acts, NIXO uses text, sculpture, and painting as a means of interfacing with the public and exploring notions of morality, social attitudes, and slice-of-life situations.
BIO: Erika James strives to connect community to art by encouraging people to engage in their public spaces. As Co-founder of the Open Field Collective, James brings art right onto the streets by programming mini-installations in people's front yards. Her work has been exhibited at galleries and art festivals such as Nuit Blanche, Hamilton Supercrawl Festival, McMaster Museum of Art, Animating Our Waterfront Festival, Glenhyrst Art Gallery of Brant, Harcourt House, and she has a permanent public art installation at the Holland Bloorview Hospital. James is also known as street artist NIXO.
---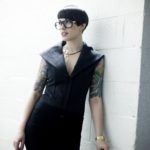 Artist: DJ Mini
Project: Interactive Sound Table is collaborative music creation at your fingertips! Play some music with your peers by touching conductive elements on a sound table.
Interactive Sound Table was designed to reproduce a designer's work environment, reminding us to play and interact with components normally affiliated to specific productivity tasks, and approach them as musical tools. It reminds us to reconnect or remain connected and interact with everyday objects and our neighbours the way our inner child would.
BIO: Evelyne Drouin is the un-categorizable artist, whose style and approach to sound have earned her an international reputation under the brand of DJ Mini. With an extensive knowledge of music crafting and media arts, and having dabbled in circuit bending and advanced audio technology, Evelyne sculpts textural sonic environments, soundscapes, hybrids, and installations that actively respond to the participant.
---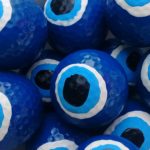 Artist: Sean Smith
Project: Mainiature – curbside junk from the surrounding area is repurposed with scraps from Danforth carpet bazaars to create a sculptural installation doubling as a miniature golf course.
The holes are not laid out in sequential fashion as per usual, however, but are superimposed upon one other as a sort of parallel process: players playing different holes at the same time must negotiate with each other to navigate the mini golf architectural environment. In doing so, they must also negotiate their identity connection to the ball, since every ball is painted as an identical replica of the evil eye symbol.
The course itself is also a performative element, as the artist will be supplementing, rearranging, and remixing the modular elements of the sculpture throughout the duration of the installation.
BIO: Sean Smith is an artist, writer and athlete who lives in East York and has presented internationally as part of the Department of Biological Flow arts-based research collective. He was the inaugural Artist/Scholar-in-Residence at the University of Western Ontario in 2011-12, a participant at the Wood Land School residency in 2013, and one of the curators of Channel Surf, a 200km canoeing-arts journey that was one of 5 projects worldwide accepted to Project Anywhere in 2015. He is currently adjunct faculty in wearable sculpture at OCAD University and a founding member of Murmur Land Studios, an experimental field school initiative for the post-anthropocene era.
---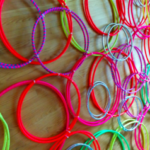 Artist: Kanchan Quinlan
Project: Intertwined is a whimsical and interactive art installation made of glowing hula hoops of various sizes and fluorescent colours, animating the public square during the day and night.
During the day, the natural light casts a playful hop-scotch on the ground of the installation, to further extend a playful gesture. At night, the square is animated by the glowing effect of the fluorescent hoops with exposure to black light. While the hula hoop itself is an object associated with play, its circular shape is identified with the notions of community and belonging.
The three screen-like panels are carefully designed to reflect the neighbourhood's identity. The orange, pink, white, and blue colours of the hoops reflect the diversity and vibrancy of the community. The floating canopy imitates the sky and clouds while providing a sense of shelter for the visitors. People of all ages can appreciate the structure for its playful, colourful, or contemplative nature.
A public square is a place for community gatherings, where social engagement and play are encouraged.
On the evening of Friday, September 1, 2017 there will be hula hoops and glow-in-the-dark necklaces for the public to wear (and share!) while enjoying live musical performances at the festival.
BIO: Kanchan Quinlan, an Indo-Canadian Architectural Designer, is the Founder of In [Between] Spaces based in Toronto. In [Between] Spaces is a design agency that creates community driven design projects to revitalize under-used public spaces. Since 2013, Kanchan has designed, built, and led community workshops for art and architecture projects locally and internationally. Her built installations include My Canada Is in Toronto, Mot à Mot in Montreal, and Dinner is Served Pavilion in Ottawa. The design phase for Ritual Architecture was completed in Northern India. For Kanchan, it is the in-between spaces, whether public or private, inside or outside, and temporary or permanent that challenge and drive her projects.
---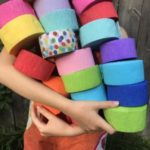 Artist: Vivian Wong
Project: You Are Invited is a day of birthday parties and interactive games where you can be a guest or the birthday girl or boy. Bring your friends and make new ones as we explore the community-making ritual of birthday parties.
Among children there is no greater unifying community event than the birthday party. The markers of a birthday party are recognizable to all and its rituals are part of a familiar and comforting narrative. At its best, it's a tool for inclusiveness, collective memory, and group identity. A birthday party can also claim a public space.
"You Are Invited" is a day of birthday parties as an interactive social experiment. Participants can choose to be guests or the birthday girl or boy. There will be cake, singing, loot bags, and games of musical chairs, pin-the-tail-on-the-donkey, and pass the parcel. By opening up the discourse on the personal and social meaning of birthdays, we'll create a space for spontaneous games introduced by our guests based on their own family and cultural traditions.
We remember all the birthdays, a day that's like and unlike all the others. Relive your best birthday party or have the birthday party you never had, create the party you've always wanted as you join us in exploring the community-making ritual of the birthday party.
BIO: Vivian Wong is an artist, arts educator, and workshop facilitator. As founder of Wabi-Sabi Collective, she has animated spaces for Nuit Blanche Toronto and Culture Days Ontario with interactive and ephemeral public installations and community art. "You Are Invited" is a collaboration with her two children, Daniel and Elisabeth, and is inspired by Elisabeth, who loves many things like art, music, and ballet, but birthday parties and cake most of all. Elisabeth will be in grade 4 in September and Daniel will be in grade 7. Daniel's first public art project, a snail intervention to draw attention to the unseen and ordinary beauty in the urban wilderness, consisted of hundreds of origami snails and was part of Grow Op 2017 at the Gladstone Hotel.
---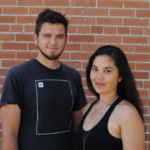 Curators: Labspace Studio
BIO: Labspace Studio is a Toronto-based creative studio and artist collective run by Co-Directors John Loerchner and Laura Mendes (who also live and work in the Main & Danforth Neighbourhood). Labspace Studio's art projects and curatorial initiatives are often site-specific, public and participatory in nature, blurring the lines between art and everyday life. They aim to create work that explores and uncovers the intricate connections between people and places.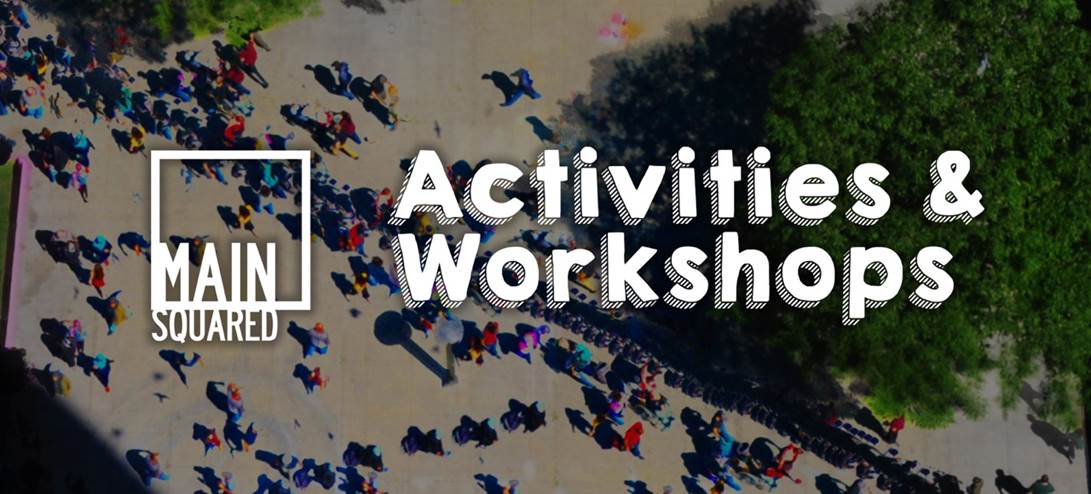 Join in free activities and workshops throughout the Main Squared festival. The workshops will engage your creativity in a welcoming and casual atmosphere. No experience is required and all supplies will be provided. Learn a new artistic skill, practice an existing one, and explore your talents!
Visit the full festival schedule above to see when workshops are scheduled.
---
Electronics Recycling Collection
Get rid of your old electronics! Join your community to make a positive impact on the environment. Bring your TV's, computers, and phones for proper disposal. More information and a list of accepted items can be found at inorganicmarket.ca. The Inorganic Market®, through public events and education, provides the opportunity for individuals to make a change at the community level and be positively engaged with the problem of e-waste. It is owned by the not-for-profit, SELF Solutions Lab.
---
Life Size Collage drop-in workshop
Visitors are invited to co-create a sprawling life sized collage installation that will span across one of the Main Squared storefront space windows. The evolution of this life size collage will come into being much like a performance piece; its creation can be planned, but will ultimately result from the improvised interactions between the artists and the participation of the public.
---
Pinata-making workshop with Vivian Wong & friends Using cardboard, crepe paper, and glue, participants will work in teams to create fun and festive popsicle piñatas for Vivian Wong's You Are Invited project. Templates and supplies provided. Children must be accompanied by a parent or guardian.
---
Face-painting from Bibzy Creations
Enjoy a fun face-painting experience for both kids and adults with a variety of designs to choose from.
---
Story Staff workshop with artist Pamela Schuller
Using sticks, yarns and other textiles, this workshop invites you to add to a festival-story staff or create a personal story stick woven with reflections, memories, and stories of your life.
---
Junkestra with Mark Sepic
East York artist Mark Sepic is an internationally-recognized guitarist, composer, and sound sculptor. His Junkestra program, a hands-on wonderland of recycling, integrates sports, music, and the arts, bringing everyone together in a spirit of joy. Mark will host an eco-friendly music festival, with make and take musical instruments, a musical petting zoo with xylophones, tin can steel drums – and Frankenstring – a 180-string harp, made from a fallen maple tree from Taylor Creek Park. The xylophones and steel drums are made from broken hockey sticks, donated by Ted Reeve arena, solid oak flooring from the Main Square area, and tin cans from local restaurants. It all culminates in a final freestyle jam with the audience and their instruments.
---
Local History Walk
Local historian Gene Domagala will lead a guided tour of the rich history that is Danforth Avenue. Starting from Main Square, the tour will include historical landmarks such as Queens' Plate, Hope United Church, and the oldest theatres within the area. Join us in exploring the past that has made the Danforth the wonderful street it is today.
---
Ask a Grants Officer Q&A with Toronto Arts Council
Do you have questions about applying for arts funding? Toronto Arts Council grants officers Kevin Reigh (Community Arts) and Peter Kingstone (Visual/Media Arts) will happily answer your questions about the funding programs at Toronto Arts Council.
---
My Art, My New Land workshop
A workshop for newcomer artists focussed on marketing and promotion by Airsa Art & Thought Association. Part of a series of workshops for newcomer artists to improve their communication skills and ability to adapt to a new society and culture using improv techniques and facilitated discussions.
---
Robotics demonstration by the Main Street Library branch
Stop by the Main Street Library branch's booth for a hands-on experience with robotics, coding, circuitry, and more! All ages and experience levels are welcome.
---
Sundials in the Square crafts workshop
A fun workshop where parents and their children can learn how people told time before the invention of watches and clocks by making their own sun dial. Participants will work with paints and other art supplies to decorate the face of their sun dial and learn how use it to tell time. Children must be accompanied by a parent or guardian.
---
Caricatures from the Toronto Caricature Guy
The Toronto Caricature Guy is Pat James, who thrills locals and tourists with wonderful caricature services that includes spectacular entertainment at events and festivities, and with creative memorable gifts. Performing across Canada and the world with these lively activities, and now based again in Toronto where this artistic adventurer started over 25 years ago.
---
Caricatures by artist Charles Weiss
Watch or model as artist Charles Weiss draws Caricature portraits with exaggerated features with a black marker on white paper. Charles tries to  include a scene with each person involved in their favourite hobby, sport, or profession. His motto is Faces Need to be Exaggerated.
---
Participatory Portrait Workshop with artist Sarvenaz Rayati
Try your hand at portraiture, with guidance from artist Sarvenaz Rayati. All materials will be provided.
Sarvenaz is an Iranian visual artist now based in Toronto. She received her BA in Painting and Visual Communication from Art University in Tehran. She has exhibited her work internationally and has recently participated in group exhibitions at Urban Space and Evergreen Brick Works in Toronto. Since moving to the city, she has focused on her drawing and painting practice and has immersed herself in the community arts world. She visits schools, leads painting workshops, and participates in community arts and mural projects, including the Coxwell Laneway Mosaic Mural. This summer, Sarvenaz is leading People & Trees, a community art project that will culminate with an installation in East York's Dentonia Park as part of City of Toronto Cultural Hotspot's SPARK Projects.
---
Acts of Kindness Crochet Picnic
Chason Yeboah and Tumaini Lyaruu started Acts of Kindness (AoK!) to use their crochet abilities for good instead of evil! The two yarn bomb enthusiasts turned crochet teachers caravan around the city hosting crochet picnics – a free outdoor event where people can come visit our picnic blanket and learn the foundations of crochet!
---
Art Stroll
Join a free 45-minute walk around the Main Street Subway Station area with Nathalie Prezeau (the local author of self-guided books who recently published Toronto Street Art Strolls) and artist Maryanne Peters (who was involved in the Alleyway of Dreams located near the station). Together, they will help us experience first-hand the impact of what a little paint and a lot of talent can bring to a neighbourhood. www.torontofunplaces.com
---
"Best in Show" ribbon making craft activity
Participants learn how to make elaborate "Best in Show" ribbons from crepe, decorative papers, and buttons. After creating their ribbons, participants will then become the 'celebrity' judges for the inaugural Main Squared Dog Show. Children must be accompanied by a parent or guardian. For all the dog lovers!
---
Main Squared Dog Show & Awards
Bring your friendly, leashed dog down to the square for this fun pageant of doggie excellence. Local children and teens will select winners of grueling competitions such as "most spots", "fluffiest fur", and, of course, "best costume".
---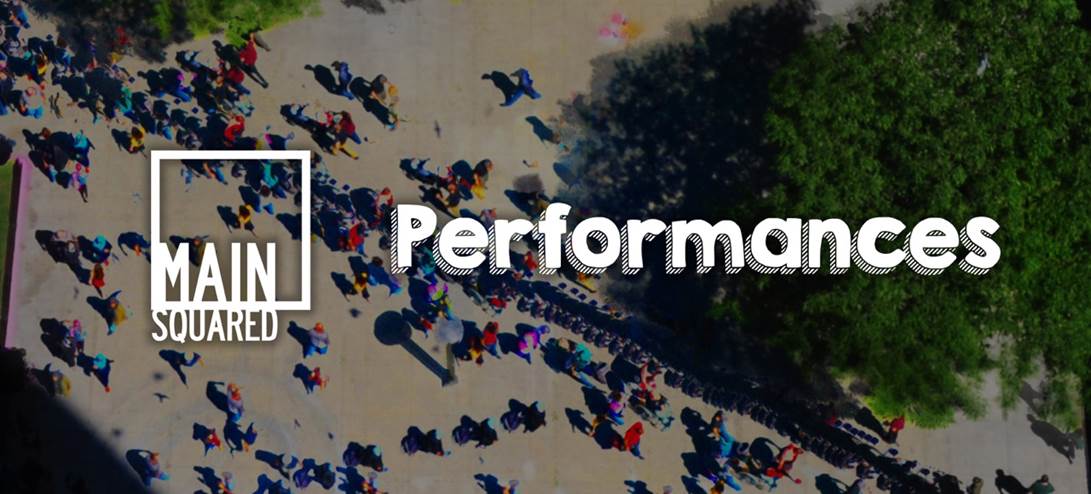 Enjoy free performances throughout the Main Squared festival. Visit the full festival schedule above to see when performances are scheduled.
Joel Lightman of Great Canadian Dueling Pianos
With over twenty years of professional musicianship under his belt, including stints with major stadium-filling bands and world tours with his own projects, Joel has a well-rounded and well-respected piano style and brings his charm and personality to every appearance. A veteran of hundreds of dueling shows, his breadth of repertoire has earned him plaudits worldwide.
---
Puppet What What and the Egg
Puppet What What is an irrepressible sock puppet, who will, with her helper, Robin Polfuss, tell a story about finding an Egg! And look for the Curious Wyrm flying about – a special puppet built by Robin and Kristi Ann Holt in the 81 & 3/4 Studio!
---
Mill House School of Music
Laura Savage and Fabio Dwyer are the founders/operators of Mill House School of Music, and professional musicians with deep ties to Toronto's music scene. Enjoy performances from these accomplished musicians and their students.
---
Song and Dance by Bangladesh Centre and Community Services
Children and youth from Bangladesh Centre and Community Services (BCCS) perform songs and dances for the audience. BCCS is an not-for-profit charitable organization serving newcomers to help them integrate through enhancement of knowledge and skill development.
---
Music by iSpy with Rebecca Everett
In the tradition of the classic 'Hot Club' groups, the iSpy quintet evokes the clandestine free-spirited soul of the gypsy jazz era. Their playful and passionate take on the 20s, 30s, and 40s peppered with original songs are performed with pure sensual abandon. iSpy's torrential acoustic virtuosity and the vocal prowess of Rebecca Everett will enrapture all audiences.
---
Music by Black Suit Devil
A seductive blend of acoustic soul/folk with haunting melodies overtop of heartfelt lyrics. Singer, songwriter, and guitarist Andy Du Rego and Neil Cameron on violin bring together over twenty years of writing, performing, and recording in the Canadian music scene. Facebook Event Page
---
Music by Euba tuba quartet
Euba is a quartet of fun-loving tuba and euphonium players who play all kinds of music around the GTA. They play a wide variety of repertoire including contemporary pieces and classical favourites. The musicians at the back of a band provide the foundation for the ensemble, playing an important supporting role that doesn't always attract much notice. Euba brings these talented musicians into the spotlight. Audiences who have never heard tubas in this setting are often surprised by just how melodic they can be.
---
Accordion music by Cathy Nosaty
Cathy Nosaty enjoys a diverse career as a musician, composer, sound designer, musical director, and artist educator. She began her musical training as a classical pianist and her love of creative collaboration led her to work in dance, theatre, and scoring to picture.
---
A Sprig of Rosemary
A Sprig of Rosemary is a Toronto Celtic-Folk Duo comprised of harpist Kim Michele and flautist Jennifer Wakefield. Multi-talented, their musical performances range from Celtic to Classical, Early music to Renaissance, Traditional to Contemporary, as well as Canadian Folk Roots music, to create a beautiful blend of rich harmonies and silky female vocals.
---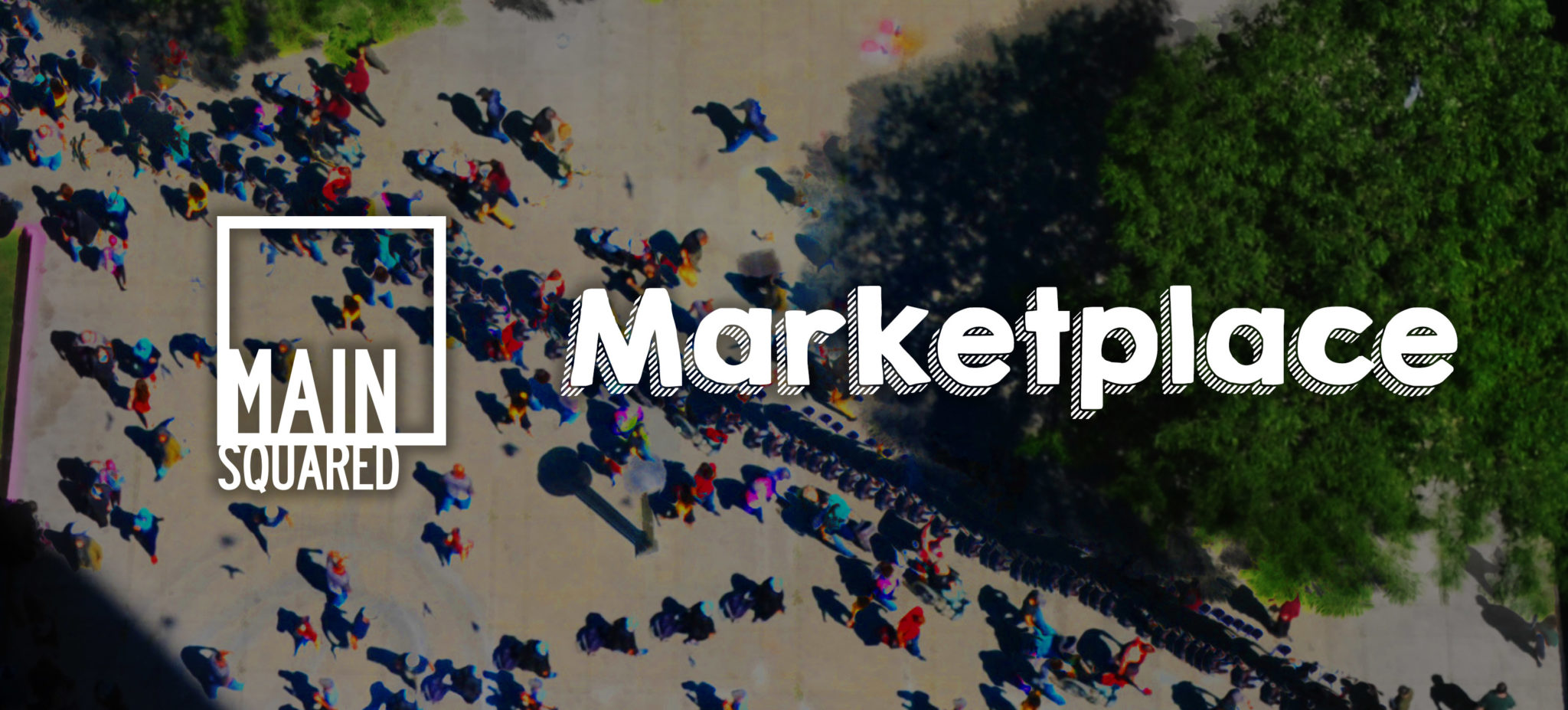 Local artists, artisans, and businesses from the community will be on display during the Main Squared festival's Marketplace.
MARKETPLACE SCHEDULE
Saturday, August 26 – 12-8pm
Pasha Authentic Turkish Cuisine
Serenade Jewels
Beit Ahtay Art
Sparks Rain Down
Chained Creativity
Empath School for Arts & Magic
Praggmatic Health
Mill House School of  Music
Desantos Premier Martial Arts
MiMono & Bexi
Fashion Bargain
Sunday, August 27, 11am-5pm
Pasha Authentic Turkish Cuisine
Sherwin Williams
Louisa LaBarbera Jewelry
Create Art Studio
Toronto Raccoons
Aunt Colyce Soul Made Products
Michael Dorang Potter
MiMono & Bexi
Saturday, September 2, 11am-4pm
Pasha Authentic Turkish Cuisine
Access Ballroom
Upper Beaches Music
Canadian Contemporary School of Art
Press.books.coffee.vinyl
TUANA Lunch&Dinner
Sunday, September 3, 12-4pm
Pasha Authentic Turkish Cuisine
---
MARKETPLACE VENDORS
Pasha Authentic Turkish Cuisine  
From wood-charcoal-grilled meat and fish courses, to hand-crafted pides and specialty desserts, Thorncliffe's PASHA offers an extensive selection of dishes, served in an ambiance of warmth and authenticity. Being at the cross-roads of the Far-East, Blacksea and the Mediterranean, Turkiye has an extra privileged cuisine that is well-known for an abundance of delicious dishes. Although it is impossible to fit this glorious cuisine into one menu, PASHA's feast-like meals are sure to impress your taste buds.
---
Serenade Jewels  
Elegant, unexpected, and eye-catching. Serenade Jewels understands how to balance the beauty of the wearer with the grace of each handmade piece.  Launched in 2009 by artist, Anna Deb, Anna's artistry combines exquisite attention to detail with beautiful materials to create wearable works of art. No two pieces are alike. The designs range from bold and eclectic, to delicate and fanciful.
---
Beit Ahtay Art 
Selling Moroccan mint tea, quality baked goods (organic and vegan) and artwork inspired by the desert and Mediterrean. There will be photo prints, art prints and canvases for sale. All original and beautiful.
---
Sparks Rain Down  
Sparks Rain Down features cross-stitched cute animals and feminist phrases and quotes. They'll be available as both patches and ring-framed pieces.
---
Chained Creativity 
Chained Creativity hand crafts both traditional and eclectic chain-mail jewelry, made from Canadian made and sourced recycled aluminum. They also craft custom requests right on the spot!
---
Empath School for Arts & Magic  
Empath School for Arts and Magic will be offering custom made prints, stickers, journals, and posters. Prizes will also be given out after a fun contest. All proceeds will be going towards the school.
---
Praggmatic Health  
Lauren Pragg from Praggmatic Health is a certified yoga instructor and invites participants from the audience to join in two 10-15 minute beginners yoga demonstrations at 1pm and 2pm. These demonstrations will offer a glimpse of the kind of work they offer privately or in small classes. No experience or equipment necessary!
---
Mill House School of  Music  
The Mill House School of Music is a family run music school in East Toronto. It was founded by two professional musicians and teachers who believe high quality music instruction should be available to everyone. Sign up for lessons at their tent and receive a 25% discount!
---
Desantos Premier Martial Arts  
Demonstrations at 12:30pm, 2:30pm & 4:30pm. No matter your age, if you are looking for fitness, fun, self discipline, or self-defence, there is a spot for you at DeSantos Premier Martial Arts. With two convenient locations, you'll find a place with them where you can belong.
---
MiMono & Bexi  
MiMono & Bexi are SockMonkey specialists since 2009, who took an old world craft and revamped it into a style icon of our time. SockMonkeys are great travel companions, the perfect subject for photography, fashion mannequins, great gifts and loyal friends. For children 0+. Made with light and love. Handcrafted right here in Canada or whipped together around the world.
---
Fashion Bargain  
Fashion Bargain creates stylish clothing catered towards men and women. Explore the selections and find a design that is just right for you!
---
Sherwin Williams 
Sherwin Williams is a global leader in providing exceptional quality paint, supplies, wallpaper and stains. With over 151 years of innovation and experience, we help bring your ideas to life.  www.sherwin-williams.com/
---
Louisa LaBarbera Jewelry 
Louisa LaBarbera Jewellery is all handmade using a variety of materials including semi-precious stones, Swarovski Crystal, freshwater pearls as well as a variety of found objects. Many pieces include hand hammered shapes made from sterling silver or 14kt gf adorned with various beads and charms.
---
Create Art Studio 
Create Art Studio is a new creativity school at 1801 Danforth Avenue for children and adults. Opening in September 2017, Create Art Studio offers classes in visual art, an after school program, birthday parties, workshops, social events, and corporate team events.
---
Toronto Raccoons
Love 'em or hate 'em, it's impossible to ignore Toronto's unofficial mascot. So why not invite these pesky, tenacious and somewhat adorable critters into your home or office with a 2018 Toronto Raccoons Wall Calendar! Features beautiful full-page, full-colour photos of the animal you hate to love/love to hate, along with monthly raccoon "fun facts".
---
Aunt Colyce Soul Made Products 
Aunt Colyce Soul Made Products is a skin care and self-care line that is dedicated to creating quality, mindful, intentional, soulful, conscious, and accessible creations. All of the products are handmade, vegan (unless otherwise stated), all natural, and made with fresh ingredients that are all fair trade and organic.
---
Michael Dorang Pottery 
Michael Dorang has been playing with all art types his whole life but when he found clay, he found his medium. The combinations of earth, water, and fire appeal to him on a primal level. Michael creates pieces that combine form and function with playful finishes. The pottery is both beautiful and useful. All pieces are food safe, microwave safe, and dishwasher safe.
---
Access Ballroom 
Access Ballroom Studio teaches Salsa, Merengue, Bachata, Tango, Cha Cha, Rumba, Samba, Swing, Hustle, Waltz, Foxtrot and more. Wether you want to learn for fun, do competitions, or you just want to look good for your wedding's 1st dance, then there is a package for you. Visit Access Ballroom Studio at the marketplace for a chance to book a free lesson.
---
Upper Beaches Music 
Upper Beaches Music School joined the Main and Danforth neighbourhood in March 2017, relocating to 276 Main Street (at Stephenson). The music school provides musical instruction in cello, violin, voice, and piano to students ages 4 and up. With a burgeoning Suzuki violin and cello program, group classes for kids and adults, and private lessons, there is a class to inspire the love of music in even the tiniest musician. Free trial lessons are available for all who inquire.
---
Canadian Contemporary School of Art 
The Canadian Contemporary School of Art will be hosting an Arts tent for kids, teens, and adults! We will have a variety of paints and materials to customize and decorate cutout fish with a variety of different designs and patterns. Individuals of all ages can experiment with paint, glitter, and string to make their own world under the sea.
---
Press.books.coffee.vinyl 
Press.books.coffee.vinyl is a friendly spot to sip the best coffee in the 'hood while browsing an eclectic assortment of records and books. Join them at the Main Squared festival for a cup of their fair trade coffee (hot or cold) and listen to some 70's and 80's classics on vinyl.
---
TUANA Lunch&Dinner
A family-owned company, TUANA Lunch&Dinner offers traditional Turkish delicacies to its customers in a friendly and laid-back environment at its restaurant located at 2825 Danforth Avenue. Visit their tent at the Main Squared festival for delicious vegetarian food and dessert options.
---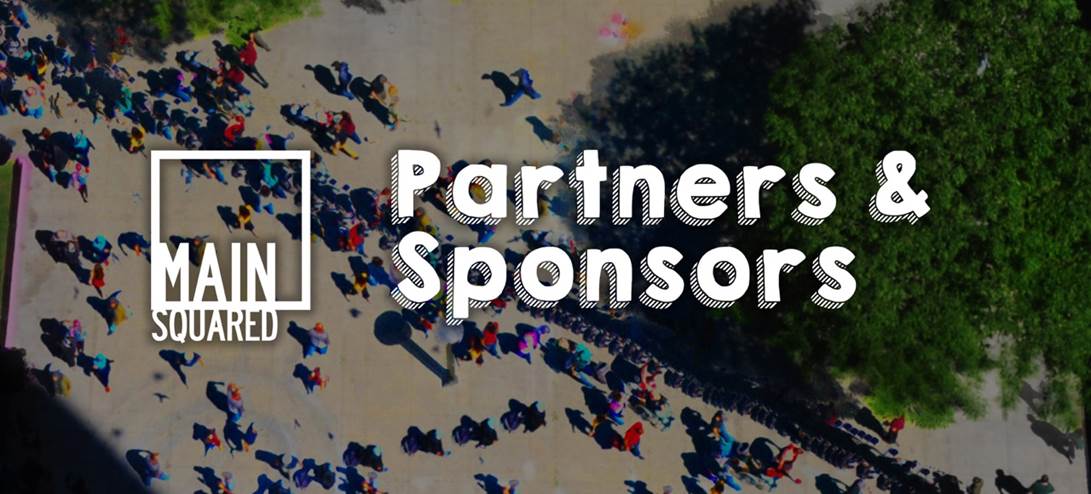 Community arts festivals like Main Squared would not be possible without community support, partnerships, sponsorship, and volunteers. We are grateful and thankful for everyone who has contributed to Main Squared through their participation, funding, volunteer time, creativity, and generosity.
Main Squared is presented by East End Arts, and is a Cultural Hotspot Signature project in partnership with the City of Toronto. Contemporary art projects curated by Labspace Studio.
---
Main Squared is made possible by the generous support of Partners, Sponsors and Funders. Thank you to:
---
SPONSORSHIP / PARTNERSHIP OPPORTUNITIES
Interested in being involved with East End Arts as a partner? We encourage you to explore ways you can support the arts as a tool for community engagement and expression. Partners and sponsors help make events like Main Squared accessible to as many people as possible, and are a great way to reach and engage your audience.
Please send an email to Shana Hillman, Executive Director of East End Arts at shana@eastendarts.ca telling us a bit about who you are and we'll be in touch soon.
---