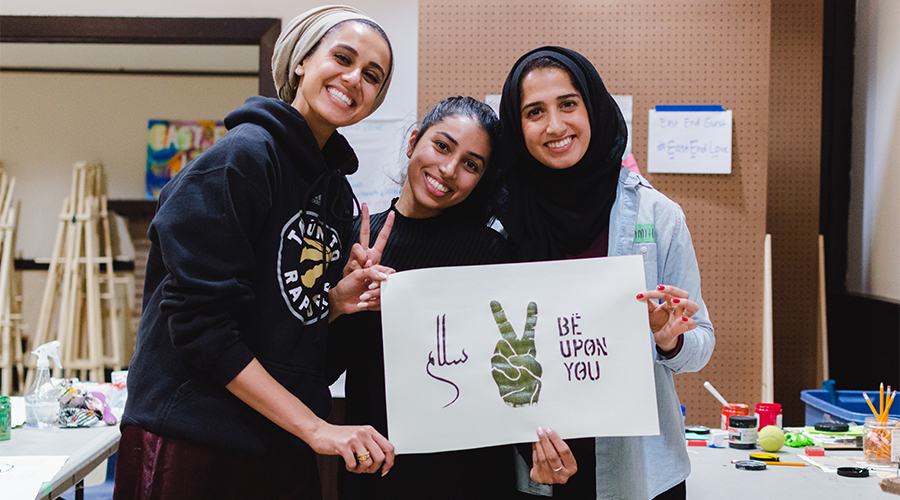 This month our Executive Director, Shana Hillman, took some time to talk about our role as a Community Arts Organization, and how community arts will play a crucial role in the recovery of our communities and our City.
"Since the beginning of the pandemic, I've talked with our colleagues in the Community Arts sector who have had to lay off staff members from their organizations, while others have had to cancel their biggest events of the year. Everyone is grappling with how to be of service when their facilities are closed. Folks are stressed, overwhelmed, and asking questions about what comes next.
And so, some months ago, the Local Arts Service Organizations (Arts Etobicoke, East End Arts, Lakeshore Arts, North York Arts, Scarborough Arts and Urban Arts), came together with our friends at other community arts organizations in the city, (ArtStarts, Sketch, Jumblies and Vibe Arts), to create the Community Arts Canopy: a group of Community Arts Organizations focused on advancing the practice and network of community art. We each had been involved in various advocacy meetings, round-tables and discussions, but we saw a gap in how Community Arts were represented. For example, as a sector we've long been an afterthought, and when we are at the table with large institutions, there is often a lack of respect for the practice, or a feeling that Community Arts is the thing they "have to do" to check off boxes on a grant application or sponsorship evaluation about community outreach. 
We realized that what we offer as Community Arts Organizations was not only important, but in the context of this pandemic and social distancing, that Community Arts is in many cases helping community members cope and giving them the tools and a lens they need to process their stories and feelings through art. As we look to reopen our smaller, people-focused events (gatherings under 50? That's right in our wheelhouse!) we will be the ones at the front lines helping to rebuild the social and cultural life of Toronto. 
As a sector we're well placed to do this work. Community Arts has always been focused on the health and well being of our communities by using art as a tool to connect, empower, and inspire people. We're well versed at providing opportunities to those in the community who are struggling with basic necessities to access extracurricular activities. We are also particularly skilled at providing community-building programs for people who are living on the margins and belong to equity-seeking groups – people who we know have been most deeply impacted by this pandemic.  
On June 25th, the Community Arts Canopy hosted our first Community Arts Town hall, supported by the Neighbourhood Arts Network, which invited 92 representatives from Community Arts Organizations working in every corner of the City. This event was created as an opportunity for Community Arts Organizations to brainstorm, share and connect.
In service of planning this event, 75 organizations completed a survey talking about the impacts that COVID-19 has had and continues to have on their organizations, including: what their communities of participants are looking for, how their working structures have changed, skills or technology gaps that they are facing, issues of staff morale, systemic barriers that have been revealed by the pandemic, and their biggest concerns around social distancing restrictions being lifted. They also talked about what IS working, like how and which digital tools are enhancing our community of practice, what is giving them hope, and what they are most proud of as organizations during this period. 
A full copy of the survey is available to read HERE, with many thanks to the team at Arts Etobicoke, especially Magdiel and Heather, for all their work compiling the results!
The Town hall was a great success, with almost unanimous good feedback! We've since received emails from attendees who said after 100 days of Zoom meetings this one felt different, and that they left our Town hall feeling energized by our MC, Parul Pandya, and keynote speaker, Ella Cooper. Participants reported really needing and appreciating a safe space to talk with their Community Arts peers in a supportive environment. Of course there were hiccups and lessons to be learned in the delivery of our accessibility supports. It remains a learning process for all of us, and so we've struck a subcommittee to address concerns and create process improvements for our future gatherings so that all can participate and leave feeling uplifted. 
More importantly however, the Town hall gave us a valuable opportunity to connect with Community Arts Organizations across the city, and identify the ways that we share struggles, successes and goals for recovery, rebuilding and renewal for the culture sector. For me, the Town hall reaffirmed that Community Arts Organizations are the ones who are best equipped to rebuild trust in our communities, to strengthen our neighbourhoods, and to ultimately assist our City in its recovery plan. 
There will be future Town halls. This fall we'll convene a Town hall for individual community arts practitioners and artists working in the sector to address their concerns, but also to share best practices and case studies from their work in this "new normal". We hope you'll join us.
These conversations can be tough. But they also give me hope. When we're asking questions of our communities, we're imagining how the future could be better. When we're imagining with each other, we're building visions of a collective, shared future for our City – a City where, let's remember, less than 10% of the population resides in the downtown core, but where funding priorities are not made with that in mind. Art and cultural investment outside the downtown core is more critical than ever in ensuring that rebuilding in the aftermath of COVID-19 happens in every corner of Toronto, not just downtown. That's the kind of future I want to live and work in. That's the kind of future I want to help create.
All of us are grappling with the impact of the Coronavirus on our organizations and programs. I know I'm feeling it, both professionally and at home. As we move towards new phases of reopening, we are greeted with more questions than answers and we find ourselves having to interpret recommendations and regulations set out by the province and Toronto Public Health. As with so much right now, the only way through this is together. We may not have answers, but we have the support and guidance of each other."
For more information on the Community Arts Canopy, or to join our mailing list to get information on future sessions and how you can attend, please email Shana at shana@eastendarts.ca
Photo Credits:
Banner Image – #EastEndLove Workshop with Hijabi Ballers, by Aniqa Rahman
Photo 1 – Crescent Town PhotoVoice Project, by Adom Acheampong
Photo 2 – ArtMEETS Tapestry Weaving, by Aniqa Rahman
Photo 3 – #EastEndLove Workshop with Kennedy House, by Adom Acheampong
Photo 4-6 – Snippets from the Community Arts Town Hall Survey
Photo 7 – #EastEndLove Workshop at Crescent Town, by Adom Acheampong
Photo 8 – Creative Facilitation Camp, by Chelsea Cameron-Fikis
Photo 9 – Winter in GreekTown Parade, by Cass Rudolph