–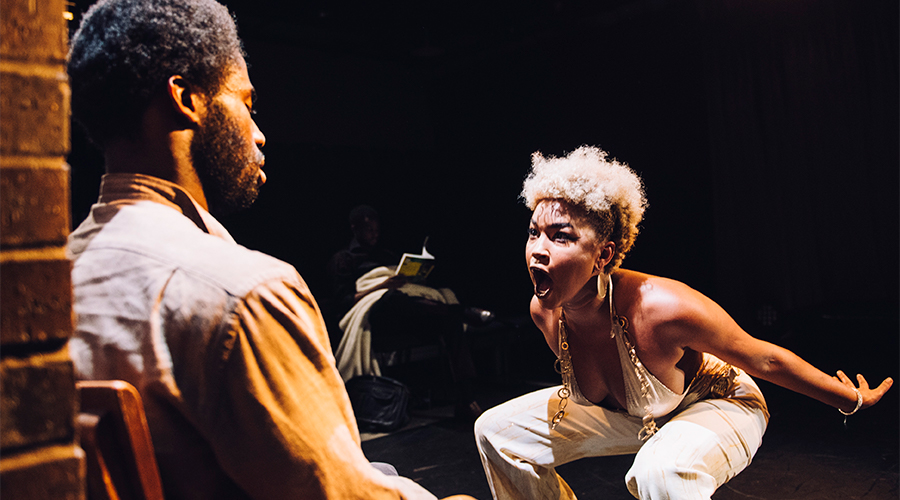 East End Spotlight is a monthly news piece where we highlight east end artists, arts organizations and creative spaces & professionals that we want to shine a spotlight on💙!
For July 2020, we got in touch with different artists & arts organizations who reside or work in east Toronto, to learn more about what they're doing and how we can all support them!
*Banner image from Obsidian Theatre's Judas Noir. Photo featuring Derick Agyemang and Chelsea Russell. Photographed by Cesar Ghisilieri*
Scroll down to read more about the following artists & arts organizations this month:
1. Artist Spotlight: Christine Walker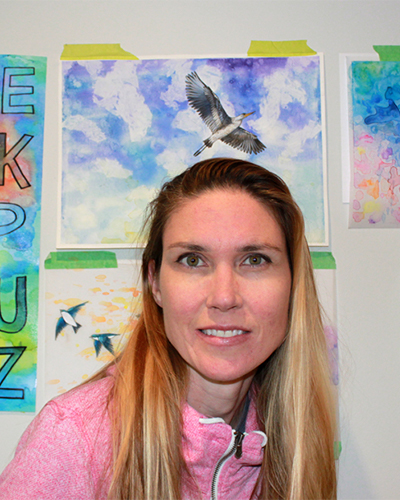 Name: Christine Walker
Discipline: Painting- Watercolour and Acrylic
Artist Website: www.christinewalkerart.com
Artist on Social: @christine_walker_art on Instagram; @ChristineWalkerArt on Facebook
Tell our readers a bit about yourself and your art: 
I am a painter and an arts educator currently living in East York. I love this community and most of the birds I paint are ones that live nearby. I completed my Master of Fine Arts degree a few years ago at OCADU, and studied the experiences of migratory songbirds in Toronto, including bird-building collisions, and ways to bring awareness to that issue. I'm also a Visual Arts teacher with TDSB, and am so grateful to be able to share my love of creating with other people.
My recent paintings include both Watercolour and Acrylic paint, and local birds. I really enjoy combining the beauty of birds with the versatility and experimentation that can occur with different painting techniques. It's fun to try to capture their mood or persona in a painting. I'm currently working with an author to illustrate a children's book, and working on some commissioned paintings. I also teach art workshops and classes, and really I'm just always looking for reasons to create more art!
How has social distancing affected your art practice?

It hasn't affected my art practice very much, except that staying home has meant I haven't been out photographing birds at parks or beaches. The robins and sparrows in my backyard have been in hundreds (thousands?) of photos though! We have two nests that we've been watching intently from afar. I have had more time to work on my paintings because I'm home, although with kids I still end up doing most of my work once they're in bed (and quiet)! I think this time of distancing has helped me to really appreciate what is important. I do miss my family in Nova Scotia, and I'm sad not to be travelling there this summer. I also really miss the personal connections that are made by participating in shows in-person, and teaching classes. Doing things virtually is a great option, but just isn't the same.
How can audiences support the work you're doing?

Visit my website, or follow me on Instagram or Facebook! I'll post updates about the shows and events I have coming up, images of finished art, and works in progress. In addition to the images you see, I also regularly accept commissions for custom artwork. And no- I don't only paint birds!
What are some virtual art events/initiatives that you're excited about?
I just participated in the online version of the Riverdale ArtWalk. I missed seeing the other artists' work in person- but the virtual event was a good compromise considering our current predicament. I've checked out more virtual and online events than I can list here, and I am truly amazed by the wealth of talent and skills being shared by others in our community.
2. Artist Spotlight: Erika Downey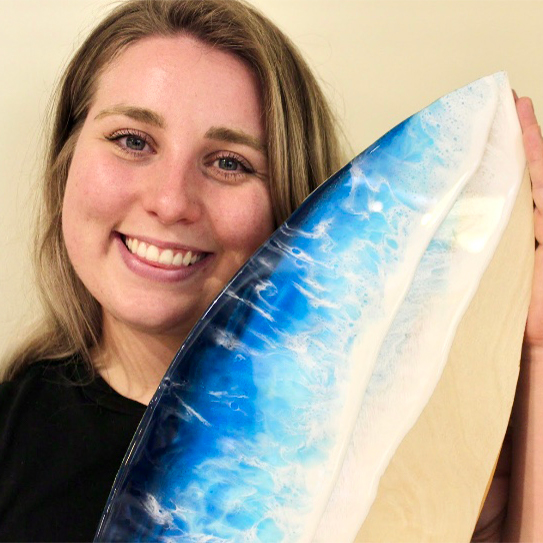 Name: Erika Downey
Discipline: Resin Artist
Artist Website: resinblondie.etsy.com
Artist on Social: @resin_blondie on Instagram; @resin_blondie on Facebook
Tell our readers a bit about yourself and your art:
I (Erika) started Resin Blondie almost a year ago making colourful resin coasters and soap dishes that would stand out in anyone's home! Now I've evolved my business into creating functional art pieces and home decor items that have been inspired by the oceans.
Using that inspiration has led to such pieces as pop sockets, ID badges, phone cases, coasters, serving trays, wall art and so much more! Each piece is designed so you can bring the ocean with you, everywhere you go!
Each and every piece that has been created is one of a kind and unique to one another. This guarantees that your piece will be like no others.
How has social distancing affected your art practice?

During social distancing I feel like the hardest part has been not being able to attend any in-person markets. Meeting with so many amazing individuals, talking about the work I've created, and seeing their reactions when taking home a piece of their own is one of the most rewarding parts of what I do.
How can audiences support the work you're doing?

I truly enjoy my followers watching along my process videos/stories on Instagram and TikTok. Following along commenting, liking, and sharing my work to their friends and families.
During COVID-19 I've really focused my work onto an online platform such as ETSY to give the opportunity for anyone to snag one of my pieces at the convenience of their own home.
What are some virtual art events/initiatives that you're excited about?
[Not virtual but,] I'm currently in the process of finalizing some in-person market dates for the end of summer and into the fall. With these markets being finalized, I'm most excited to meet so many new and friendly faces once again!
3. Artist Spotlight: Kevin Reigh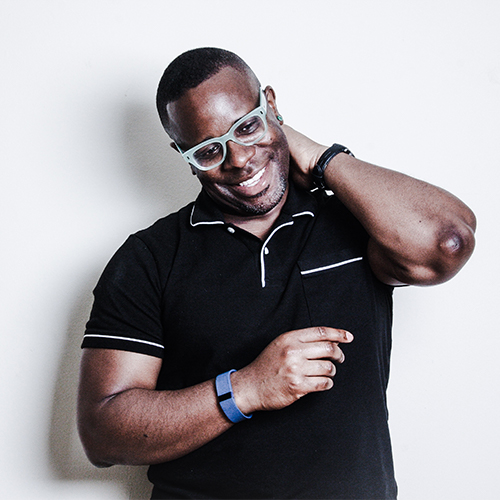 Name: Kevin Reigh
Discipline: Arts Manager / Writer / Spoken Word Performer
Artist Website: kevinreigh.com / lingualivity.com
Artist on Social: @kevinreighsays on Instagram
Tell our readers a bit about yourself and your art:
I was born in Jamaica…raised in Scarborough…but the cultures of both places and spaces heavily impact my interests, perspectives and general ways of being…
I was just starting school when we arrived in this country and one of the things I remember most from that period of my life is the way people made fun of the way that I spoke…the way I pronounced things a little differently…and I think largely because of this I've always been fascinated by the sound of words…how they sound and feel flowing from the mouths of others but also how they feel on my tongue and the rhythm of words colliding together when people speak…
…in conversation with people I'm much more interested in listening to what they have to say than hearing my own voice. And given my childhood experiences I suppose there is some irony in the fact that people have paid money to have me stand on a stage to use my voice…
…I used to collaborate with dancers quite a bit and I think that was also partially born of my early obsessions with words and rhythm…I don't perform much anymore (in fact I refer to myself as a semi-retired performer) but I love sitting around with a notebook trying to make sense of the world…even though the writing process can sometimes be agonizing and isolating…
To date I've released an album (Ground Provisions) and a volume of poetry (Love. Universes. All Things.) and my work was included in T-Dot Griots: An Anthology of Toronto's Black Storytellers. I also contributed to The Last of the Funky Cyborgs by Paranoid Jack, an album of electronic/house music.
A couple of years ago I started to think that I wanted to start a small press; I called a friend and asked her to talk me out of it. She did the opposite…and now serves as my editor…and thus Lingua & Livity was born.
By day I do arts fund-y things at the Toronto Arts Council and by night I stay up way later than I should…
How has social distancing affected your art practice?

This is perhaps the one area of my life that social distancing hasn't negatively affected all that much. I'm a night owl who tends to write late at night or in the wee hours of the morning…working from home and not having to commute means not having to wake up as early which means more time to stay up late and write…pretty much everything else about social distancing and this pandemic is, to put it mildly, strange…having additional time to write has been satisfying.
How can audiences support the work you're doing?

Well, I am releasing a book of poems very soon (by time you read this it might very well be out in the wild) that you can grab a copy of at lingualivity.com/releases. And while you're there you should also grab a copy of our first release, 'The Last Train East', a poetry collection by Berma, a Scarborough based storyteller, selector and all-round good human. Follow Berma on Instagram @_berma
What are some virtual art events/initiatives that you're excited about?
In recent times, as far as arts consumption is concerned, I'm a bit of a sucker for things I can't or don't do. Photography and visually based multi-media is decidedly in the category of things that I cannot do. The work of Toronto's Photo Laureate Michele Pearson Clarke is always worth a look; so check out Michelle's work on Instagram @tophotolaureate or on her website https://www.michelepearsonclarke.com/
I'm also increasingly interested in art that foregrounds humanistic and personal narratives. It's a cliche to say 'everyone has a story' but it's also true; you just need to care enough or be curious enough about the lives of others to find those stories. With that in mind, sweetgrass sugarcane saffron is right up my alley (www.sweetsugarsaffron.com). This multimedia photography exhibition highlighting the lives and perspectives of folks that are often ignored.
4. Artist Spotlight: The New Local (Gabi & Jeremy) – Artists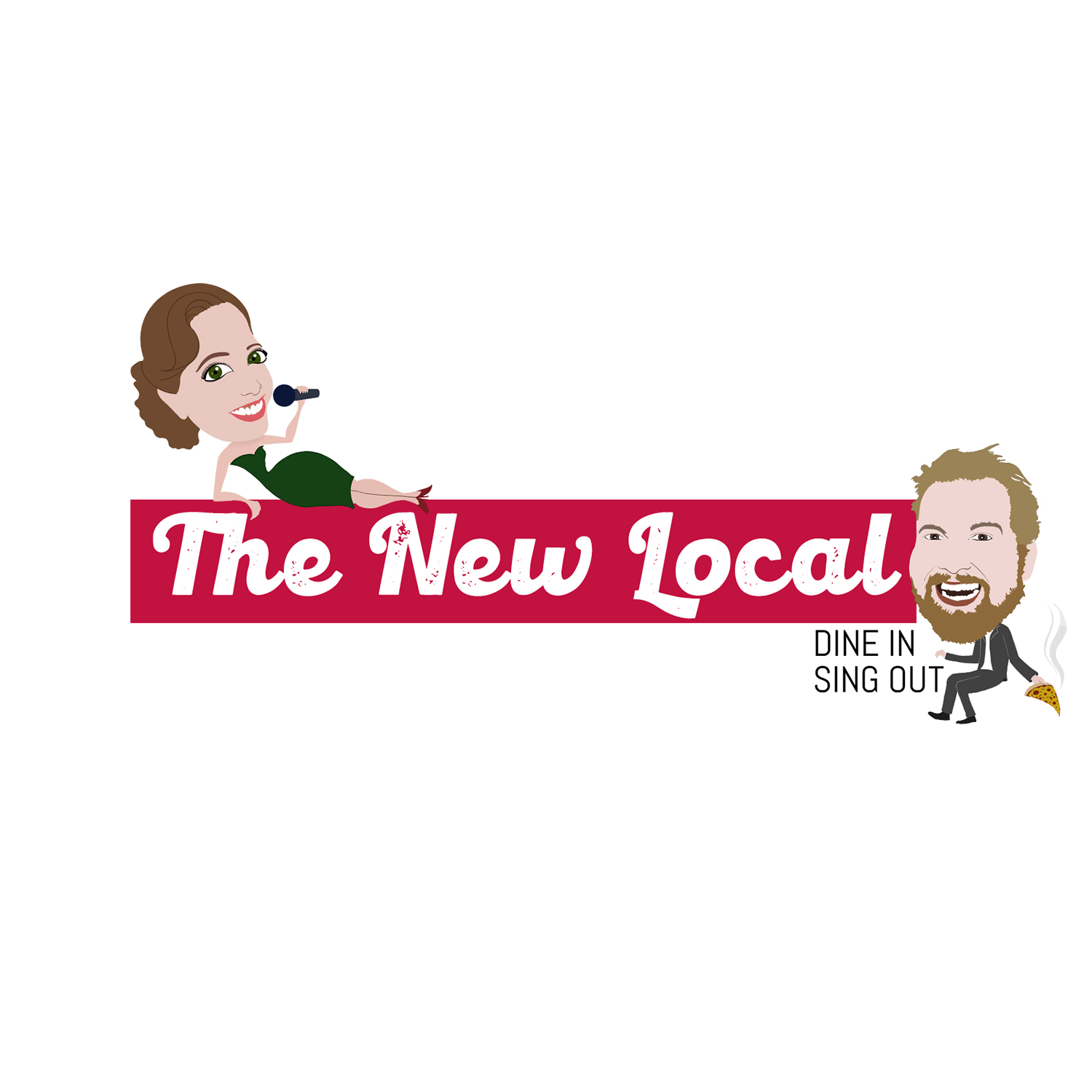 Name: The New Local (Gabi Epstein and Jeremy Lapalme)
Discipline: Live Performers (singer/actors)
Artist Website: gabiepstein.com/news
Artist on Social: @the.new.local and @gabifayepstein on Instagram; @thenewlocalevents on Facebook
Tell our readers a bit about yourself and your art:
We are self-employed live entertainers who have performed on stages across the country, (Stratford/Mirvish/Stage West/Fringe/Passe Muraille… you name it). Due to COVID-19 our beloved industry has been shut down indefinitely. In an effort to continue practicing our art we started "The New Local" which provides live virtual concerts to accompany a fresh dinner with partnered East End restaurants. One price gets you dinner for 2/4/6 and a private link to a LIVE concert performed from our home to yours.
How has social distancing affected your art practice?

Theatres are shut down and so we have had to adapt our art very quickly. After all, who are we as performers without an audience? Although the virtual experience can never replace live theatre, we think we have created something that acts as an "AND" rather than an "OR". We know that Torontonians are yearning for shared experiences, so in addition to just singing and telling stories we try to engage with our live audience through the chat and other features that only streamed productions can allow. And now that restaurants are delivering rather than having people come to them, we thought why not entertain while encouraging people to support local with dinner and a show!
How can audiences support the work you're doing?

We were overwhelmed by the response for our first "New Local" show which we partnered with the Oak Park Deli. Our next show is Sunday, July 12th and features the one and only RELISH BAR AND GRILL! We thought they would be the perfect partner for this venture since they not only have great food but are absolute champions of live music. Please visit gabiepstein.com/news as well as our socials for info and email thenewlocalevents@gmail.com to reserve or ask us any questions. Also, Gabi has a CD! You can find her debut CD, "Show Off" on Spotify and iTunes.
What are some virtual art events/initiatives that you're excited about?
Other than ours?? 😉 We have been working with our dear friends Daniel Abrahamson and Kayla James of "Stream Stage" who have put countless hours into finding ways to make these kind of virtual live shows truly outstanding. They just produced a triumphant virtual production of Gabi's brother Jake Epstein's one-man (soon to be at Mirvish) Fringe hit "Boy Falls from the Sky" and are producing a concert of Gabi's for the Harold Green Jewish Theatre later in July. We are also huge fans of Hawksley Workman and are loving his monthly "Hawksley Night in Canada" broadcasts. It has been incredible to see how people are striving to communicate their art through social isolation and it shows how vital it is for us to share togetherness.
5. Arts Organization Spotlight: Obsidian Theatre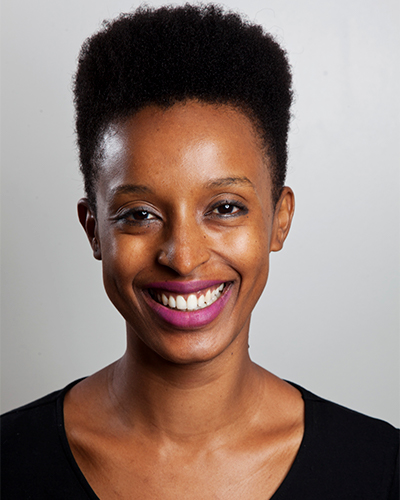 Name: Obsidian Theatre
Type of Organization: Theatre Company
Website: www.obsidiantheatre.com
Social handles: @obsidiantheatre on Instagram; @obsidiantheatre on Twitter; @obsidiantheatrecompany on Facebook
Tell our readers a bit about your arts organization, your history, artistic mandate etc.: 
Obsidian is Canada's leading culturally specific theatre company. Our threefold mission is to produce plays, to develop playwrights and to train emerging theatre professionals. Obsidian is passionately dedicated to the exploration, development, and production of the Black voice. Obsidian produces plays from a world-wide canon focusing primarily, but not exclusively, on the works of highly acclaimed Black playwrights. Obsidian provides artistic support, promoting the development of work by Black theatre makers and offering training opportunities through mentoring and apprenticeship programs for emerging Black artists.
Obsidian Theatre Company was born out of a passionate sense of artistic responsibility – a responsibility to bring the Black voice, in its many artistic dialects, to Canada's cultural forefront. Obsidian encourages Black artists to expand their vision of what they perceive, create and present to a national audience. Obsidian continues to play a prominent role in Canada's theatrical mosaic by showcasing the work of both emerging and established Black artists.
Since its inception, our development programs have led many artists to expand their professional development and create new Canadian works. Through our training programs, we produce plays, develop playwrights and train emerging theatre professionals.
What makes your arts organization unique or different?

We are the largest Black theatre company in Canada and our culturally specific mandate makes us different from most theatres in Toronto and Canada.
How has social distancing affected your arts organization?
We have had to cancel all live public programming that was supposed to occur in-person for the calendar year of 2020. We are now at a stage where we are researching new ways to engage with our artists and audience. It is challenging to imagine what live performance looks like with social distancing and other safety measures in place once government restrictions allow larger gatherings of people. We are entering unknown territory for the theatre community.
How can community members interact or support your organization right now?
The best way to support Obsidian Theatre right now is to donate if you are able. The money goes directly to initiatives that benefit/engage Black theatre artists.
Donation Page here: https://www.canadahelps.org/en/charities/obsidian-theatre-company-inc/#donate-now-pane
Mailing List Signup here: http://www.obsidiantheatre.com/contact/join-our-mailing-list/
What are some virtual events/initiatives you're excited about?
We don't want to give anything away just yet, but we've got some exciting plans for the next few months as we introduce our artists and audiences to our new Artistic Director, Mumbi Tindyebwa Otu. Stay tuned to our social media handles and website for more information!
7. Arts Organization Spotlight: Toronto Fringe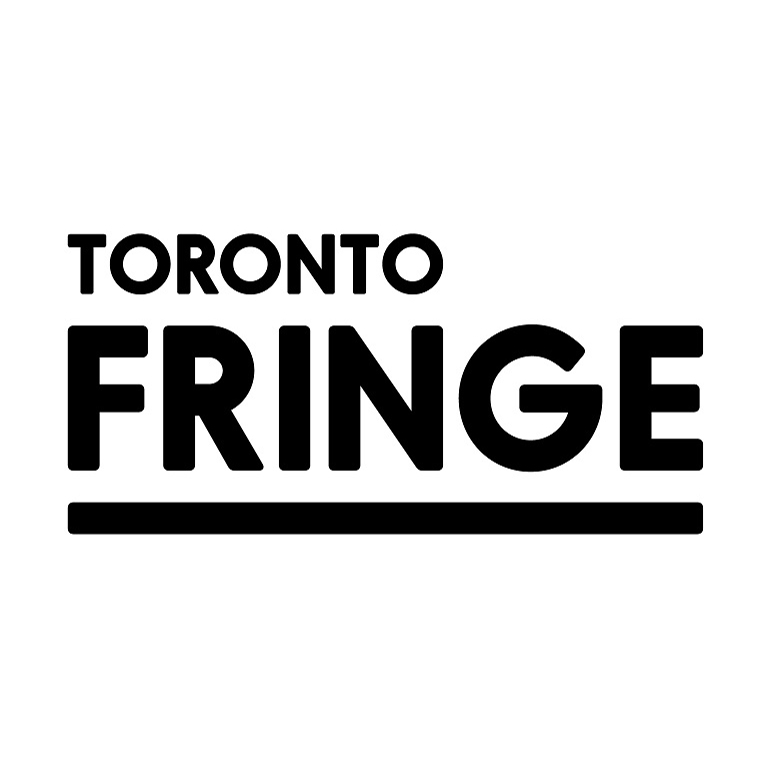 Name: Toronto Fringe
Type of Organization: Charitable Arts Organization – Theatre Festival
Website: fringetoronto.com
Social Handles: @toronto_fringe on Instagram; @torontofringeon Facebook;@toronto_fringeon Twitter. #FringeTO #FringeTOCollective
Tell our readers a bit about your arts organization, your history, artistic mandate etc.: 
Toronto Fringe is a grassroots, charitable organization that runs the Toronto Fringe Festival each July, the Next Stage Theatre Festival each January, and various year-round programs that benefit youth, artists, and the theatre community at large.
The Toronto Fringe presented its first festival in the summer of 1989. Over the past 30 years it has grown into this city's largest theatre festival, welcoming over 90,000 patrons and giving voice to over 1,200 artists annually. To date we have returned over $6,000,000 in box office revenue to artists. We have also premiered some of Canada's most successful theatre productions including 'Da Kink In My Hair, The Drowsy Chaperone, Mump and Smoot, My Mother's Lesbian Jewish Wiccan Wedding, and Kim's Convenience, to name a few.
The Toronto Fringe Festival is Ontario's largest theatre and performance festival. Taking place every July at venues across Toronto, Fringe is the best 12 days of the summer.
What makes your arts organization unique or different?

Our mandate is to be a platform for everyone to access, discover, and experiment with the arts. By valuing creative experiences, we contribute to a healthy arts economy and, ultimately, a thriving society.
How has social distancing affected your arts organization?
We have had to cancel the Toronto Fringe Festival for the first time in its 32-year history. We are proud to say that we have been able to continue to employ all full time and contract staff that were on deck for the summer, but unfortunately we were not able to hire back our 100+ summer festival staff of front of house managers, technicians, assistants, etc.
How can community members interact or support your organization right now?
By joining us for The Fringe Collective, a digital Fringe experience this July 1-12! The Fringe Collective features 50+ companies that were slated to present work at the 2020 Toronto Fringe Festival. Look forward to unique, pre-recorded video, awudio, written, and interactive content that will keep the Fringe spirit alive this July! Learn more here: https://fringetoronto.com/collective/about and download the full digital Fringe Collective Program Guide here: https://fringetoronto.com/program-guide. Passes now on sale!
What are some virtual art events/initiatives you're excited about?
We are excited to host our Postscript Live(stream) events. Every summer, we run a pop-up patio called Postscript, and this will be our digital version. Throughout the 12 days of the Fringe Collective, join us on Facebook for live streamed patio events. Wear your Fringe t-shirts, merch, and Tip the Fringe pins and raise a glass to 2020! Join the live stream at https://www.facebook.com/torontofringe/