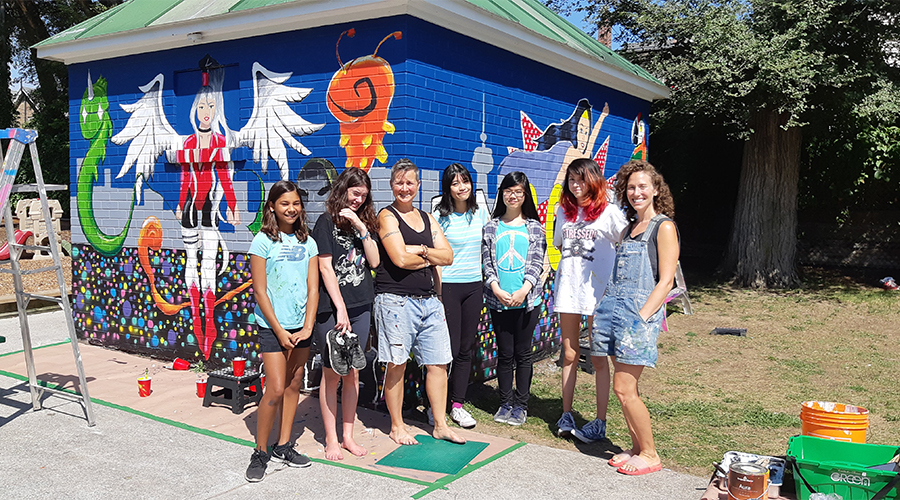 This month we sat down with Monica Wickler, one of the lead artists running our summer program Girls Mural Camp, and a well-known street artist in Toronto who continues to shift the gender disparity of women/female/non-binary muralists in the world of street art.
Q: Tell us about your history as a street artist and muralist. How and why did you decide to enter this space?
A: I'm not a city girl, I grew up in a small town called Georgian Bay, Ontario. I went to school in a small town and when I went to sign up for a drafting course, which, you know, back when it was all done by hand, the school said, "No, I'm sorry, we don't offer that course to women," And I was like, Really, you don't offer drafting to women?! Well, my dad was a chief engineer at the time, and I was inspired to follow in his footsteps, so we went into the principal's office and insisted. I was the first female student to take drafting in my high school. I then studied industrial design at Georgian College, and my illustration professor proposed that our class design and paint a mural on a hoarding wall that went around a construction site. He then came back with restrictions and said we could only design something that was 12 inches by 12 inches and that we would stitch them all together. We were outraged. We were like, how's this large-scale? So, after school one day, we revolted. We went in, brought paint and we splashed it on the wall and wrote a text that said, "Freedom of Expression," in one night. There weren't video cameras back then, but there were a few key players that saw us do it. Then the next day, we were called into the dean's office, and just about got kicked out of school for doing that. But I feel like that was a pivotal moment for me, where I saw how you could express yourself, your viewpoints and your discomfort with the world through large-scale public art.

Q: If you had to describe your street art, how would you describe it?
A: With the art that I'm creating for the public right now, I try to bring a sense of positivity; that's really important to me. We know this world can be a tough one, right? I think what is also really key in my work is playfulness. I want to remind people to play and to have lightness about them. Don't forget that there is positivity and playfulness and you need to embrace that! I try to bring those elements through colour, through my expression or through my shapes. Also sometimes, through the text that I use, but it's not always obvious.
Q: As we know, street art has been a male-dominated space. What are some of the challenges you have faced as a woman in a male dominated environment?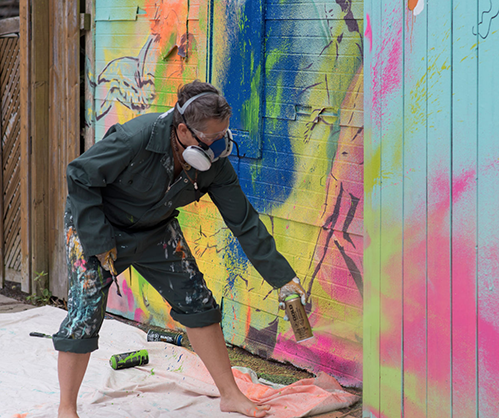 A: The City of Toronto started funding street art, I want to say, about 15 years ago, and their mandate was to bring graffiti artists into the public realm and to support them with legal walls, funding and space. So, the graffiti scene 15 years ago was definitely male-dominated, because back then, most women weren't going to go out in the middle of the night and paint. That's where you find the gender gap. But I think that's changing and today is very different than 15 years ago. There are so many women doing street art now, because it's less about the origins of graffiti and more about reclaiming the streetscape with public art. No matter where it originated from, it's art for the public, right? So, in terms of how I struggled with the male dominance — I don't struggle with it. I grew up with brothers and know what it's like to be around guys. I like it; I can handle the guys. I really enjoy bringing my feminine/tomboy vibe and that different edge. It actually feels like you get a bit of a balance there. I don't find that challenging, I like it.
Q: Who are some of the artists you look up to in this industry, and why?
A: You know there are so many amazing female artists in the industry… not just in street art but also in visual arts in Toronto. There's an artist that I really admire — Shalak Attack. I think her roots are in Brazil. She works in a few teams, a few collaborations. One of her collaborations is Clandestinos Art. And, I think, within that is her husband and her sister, and they produce such vibrant work! They tackle large-scale stuff with such grace and such beauty, and bring their messages loud and clear to the public. I mean, I love Shalak Attack's work. Another artist that inspires me is Swoon, a New York-based public artist, humanitarian and activist. She creates wheat paste art which is an old-school form of graffiti — it's cutting out images from paper and wheat-pasting them onto the wall. She's really somebody that everybody should check out. She's on Instagram @swoonhq, and I follow her work closely. Very inspired by her.
Q: As an established artist in this industry, what are your goals for the next 5-10 years down the road?
A: One thing that I would love to do is take my public art outside of Toronto. I've done work outside of Toronto, I've left pieces in Iceland and I've left pieces across Canada. My people are in Luxembourg, so I'm inspired in the next 5 to 10 years to take my work out of Toronto and do more of an international thing. I'm planning to explore residencies. You know, my kids are in high school right now, so in four years they'll be off to university and that would be my opportunity to go on the road with my work. I'd love to empower youth in the public art sphere across Canada, or get on a bus and take the studio on the road, that kind of thing.
Q: Are there one or two pieces of street art that stand out to you as favourites that you completed in your career?
A: Over the last four-five years I've been trying to create collaborations and to work together with other artists. I find that so inspiring. So, last year I had the opportunity to use some funding to paint a wall with Indigenous artist, Nyle Miigizi Johnston. Nyle and I worked on a piece on Nicholson Lane and designed it collaboratively. His style and my style are very different — I'm colours, I'm vibrancy and he brings teachings of his Indigenous voice to the wall. So, we created a piece and painted a wall that was about 180-feet long and three-stories high. I really loved the process of working together with Nyle and hearing his hearing his authentic Indigenous voice and stories, and seeing how that translated into his artwork. We would start off with acknowledgements to the land, setting our intentions; it was a very spiritual thing. We painted that in August in 2019, and that was a significant wall for me. If anybody wants to see it, it's on Nicholson Lane in Toronto – it's worth going to see. I also work for the University Health Network (UHN), bringing arts programming to people with memory loss at the Dotsa Bitove Academy as a visual artist. I see how art impacts people's lives and that has been a very, very rich experience for me.
Q: What excites you about Girls Mural Camp (GMC), and why is this an important camp to you?
A: I think it's a fantastic opportunity for youth or emerging artists to work with established artists. It presents an opportunity for empowerment, which I think is really key. I think that's what I felt when I was in the illustration class and I produced that mural after the doors closed – I felt empowered. And I think as soon as you empower somebody, it can launch them in a new direction or maybe just plant a seed that will launch them later on. So, I'm excited about that opportunity to empower the youth. I myself also feel empowered when I'm involved with these courses, because the youth bring a spirit, a freshness, and new ideas and perspectives. I really vibe off that and I walk away from the girls' camp refreshed and re-inspired. I'm empowered by them. I'm looking forward to that.
Q: How can individuals who identify as women, females or non-binary continue to shift the norms of this industry?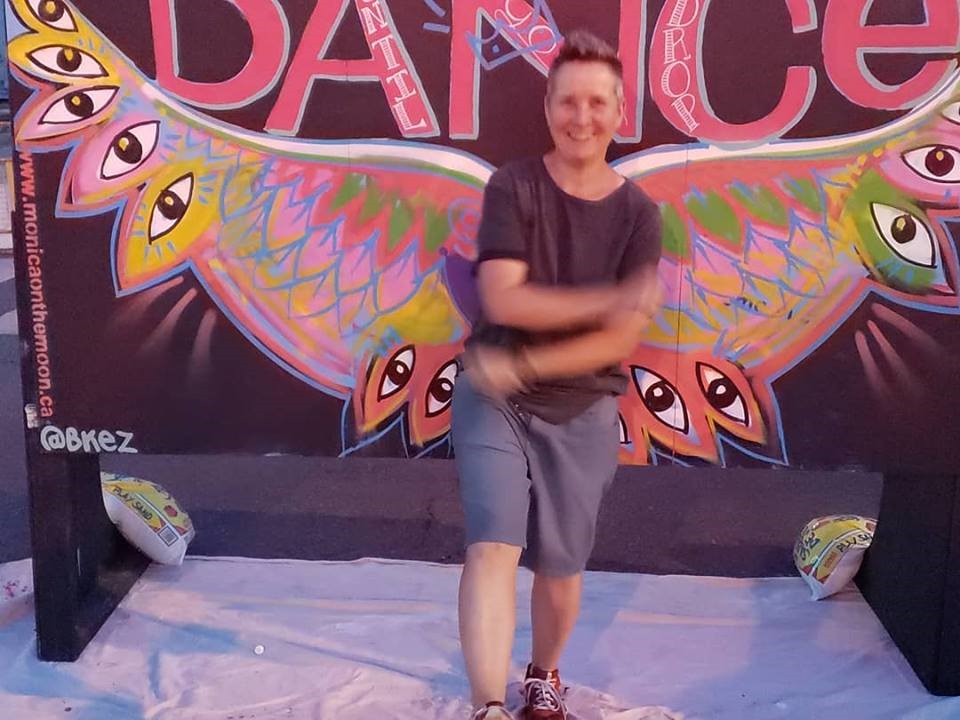 A: I think that when women are in any industry, they naturally bring their authentic voice of the female perspective. The value in this female perspective is that it has the ability to maybe soften, or take some of the edge or competitiveness out of it. And, not only through our female perspectives but, we choose colours differently, our authentic lines are different. When you embrace that, I think it brings a beautiful balance into the industry. So, I think just bringing your authentic self to the table is really key.
Q: What would be your advice for young female street artists just starting out today?
A: Going off what I said above, it's really important for you to bring your experience and your authentic voice to the table. Whether it's based around gender or not. It should be based more about your experience and where you come from as a human and what has formed you. To find that authentic voice, you need to draw. I know you can come to the wall and you can bring colours, shapes, some text and a message, but I think it's really important for visual artists to draw every single day, even if they're drawings that nobody will ever see. You need to just fill your sketchbooks up. And from those drawings, you can be inspired to create work. It's almost like your vault that you can reference. So, I think it's really important to draw every single day, and to bring your authentic voice to your work.