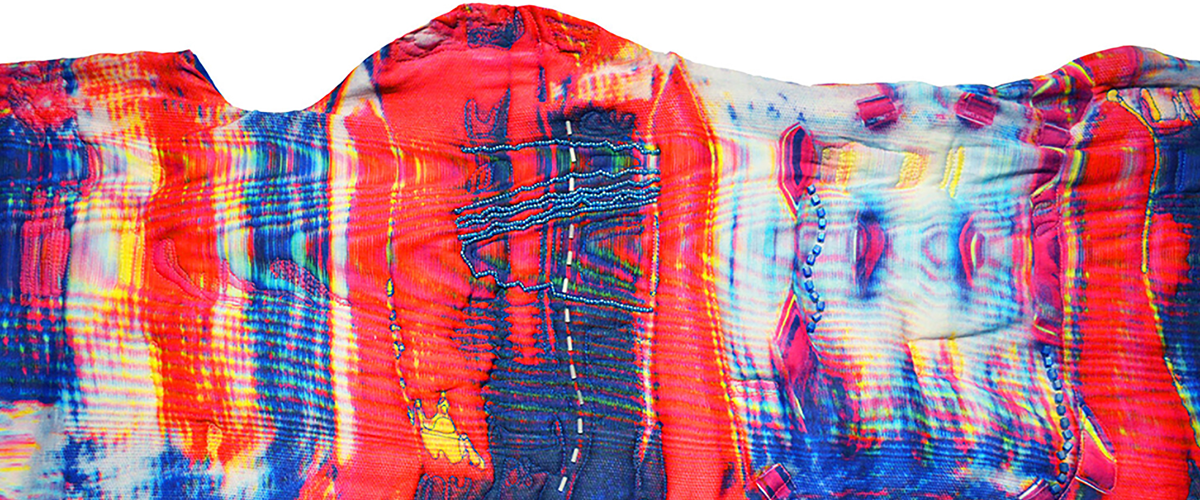 East End Spotlight is a monthly news piece where we highlight a series of east end artists, arts organizations, creative spaces & professionals that we want to shine a spotlight on💙!
August East End Artist Spotlights
For August 2022, we got in touch with some new arts businesses and artists who live or work in east Toronto. Scroll down to read more about the following people and organizations this month:
*Banner image is a quilt by Khadija Aziz.*
1. Artist Spotlight: Julia Lee

Discipline: Textiles
Artist Website: ProvenanceYarns.com
Artist on Social:
Facebook @ProvenceYarns

Artist Pronouns: She/Her
Describe yourself and your artwork:
I immigrated to Canada from the UK, and have since had a career as a science book editor while taking courses on spinning and other textile arts. I graduated from the Ontario Handweavers and Spinners' Spinning Certificate program in 2000, and have since taken over co-ordinating that program and teaching some of the units. I also teach private spinning lessons and take commissions to spin specialty fibres into yarn. My focus is on turning locally-produced fibre into textiles at my home studio in Riverdale, Toronto, where I wash and dye wool fleece and other fibres, then card, blend, and spin them into unique yarns before knitting or weaving them into finished textiles. My products include garments and accessories as well as household textiles such as wall art, blankets, and tea towels. In addition to creating my own textiles, I mend and repurpose existing pieces: stitching crazy quilts, adding decorative patches, and invisibly repairing knitwear. I like my work to be fun, practical, attractive, and easy on the planet.
What is one of your greatest achievements as an artist thus far?
Creating a full-sized blanket with nothing more than a spindle and a pair of knitting needles during the first COVID lockdown.
Where do you find inspiration?
Matching available fibres to an appropriate use, taking into account colour, softness, texture, strength, and the desired qualities of the finished product.
How do you want communities to remember your art?

I'd like people to think "I want to learn how to do that", and then discover their own love of local fibres and textile arts.
What advice would you give to emerging artists?

Don't be intimidated, but don't expect it to be perfect the first time. Keep trying, exploring, and practicing. Talk to people whose work you admire. Remember that all artists are always learning.
A fun fact about you for our readers:

One of my favourite sources of local fibre is my husky-mix dog, Hana!
2. Artist Spotlight: Khadija Aziz

Discipline:  Textile and Digital Artist & Educator

Artist Website:  KhadijaAziz.com
Artist on Social:
Instagram  @_khadija_a_
Twitter  @_khadija_a_
Artist Pronouns: She/Her
About Khadija and her artwork:
Khadija Aziz is a textile and digital artist and educator. She investigates the making and transformation of patterns through the play of analogue and digital processes. By marrying slow textile-making techniques and tools with spontaneous digital manipulation methods, she creates installations, digital images, animations, and Augmented Reality experiences. Through pattern and play, her work explores the potential of digital materiality: bringing digital into the physical and the tangible into digital spaces.
Khadija is an MFA candidate at Concordia University's Fibre & Material Practices program. Her textile and digital art have been exhibited in Canada, Australia, and Austria. In recognition of my creative practice, she received the Shanks Memorial Award in Textiles from Craft Ontario and the Creative Promise Award from Surface Design Association in 2020.
What is one of your greatest achievements as an artist thus far?
My happiest achievement as an artist thus far is the quilt I made for Gladstone Hotel's Hard Twist 14: Entwined, curated by Helena Frei and Chris Mitchell in 2019. I made the quilt during my summer residency at Harbourfront Centre (another one of my happiest achievements). This quilt is my favourite piece of work that I created, and the opening of the exhibition is one of my favourite memories because lots of my friends, classmates, colleagues from work, and professors came to see the quilt. I felt so loved, and I hope to show up for those friends and peers in the same way.
Where do you find inspiration?
During walks, observing insects and fallen leaves, watching clouds, drinking tea, chopping vegetables, taking close-up pictures of tree barks, at art galleries and museums, among other artists and creative communities.
How do you want communities to remember your art?

I want my art to be remembered as art that shifts boundaries and redefines common expectations and understandings of what it means to be a brown artist, a textile artist, and a digital artist.
What advice would you give to emerging artists?
Learn to trust your guts and listen to your instincts. Keep making the art you love to make, even if you can't explain "why" you are making it yet. The reason will come to you later, when you are able to step back and take a look at the whole picture.
Your art doesn't have to look like everyone else's art, and your art definitely doesn't need to be popular on Instagram or Tik Tok to be "good" art.
Allow yourself to make "bad" art. Whatever that means to you.
Surround yourself with the right people. Spend time with people who are younger and people who are older, and with artists who are emerging and artists who are established.
Show up for yourself and your friends. Attend workshops and openings. Bring your friends or make new ones.
Think of the person you wish to be one year from now. Start being that person today.
Don't discourage yourself to fulfill arbitrary goals like "draw every day". What works for one artist may not work for another. Make art as much as or as little as you can, whenever you are able to.
Take care of yourself. Take breaks. Take it slow. Listen to your mind and body when it wants to rest.
A fun fact about you for our readers:

I didn't actually want to be an artist until my 4th year of art school! Until I switched my major to Material Art & Design (MAAD) at OCAD University during my 4th year (I took 6 years to complete my BFA), I wanted to work in design thinking, social innovation, urban planning, municipal politics, or business. In my new major, I learned about the history of craft from a global perspective, not just Eurocentric lens. For the first time, I was able to relate the history of art to my own cultural, religious, and historical background.
3. Artist Spotlight: Roxane Tracey

Discipline: Visual Artist, Poetic Artist

Artist Website: PoeticartGallery.com
Artist on Social:
Instagram  @roxanetracey
Facebook @PoeticArtStudio

Curator Pronouns: She/Her
Describe yourself and your artwork:
I am an African-Canadian woman who was raised in Toronto by immigrant parents. My parents raised me to be resilient and understand the value of the opportunities that have been put before me.
I walk with the privilege of placing my feet in the footsteps of my ancestors who have paved the way – moving earth, water and fire so that we can continue the journey.
I see myself as a visual storyteller. My stories take on the form of visual art and poetry (Poetic Art) and aspire to create cracks of light, hope and simple truths. My artwork is Afrocentric, and rooted in aspirations of inspiration and community empowerment.
What is one of your greatest achievements as an artist thus far?
One of my greatest achievements as an artist thus far has been inspiring my nine year old daughter to see the power of creating art as a well as the opportunities that Black female artists can create with persistence and passion for their art.
Where do you find inspiration?
I find inspiration in nature. I have a love for incorporating organic, raw materials, such as burlap and wood into my artwork. These materials help to ground me in the creative experience and provide perspective as to the gifts of the universe. I also find inspiration in travel and experiencing different environments, cultures and communities.
How do you want communities to remember your art?

I would like communities to remember my art as a journey of simple truths, cracks of hope in the darkest of storms, as a reminder of our own power and resiliency as we struggle to keep rising.
What advice would you give emerging artists?

Create your own opportunities. Your artistic voice will not always be heard in the arena of others. Understand the business of art and balance that with your passion of creating art.
A fun fact about you for our readers:

I love to dance.
3. Artist Spotlight: Sylvie the Artist

Discipline: Community Arts—I create opportunities for people to engage in art-making together
Multidisciplinary – Visual Art, Embodied Movement, Poetry
Artist Website: SylvieStojanovski.com
Artist on Social:
Instagram  @sylvietheartist

Curator Pronouns: She/They
Describe yourself and your artwork:
I am a Tkarón:to/Toronto-based multidisciplinary artist, creative facilitator, and producer who is passionate about inspiring social change through creative entrepreneurship and community art-making. Recently named one of The Starfish Canada's Top 25 under 25 environmentalists, I use art as a catalyst for conversation to address the most pressing environmental and social justice issues of our time.
My work is driven by three core values: community collaboration, collective wellness, and continuous growth + learning in public. Since 2016, I have designed and delivered over 20 different  "art-ivations"—interactive public art installations in the greater Toronto area and abroad that invite people to see the earth as an extension of themselves.
Outside of my independent creative practice, I am the founder of the youth-led working group, Artists 4 Sustainability and co-founder of the hyperlocal artist collectives, Scarbrite and Roots to Bloom, where I support emerging creatives in building their capacity to work with natural materials and mobilizing art for social change.
Often found brainstorming and bringing BIG ideas to fruition, outside of work, I love cycling, hiking, and making ephemeral sculptures out of natural found objects.
What is one of your greatest achievements as an artist thus far?
Learning how to work as a liaison between sectors—at the intersection of art, business and sustainability—has been one of my greatest achievements as an artist thus far. Refining the scope of my work has helped me create projects that I find are particularly transformative and meaningful.
Some highlights of my work this year so far, include:
Conceptualizing and bringing to fruition Planting Seeds of Change—an ongoing fence mural project that prompts members of the community to consider what makes a healthy, thriving and sustainable world for all?
Leading Postcards for the Planet Project—an ongoing digital community project that invites creatives, environmentalists, solarpunks + everyday people alike to collectively imagine the Symbioscene—an emergent geologic era where humans live in reciprocity with the earth—while taking action to nurture sustainable shifts in our reality today.
Producing a 100 sq. ft play-based floor mural with Mural Routes in the Midtown Yonge BIA (Yonge Street and Baillol Ave, South East Corner) that includes a pattern map loosely informed by an aerial map of park trails and waterways in the area–from Sherwood Park, to Oriole, and the Beltline as well as illustrations of local pollinators and the native plants they support.
Where do you find inspiration?
Everywhere—from the places I travel and the people I encounter. I am particularly inspired by the constancy of change that characterizes life on earth. My work is influenced by the rhythm of the seasons, and the cyclical movement of the moon.
How do you want communities to remember your art?

I hope that communities remember my work as thought-provoking, nourishing, and timely. I strive to create transformational biophilic experiences through art-making that centre radical connection, collective healing, and care.
What advice would you give emerging artists?

Bring a sense of curiosity. Follow your intuition. Ask questions. Never be the most knowledgeable person in a room.
Try new things. Challenge yourself to do things you haven't done before—you'll be surprised at what you can achieve.
Take care of yourself. Hold space for unbridled joy, love, laughter and perhaps, most importantly, rest, in your practice.
A fun fact about you for our readers:

I first started pursuing the arts as a career when I was 15. I love sharing resources I've collected along my journey. I strive to post calls for submissions, job opportunities, and exhibitions on my personal art Instagram every Friday. 🙂