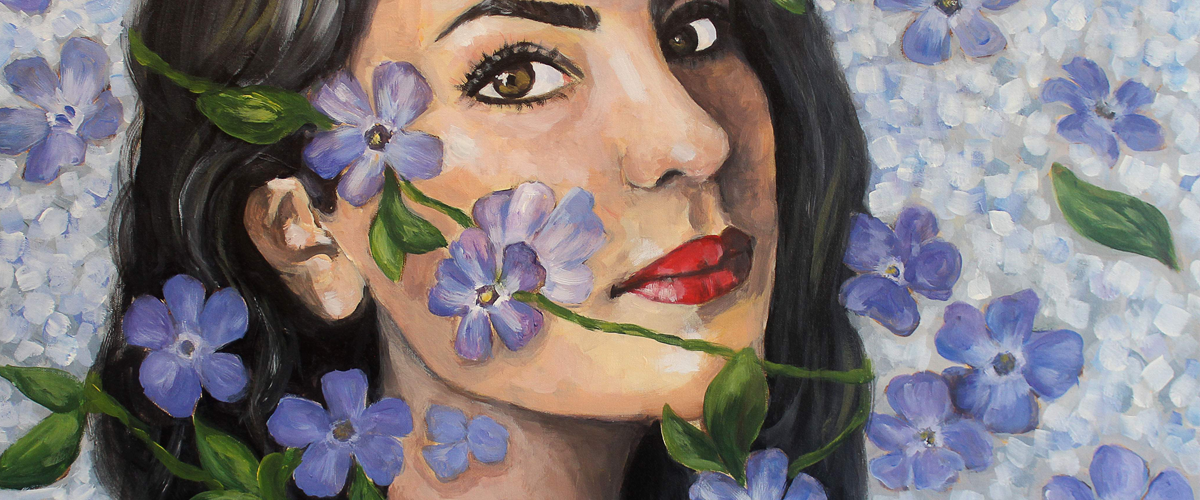 East End Spotlight is a monthly news piece where we highlight a series of east end artists, arts organizations, creative spaces & professionals that we want to shine a spotlight on💙!
July East End Artist Spotlights
For July 2022, we got in touch with some new arts businesses and artists who live or work in east Toronto. Scroll down to read more about the following people and organizations this month:
*Banner image is a painting by Fatima Kadkhodazadeh.*
1. Artist Spotlight: Zen Alladina
Discipline: Writer, Poet
Artist Website:
ZenAlladina.com
Artist on Social:
Instagram @z.en
Twitter @chai

Artist Pronouns: She/Her
Describe yourself and your artwork:
I'm a t'karonto|Toronto-based writer of speculative fiction, poetry, and more recently, collaborative intersections of literature/technology—like VR, code poetry, and text games. Sometimes my writing is just about cool observations around me in the woods, and sometimes my work attempts to imagine frameworks for healing beyond history—personal and collective. (Sometimes both at once, honestly.)
I'm also a tea sommelier, with a tea-prompted story workshop coming up on July 10th at Reset Community Centre, open to all creative mediums and experience levels!
How does your culture, background, and/or upbringing influence your creative work?
I'm South Asian, born in Canada. My background is both distant and always in view. I'm constantly trying to understand (and dream beyond) history; meanwhile, the landscapes and the languages in which my ancestors told stories no longer exist in their original shapes.
For those of us whose links to our past have been severed, unrecorded, or otherwise lost, so much of that past is still in our internal landscapes—in the ways we see the world. So, I think if we can find ways to tell stories that feel deeply true to us, maybe what we create will start to naturally recreate what we've lost.
What is one of your greatest achievements as an artist thus far?
Winning first place at Toronto Art Bar Poetry's Discovery Night for emerging poets, leading to my first 20-minute poetry feature (forthcoming on July 5th!)
What is a goal that you have for the future?
Publishing a book of short stories would make my heart extremely happy.
Where do you find inspiration? Or what do you do to become inspired?
When I'm alone, I read about subjects I love—like tea, botany, or South Asian history.
When I'm not alone, I love asking people about the dream projects they're harbouring. Hearing an idea that makes a person's eyes light up with excitement tends to make me think about what would similarly excite me.
Who do you look up to?
Writers that give me a feeling of "how did they do that?" and then: "if they can do that, I wonder what I can do!" It's a huge list, but a few would be: Helen Oyeyemi, Kaveh Akbar, Sanna Wani, and Cherie Dimaline.
How do you want communities to remember your art?
I want to be a creator who makes others feel like their creations are also possible to produce. Art isn't this isolated, unapproachable thing—it's in all of us. It's in the way we see and dream. What's difficult is externalizing the artistry in what we see, and then letting it be seen. It would mean a lot to me to be able to write stories that make people feel seen in the way that they need to be—so they can make their own art that does the same.
What advice would you give to emerging artists?
You don't have to feel "ready" or perfect to create the art you're holding inside you! You'll only get closer to the place you want to reach by exploring—and by letting yourself make imperfect art along the way.
A fun fact about your for our readers:
I used to be completely terrified of heights, until I went to Arizona and did yoga at the edge of the Grand Canyon.
2. Artist Spotlight: Rowena Katigback
Discipline:  Jewellery Making, Carving, Painting and Kinetic Sculpture
Artist Website: RowenaKatigbak.com
Artist on Social:
Instagram @rowenwoodstudios | @wabisabimami
Facebook Rowena Katigbak – Rowenwood Studios
Artist Pronouns: She/They
Describe yourself and your artwork:
My journey led me through various media and disciplines such as jewellery making, encaustic painting, kinetic sculpture and carving. My practice has now circled back to jewellery making and carving to honour the memory of my ancestors.
Currently my work centres around concepts of identity, empowerment, and sustainability within the context of earth-based spirituality grounded in ancestral veneration. I am committed to creating pieces that are designed with ethically sourced local materials from indigenous and community-centred companies. I create handmade, carved objects that honour, nurture and support everyone on their journey.
How does your culture, background, and/or upbringing influence your creative work?
Growing up as a Filipinx Settler here on Turtle Island (Canada) meant that I had to reflect deeply on my relationship with the land, with people and to recognize the importance of continuing to work towards decolonization by reconnecting with my deeper Pacific Islander / Austronesian ancestral roots (pre-colonization) among others. My art practice is a syncretic one with many designs inspired by ancestral patterns, historical references, and experiences within my community. It's a personal reflection and celebration of my explorations.
What is one of your greatest achievements as an artist thus far?
My greatest achievements have been being able to share my work with others and support community through my art practice. I'm incredibly grateful to have these opportunities to express myself authentically, connect with my community and be able to give back for all the support that I've received either through donations, volunteerism or raising awareness through social media.
What is a goal that you have for the future?
My ultimate goal is to work full time creating my art and to create opportunities for creative and empowering collaborations within our community.
Where do you find inspiration? Or what do you do to become inspired?
Inspiration is everywhere for me. Usually when I'm struggling with a creative block or starting a project, I'll go for a walk, hang out in the garden, or read something like a book, a research article or go on Instagram. Sometimes just poking around on the internet sparks something in me that I want to explore. Other times I'll go in my studio and play with different materials or sketch things out. Music helps me too. Either I'll listen to music or play an instrument or sing. Being active in some way helps light me up.
I'll be honest. There are times in the creative process where I get stuck no matter what I do. It can be super frustrating. That's when I remind myself to lean into the process, and take a break from pushing myself. That's usually when inspiration comes. Maybe it doesn't come right away but it always shows up.
Who do you look up to?
There are so many people that I admire for so many reasons. My mentor and friend, Monica Bodirsky (@monicabodirsky, www.monicabodirsky.com), is someone who inspires and supports me. She is an amazing artist, teacher, author, with so many other talents that I can't list them all here. I first met Monica when she facilitated at the Awakening: Earth-based Spirituality & Art Residency at Artscape Gibraltar Point in 2017. A lot of my larger works like my kinetic sculptures and installations came from these residencies. I wouldn't have tried making them if it weren't for the time I spent there. Monica is an incredibly warm, generous and caring person who knows exactly what to say to help people find their own way. I hope to be able to do the same for people through my work.
How do you want communities to remember your art?
There's a Filipinx term, pagkikipagkapwa, which means we all share a kinship, a deep interconnectedness with each other and everything around us. I try to embody this in my work with the hope that my art helps people feel seen and supported.
What advice would you give to emerging artists?
This is a tough question. Everyone has their own path to follow and their own set of challenges. The important thing to remember is to be yourself. Trust yourself. Listen to your gut feeling and express your Truth. Don't be afraid to be vulnerable, imperfect and gloriously you. The world needs to see your art and hear your voice.
A fun fact about your for our readers:
I love making giant bubbles! I even learned to crochet so that I can make my own bubble wand strings and nets. I've been sharing monster bubble fun with people for the past 5-6 years through school play days, library programs and street parties. I've made bubbles as large as 15-20 feet wide and bubble curtains for bubble popping fun. I love the joy people feel when they make a super huge bubble and the excitement when they're surrounded by a storm of bubbles and everyone tries to pop as many as they can. It's awesome! I also love that bubbles look their best on the grey days. You can really see all their beautiful colours glow.
3. Artist Spotlight: Fatima Kadkhodazadeh
Discipline: Visual artist, Textile designer
Artist on Social:
Instagram @fatimakdz_art

Curator Pronouns: She/Her
Describe yourself and your artwork:
I am a fine artist and designer with an academic background in textile design and I recently graduated from Centennial college, in the field of Fine Arts. My art is an ongoing search for the most effective approach to express and communicate the ideas I have about my inner self, my experiences, my culture, and the world in which I live in. I have always known myself as an art enthusiast. Having a thirst for art and creation is a blessing that has allowed me to face different obstacles and deal with so many of my mental obsessions throughout life.
How does your culture, background, and/or upbringing influence your creative work?
My work as a visual artist and storyteller has been influenced a lot by my cultural heritage Iran. With the pieces I create, I try to tell stories about the beauties underlying Persian culture. My work communicates my feelings as an Iranian woman who adores the intricate patterns of Persian art. This interest stems from my obsession with textiles and weaving in my university years.
Growing up, I was always encouraged by my parents to participate in different art classes alongside my school curriculum such as painting, drawing, pottery, music, and so forth. As well as this, as a kid I was always interested in making crafts with almost anything that I would find around me and I would make a new item from virtually any wasted or recyclable item.
What is one of your greatest achievements as a curator thus far?
One of my recent achievements as an artist was receiving the dean's award as a creative thinker throughout my two year of study at Centennial college. This award is given to graduating students who represent outstanding creativity and challenge conventional thinking in their domain among their peers. I was truly delighted to be selected as the winner of this award among my classmates!
What is a goal that you have for the future?
I have so many things in mind that I have yet to accomplish as an artist, but my main goal for the future is to establish my own art studio so I can focus on creating and selling my art. On top of that, I would like to participate in solo and group exhibitions in the near future.
Where do you find inspiration? Or what do you do to become inspired?
Generally, I would say I find my inspiration in people and other artists. I often wander through Instagram, Pinterest and visit galleries frequently. Above all, I tend to get inspired by my surroundings, my feelings, and lived experiences.
Who do you look up to?
This is a very tough question to answer as I don't know where to begin! There are so many professional artists in social media platforms like Instagram that I follow and find their practice inspiring towards my own. I also look up to my art instructors who nurtured me to unleash my creativity and express myself in my own style. Overall, I can say I admire anyone around me who strives to do better each day in their own way.
How do you want communities to remember your art?
I would want my art to represent a part of my identity, my thoughts, and concerns as a female artist. For me, art would not exist if it were not possible to bring an idea or a change to life. Lately I have been exploring intricate patterns (mostly Persian motifs) combined with feminine elements in order to raise awareness about social and cultural issues.
What advice would you give to emerging artists/curators?
Be authentic! Don't be afraid of revealing your true self and your genuine passion while creating art. Secondly, practice as much as you can and don't lose faith. The biggest way to improve your skills is just to practice, as cliche as it may sound! Third, Document all the artworks that you create each time so you can see the improvement over time. Lastly, do not compare yourself with other accomplished artists as that can be a very discouraging attitude in one's artistic journey.
A fun fact about your for our readers:
Not many people might know about this, but as a kid I was really into journaling and writing poetry. I had a notebook dedicated to this interest and I always imagined my future self as a well-known female poet!
4. Business Spotlight: Create Art Studio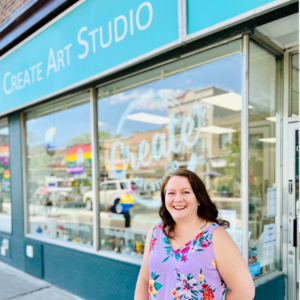 Business Name: Create Art Studio
Business Type: Art School for Children and Adults
Business Website:CreateArtStudio.ca
Business on Social:
Instagram@CreateArtDanforth
FacebookCreate Art Danforth
Tell us a bit about your business, your history, your mission:
Create Art Studio was born of a feeling of calm focus that founder Jennifer Thompson felt when she would take time from her busy life for creative projects. She wanted to bring that feeling to others who also needed an escape from their everyday life, in a way that made it easy for them.
At Create Art Studio, we believe that everyone is an artist. Our visual art classes for all ages guide people to develop their creative skills while discovering a little more about themselves. We're passionate about sharing the joy of creating art in a fun, safe environment that builds community. We serve our students, community and businesses through a variety of classes, workshops and camps, events and parties, both in-person and online.
What makes your arts business unique or different?
We offer a unique blend of creativity and education in all our programs. Create Art studio offers a fun and friendly approach to learning with the flexibility to allow students' individuality to shine. We don't have cookie cutter approaches to projects where everyone has to make the same thing – you do you!
As an organization/business that supports the arts, tell us why art is important to you:
Creating and engaging with art engages the subconscious mind to allow your inner thoughts and feelings a chance to come to the surface. Create Art Studio was started to create a space that allowed everyone the chance to explore their innate creativity. We've worked hard to build an accessible welcoming environment for everyone to be creative through tactile visual art.
Throughout the pandemic, we've seen the vital role that our art and creativity classes play in ensuring people feel connected to each other and how that's supported mental health. We created live online classes, right at the start of lockdowns to help people of all ages, locally and across Canada, to explore new ways to express themselves, maintaining positivity and hope for the future during challenging times.
Create Art Studio is also built on a foundation of education. In our programs, we see the amazing benefits when art is used as a way to teach other subjects, like math and science, and particularly for visual learners. We are advocates for arts education in schools as we've seen first hand the benefits of including creativity in learning. Creativity is essential to problem solving and that doesn't stop when you leave school! We're helping businesses apply principles of creativity to improve their team productivity and employee wellness too.
What are you most excited about for the 2022 year ahead?
We're so excited to be welcoming people back into our studio! The pandemic has been hard and so many people want to get back to creative activities in a social setting. We've recently doubled the size of our pottery studio so we can offer more spots to people who have been patiently waiting. With camps and lots of new workshops also happening over the summer, we can't wait to see everyone's amazing creations!
How can community members interact or support your organization/business right now?
Think of us when you're planning an event with your company. We have a variety of engaging and rewarding programs specifically designed to match your business objectives: team building, problem solving, creative thinking, and more. Of course, teams also need time to have fun and relax too, and creating together is a fantastic way to show appreciation and reward people for their contributions and achievements.
We'd also love to be known as a source for creative products. We've expanded our in-studio and online store, and we test out all of the products we sell for kids and adults. We know how everything works and that everything we stock is high quality, fun or satisfying to experience. Need to find the perfect gift, fun family activities or want to explore a new hobby over the summer? Ask us for recommendations!
What does #EastEndLove mean or look like to your organization?
Create Art loves our East End community! This is our home as well as where our business started. We hire locally and always look for opportunities to give back to the community through school and community events.
We want the East End to be considered the best community in Toronto and we are actively involved in local initiatives to improve the lives of people who live, work and play here.
And, leading to the next question… we really love the businesses here!
What are some other organizations or businesses in east Toronto that you love?
The Pink Studio is our number one feel good place! Dancing is such a great stress reliever and so it's so good to move your body after a long day of repetitive motions at the pottery wheel or with a paint brush!
Speaking of aching bodies and artist shoulder… go see Dr. Kat at Danforth East Wellness. She'll find the spot that's giving you trouble and put you back together.
For people with children who are a bit young for our programs, we always recommend The Workaround or Jump for Joy. They are excellent at camps, parties, and care for the smallest people in the neighbourhood.
We also love Little Ones Closet for their environmentally friendly business. Julie is amazing at curating pre-loved kids clothes and has saved me when I've needed gifts and or outfits for special occasions a number of times!
When we need a sweet treat, the BEST PISTACHIO GELATO in the neighbourhood can be found at Gelato on the Danny. It's so seriously good! For some reason, our kids appreciate the cookies and cream ice cream from Carters way more than fancy gelato though!
Finally, whenever we're in a pinch for literally ANYTHING – gifts for everyone, treats from the UK, Pride Flags, cards for all the events, or amazing books – our default is Old's Cool General Store. Supporting the local mom and mom shop also supports advocacy for LGBTQ2S+ people, housing and food security. This shop really is the pride of East York.