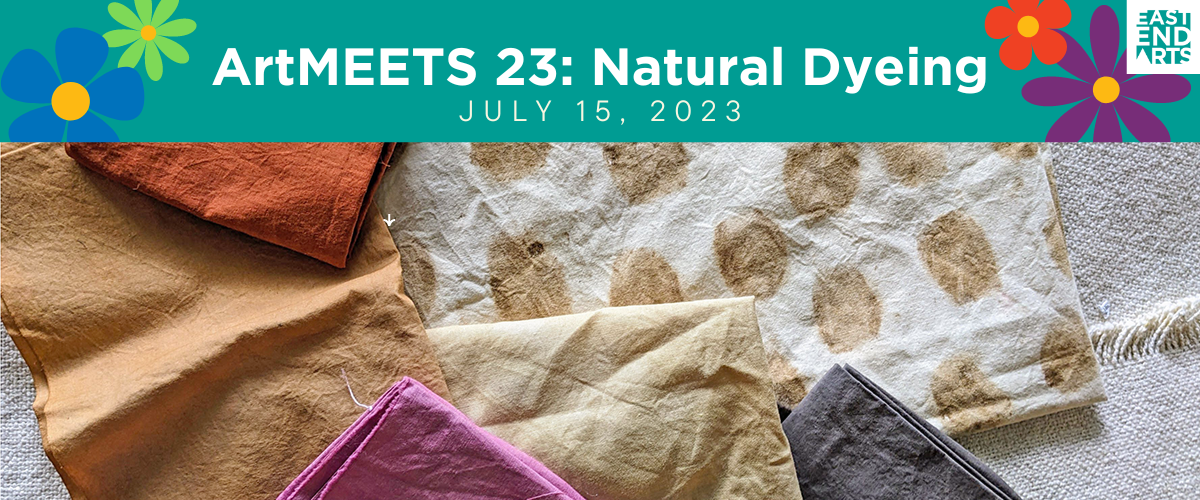 ArtMEETS 23: Natural Dyeing!
Facilitator: Kiran Gill
Saturday July 15th, 2023 | 1-4pm
St. Matthew's Clubhouse | 450 Broadview Avenue
Cost: PWYC, $10-$50 | Register on Eventbrite (please note there is a waitlist)

ABOUT THE WORKSHOP
Painting with soya milk and natural dyes!
Learn how to make paint suitable for printing on textiles using dye extracts, earth pigments and soya milk! Participants will be walked through the fundamentals of natural dyes and earth pigments, as well as options for natural materials that can be used to create dyes such as onion skins, leaves, tree bark, roots, seeds, resins, charcoal, and soil. By combining natural pigments with soya milk and guar gum (plant-based), these pigments can be painted onto cotton fabric to create fun designs and patterns, and once dried, the printed fabric is safe to wash and use.
ABOUT THE FACILITATOR
Kiran P Gill is a Malaysian-Canadian artist and weaver based in Brampton, Ontario. He was born in Selangor, Malaysia to an Irish-Canadian mother and Punjabi Sikh father. His artistic practice centres pre-industrial, land-based textile traditions within the scope of natural dyeing, weaving, yarn spinning, and needlework. With his work, he seeks to reconsider the material cultures of his ancestors within new contexts, combining Eastern and Western traditions, and finding common ground through themes of spirituality, lineage, grief, cycles of time, and place/displacement.
Kiran has attended artist residencies in Iceland, Malaysia, and Indonesia, and is a two-time Canada Council for the Arts grant recipient. He is currently working on his BFA in Material Art and Design (Textiles) at OCAD University.
COST
Each ArtMEETS workshop will cost $10-$50 per person to attend (on a sliding scale of Pay What You Can). Payment is to be made online at the time of registration, which will be done via Eventbrite. Payments through Eventbrite can be made with any major credit card, or through PayPal. If you are unable to pay online, we also accept cash or cheque, which is to be paid before the day of your workshop. If you need to pay with cash or cheque, or you would like assistance through the payment process, please contact East End Arts at info@eastendarts.ca.
If you are not able to attend an ArtMEETS workshop that you've registered for, specifically if you are feeling unwell, please let us know as soon as possible and we will be happy to issue you a refund, or offer you a spot at an upcoming ArtMEETS workshop, if and where possible. You may also feel free to transfer your ticket to a friend! If you're transferring your spot to another person, be sure to email them your ticket or hand it to them personally, and let East End Arts know in advance.
PLEASE NOTE: If you require financial assistance, please contact EEA's Operations Coordinator Tyler, at tyler@eastendarts.ca. Nobody will be denied participation due to lack of funds, but please note that there will be high demand to participate in this program, so if you require financial assistance, please reach out early!
DIRECTIONS & PARKING
You can still commute via the TTC subway to Broadview TTC Station, and you may choose to walk south down from Broadview to our Clubhouse, (it's about a 15 minute walk). You may also uber or bike down as well;
You can get off at Castlefrank TTC Station and take the 506C streetcar south, which will drop you off at Gerrard St. East/Broadview Ave. (and then it's a quick 3-minute walk up to our Clubhouse) (*please note that Castlefrank is NOT an accessible station);
You can get off at the College TTC Station on Line 1, and take the 506 College streetcar eastbound, which will drop you off at Gerrard St. East/Broadview Ave. (and then it's a quick 3-minute walk up to our Clubhouse);
If you choose to drive, please note that there will be no on-street parking between Danforth Avenue and Gerrard Street East, and there is no public parking at St. Matthew's Clubhouse. You may choose to park on one of the surrounding residential streets. There is also paid parking lots at Bridgepoint Hospital (down the street from us);
There are bike rings out front of our building to accommodate your bike if you choose to cycle to the Clubhouse;
Explore more TTC routes and ways that you can facilitate an easier journey to our Clubhouse by visiting HERE.
Participant & staff safety are of utmost importance to East End Arts and will be a priority during the program! Please note the following:
If you are feeling unwell, we ask that you please postpone your visit to our Clubhouse, and let us know about your absence as soon as you're able.
Masks are not mandatory inside our Clubhouse, however we continue to operate a mask-friendly space, and we welcome all visitors, employees and volunteers to wear them.
We continue to ask all of our participants and visitors to practice social distancing, when and where possible.
Enhanced cleaning routines remain in place in our Clubhouse.
Hand sanitizer and disposable masks will be available on site for anyone who needs them.
We have a fully accessible, gender-neutral bathroom on site.