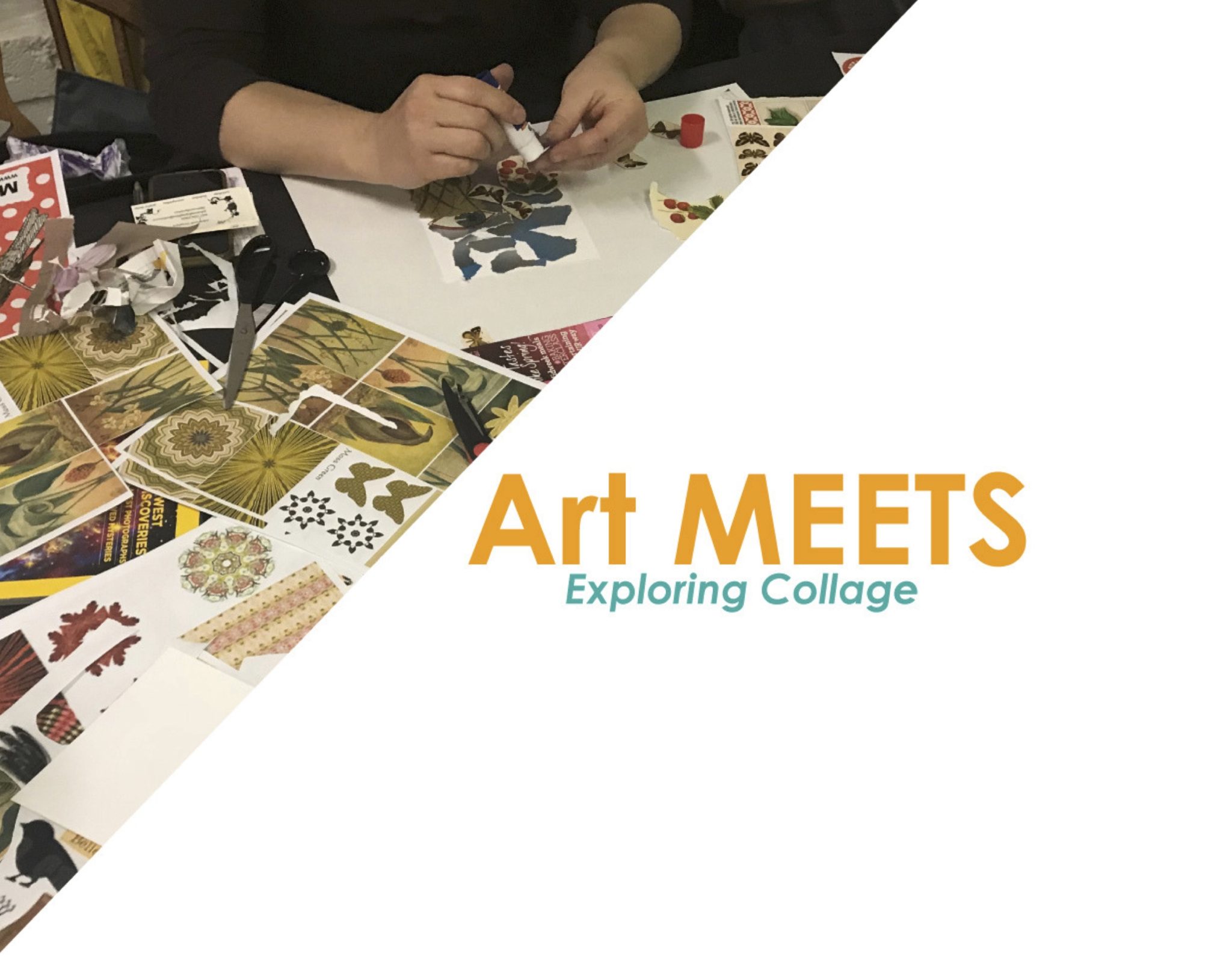 Art MEETS: Exploring Collage
Facilitator: Shona Chornenki
Saturday, July 14, 2018 | 1-4pm
St. Matthew's Clubhouse | 450 Broadview Avenue
Part of the 2018 Art MEETS series of free workshops
Facebook Event Page
FREE | SOLD OUT!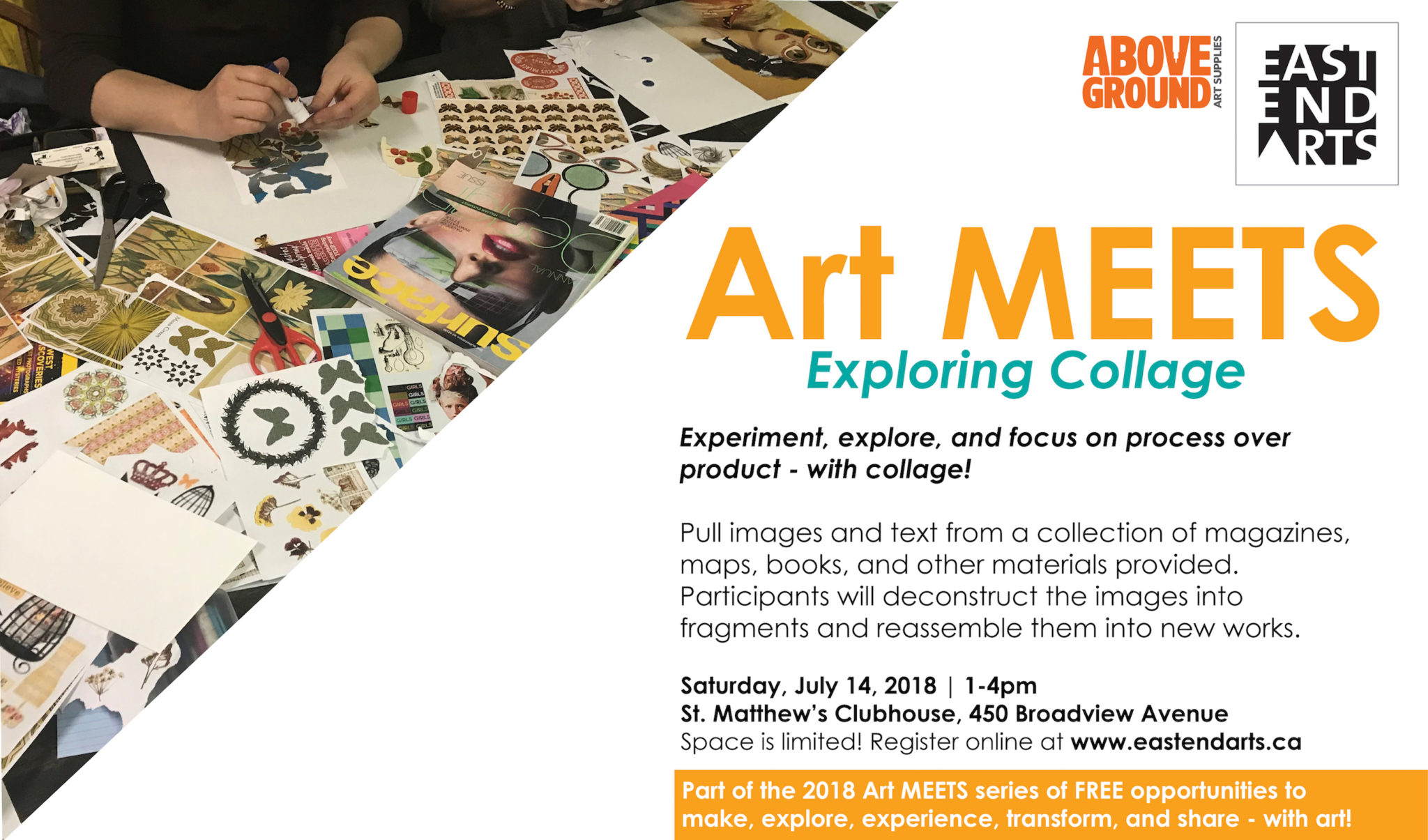 ---
Experiment, explore, and focus on process over product – with collage!
Pull images and text from a collection of magazines, maps, books, and other materials provided, then deconstruct them into fragments and reassemble them into new artistic works.
---
WHAT TO EXPECT
This workshop will explore and demonstrate the creative process of collage through a variety of artistic techniques, including paper cutting and tearing, packing tape transfers, text and fonts, colour, varnish, acrylic paint, and felt markers.
Participants will be encouraged to create and convey a feeling, concept, or theme and set up their own 'still life' from an arrangements of items and objects. Starting with a title, use your imagination along with a variety of materials provided to reimagine and reassemble them into your own unique creative piece of artwork, resulting in an 11×14 card stock collage to take home.
Participants will be encouraged to engage in dialogue about one another's work and discuss the creative process they have explored throughout the workshop.
---
FACILITATOR BIO
Shona Chornenki is a media technologist and an educator. Her workshops explore a variety of collage and mixed media techniques. She encourages participants to focus on the process while building a story and a surface.
As an artist, Shona works with the discarded: collecting old books, thrift store finds, vintage maps, and magazines to be deconstructed into fragments for the creation of collaged narratives. Her use of colour palettes and texture, depth, and detail pull the viewer in, holding their gaze, as if the artwork was staring back.
Shona has exhibited her work locally, as well as in France, New Zealand, and America. She has studied in Winnipeg, Toronto, and Nice. Shona lives in Leslieville and has a studio in Prince Edward County.
---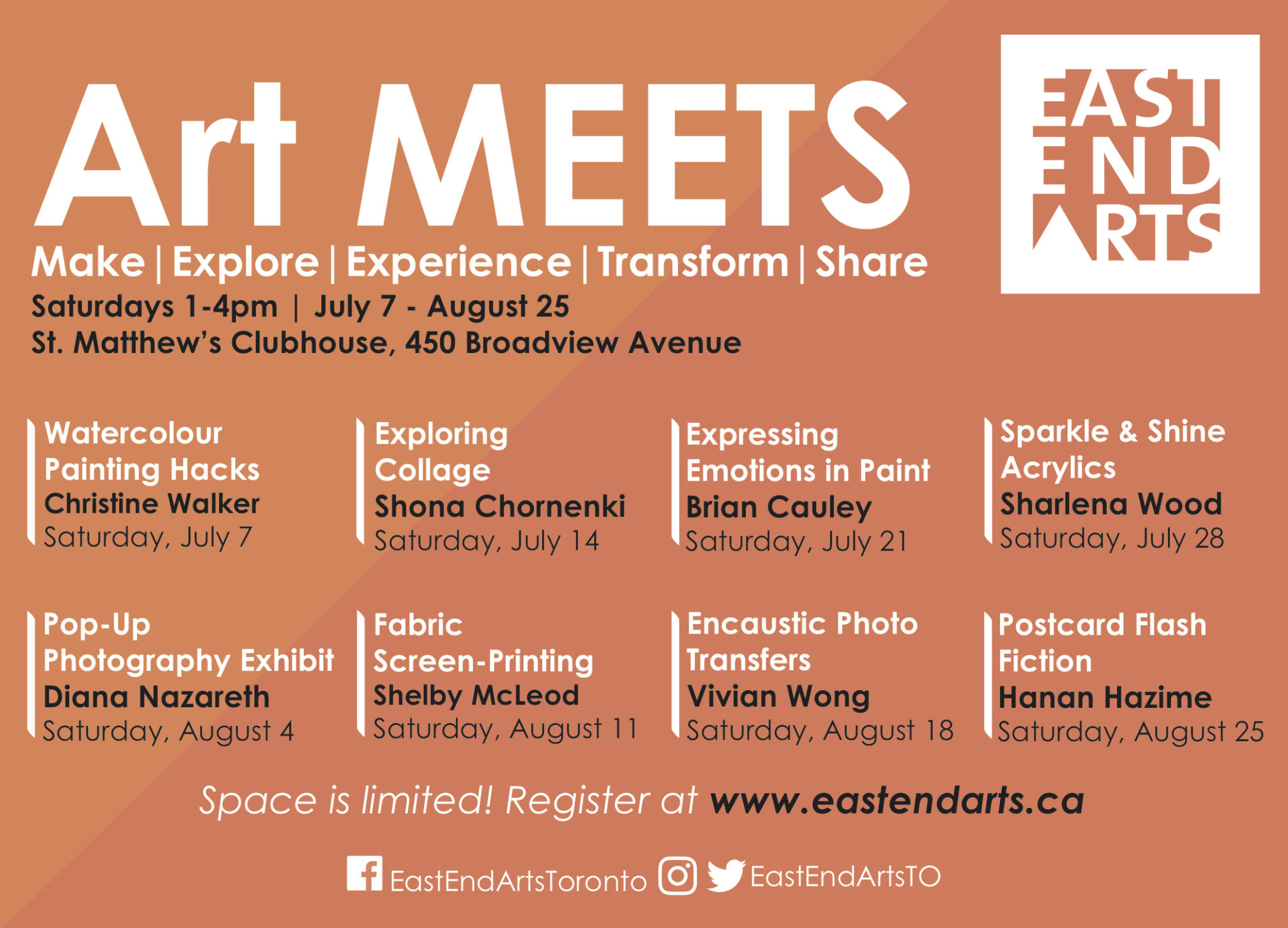 Art MEETS is a series of eight FREE art-making workshops and opportunities to make, explore, experience, transform, and share. Let your creativity shine!
Led by talented, supportive, and engaging arts facilitators, each workshop offers an opportunity to learn a new art skill, have fun, meet new community members, and find new and creative ways for self expression.
Art MEETS is presented by East End Arts with the generous support of our community partner Above Ground Art Supplies.
---
East End Arts strives to make our programming as accessible and inclusive as possible. If there are any accommodations that you need for any of these workshops, please email info@eastendarts.ca – we will do our best to meet your needs.
---
Register to receive ARTS-E-NEWS, a monthly e-newsletter update from East End Arts that shares Toronto-wide opportunities for artists and arts-related events in the east end. Sign up for Youth ARTS-E-NEWS for news about youth opportunities and events.
Follow us online at our social media channels to stay in the loop!
Website | Twitter | Facebook | Instagram| #EastEndLove