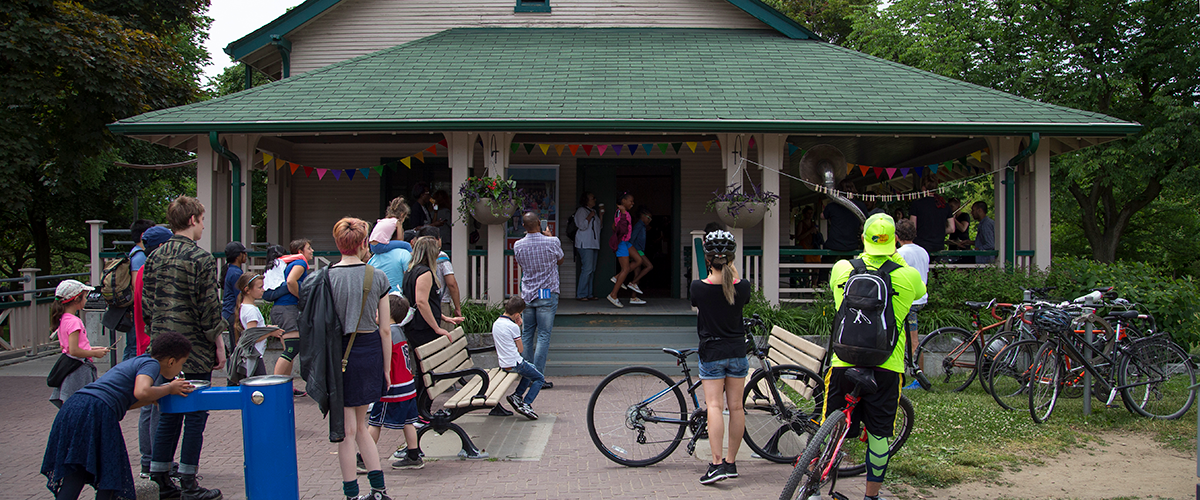 Consider donating to East End Arts this December, East Toronto's nonprofit community arts organization!
2022 was another magical year for the East End Arts team✨. This was our ninth year as a local nonprofit arts organization and we're still in awe of the community members that we connect with, proud of the artists we work with and watch grow, and energized by the magical power of community arts to bring people together and offer hope, inspiration, and joy!
Will you consider donating to our small but mighty community arts organization this December? Help us reach $9,000 for our ninth year in the east end! We know that times are precarious and finances are tight, but anything you can donate – $10, $20, $50, $100 – to support our 2023 vision is appreciated!
Please read on to look back on 2022 and celebrate with us. Thank you so much for your support!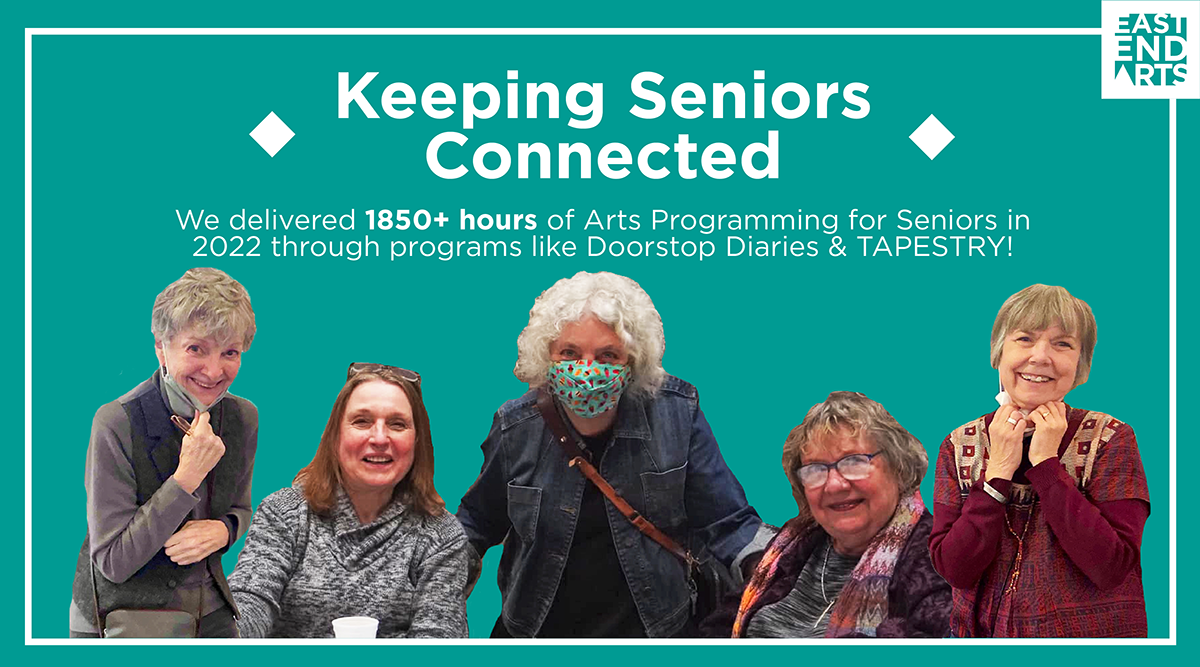 At the start of the COVID-19 pandemic we shifted our work to address the isolation and loneliness that many seniors in our communities were facing. Our focus to keep seniors connected and engaged remains a priority through 2022 and beyond, and this past year we delivered over 1850 hours of Arts Programming for Seniors through popular programs like Doorstop Diaries and TAPESTRY!
At-home art programs such as these have allowed seniors to learn different art skills in the comfort of home, make valuable communities with fellow senior artists, and showcase their work in an impressive gallery exhibition. Be sure to join us for the in-person TAPESTRY exhibition in Spring of 2023, and show your support ❤️ of important and needed art programs for seniors!
"[This program] was no less than a godsend during the lonely lockdown periods we have experienced. I've learned new skills, and experimented with art techniques I'd never attempted. I felt l like a member of a community, and a valued person, throughout the project," – Doorstop Diaries Senior Participant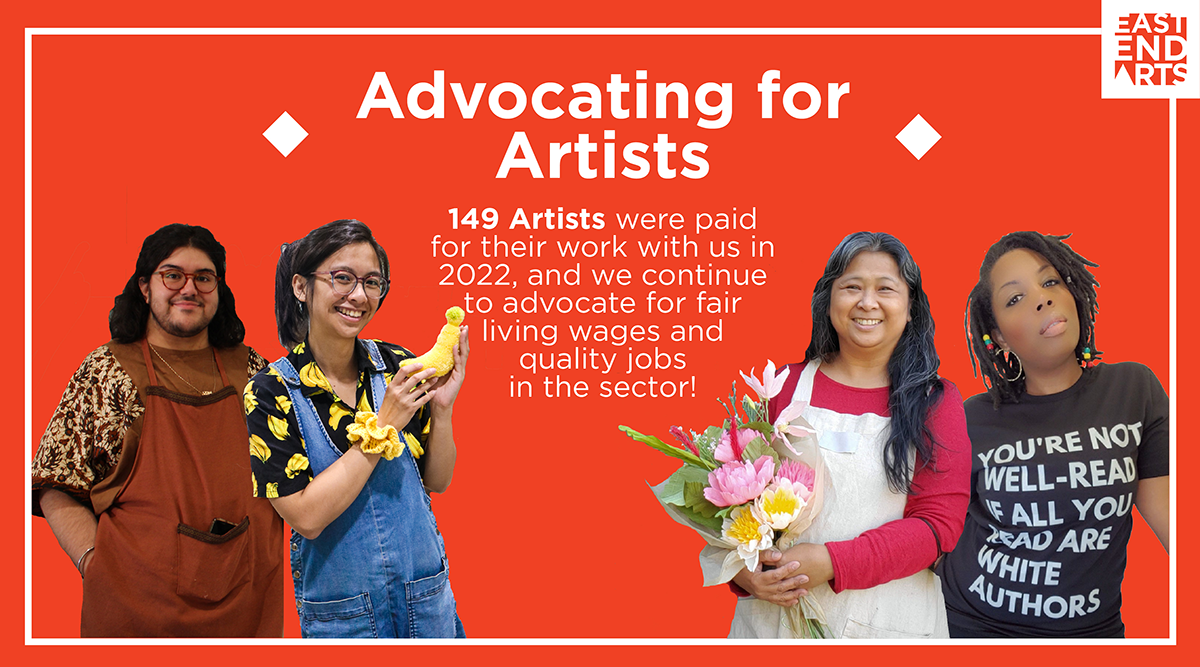 We know how important artists are to our local communities: they help to make our neighbourhoods more vibrant, inclusive, and resilient places! Here at East End Arts we have always been serious about supporting artists 💪 through fair living wages and quality work opportunities in our sector, which is why we're proud that 149 artists were paid for their work with us in 2022!
Continuing to work with new talented artists each and every year, providing professional development training and workshops for artists (like our Creative Facilitation Camp), paying above living wages, and facilitating online networks and opportunity groups are just some of the ways we advocate for and support local artists each and every year.
"Facilitating an art workshop was a goal of mine for years! EEA created an inclusive space for sharing my pandemic craft with a community of practicing fibre artists and bold participants interested in working with their hands. I very much value the experience of working with the EEA team and future collaborations!" – ArtMEETS Artist, Carmina Miana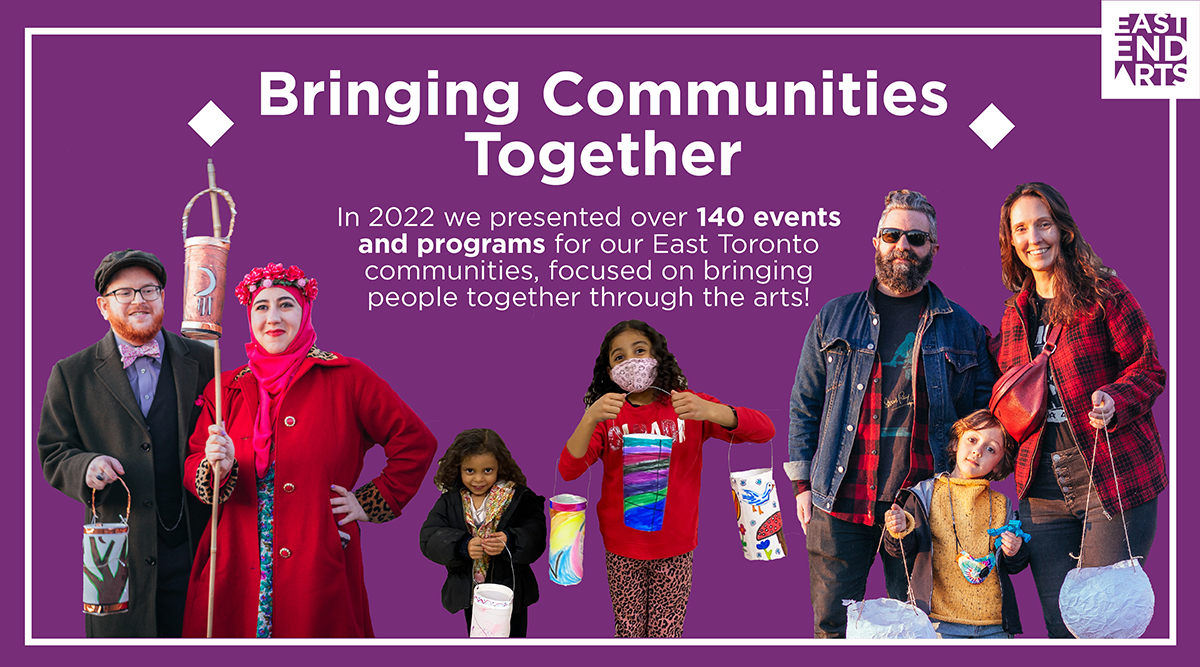 This past year we presented over 140 Arts Programs and Events to our East End Communities that focused on bringing people together through the arts! Programs like Light It Up in Crescent Town/Dentonia Park saw over 120+ folks join us to make homemade lanterns of hope & love for our Spring Equinox parade 🌟. Programs like ArtMEETS invited over 180 people to join us at our Clubhouse to learn new art skills and meet new people. Programs like Culinary Everywhere took groups of east enders on exciting food and public art tours across different east end neighbourhoods like GreekTown and Wexford Heights.
In a time with growing polarization and division in society, we know that Community Arts has the ability to overcome cultural differences, and bring people of all walks of life and backgrounds together ❤️. Help us continue to deliver programs in all corners of our catchment!
"Community arts are vital for a healthy, thriving, and inclusive society. They are also an incredible catalyst for positive social change. A creative community is a more loving, compassionate, and peaceful one. Through their work, community arts organizations like EEA make access to art possible!" – Hanan Hazime, local artist and east end community member.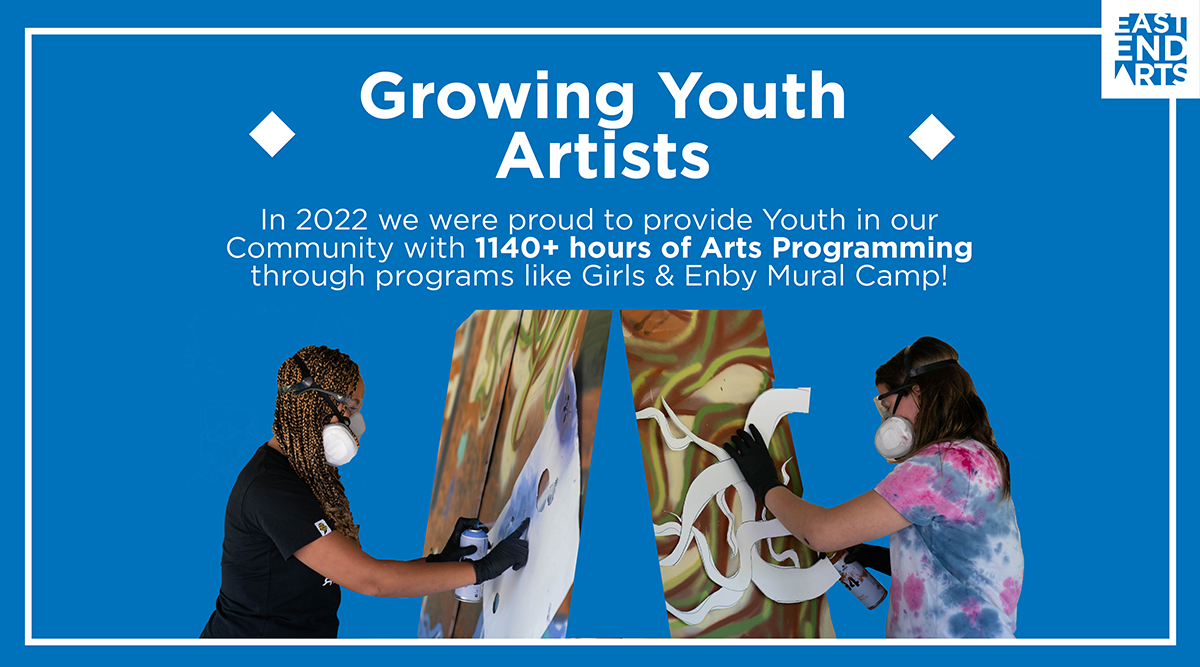 The arts help us to grow in new and unexpected ways🌱, and this is particularly true for the youth members of our communities! In 2022 we were proud to present 1140+ hours of Arts Programming for Youth. This was made possible through programs like Summer Photo Camp for Kids with Diana Nazareth, Create & Critique online with Alex Milne, and Girls & Enby Mural Camp – GEMC – (a popular program that always has a higher demand than we can meet)!
We were also pleased to offer our 2022 GEMC Campers an opportunity to display their work as part of Nuit Blanche East Danforth, an exciting, large-scale exhibition opportunity for emerging artists. Help us continue to build the next generation of leaders and creators through the arts!
"I love meeting new people, and learning new art skills. My favourite part was the sketching process for the mural (specifically the full sized version). It was incredibly fun to do because of all the talking!" – GEMC Youth Participant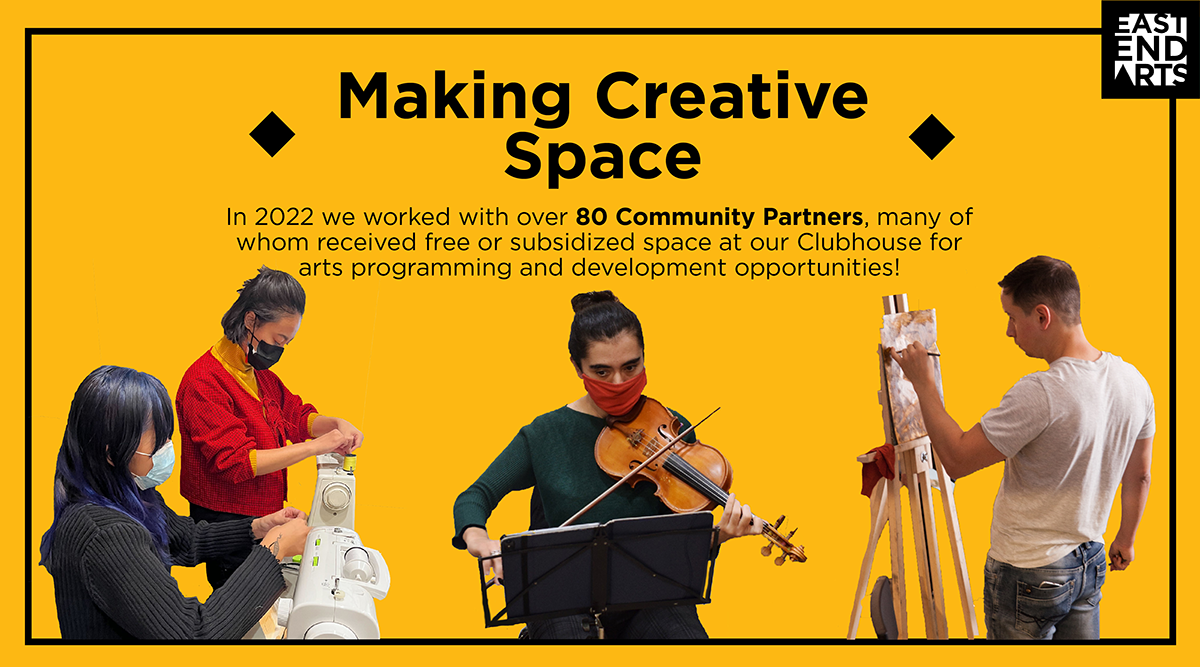 This past year we were excited to present many in-person programs at our clubhouse again, and we worked with many amazing Community Partners to help make it happen – 83 of them in total! We rely on Community Artists and Organizations to help fuel our artistic mission, but we also understand that for many creatives, accessible and affordable space is hard to find.
This past year we provided many of our community partners use of our Clubhouse space at subsidized rates, or entirely free! We welcomed programs like photography camps for kids, Life Drawing workshops, Clothing Swaps, Writing Workshops, Music rehearsals and residencies, and so much more, filling 450 Broadview with #EastEndLove❤️. Help support our Creative Clubhouse, and together let's positively transform our community through the arts!
"I'm so grateful for my partnership with EEA where I can host From Here to Wear at St. Matthew's Clubhouse, a program that provides a space to create a community cultural hub for reuse and repair with our local textile waste," – Norwin Anne lead artist of From Here to Wear.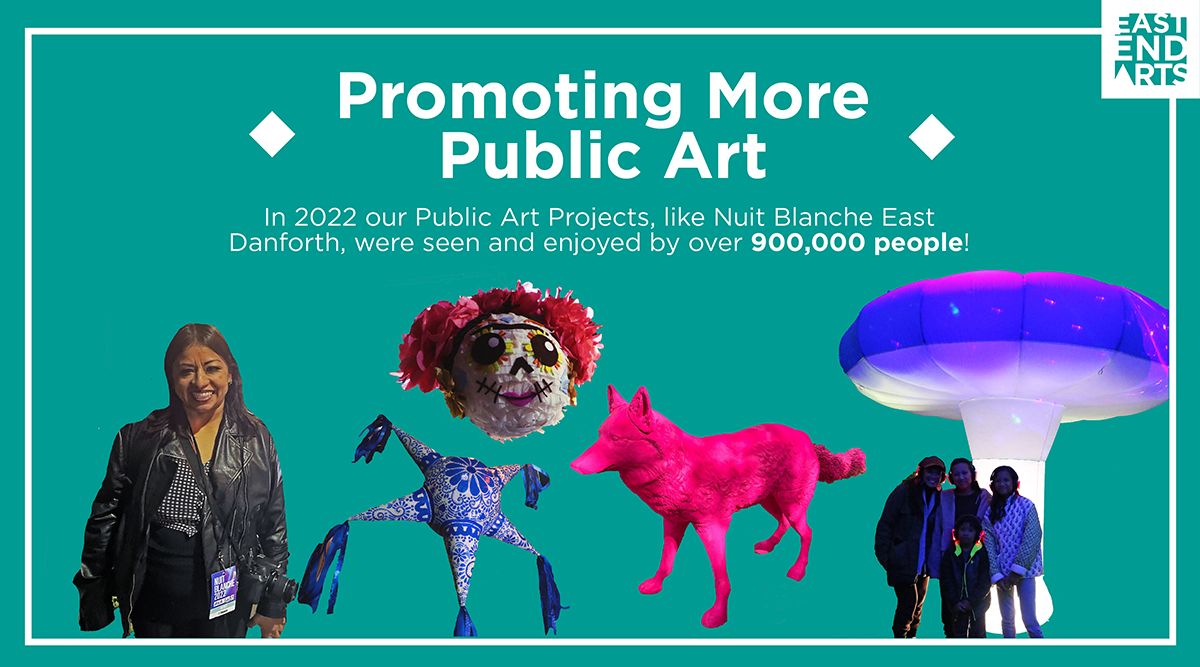 It's no secret that East End Arts supports and advocates for more public art in the east end 🌈! Whether it be new permanent mural projects, or temporary pop-up installations in a park, we're all about bringing accessible art to the masses!
In 2022 our Public Art Projects, which included Nuit Blanche East Danforth and two new murals added to the east end, were seen and enjoyed by over 900,000* people! It's all about invigorating our streets and public spaces, getting local artists out into the public eye, and creating a sense of pride and joy in local communities. Please help us continue to push for more public art in our amazing end of the city!
*This data comes from Toronto Transportation that captures drivers and pedestrians alike who enjoy our streetscapes.
Please consider donating to East End Arts this December! Your donation makes a world of difference.