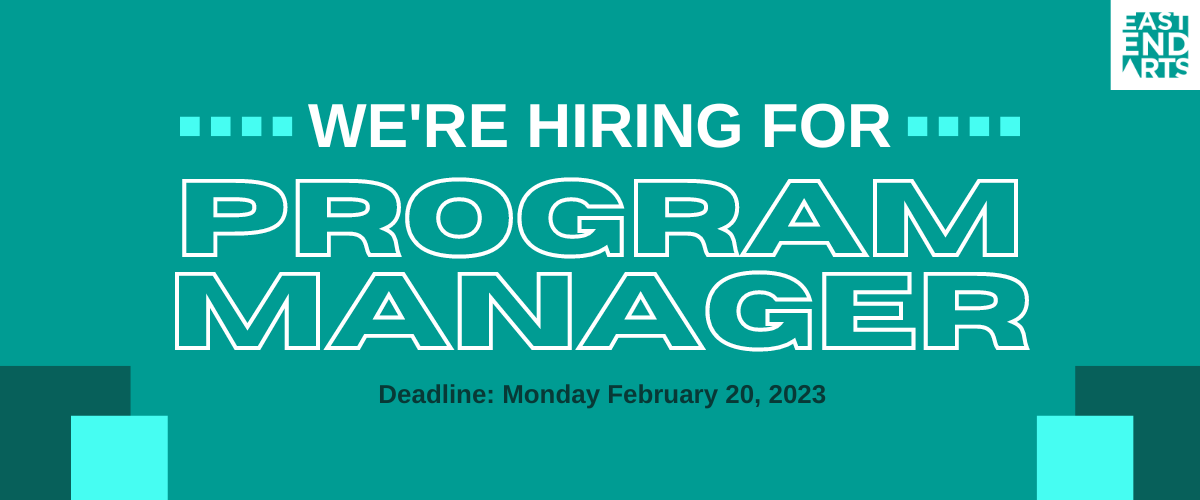 (PLEASE NOTE THAT THIS JOB OPPORTUNITY HAS NOW PASSED. THANK YOU TO EVERYONE WHO APPLIED!) Join the East End Arts team as a fulltime Program Manager! The deadline to apply is Monday February 20th, 2023 at 5:00 pm.
PROGRAM MANAGER
Date Posted: January 17, 2023
Application Deadline: Open until filled with a hard deadline of Monday February 20, 2023 (Applications will be reviewed and we will schedule interviews upon receipt of applications).
Start Date: February 21, 2023 (Flexible)
Salary: $50,000
Please note that this is a HYBRID position, meaning staff will be required to work remote/from home, and in-office/ in our community. As such, candidates must be located in or around Toronto, ON and have easy access to our catchment in East Toronto. Also note that this position requires flexible work hours including evenings and weekends to host our programs, especially in the summer.
JOB DESCRIPTION
Reporting to the Executive Director, the Program Manager will guide the programming of East End Arts. This position assists in the development and execution of the organization's community arts and programming plans to animate the goals of East End Arts and St. Matthew's Clubhouse. This position develops and fosters relationships, connecting residents to various art forms while building community connections and evaluating our impact.
RESPONSIBILITIES
Assists the Executive Director in developing and implementing community arts workshops, programs and youth activities.

Seeks out possible funding opportunities for existing programs and develops programs to meet new funding opportunities.

Works with the Executive Director to prepare operating grant submissions (reporting on past programming and future plans) and prepares project applications for new programs and partnerships.

Seeks out and supports the coordination of partner events.

Supervises East End Arts programs, hosting events when necessary, and coordinates staffing schedules for program coverage, when necessary.

Assists in recruiting, training and stewarding program and event volunteers.

Supervises and manages programming interns or seasonal staff.

Assists with the management of our programming space at St. Matthew's Clubhouse.

Liaises with artists to collect and share information about upcoming events with various departments (marketing, accounting)

Develops and oversees community outreach/consultation plans.

Liaises with artists and community members. 

Collaborates with the Communications Manager to best communicate about our programming and tell stories of our programs including assisting with the writing, editing and curation of programming descriptions, and where relevant promotional copy, donor communications, final reports and evaluation of programs. 

Evaluates East End Arts programs and events and, where applicable, partner events, overseeing the creation of artist and participant surveys and reports.

Attends networking events, performances and events, building relationships with our community and stakeholders.
Analyzes post-event surveys with other staff with an eye to continuous improvement and tracking.
Develops and coordinates collaboration opportunities with other organizations.
Assists with other duties, as required.
REQUIREMENTS:
With a passion for the arts, you've got a few years of experience under your belt, ideally working within a community arts organization or equivalent. Your background is in producing, programming, event coordination or similar. You instinctively understand the value in continuous evaluation and tracking engagement, and can pivot and think creatively when you see a program needs help or is no longer garnering response.
You enjoy developing partnerships with other organizations and community members, and are driven to grow those relationships for mutual benefit. You can demonstrate:
Excellent written and oral communications with the ability to speak to a range of audiences.

Attention to detail. Creating timelines, maintaining schedules and event logistics, tracking/documenting materials, proofreading copy, etc.

Highly organized with the ability to manage multiple tasks and events effectively on schedule and budget.

Advanced problem-solving skills. You are a resourceful and creative thinker when faced with a challenge, and you understand that every obstacle has a solution. You think ahead, anticipate potential problems/outcomes and plan accordingly.

Strong interpersonal skills. Comfortable working with a variety of stakeholders such as artists, volunteers, residents associations and Business Improvement Areas (BIAs), current and potential donors and community groups with a commitment to quality customer service. You feel comfortable talking to, and engaging with new people.

Comfort and creativity in evolving projects.

Comfortable working in non-profit setting with a strong interest in the arts, community engagement, public space activation, and city building.

Computer skills: Proficient in Microsoft Office,

Google Suite,

Eventbrite, SurveyMonkey and Mailchimp. Familiarity with Adobe Creative Suite, video editing software, WordPress and database best practices is always appreciated.

Can-do attitude, positive outlook with a desire to work collaboratively to make magical things happen!
ADDITIONAL INFO:
Preference will be given to applicants who live in the East End Arts service area. The role is a full time position and includes a benefits package after a successful probation period.
HOW TO APPLY:
Please email cover letter, resume and three references as one single PDF document titled firstname.lastname.app to shana@eastendarts.ca by Monday February 20th, 2023 at 5:00 pm.
East End Arts is committed to building a more diverse workplace and encourages all qualified applicants to apply. Should you require, accommodations throughout the hiring process will be offered upon request. We thank everyone who applies but only those applicants selected for an interview will be contacted.
No phone calls please.