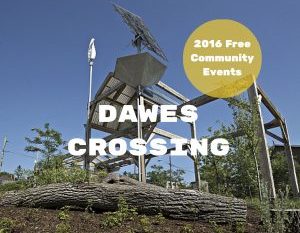 Take part in free participatory activities at Dawes Crossing.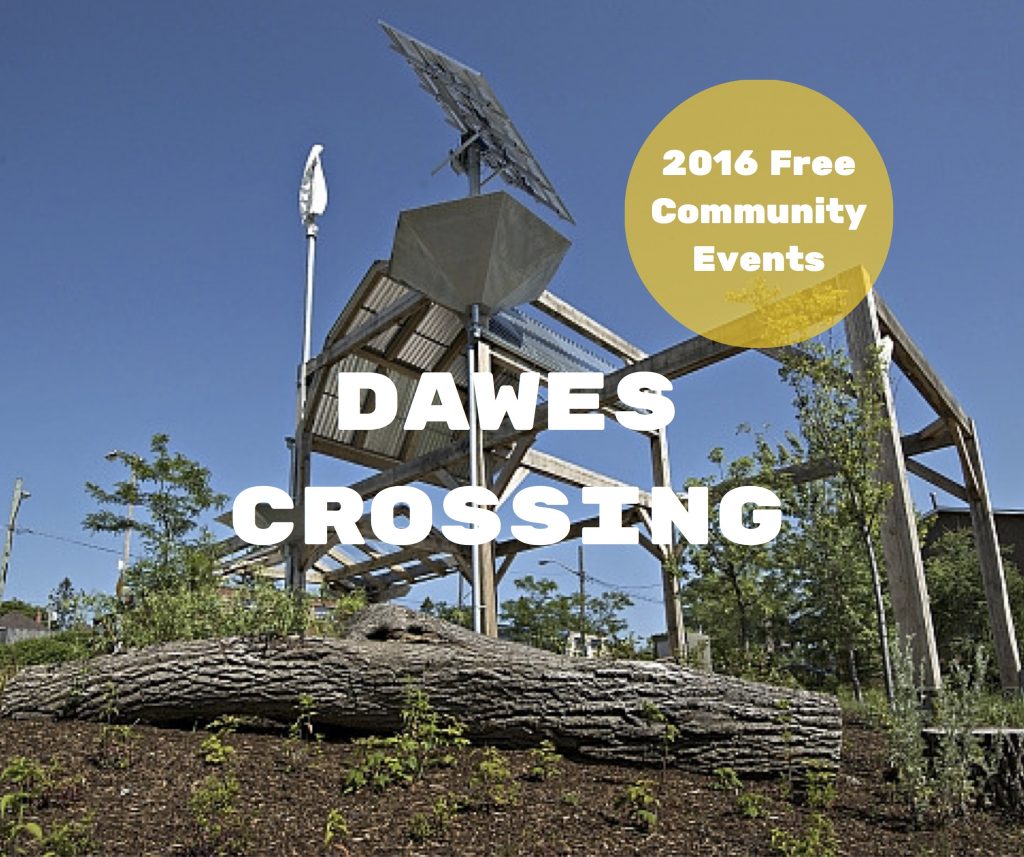 Dawes Crossing is a public art installation and community meeting place located at the intersection of Dawes Road and Victoria Park Avenue in Toronto. Created in 2012 by artist Noel Harding, Dawes Crossing references the human and ecological history of the area. The on-site solar panels generate a modest amount of revenue that supports electricity and Wifi, maintenance, and subsidizes community activities.
---
Free Community Events at Dawes Crossing
"My Home Is…" is a two-part participatory event. On July 2, participants took part in a free-write poetry and spoken word workshop. On July 9, the community is invited to Dawes Crossing to enjoy a spoken word and musical performance.
Saturday, July 9, 2016, 7- 8:30pm (Part 2)
"My Home Is…" – Spoken Word & Poetry Performance
Dawes Crossing (the intersection of Dawes Road and Victoria Park Avenue)
Facebook Event page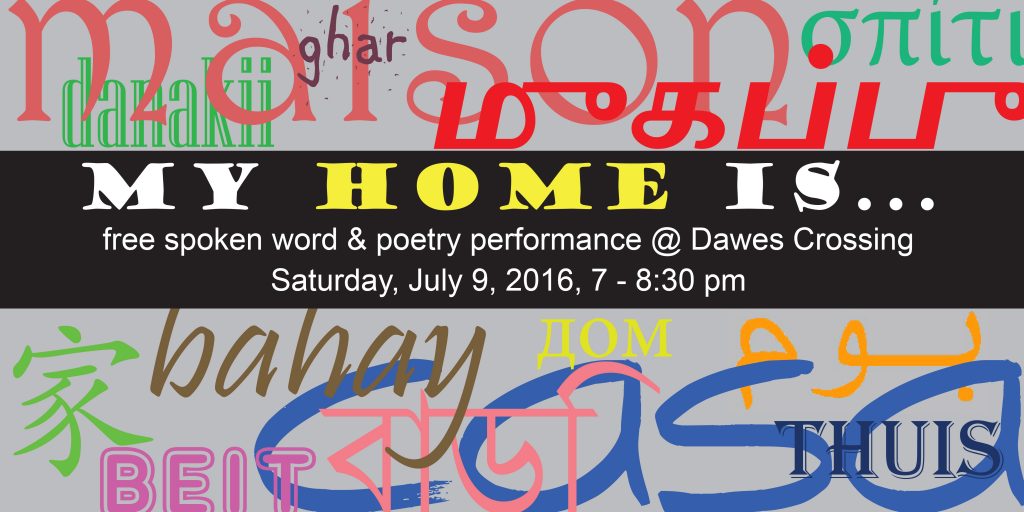 Enjoy a magical evening of spoken word and music at Dawes Crossing, where local residents will present works created in the "My Home Is…" workshop along with musical accompaniment by Cathy Petch and Cathy Nosaty. Let poetry and music illuminate this wonderful work of art and place.
(Rain date – July 10, 2016, 7-8:30pm)
ABOUT: Cathy Petch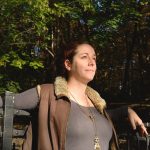 Cathy Petch is a playwright, spoken word artist, haiku deathmaster and musical saw player for The Silverhearts. Her new play "Mel Malarkey" is being produced by Theatre Trent. She has several handsome chapbooks and most recently published her poetry book "Late Night Knife Fights" with LyricalMyrical Press. She has been published by Descant, The Toronto Quarterly and Joypuke journals. She is a member of The League of Canadian Poets and "The Dildettes" a queer spoken word/comedy troupe along with Regie Cabico and David Bateman. Petch was a member of both the 2011 and 2012 Toronto Poetry Slam Teams, was the coach of the 2015 team and is the creative director of "Hot Damn It's A Queer Slam". She is happiest onstage. Find her at http://www.cathypetch.com
---
Saturday, July 2, 2016, 1- 4pm (Part 1)
"My Home Is…" – Spoken Word & Poetry Workshop
Dawes Library, 416 Dawes Road
Workshop space is limited
Facebook Event page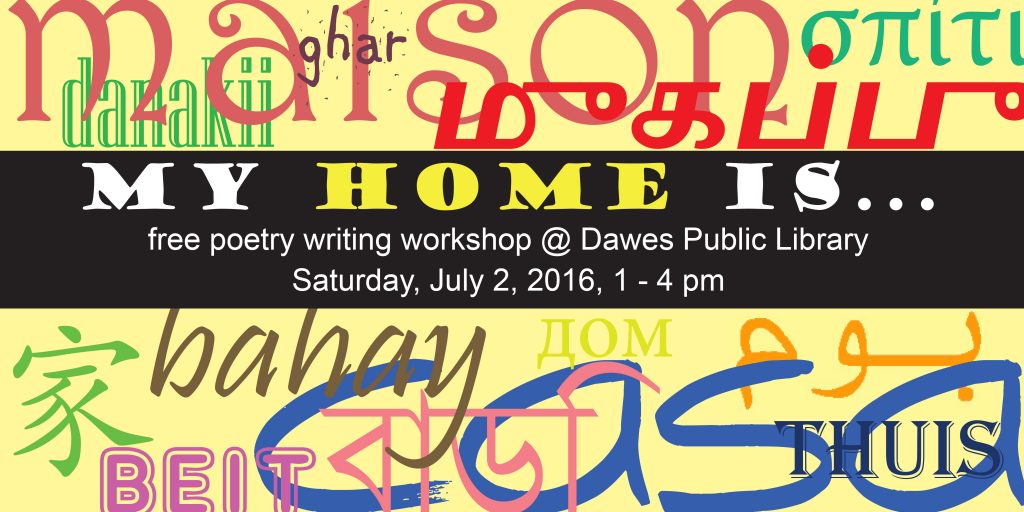 Join Slam Coach Cathy Petch for a guided free-write on themes of home, place, and transition. Participants will be encouraged to bring their own poems on this theme and Cathy will give them kind feedback on performance and style. Be brave, be bold, be you.
---
Saturday, June 11, 2016, 3:30-5pm (postponed from June 5 due to rain)
BOLLY YOGA 
Dawes Crossing (the intersection of Dawes Road and Victoria Park Avenue)
presented by I AM Limitless
Facebook Event page
Bolly Yoga is an interactive and dynamic workshop that combines the fun of Indian dance and the benefits of Yoga therapy. Led by a dynamic and creative Bolly Yoga team, participants can enjoy an interactive session that includes live music and special treats. Suitable for all ages, community participants may watch or participate in Bolly Yoga.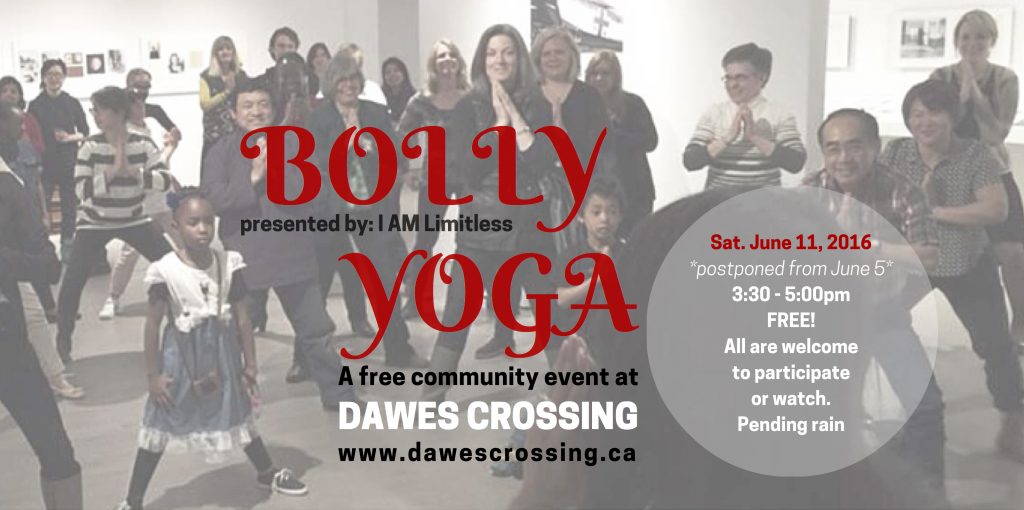 ABOUT: Ashima Suri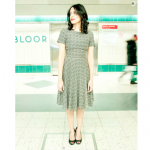 Ashima created Limitless Productions, an Indo-contemporary dance theatre, that uses performance art as a tool for social change. She created numerous programs serving persons with disabilities and youth with chronic conditions, and works with women to empower, motivate, and inspire. Ashima is a Communications & Media graduate with certifications in Yoga and Life Skills. She is a student of life and believes in practicing what she preaches. Her strongest purpose is to empower others and open hearts.