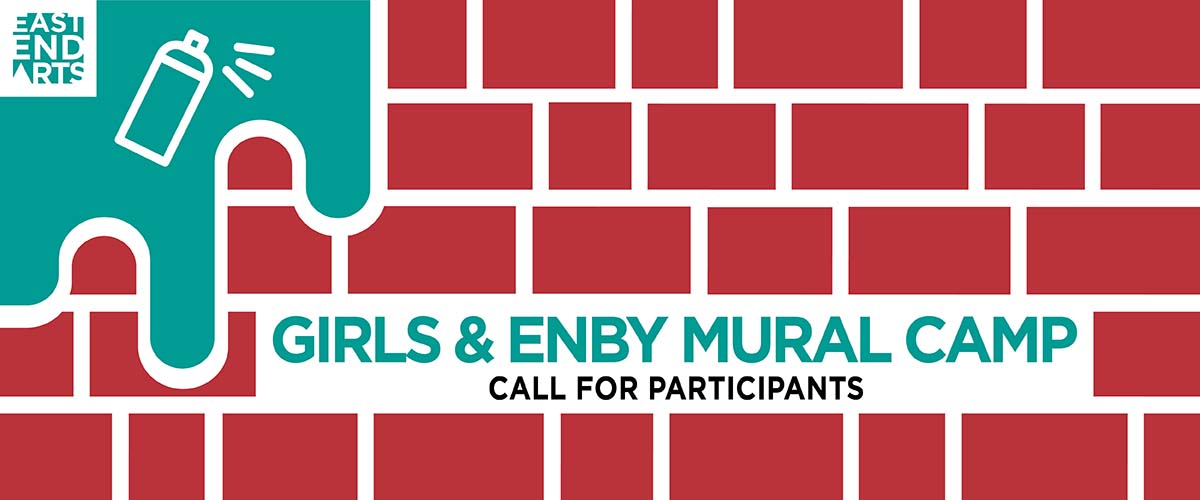 THIS PARTICIPANT CALL DEADLINE HAS NOW PASSED. Youth ages 14-18 are invited to join us for our fourth annual Mural Camp for girls, young women, and non-binary/enby folks! Deadline to apply as a participant has been extended to June 18th, 2023!
Call for Participants:
Are you interested in visual arts and murals? Are you looking for opportunities to learn more about outdoor mural-making this summer? Are you between the ages of 14 and 18, and are someone who identifies as a young woman, girl, or non-binary/enby? Join East End Arts and muralists Monica Wickeler and Bareket Kezwer for Girls & Enby Mural Camp, which takes place this August. To be considered for this program, please fill out our online registration form, found at the end of this page, by June 18th, 2023 at 11:59 PM EST!
About Girls & Enby Mural Camp:
Girls & Enby Mural Camp (GEMC) is a one-week summer program for youth between the ages of 14-18 who self-identify as young women, girls, or non-binary/enby folks. All participants will be provided with snacks, volunteer hours, and financial support for transit costs. No experience is required, but a passion for the arts is strongly encouraged!
GEMC will take place from August 14th-19th, with two days of in-class learning & at home practice to explore the history of street art, graffiti and murals, as well as your own individual style, followed by two-three days of creating a mural with the guidance of renowned street artists and your fellow campers!
To learn more, you can read about out our 2022 GEMC Camp HERE.
A Note on Safety Protocols:
Participant & staff safety are of utmost importance to East End Arts and will be a priority during the program. A full set of safety protocols have been prepared for this program, including providing youth participants with training in the correct use of a ventilator when using aerosol paints, and providing youth participants with safety measures to ensure personal safety when painting in an alleyway.
Important Details:
Session Dates & Times:
Monday August 14th, 2023 | Time TBC | In-Class Session at Clubhouse
Tuesday August 15th, 2022 | Time TBC | In-Class Session at Clubhouse (there may be homework, but don't worry you'll love it!)
Wednesday August 16th – Friday August 18th (with Saturday August 19th as a rain day) | Times TBC – 3 days of Final Mural Painting
Session Location(s):
In class days will be at St Matthew's Clubhouse, 450 Broadview Ave.
Mural painting days will be at a location within the Riverside BIA Neighbourhood. Location TBD
What You Need:
A reusable water bottle
A cloth face mask (if you would like to wear one)
Comfortable and safe outdoor mural attire (closed-toe shoes please)
Sunscreen, hat, and any other sun protection you need for on-site mural painting
What We Offer:
All snacks and meals for in-class sessions and on-site mural making days
Volunteer hours
Full financial support for TTC transit costs
Face masks (if you don't have your own)
An incredible experience learning about and making mural art with two renowned street muralists from Toronto!
Registration:
The deadline to register for this program has been extended to June 18th. Please note that spots are limited for this program. Please register by completing our online form found by clicking the button below! Participants will be notified by the week of June 26th, 2023 if they've been selected to participate.
Also note, that if you have any questions about the application process, you can email our Office Coordinator, Tyler at tyler@eastendarts.ca. No phone calls, please.
About the Lead Artists: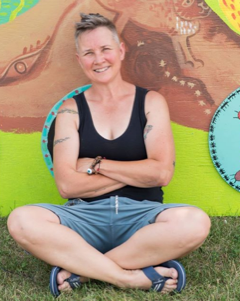 MONICA WICKELER
Also known as monica on the moon in the public art industry. When Monica isn't found on tip-toes at the top of scaffolding or balancing a ladder just so to reach the top corner of a mural, she can be found sharing her joy of mural/street art with public school students and sharing how it can transform a community or forgotten space in the most beautiful way.
Monica is a trained visual artist who has worked in the large scale painting industry in Toronto for many years. In outdoor advertising as a mural artist and in the film and television industry as a scenic painter. More recently she can be found reclaiming community spaces with her vibrant public art. Painting community murals in playgrounds, on wading pools, in pedestrian laneways, on construction hoarding and on just about anything that stays still long enough.
Facebook | Instagram |  Website
---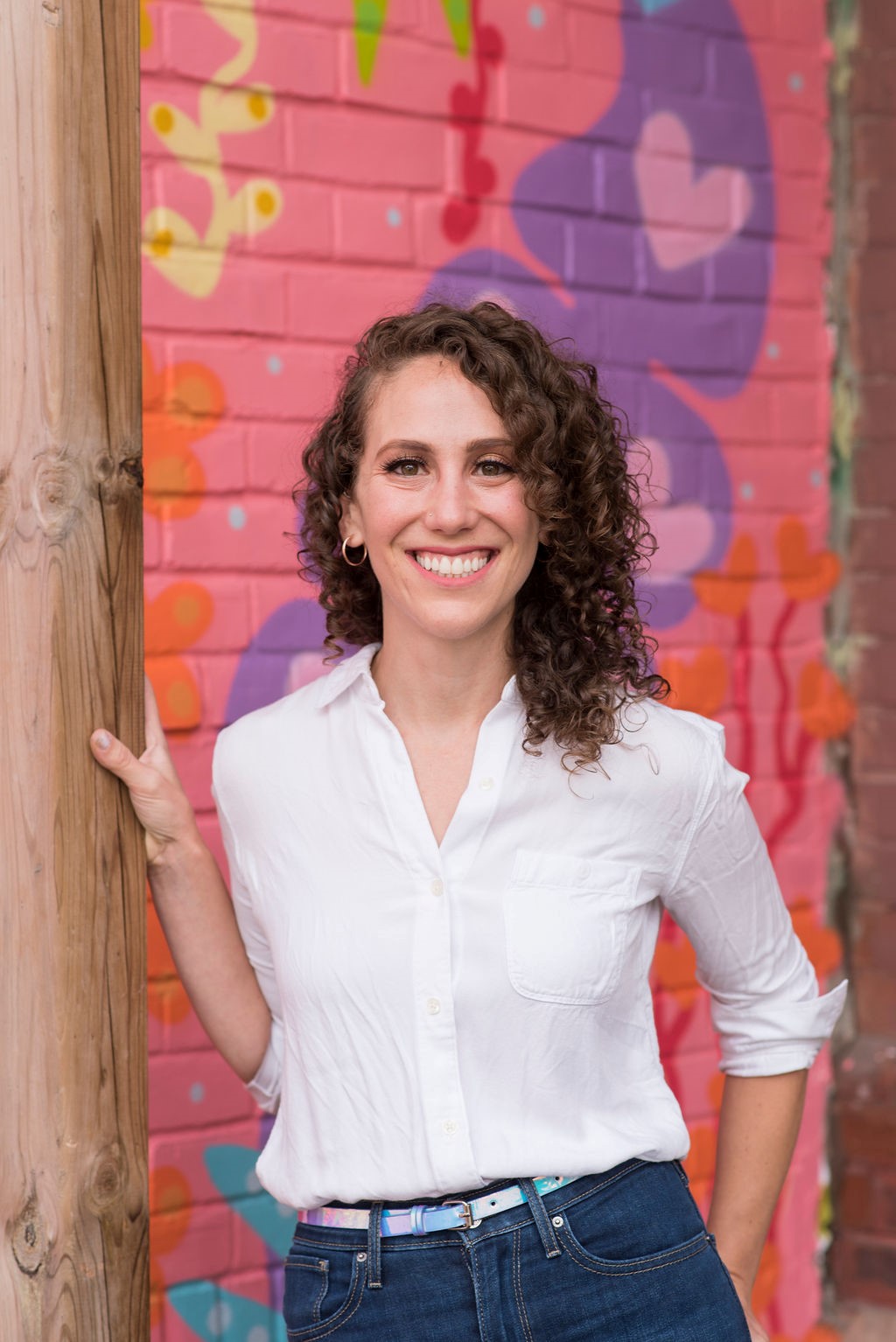 BAREKET KEZWER 
Bareket (she/they) is a muralist, community engaged artist and facilitator, poet, curator, cultural producer, creative director, graphic designer, mentor, frequent collaborator, collage enthusiast, and eternal optimist.
Their multidisciplinary practice is motivated by a desire to playfully celebrate the power of kindness, curiosity, and compassion and cultivate individual and collective gratitude. They use bright colours, joyful patterns and bold typography to captivate people's attention and fill them with a sense of belonging or delight. They passionately create art that promotes radical self love and acceptance. They use colour as medicine towards the goal of collective healing. They bring lessons from their love of gardening into their art and feel nourished when they are able to share valuable teachings from their plant friends that encourage themself and others to cultivate a reciprocal relationship with the natural world.
In 2017, they founded Women Paint, a street art jam celebrating the strength, resilience and diverse stories of women and non-binary artists and community members. As the initiative's creative director, she has produced over 100 murals by emerging, early and mid-career artists, and facilitated intergenerational community murals and mural camps with youth.
Instagram  |  Website | Women Paint Website
Funders: