Asian Heritage Month is Every Month
By, Chelsea Cameron-Fikis
This month is "Asian Heritage Month", and according to the Government of Canada's website, this is a month "for all Canadians to learn more about the many achievements and contributions of Canadians of Asian descent who, throughout our history, have done so much to make Canada the amazing country we share today." Asian descent in this context encompasses individuals of East Asian, Southern Asian, Western and Southeast Asian descent.
And so, this month East End Arts sat down (virtually) with three well-loved and well-known Asian-owned or Asian-run businesses in east Toronto. There are so many Asian businesses in east Toronto, so these three are in no way representative of all of them (or even a fraction of them). 
Given the particularly difficult year it's been for Asian communities with the rise in hate crimes targeting Asians around the world, it's more important now than ever to offer support to Asian-owned or –led businesses, and to celebrate Asian excellence throughout Toronto and beyond!
I set out to create this blog post as a way to share the stories of some Asian businesses in east Toronto, and to hear their thoughts on Asian Heritage Month. The words that Ed, Jen, Gabby and Anita offered were more than I could have hoped for. Please enjoy learning about these three phenomenal businesses (Wong's Ice Cream, Coffee & Clothing, and Paint Cabin), and continue supporting the Asian communities and businesses in east Toronto and everywhere, not just this month, but every month of the year.
1. The Story of Wong's Ice Cream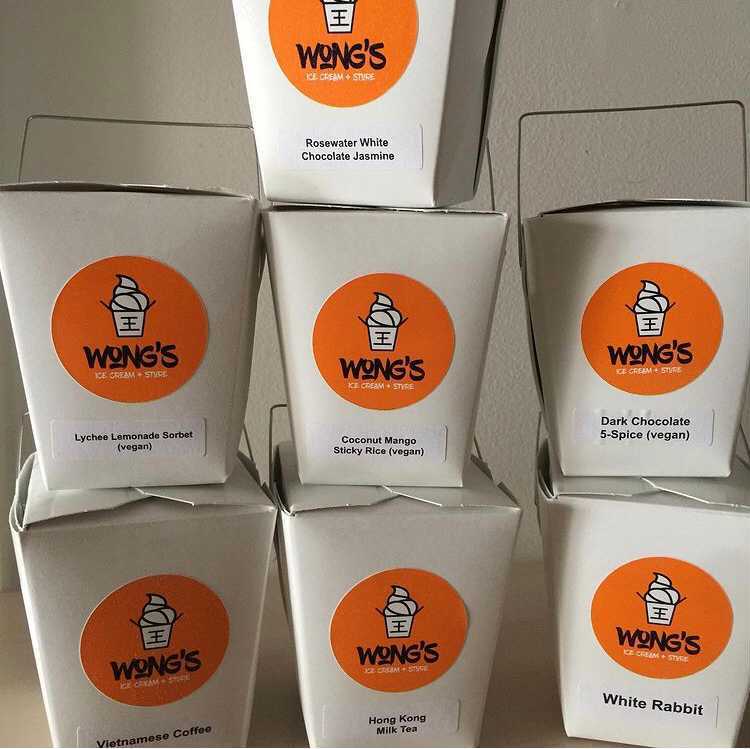 Wong's Ice Cream was actually first an ice cream shop called Henry Brown's in Hamilton. Ed Wong and his friend, Karen, had initially started a small batch shop in Hamilton's Farmers Market called Henry Brown's as a way to have some fun, be experimental, and create new and inventive flavours, "We just would sort of fly by the seat of our pants and just kind of do whatever it is we felt like doing. And mostly that was just playing with recipes and creating all kinds of different things," Ed told me. While Henry Brown's did well, eventually the commute to Hamilton became too much for Ed, and he decided that he needed to establish something closer to home.
Being a local resident of East Chinatown, Ed knew that he wanted to invest in the community that he was living in, but he also felt a deeper connection to the roots of East Chinatown specifically: "East Chinatown, and the older Chinese culture in the city [of Toronto] was heavily influenced by the specific region of where my parents come from. So, early Chinese immigration, a lot of it comes from the Guangdong Province area and Hong Kong area… so that's where you get Cantonese Chinese culture." June 2017 is the first day that Wong's Ice Cream officially opened its doors on Gerrard St. East, and in many ways the rest was history.
Visitors to Wong's Ice Cream, located in a small and simple storefront in the heart of East Chinatown, will continue to see how Ed's Cantonese roots inform his business, from its location, to all the delicious Asian-inspired flavours like Wasabi Honey, Hong Kong Milk Tea, or even Black Sesame Salted Duck Egg: "A lot of the flavor profiles you see at Wong's, and the different kinds of ingredients are really specific to all the foods and tastes and smells that I grew up with," said Ed.
If you haven't visited Wong's Ice Cream Shop yet (617 Gerrard East, at Broadview, 416-778-8883, wongsicecream.com), we highly encourage you to do so! While Wong's is operating a bit differently these days due to the ongoing pandemic, ice cream lovers can still enjoy a variety of unique flavours to go! Wong's Ice Cream is currently only open on weekends (Fridays, Saturdays and Sundays) with reduced hours (Fri 4-7pm, Sat/Sun 12-7pm). Currently they are also only offering pints to-go (no scoop ice cream on a cone), but they hope to re-introduce scooping options in the future when it is more safe and comfortable to do so.
Wong's Ice Cream on Asian Heritage Month and Supporting the Asian Community
In Ed's view, Asian Heritage Month is a month that can help bring to light many of the issues that the Asian community as a whole deal with: "It's nice to have that focus, and this formalized space for 31 days; it's a great time to both learn and to celebrate." Ed also pointed out that despite his appreciation for the month and the efforts that take place during this month, he dreams of a world where an Asian Heritage Month may not be necessary: "I wish we didn't have to single it out and specifically raise awareness, and that it was just a part of every month…. but something I think Barack Obama always said is, 'progress in history moves slowly'. So, you know, it moves, and it moves through efforts like these, and even though it sometimes doesn't seem like it, it does move."
In chatting with Ed about what East End Arts and our east Toronto communities can do to be better allies to the Asian community as a whole, the most important takeaway he gave to me was to continue to have a willingness to connect and make simple human connections with one another: "When you are willing to create those interactions, we have moments together, and those are impactful and meaningful, and, you know, they build bridges, and they help build understanding," Ed said over the phone. Keeping in mind that more than 70% of communication is nonverbal, Ed reminded me that a smile can go a long way. If for instance you are ever feeling hesitant or scared to walk into a business or shop because your first language may or may not be spoken there, don't forget that there are so many other ways to communicate and break down barriers.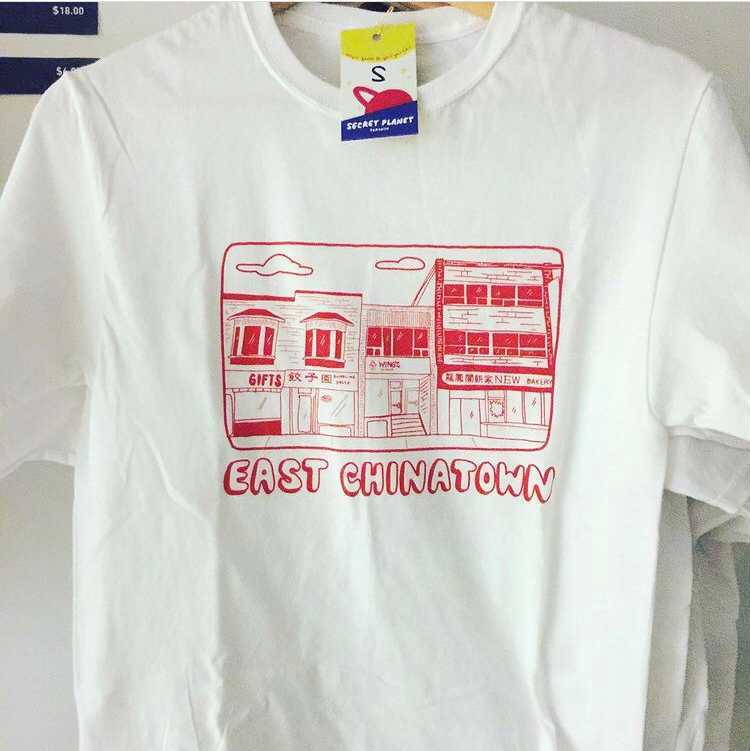 Looking ahead into 2021 and beyond, Ed told me he is hopeful for a bit more "compassion, dignity, and kindness – elements that just seem to have been in short supply lately." Communities can continue to support Ed Wong and his fantastic business, not only through the sale of his unique ice cream flavours, but through various community initiatives. Just this past month his shop launched a collaborative t-shirt sale with local maker Jackie Lee of Secret Planet Print Shop, as a way to raise funds to combat the ongoing violence, racism and hate towards Asians in Toronto and beyond. Look for the restock of these special edition t-shirts once the retail restrictions are lifted from the provincial lockdown.
2. The Story of Coffee & Clothing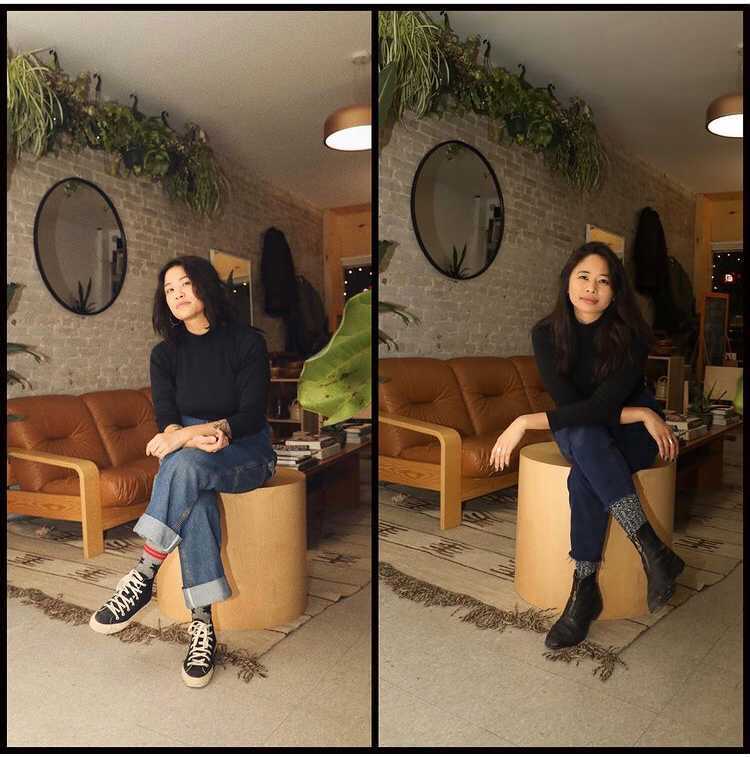 When two sisters (Jen, being the oldest of five, and Gabby, being the youngest of five) joined forces to offer something unique and meaningful to their communities, they weren't exactly sure what that would look like. They initially thought that they'd start a coffee truck business and park it somewhere around Nathan Phillips Square; however, in their pursuit to create not just a business, but a community hub that pulled in all types of local makers and creative people, they decided to mesh their passions for quality fashion and quality coffee together to create Coffee and Clothing. 
Launched in the fall of 2018 by Jen and Gabby (sisters), and their partners Zoe and Matt, Coffee and Clothing was always meant to be a space that provided a sense of comfort and belonging, "When we [Gabby and her partner Zoe] were in Asia and we were teaching English in Korea in a really small town where absolutely no one no one spoke English, I know it sounds super cliché, but we found a sense of home in a local café," Gabby told me, "So we were like, 'Okay, this feeling is what we want to foster in whatever we end up doing later.'"
As two business owners who are women of colour, continuing to support other creators and artists of colour is very important to Jen and Gabby: "We are always looking to work with other People of Colour," Jen said "From the monthly artists we feature to the vendors we choose to bring in, we're just super aware of the people that we choose to work with." From a featured artist wall in their shop, (where artists normally get to showcase and sell their work for their month of residency), to a carefully curated group of local makers who sell handmade goods at their store, using the platform that they have to elevate underrepresented voices is key to Jen and Gabby, "I see it as like, we have a space to make change, you know, as small as it is, we do have the opportunity to give people voices who aren't regularly given voices," said Gabby.
While in-store shopping at Coffee and Clothing is currently not possible (348 Pape Ave, across from Gerrard Square, (647) 970-5552, www.coffeeandclothing.ca), you can continue to interact with this incredible business by shopping on their website, and following them on Instagram where they frequently sell things on Instagram Stories. On the coffee side they've also introduced same-day delivery for coffee bags, and have started to sell tea and latte mixes that are definitely worth trying.
Coffee & Clothing on Asian Heritage Month and Supporting the Asian Community
When I asked Jen and Gabby for their opinions and feelings on Asian Heritage Month, their opinions were mixed: "Oh, it's always just been a month," Gabby said to me, "Unfortunately, it doesn't feel like we are being celebrated in the way that I think we should be celebrated." As a teacher, Gabby also mentioned her disappointment with the education system in how it fails to capture meaningful lessons about Asian life, Asian struggle, and Asian culture. Jen said to me that she agrees with her sister, but views the month as a place to start, "I definitely see the good because I feel like it brings awareness. And at least that can start a conversation."
When asked what East End Arts and others can do to continue being better allies, Jen and Gabby emphasized the importance of speaking up and supporting authenticity: "There are so many Asian businesses in Toronto, so if you're going to get dim sum for example, go to Chinatown, or just make sure it's Asian owned. Gabby and I were talking about a white-business last night where they took pho, added bone broth to it, and resold it as like glow pho or something. So they completely stole this product from the Vietnamese culture, made it their own, and sold it for $15. My hope is that when white people see things like that on social media, they stand up to it and say something," Jen said. Gabby also agreed that it's important to be aware of your own discomfort and fragility in tough conversations, and to remember that if you are willing to meet people with your own vulnerability, often people will do the same.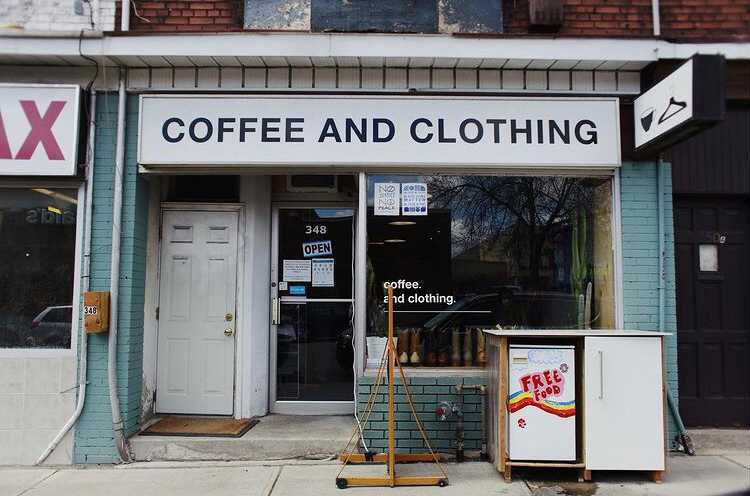 Looking ahead into 2021 and the future, Jen & Gabby told me that they're eager to continue supporting their communities in whatever way they can. From their community fridge in the front of their business, to their book club (that has transitioned to online but is really not the same), they are committed to using their shop and their platform to better their community: "I just want to express gratitude for our community, for our regulars, for the people who have acknowledged that we are an Asian women owned business, it means a lot… If I could give everyone who supports us a hug I would," Gabby said as we closed off the interview. Be sure to stay connected with this business online to find out how you can be involved and help support all the inspiring initiatives that they have on the go!
3. The Story of Paint Cabin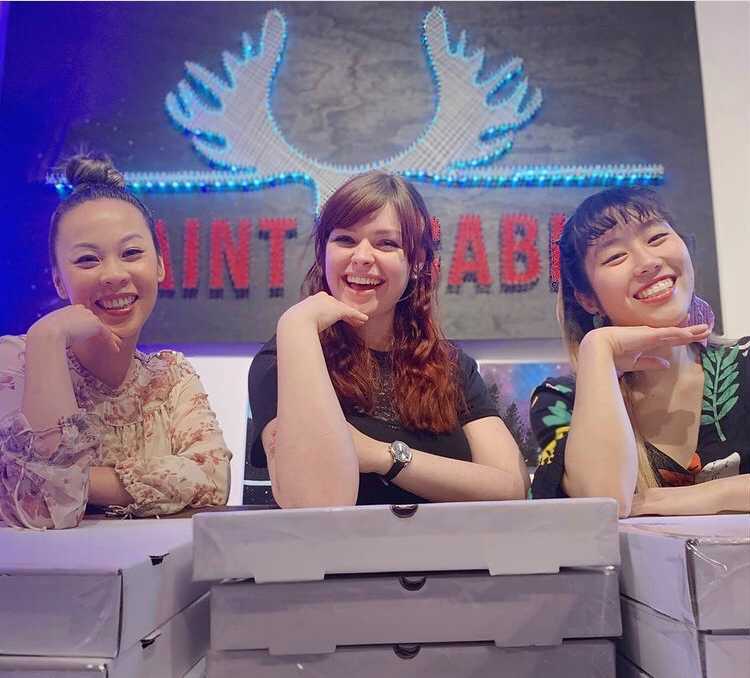 When Paint Cabin opened its doors in October of 2015, it was designed to be a space where people could come and socialize, eat and drink, and ultimately have a fun creative experience in Acrylic painting, Woodcut printmaking, Needle felting or other creative classes. Owned and run by Anita and her partner Gord, all of Paint Cabin's classes are really geared to everyone and anyone: "Whether you have art skills or not, the point is for you, as a participant, to just have fun and enjoy yourself," Anita said. As a business woman who is ultimately focused on customer satisfaction, Anita says she is always happy when customers come out of their shell and really embrace the experience, "Some people might be feeling stressed because they think they're not creative or can't do something. Our instructors all have art backgrounds to help people be more comfortable and confident… and then when people have a drink or some food and they relax and realize 'Oh, this isn't so bad, this is fun'."
While Anita's background is in psychotherapy, she joined the Paint Cabin paint bar business full time in 2019 and has not looked back, (COVID pivots and all). Like all businesses during the COVID-19 Pandemic, Paint Cabin has had to alter the way their business operates significantly, and now operate strictly online. Anita admits that moving the business online has been a challenging and unique experience, and what continues to be missing from the online experience is the human engagement piece – seeing people laugh and smile.
Due to the ongoing restrictions, Paint Cabin (723 Gerrard St. East, just past De Grassi St., (647) 361-6017, www.paintcabin.com), is not open for public events or bookings, however you can certainly continue to join them online for virtual versions of your special events like holiday parties, birthday parties, bachelorette parties, team building parties, and more. Be sure to show your support for Anita and her business if you're looking to have a unique date night with your partner, or try out a new skill yourself!
Paint Cabin on Asian Heritage Month and Supporting the Asian Community
When I chatted with Anita, she told me that Asian Heritage Month was not something that she was keenly aware of: "As someone who is Asian, it's not something that I grew up with," Anita told me, "I grew up in Melbourne. So, sometimes growing up it was like it was bad to be Asian. So I think I grew up not wanting to really be Asian for a while. I know, it was really terrible. But I think after college and university, I became more interested in my Asian culture, which is like the Chinese New Year, the Buddhist celebrations, things like that. And you know, I do speak fluent Cantonese." Anita told me that she does think Asian Heritage month is great for education and acknowledgement of important issues, and about reflecting on what we can do to make the future better.
When I asked Anita how we can all continue to be better allies to the Asian business community and community at large, she replied that for her it's about loving and supporting everyone no matter what: "For me, it's not about this month or that month, it's about every day, every day of not loving just your culture, but everyone else's culture. I feel like we should all automatically be allies of everyone. Does that make sense?  I'm not going to pick and choose. I've grown up just loving everyone and everything. So I will support whoever, wherever, whatever, and I hope people do the same."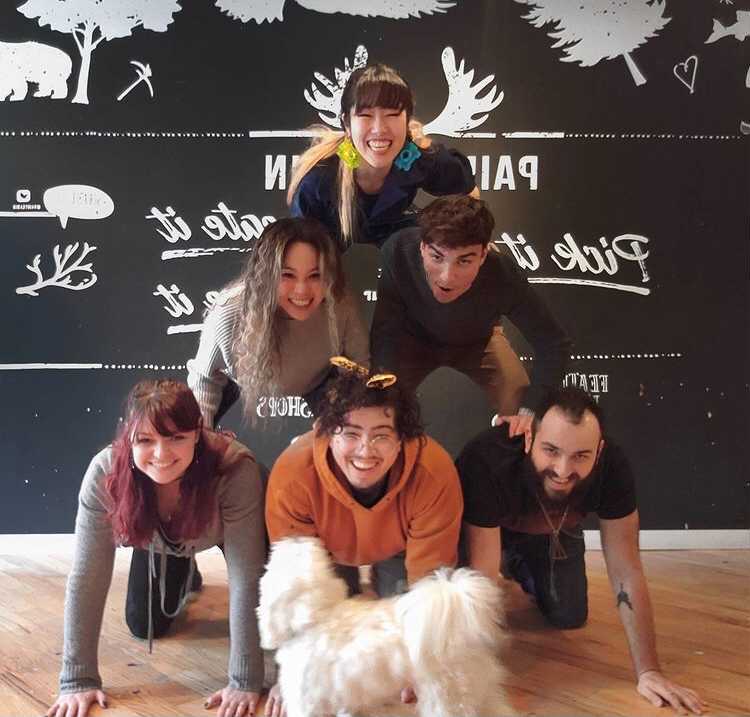 As for Anita's hopes and dreams for 2021 and beyond, she (like all of us) is eager for COVID to be over, but she also hopes for more kindness – more thank-yous, more smiles, more kind gestures: "I know its hard because it's the fear of COVID, but everyone is still human. Like the person at the pharmacy that's giving you your drugs, they're providing you a service, so you can say 'Thank You', or 'How's your day?' Kindness to people I hope is something that comes back soon." Anita and I agreed that COVID-19 has made it hard for humans to interact and show appreciation for each other in the same ways that we used to pre-COVID, and her point was a helpful reminder that small gestures can go a long way. If you can't smile because of your mask, you can still wave or say thank you with your hands. During these difficult times, making sure others know their services and efforts are recognized and appreciated is so important!
Photo Credits:
Banner image by Christian Mendoza
Images 2-6 from Wong's Ice Cream
Images 7-11 from Coffee & Clothing
Images 12-16 from Paint Cabin