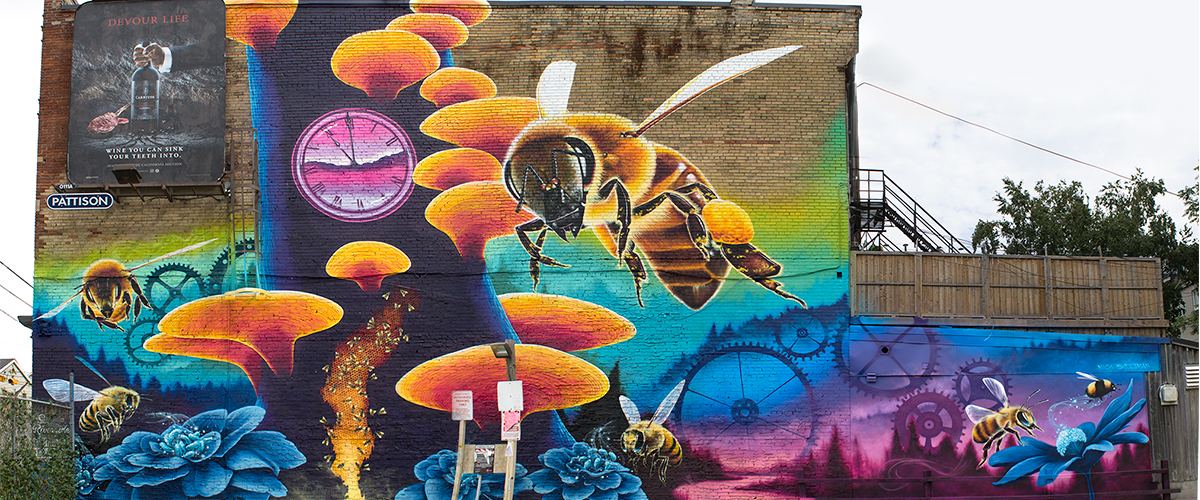 East End Spotlight is a monthly news piece where we highlight a series of east end artists, arts organizations, creative spaces & professionals that we want to shine a spotlight on💙!
April East End Artist Spotlights
For April 2021, we got in touch with some new artists and arts organizations who live or work in east Toronto. Scroll down to read more about the following people and organizations this month:
*Banner image is a Mural by Nick Sweetman*
1. Artist Spotlight: Chiedza Pasipanodya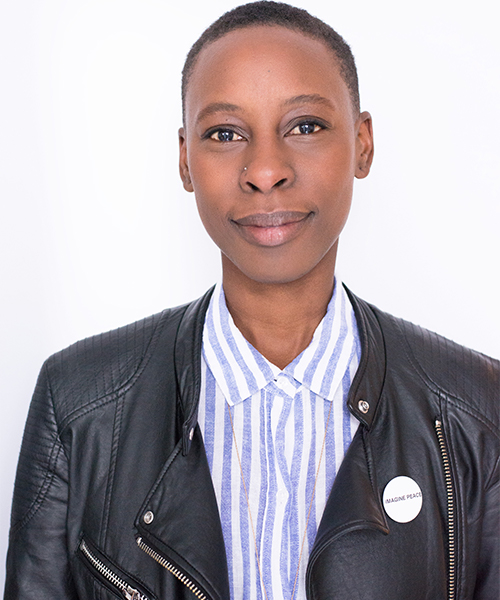 Name: Chiedza Pasipanodya
Discipline: Ceramics, Curatorial Practice
Artist Website:
Etsy Shop – Homestead Ceramic
www.chiedzapasipanodya.com
Artist on Social:

Instagram @homesteadceramic & @ccchiedza

Artist Pronouns: They/them
Tell our readers a bit about yourself and your art:
I am a Zimbabwean born, Toronto based artist, curator and educator. In my ceramic practice, I am interested in working with and listening to the clay. Developed through a research-based inquiry of longstanding Southern African ceramic techniques, I currently hand-build all my vessels and sculptures, rather than using a wheel. In my online ceramic shop, Homestead Ceramic, hand-building allows for a slow and meditative connection with the clay and leaves unique fingerprints and gestural imprints on every vessel. In a time of heightened isolation, Homestead vessels invite people to feel, through the human imprints, an affirmation of our timeless human connection. As a curator, my work and research aims to continually present what has been subtly or violently disappeared while contributing to a continuum of work that seeks to elevate histories and figures who might otherwise be forgotten and misremembered, in particular BIPOC and LGBTQ+ folks.
What are you excited about for the future of your arts practice?
I have an exhibition opening April 9 at Xpace Cultural Centre on Landsdowne, featuring a new work called Munda (The Field).  This work explores embodied memory and lineage through praxis through a ceramic landscape that is inspired by the architecture of termite mounds scattered across the Southern hemisphere. I also recently received seed funding through Ownr and OCAD University for my ceramic shop and I am very excited to scale up the business side of things, while also creating time to learn more from some of my favourite local ceramicists like Loren Kaplan, Dianne Lee and Adam Williams (The Clay Space on Gerrard).
How can audiences support the work you're doing right now?

By sharing and engaging with my Instagram pages (I love hearing from folks), following my Etsy store and purchasing from my shop.
What are some upcoming Toronto arts events, programs or initiatives you're interested in?
I am very interested in the work that the Nia Centre for the Arts is doing, the recent launch of the Centre for the Study of Black Canadian Diaspora established by Dr. Andrea Fatona, as well as an upcoming virtual discussion at the Koffler Centre on the Heritage of Theft: On Museums and Cultural Restitution with curators Candice Hopkins, Dan Hicks and Julie Crooks.
What does #EastEndLove mean or look like to you?
Doing things a little bit slower and more intentionally as an access mindfulness. Respecting the land, the waterways and each other. Gestures of kindness such as acknowledging each other on the street with a nod or even a smile at times.
A fun fact about you for our readers:
I have an 8 year old Daschund-Chihuahua named Axel who is so peaceful and sweet.
2. Artist Spotlight: Emily Gillespie
Discipline: Literary Arts and Performance Art
Artist Website:
Emily Gillespie Blog

Artist on Social:
Instagram @Emily.m.gillespie
Facebook @Gillespie.Em
Twitter @Emilygillespiem
Artist Pronouns: She/Her, They/Them
Tell our readers a bit about yourself and your art:
Emily Gillespie is an author, performance artist, disability activist and professional daydreamer. She identifies as queer, mad and autistic. Her work explores the themes of feminism, memory, identity, mental health journeys and disability justice. Emily is a creative writing facilitator and enjoys working in community spaces to help people share their stories. She views storytelling as a tool for resisting predominant social narratives and moving towards social justice.
Emily has a BA in English, and an MA in Critical Disability Studies from York University. Dancing with Ghosts (Leaping Lion Books, 2017) is her first novel. Her poetry and short stories can be found in several anthologies. She is working on her second grand funded novel, which explores the shortcomings of the emergency mental health system.
What are you excited about for the future of your arts practice?
I am excited about how my new book may inspire hard conversations about the mental health system. In the media, there's this idea that if you need "help" all you need to is be brave and reach out and help will be there. I want to challenge this notion, and examine what this help actually looks like. In the novel I ask what happens when people with complex mental health needs are in crisis and the emergency mental health system doesn't support them? What does community care look like when emergency resources are no longer an option? What happens to people and community when friends and alternative support networks are burnout?
I am also looking forward to performing as part of Intangible Adorations Caravan project in the summer of 2022 (delayed from 2021 due to Covid). Intangible Adorations is an immersive travelling theatrical and film experience for Toronto's Year of Public Art. This project reclaims the idea of the circus, and uses Madness as a site of activation.
How can audiences support the work you're doing right now?

If you'd like to support me follow my social media! I'd love the opportunity to facilitate a "Telling Your Story" workshop for you. I particularly enjoy working with LGBTQA+ groups and disability organizations, feel free to contact me. In June, the anthology Brilliance is the Clothing I Wear by Dundurn Press is coming out, and has some great pieces by Mad authors, including me. Lastly, join us for the Intangible Adorations Caravan in the summer of 2022!
What are some upcoming Toronto arts events, programs or initiatives you're interested in?
I am excited for Toronto's Year of Public Art. I am impressed by all the ways that artists have worked to navigate the pandemic and create meaningful and engaging art that reflects the times we are living in. I am also excited about the ways that artists and organizers are incorporating accessibility into art practices. I hope that the continued accessibility remains a part of the Toronto art community when we return to in person events. As it is, I'm getting tired of the zoom screen and cannot wait to attend a live poetry event or theater when it's safe!
What does #EastEndLove mean or look like to you?
#EastEndLove means celebrating the diversity of the East End and actively challenging racism! It also means acknowledging that Toronto actually goes beyond the west and downtown and that the east end is home to thriving community, including many artists! #EastEndLove is about celebrating local and honouring the social justice and artistic work that is happening in our community! I think it's also about inviting folks from across the GTA to come witness the amazing work that is going on in the east (when it's safe), because we are also an artistic destination.
A fun fact about you for our readers:
I own all things unicorn!
3. Artist Spotlight: Nick Sweetman
Name: Nick Sweetman
Discipline: Painting, murals
Website:
nicksweetman.ca

Artist on Social:
Instagram @nick_sweetman

Artist Pronouns: He/Him
Tell our readers a bit about yourself and your art:
I'm an artist born here in Toronto and I've lived most of my life in various neighbourhoods around the city, but currently live in Riverside. I work mostly in public space nowadays because it feels like that is where my art can have the most direct effect on people's day to day lives. I've been painting murals professionally since 2014 and have completed dozens of mural projects each year, usually working solo or in collaboration with other artists, and occasionally leading teams of artists in projects that range in scale from garage doors to 300-foot long underpass tunnels.
As an artist working in public, I feel I have a responsibility to educate as well as beautify spaces and inspire the imagination. I take this seriously because I think social and environmental consciousness is crucial in our communities and that public art can play a role in fostering that. Through my own learning about different issues I am inspired to share facts about the world with whoever happens upon it whether walking past the actual wall or scrolling past on social media. I try to paint something that is eye-catching and that creates for the viewer an encounter that makes them stop and wonder for a second. Much of my work features nature themes and colourful wildlife, but in the last year I have also started painting in grayscale and dealing more with human subject matter in my murals and telling stories about police violence against people of colour.
What are you excited about for the future of your arts practice?
I've been given the opportunity recently a few times to work with Ashop, who are a company based in Montreal composed of a roster of amazing artists who, in my opinion, are making some of the best murals in Canada. Working on teams with them has been pretty exciting for me – it's a major step up, so one thing I'm looking forward to is continuing to build on that relationship and learning everything I can from those experiences. I will also be curating a mural series in 12 parks across Etobicoke this spring for the City of Toronto.
I don't know if "excited" is the right word but I am extremely motivated to continue painting murals that talk about not only important environmental issues but also the discussion around atrocities committed against people of colour by law enforcement. One thing that IS exciting though is the upcoming release of a book project I helped put together with photographer Mark Segal that has been almost a year in the making: a series of photos of the Paint the City Black murals. Paint the City Black was an event I helped coordinate in June 2020 in which over 40 artists painted murals in solidarity with the Black Lives movement. The book will raise funds for Nia Centre for the Arts, a local non-profit that works to support Black artists of all disciplines.
How can audiences support the work you're doing right now?

The work I am doing that I most want people to support is developing community dialogue about environmental and social issues, raising awareness about anti-racism and about what is happening to our planet and to indigenous communities. Use your voice to vote and advocate for politicians who understand the importance of these and take genuine action to protect them.
Buying the "Paint the City Black" book is one way people can make a contribution to a project I was part of that will directly benefit emerging Black artists: 100% of the profits from the book's sale (coming at the beginning of June) will be donated to Nia Centre for the Arts. The book features over 70 pages of photos of nothing but artwork, much of which is no longer visible on the street (and more of it will disappear each season). By buying this book you will not only be supporting the cause, you will be preserving these artists' hard work and helping to spread the important message it stands for.
What are some upcoming Toronto arts events, programs or initiatives you're interested in?
It was just announced that the Keele Wall, a Toronto graffiti landmark that has a lot of significance to me and to many other artists in this city, will be demolished in a few years. Kane, one of the OGs who has painted the wall for the last three decades, is strategizing within the community how to make use of the wall's remaining time and that farewell promises to be a showcase of the city's best graffiti writers going as big as they possibly can – very eager to see what happens there.
Shorter term, I'm looking forward to checking out the light installations along Queen East for Luminosity, and excited to learn more about the Toronto Year of Public Art programming. Honestly, I don't do that good a job of keeping up with what's coming lately, I tend to hear about things suddenly and then spring into action (or hear about them too late and miss them). The pandemic has made everything more challenging of course for galleries and events, and there is a lot less to go out and do, but I think this summer has potential for at least some good outdoor action in the City.
What does #EastEndLove mean or look like to you?
I have been living East of the Don only a couple years, but I can safely say, having lived most of 30 years on the West side of Toronto, that the East is just as nice and in many ways has the West beat because it seems like a lot of people haven't yet discovered its hidden gems (not Ashbridges Beach). My favourite things about the East are the semi-wild spaces like the parks around the Scarborough bluffs and Tommy Thompson Park. I like the feeling of being near the lake and far from the density of the city.
A fun fact about you for our readers:
I am in love with octopuses/octopus/octopi (bonus fun fact: all are correct plurals) and have shaken appendages with Xena, the huge one at the Toronto Aquarium.
4. Artist Spotlight: Rose Trinh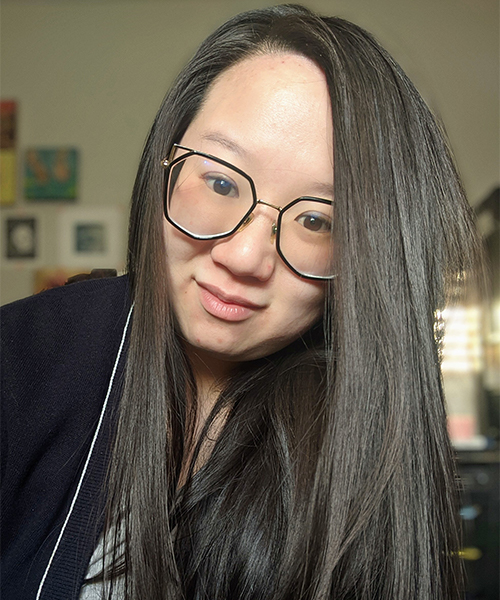 Name: Rose Trinh
Discipline: Oil, Digital
Website:
peculiarcolours.art

Artist on Social:
Instagram @peculiar.colours

Artist Pronouns: She/Her
Tell our readers a bit about yourself and your art:
I started oil painting in 2021 to rekindle a studio practice I left behind years ago. Although my background is in illustration and digital media, I've found a real connection to painting (I still dabble with digital art though!) Something that started to keep me sane is now a driving force behind creating. I describe my work as playful – it's how I think I saw the world as a child, but I can express it with a painter's hand.
What are you excited about for the future of your arts practice?
I think I'm looking forward to taking on new ideas as I grow as a new painter and seeing how my work transitions. Will it take a darker tone because I'm personally exploring topics like anti-racism and navigating my own position as a BIPOC woman? Will it continue to be bright-eyed and wondrous because I've often been a hopeful optimist? I'm super interested to see how I evolve on a personal and artistic basis.
How can audiences support the work you're doing right now?

I have a little online store but following me on Instagram means we get to chat and be friends :)!
What are some upcoming Toronto arts events, programs or initiatives you're interested in?
I've always loved the ArtWalks and markets, myself. I've been pretty shelter-in-place though so I'm looking at different digital art events to connect and meet new people.
What does #EastEndLove mean or look like to you?
I moved to Toronto in my mid-20's and I've always lived in the east end. There's something about how close the community is, the emphasis on smaller businesses, the proximity to the beach, and amazing parks that keep me here.
A fun fact about you for our readers:
I love coffee and have an obsession with making the best it can be – you might have seen me slinging espresso behind some east end shops.