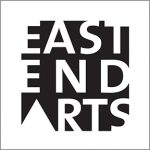 Call for Nominations to the East End Arts Board of Directors
The East End Arts Advisory Board invites applications for Nominations to the East End Arts Board of Directors by December 15, 2017.
East End Arts is the city's sixth Local Arts Service Organization (LASO), a group of organizations funded by the City of Toronto to serve a specific geographic area whose role is to encourage artistic growth in both emerging and established artists, contribute to the economy and local tourism, promote inclusion and equity, support healthy social change, and help create audiences for the future.
East End Arts serves the east end of Toronto, defined by City of Toronto Wards 29-32, an area that is brimming with artists, arts projects, and a rich array of component communities.
Board of Directors Key Role:
Participation on the Board is voluntary and there is no remuneration for service.
The Board of Directors provides strategic leadership, governance, establishes policy, and oversees the operations and financial performance of East End Arts.
Expected Commitment from Board Members:
Term begins in early 2018 with the ability to serve for a minimum of two years and eligiblity for re-election at the annual general meeting.
Attend eight Board meetings that take place each year.
Able to commit the time and resources to serve on the Board.
The Nomination Committee is particularly interested in candidates with the following knowledge and expertise:
Commitment to East End Arts' Mission, Vision, and Values www.eastendarts.ca/about
Appreciation and understanding for the arts in Toronto
Personal commitment to devote the time necessary to perform the responsibilities of a Board member
Strong communication and collaborative skills
Previous non-profit board experience is an asset
Applicants with prior experience in communications, marketing, branding, advertising, and/or a law background would be considered assets but we are open to all applicants.
To apply:
Please submit an email to express your interest before December 15, 2017 to Shana Hillman at shana@eastendarts.ca.
All applications will be reviewed by the Nominations Committee. The Nominations Committee will then make recommendations.
We thank all applicants in advance, however only those selected for an interview will be contacted. For more information about the role and nomination process, please contact Shana Hillman at shana@eastendarts.ca