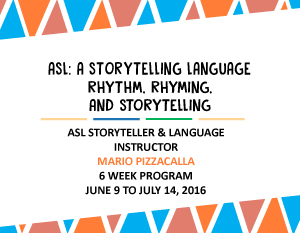 ASL – A Storytelling Language
ASL Sign Language, Rhythm, Rhyming, and Storytelling for Parent and Child
With storyteller Mario Pizzacalla
Presented by East End Arts, an initiative of the Toronto Arts Foundation
In partnership with The DEAF CULTURE CENTRE, Canadian Cultural Society of the Deaf
This summer, American Sign Language (ASL) for families is coming to Toronto's East End! This unique pilot program offers ASL Sign Language, Rhythm, Rhyming, and Storytelling for Parent & Child.
Thursdays at 2pm, 1 hour skill-building classes
June 9, 16, 23, 30, and July 7, 14, 2016
Riverdale Hub, 1326 Gerrard Street East, 3rd Floor Gallery, Toronto
Spaces are limited, with room for up to 15 parent-child pairs.
Total cost of the program: $100.00 (each parent-child pair)
To register: http://aslstorytelling.eventbrite.ca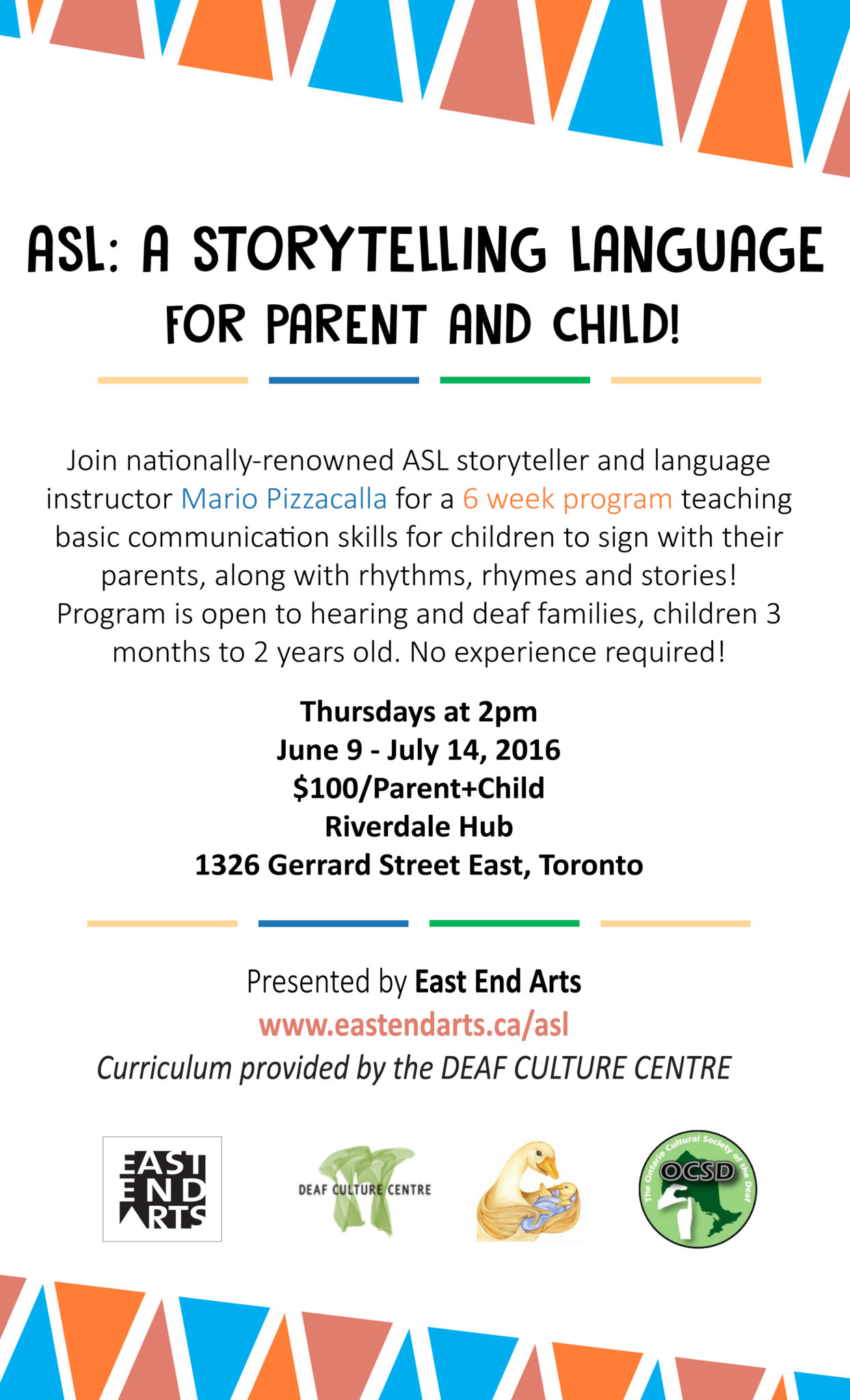 Join nationally renowned ASL storyteller and language instructor Mario Pizzacalla for a 6 week program teaching basic communication skills for children to sign with their parents, along with rhythms, rhymes and stories. Each week, Mario will teach basic ASL signs for parent and child, encouraging early adoption of literacy and language acquisition. These classes are open to hearing, hard of hearing and Deaf families, interpreted by sociolinguist and educator Dr Anita Small.
This 6 week program is a beginner course, with no experience required. ASL storytelling is fully accessible to hearing and Deaf families alike. For those interested in baby sign, ASL rhymes teach your child basic communication skills, as well as introduce Deaf Arts to the family in a friendly and fun way. Intermediate and advanced classes may continue in the fall of 2016. Children age 3 months and up to 2 years are welcome to participate.
This program and its curriculum are based off of the national initiative and Trillium Foundation funded project "ASL Parent-Child Mother Goose Program: American Sign Language Rhymes, Rhythms, and Stories for Parents and Their Children".
For more information, please contact:
Ely Rosenblum, Email: ely(dot)rosenblum(at)gmail.com

East End Arts (EEA) is the city's sixth Local Arts Service Organization (LASO), a group of organizations funded by the City of Toronto to serve a specific geographic area whose role is to encourage artistic growth in both emerging and established artists, contribute to the economy and local tourism, promote inclusion and equity, support healthy social change and help create audiences for the future. East End Arts' mandate is to unite, inspire and enhance the communities of east Toronto with the transformative power of the arts.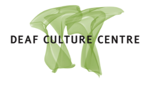 The DEAF CULTURE CENTRE is a symbol of the Deaf community celebrating Deaf life. It is a public forum both historical and forward-looking. The DEAF CULTURE CENTRE is contemporary, a fun gathering place that is open to the public and rooted in the Deaf community. It provides education, culture, visual and performing arts.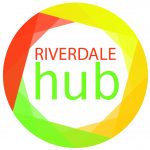 Riverdale Hub is wheelchair accessible, with an elevator and gender neutral washrooms. Stroller parking is available inside, baby-wearing is encouraged to help save on limited space. Chairs can be provided in the 3rd floor gallery space, and parents are encouraged to bring a yoga mat or cushion.