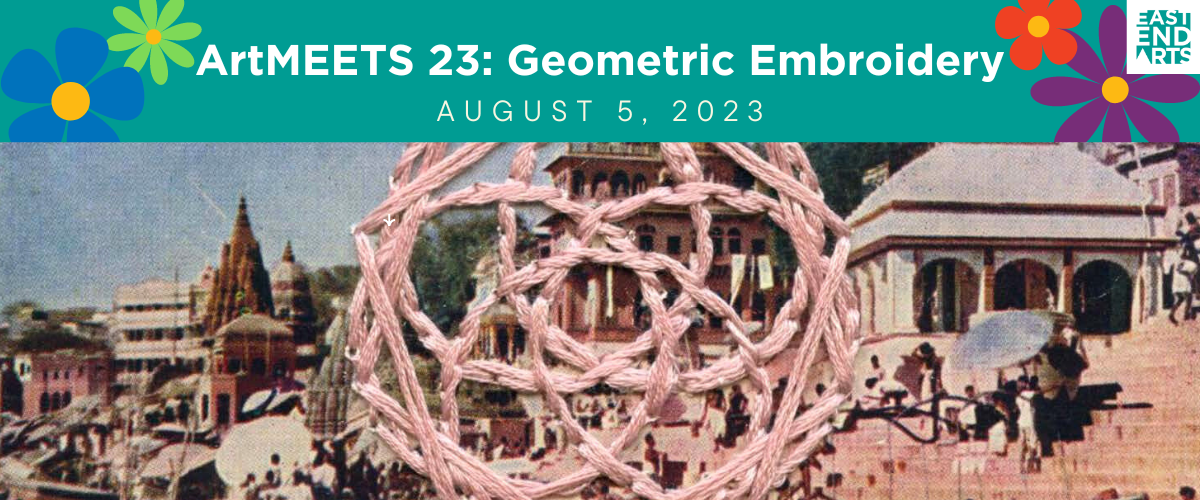 ArtMEETS: Geometric Embroidery!
Facilitator: Leila Fatemi
Saturday August 5th, 2023 | 1-4pm
St. Matthew's Clubhouse | 450 Broadview Avenue
Cost: PWYC, $10-$50 | Register on Eventbrite

ABOUT THE WORKSHOP
Explore the world of Islamic Geometry!
This workshop offers participants an immersive introduction to the practical art, history, and philosophy of sacred and Islamic geometry. By exploring the universal principles that govern growth and structure in the natural world, participants will gain a deeper understanding of this mystical and spiritual art form that is celebrated in many cultures. Using embroidery thread, paper, and patterns, participants will be guided through the creation of geometric art on paper, surrendering to the meditative application of weaving. Geometry has been used in art and design throughout history and is recognized as a tool for meditation, mindfulness, and personal growth. The micro and macro of our
natural world are made up of geometric shapes, reminding us of the interconnectedness of all things and our relationship to the whole.  Blank paper will be provided, but participants are also encouraged to bring in photos, paintings, or other paper works should they want to experiment with the process further!
ABOUT THE FACILITATOR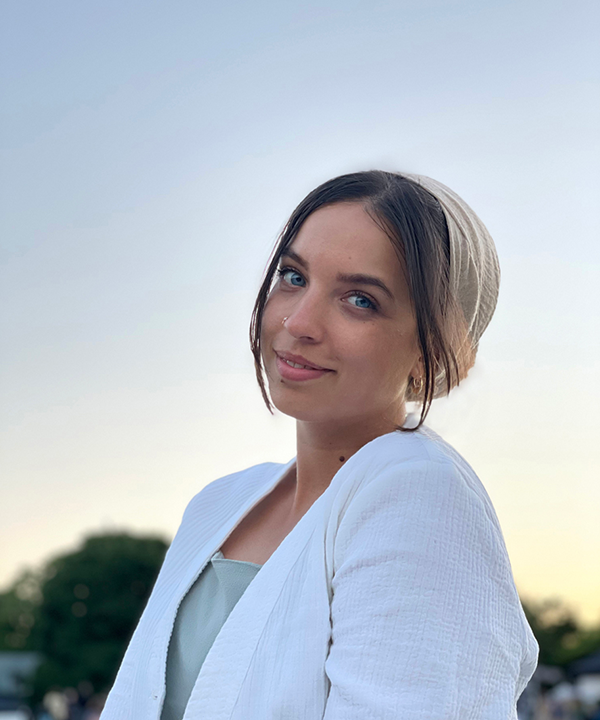 Leila Fatemi is an emerging artist, curator and community arts worker based in Tkaronto/Toronto. Her work stems from her daily experiences as a visible minority and her perspective as a practicing Muslim woman artist. Fatemi aims to provide platforms and contribute alternative narratives to conversations of ethnic representation with a focus on the experience of Muslim women & women from the MENA region as well as to create a better understanding and appreciation for Islamic culture and traditions.
Through her multi-media approach, she challenges the inherently colonial narratives used in Western traditions of misrepresentation of the East. Fatemi holds an honours BFA from Toronto Metropolitan University in Image Arts with a minor in Curatorial Studies. Her work has been exhibited in Canada and internationally and has been featured in online and print media including Flash Forward and Fashion Magazine. She was the first-place recipient of the Clyde & Co. Art Award for excellence in visual art and a finalist for the Toronto Art's Foundation Emerging Artist Award in 2020.
COST
Each ArtMEETS workshop will cost $10-$50 per person to attend (on a sliding scale of Pay What You Can). Payment is to be made online at the time of registration, which will be done via Eventbrite. Payments through Eventbrite can be made with any major credit card, or through PayPal. If you are unable to pay online, we also accept cash or cheque, which is to be paid before the day of your workshop. If you need to pay with cash or cheque, or you would like assistance through the payment process, please contact East End Arts at info@eastendarts.ca.
If you are not able to attend an ArtMEETS workshop that you've registered for, specifically if you are feeling unwell, please let us know as soon as possible and we will be happy to issue you a refund, or offer you a spot at an upcoming ArtMEETS workshop, if and where possible. You may also feel free to transfer your ticket to a friend! If you're transferring your spot to another person, be sure to email them your ticket or hand it to them personally, and let East End Arts know in advance.
PLEASE NOTE: If you require financial assistance, please contact EEA's Operations Coordinator Tyler, at tyler@eastendarts.ca. Nobody will be denied participation due to lack of funds, but please note that there will be high demand to participate in this program, so if you require financial assistance, please reach out early!
DIRECTIONS & PARKING