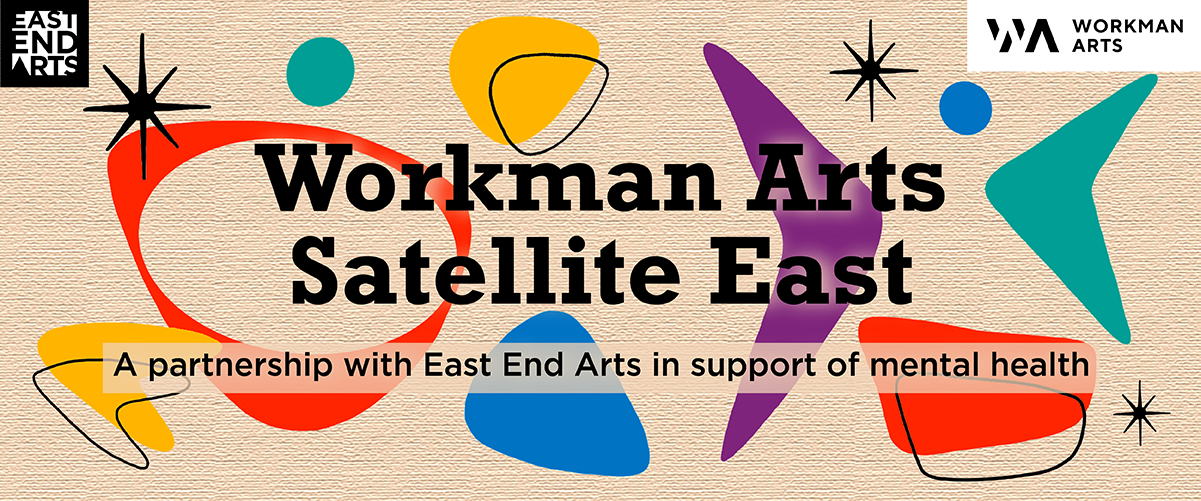 Workman Arts Satellite East
A unique ongoing partnership in support of mental health
Various Locations, Ongoing
FREE
Thanks to a $1 million investment over four years from the Slaight Family Foundation, Workman Arts is expanding its art training programs throughout the GTA by partnering with East End Arts, and the city's other LASOs.

Over the coming years, we will be able to offer a great range of exciting new programming through this incredible partnership that tackles the prevalence of social isolation in individuals with mental health issues and the lack of opportunities to build lasting social connections through meaningful engagement outside of the mainstream mental health system. Workman Arts' art training programs are unique in the mental health sector because they do not treat the art class as secondary to the mental health benefits. High-quality art classes across all disciplines are facilitated by instructors with lived experience of mental health and/or addiction issues.

Here at East End Arts we are firm believers in the power of the arts to heal. Early in 2021 we had the opportunity to learn about how the science behind that idea works (hint: it's real science and it really works), and we are thrilled to be able to work with the experts at Workman Arts to bring incredible opportunities to support the mental health of the communities we serve.
Keep your eye on our social channels and this page to learn about upcoming programs with Workman Arts!
Current Workman Arts Satellite East Programs:

Stay tuned here for updates on upcoming W.A.S.E programs!!
Past Workman Arts Satellite East Programs:
GROW THE LIGHT – LANTERN MAKING WORKSHOPS
IN-PERSON at the Crescent Town Club
Workshops: Thursday March 17th, or Saturday March 19th (registration required)
Parade: Sunday March 20th, 2022
For community members in East Toronto, with preference given to members of the Crescent Town Community
As we reach the Spring Equinox light and dark are equal, and it's a time to celebrate! Join Shadowland Theatre and East End Arts for a free lantern-making workshop. Create a beautiful glowing lantern to welcome the lengthening days, bring light, and hope out of the dark of winter. Workshops will include all materials and instructions to make your own lanterns. Lanterns can illuminate a room, hang from a balcony, or be shared and carried in the east end Light It Up Lantern Parade! For those who participate in a Grow The Light Lantern Making Workshop, on Sunday March 20th at 7:15PM, you are invited to join us for a lantern parade from Dentonia Park into the Crescent Town community to celebrate the Spring Equinox! With music, glowing lanterns, and the light of community spirit, we will welcome the longer days and bring hope into our hearts. Information about Light it Up Parade here! *Please only register for one workshop date. 
CHARACTER DESIGN
ONLINE
12-1:30PM
Fridays March 18th – April 15th
For local seniors
Learn how to draw and design characters, as well as write a background for that character! From colours, shapes, faces to much more! Learn to personify your feelings and fears into characters as well. Who can register? Seniors living in East Toronto; Priority is given to BIPOC (Black, Indigenous, People of Colour) or LGBT Folks.
About the Instructor:
Sam / Sameena / dairysam is a disabled, queer and brown artist who makes art of all kinds! Illustration, poetry, print, ceramic, sculpture, fabric arts, and much more! They love playing with colours, characters and stories. You can find Sam on Instagram at @Dairy.Sam

CUT, PASTE, & CREATE: A MIXED-MEDIA COLLAGE WORKSHOP SERIES
ONLINE
2-4PM
Sundays February 27, March 6, 13, 20, 27, 2022
For local seniors
Join multidisciplinary artist and writer Hanan Hazime for Cut, Paste, & Create: A Mixed-Media Collage workshop series. Discover how to use found and repurposed materials to create various forms of collage. Participants will be guided through collage making techniques and creative prompts that will centre on joy, hope, and community connection. Each visual arts collage will also be accompanied by an optional creative writing prompt. Creating art together online will allow us to connect our hearts, minds, and spirits in a time when we can't be together in person. This workshop series is open to all local seniors. No collage-making experience is required! All skill levels are welcome.About the Instructor:
Hanan Hazime is a multidisciplinary artist, creative writer, community arts educator, and writing instructor living in Tkaranto/Toronto. She also identifies as a Neurodivergent Lebanese-Canadian Shi'a Muslimah Feminist and Mad Pride Activist. Hanan has Master of Arts degree in English Literature and Creative Writing from the University of Windsor. Through her intersectional and interdisciplinary artwork, Hanan aims to push boundaries, question arbitrary binaries, challenge the status quo, and shatter stereotypes. Her primary mission as an arts educator is to provide accessible arts education to marginalized communities with a special focus on crafting safe, empowered spaces for Muslims, individuals with mental health challenges, folks with disabilities, and BIPOC youth to discover and enhance their writing and art skills.cWhen not writing or creating art, Hanan enjoys reading fantasy and science fiction novels, overanalyzing things, photo-blogging, dancing with faeries in the woods, and drinking copious amounts of tea.
CAMERAS AND CREATIVITY: A PARTICIPATORY PHOTO WALK PROGRAM
In-person
10am-12:30pm
Fridays Oct. 29, Nov. 5, Nov. 12, Nov. 20, Nov. 26, 2021
Community Partner: East End Community Health Centre
This 5-session photography program will engage with 10 participants on photo walks designed to explore a particular theme and to provide participants with hours of social interaction, discussion, creativity and self-expression. Participants will brainstorm on a theme they wish to represent with photographs and words. The program will be facilitated by photography educator Diana Nazareth but content will be decided by the participants at the onset of the program. Participants will be led in inspiring photo-dialogue exercises designed to bring about discussion, collaboration, and individual viewpoints culminating in a virtual exhibit showcasing the participants photographs, contributions, and involvement.
About the Instructor
Diana Nazareth is a Toronto-based photographer, educator, and founder of Project Kids & Cameras. Her photography programs for people of all ages are informed by an extensive study of key progressive methods such a Literacy Through Photography, PhotoVoice and Visual Thinking Strategies and she has facilitated participatory and project-based photography workshops to over a thousand participants in schools, community art centres, libraries and via community-engagement initiatives throughout the Greater Toronto Area. She received her B.A. in Communications/Photojournalism from Temple University, and her Teaching Artist Certification from The University of The Arts, Philadelphia, PA.
GEN Z-INES
Online
Saturdays Nov 6, 13, 20, 27, December 4th, 2021
BIPOC and LGBTQ Youth 13+Participants will be provided with a "Zine Making Kit" that will include all the materials they need in order to create zines. Our first weekend will start with an unboxing session to explore your new materials, and meet your fellow "Zinesters". We will have special guest with some great zine-making tips to share. Our last session is a cut and fold party, a celebration to put our final zines together after print and learn some more techniques. Finally zines will be distributed at comics shops, book stores, and through East End Arts – that's right your zine will be published and shared with the world! All sessions will be conducted online to maintain the safety of participants, artists and staff. We hope to conduct a final session in person with health and safety guidelines.
About the InstructorNaz Rahbar is a Toronto based multidisciplinary artist with drawing at the core of her practice; they work in print, artist books, performance, animation, and installation. Her work often explores the figure; considering bodily identity as primarily relational through various concepts, such as body knowledge, body and land, bodies and borders and bodies as borders. Naz graduated with a BFA from OCAD University in 2009. They have been active in arts education, and community arts in Toronto (www.art-cave.ca), and across the GTA. They completed a bachelor of Education with a Fine Arts focus in 2012, and an MFA at York University in 2019. Naz currently teaches in Art Fundamentals and Illustration at Seneca College, and in the department of Visual Studies Art and Art History joint program at University of Toronto and Sheridan College.
Funders
Thank you to Workman Arts and the Slaight Family Foundation for their support of these Satellite programs.