Light it Up: An East Toronto Lantern Celebration
Presented by: Shadowland Theatre, Workman Arts, and East End Arts
Lantern Making Workshops in Crescent Town: Thursday March 17th and Saturday March 19th, 2022
Community Lantern Parade: Sunday March 20th, 2022 at 7:15PM
Free to participate, in-person and at home!
RSVP on Facebook
On Spring Equinox, day and night are equal, light and dark are in perfect balance – it's a time to rejoice! Let's celebrate the return of the sun, of balance, and of the love that got us through the dark of a second pandemic winter by filling the east end with light – inside lanterns! Back by popular demand, our program Light It Up 2022 is presented by Shadowland Theatre, Workman Arts, and East End Arts this year.
You and your family are invited to join us in this free, accessible, and fun opportunity to create your own lantern of light and love, and share your lantern in our Light It Up Parade on Sunday March the 20th with people in your community! Alternatively, you can also light your lantern up at home, and then bring your lanterns out to your porch, balcony, driveway, or window to mark the equinox and share light with your neighbours! Scroll down to learn about all the ways you can participate in Light It Up this year!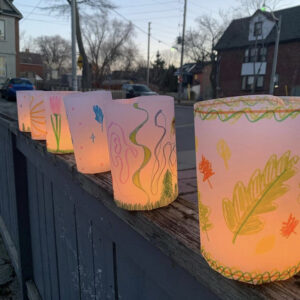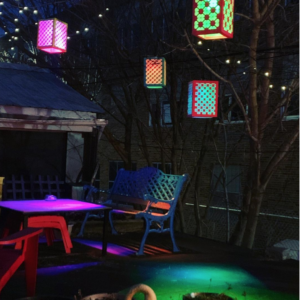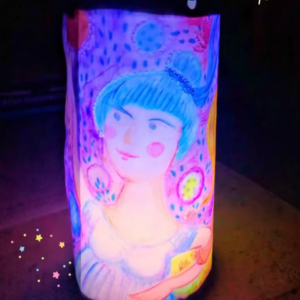 HOW TO PARTICIPATE
MAKE A LANTERN AT HOME: This program is all about making and sharing light across the east end, so make a lantern with us!  If you have the means to purchase your own materials (or you have them around the house already), you can make your lantern(s) in the comfort of your home using materials like bristol board, coloured markers, cooking oil, string, a tea light, tape, and scissors! We've got three incredible videos included below on this webpage that you can check out for inspiration and instructions on how to make three different types of lanterns! Check out the individual videos below to learn about the materials you'll need to make your lantern, or explore other ideas and options online.
P.S. BIG thank you to Anne at Shadowland Theatre, Sar Wagman (our talented Programming Intern from OCADU), and Yuechen(Blanche) Bao (our second talented Programming Intern from OCADU), for creating and providing these videos for us!

MAKE A LANTERN IN OUR WORKSHOPS: If instead you'd like an in-person experience to make your own lantern, Shadowland Theatre, East End Arts, and Workman Arts will be hosting two free, in-person lantern-making workshops titled, Grow The Light, for you to attend! Workshops will include all materials and instructions to make your own lanterns, and will be suitable for all ages ten and over. Workshops will take place on Thursday March 17th, 2022 from 5-8PM in the Crescent Town Club, and Saturday March 20th from 2-5pm in the Crescent Town Club. Anyone who lives in East Toronto is welcome to register, while preference will be given to members of the Crescent Town Community. Visit HERE for more information and to Register for one workshop (Registration is required)!

SHARE YOUR LANTERN IN OUR PARADE: After we've all made our lanterns, we invite everyone to join us on Sunday March 20th at 7:15pm, for a Community Lantern Parade from Dentonia Park into the Crescent Town community to celebrate the Spring Equinox and the return of the sun! With music, glowing lanterns, and the light of community spirit, we will welcome the longer days and bring hope into our hearts, together. Everyone interested in joining the parade is invited to meet us at the east end of Dentonia Park in the parking lot at 7:15pm. Be sure to RSVP to the Facebook Event and we will share specific directions there!

SHARE YOUR LANTERN AT HOME: For those who are unable to join the parade or would feel more comfortable staying at home, on Sunday March 20th at 7:30pm we invite you to light your lanterns up at home and place them on your balconies, porches, drive ways or windows to share a bit of light and love with your neighbourhood! Don't forget to share photos with us online using the hashtag #LightItUp2022 and tag @EastEndArtsTO. We can't wait to see the lanterns you create this year! Have fun!
LANTERN VIDEOS
1. Oiled Paper Lantern Workshop with Anne from Shadowland Theatre
2. Recycled Lantern Workshop with Sar Wagman from OCADU and East End Arts
3. Animal Lantern Workshop with Yuechen (Blanche) Bao from OCADU and East End Arts
ABOUT SHADOWLAND THEATRE
Shadowland Theatre's primary focus is to work with a wide range of communities to unearth their distinctive histories, create new stories and celebrate special events. They are known for animating streets, parks, and communities with their bold design sensibility and raucous theatricality. Community collaborations can take place over a number of weeks or months, culminating in large-scale, outdoor shows that leave a legacy of skills and inspiration. Shadowland works in rural and urban landscapes, and has a strong commitment to environmentally-themed, site-engaged work that connects us to the rhythms of our natural world.
ABOUT WORKMAN ARTS
Workman Arts is a multidisciplinary arts organization that promotes a greater understanding of mental health and addiction issues through creation and presentation. They support artists with lived experience through peer-to-peer arts education, public presentations and partnerships with the broader arts community. Workman Arts is the longest-running multidisciplinary arts and mental health organization in Canada.
FUNDERS
Thank you to the Slaight Family Foundation for their support of this program!