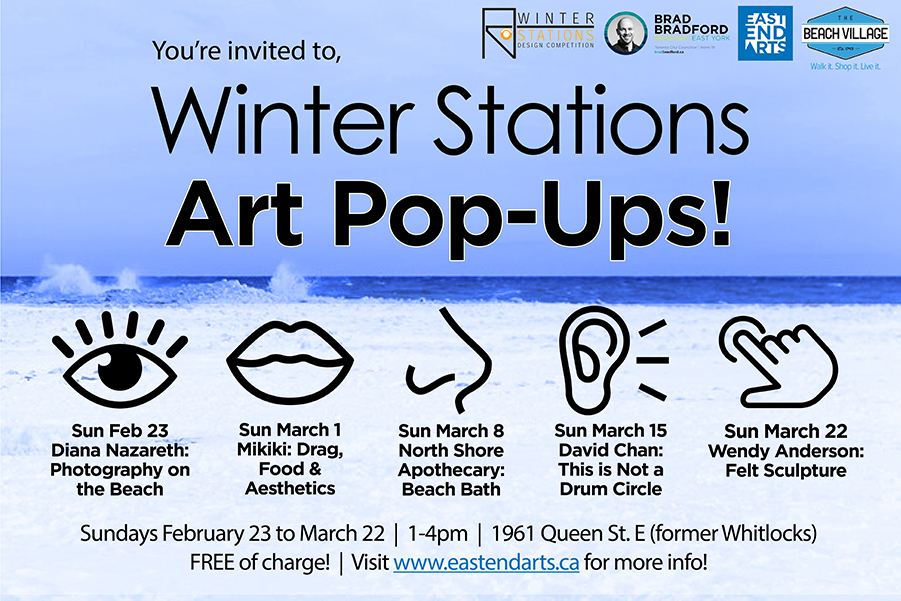 Winter Stations, 2020 is here! Come and experience this year's theme, 'Beyond the Five Senses' beyond the installations through five unique and completely free art pop-ups! 
Winter Stations Art Pop-Ups
Sundays, February 23 – March 22 | 1-4pm
1961 Queen St E (the former Whitlocks Restaurant)
Cost: FREE
Register on EventBrite!
You're invited to experience Winter Stations in a new and fun way this year! Join The Beach Village BIA, East End Arts, Councillor Brad Bradford's Office & Winter Stations for some unique Art Pop-Ups that invite community members to further explore this year's Winter Stations theme, 'Beyond the Five Senses'! From a guided photography workshop on the beach, to the creation of a "Beach Bath" using botanicals foraged from the shores of Lake Ontario, come delve into your senses and creativity with five uniquely-themed art workshops! Join us for:
"SEE" – February 23, 1-4pm, Photography on the Beach with Diana Nazareth
"TASTE" – March 1, 1-4pm, Drag, Food & Aesthetics Workshop with Mikiki
"SMELL" – March 8, 1-4pm, Beach Bath & Wild Foraging Workshop with North Shore Apothecary
"LISTEN" – March 15, 1-4pm, This is Not a Drum Circle with David Chan **CANCELLED WORKSHOP**
"TOUCH" – March 22, 1-4pm, Felt Sculpture Workshop with Wendy Anderson **CANCELLED WORKSHOP**
WINTER STATIONS:
Winter Stations is an international design competition and exhibition held annually in Toronto, Ontario, Canada. Participants are tasked with designing temporary winter art installations which incorporate existing lifeguard towers spaced strategically across the city's Kew and Woodbine beaches. Started in 2014 as a collab­oration between RAW Design, Ferris + Associates, and Curio, Winter Stations has become a Toronto institution now entering its sixth year of exhibition. Check out the 2020 Winter Stations Installations on Woodbine Beach from February 17 to March 30, 2020, under the new theme, "Beyond the Five Senses".
THEME:
The Winter Stations 2020 theme is 'Beyond the Five Senses'. How many senses do we have? And what do they tell us about the world that surrounds us and our place within it? When we think of our senses we commonly refer to sight, sound, touch, taste, and smell, but we now understand there are many more, such as our sense of balance and proprioception. Our senses interact and overlap to provide us with a picture of our environment and can inform how we interact with it. The theme of Beyond the Five Senses may explore these interactions and intersections, as well as the multitude of other senses we have, or may have, to demonstrate our subjective relationship to reality or display a distorted one.
THE POP-UP WORKSHOPS:
"SEE" – February 23, 1-4pm
1961 Queen St E (the former Whitlocks Restaurant)
Photography on the Beach with Diana Nazareth
REGISTER HERE
Photographer and educator Diana Nazareth will lead participants in learning the proper operation of a camera, (either their own or for those who book early one will be provided). Come join us for a guided walk through the Winter Stations installations themselves, get useful tips on how to "get your shot", and then print your photos to help us create a community collage to be displayed at the pop-up for the duration of the Winter Stations season! Artist: Diana Nazareth – Toronto Family Photographer
Diana is a Toronto-based lifestyle family photographer with a passion for photographing families who want to document what's most important to them; the real, daily-life kind of love they share with each other. If that's you, she would love to explore how to best photograph you and your loved ones. Have a look around her website to see if we're a good fit. She also loves teaching photography. She is the founder of Project Kids & Cameras, a unique photography program designed for kids and youth ages 7-14, and Rock That KidShot!, in-home workshops for moms who want who want to learn how to take better photos of their kids. She's also the creator of KIDCLICKS, a fun photo walk series designed for kids ages 4-11.

"TASTE" – March 1, 1-4pm,
1961 Queen St E (the former Whitlocks Restaurant)
Drag, Food & Aesthetics Workshop with Mikiki
REGISTER HERE
Performance and drag artist Mikiki will lead participants through an exploration of principles of aesthetics and food security with a workshop in extravagantly plated junk food. Drawing on a successful series at The Depanneur and Glad Day Books, Mikiki will invite participants to enjoy the entire workshop-feast or drop in for a single course on the "menu" to learn how to elevate the taste level of even the most low-brow of junk food.  Artist: Mikiki
Mikiki is a performance and video artist and queer community health activist of Acadian/Mi'kmaq and Irish descent from Newfoundland, Canada. They attended NSCAD and Concordia before returning to St. John's to work as Programming Coordinator at Eastern Edge Gallery. They later moved to Calgary to work as the Director of TRUCK Gallery. Their work has been presented throughout Canada and internationally in self-produced interventions, artist-run centres and public galleries. Mikiki is now dedicated to their practice full time when not hosting their weekly Golden Girls screening series Rose Beef. Mikiki is also featured on the upcoming season of CBC's "Canada's a Drag".

"SMELL" – March 8, 1-4pm,
1961 Queen St E (the former Whitlocks Restaurant)
"Beach Bath" Workshop with North Shore Apothecary
REGISTER HERE
North Shore Apothecary will guide participants in the creation of a "Beach Bath" using botanicals foraged from the shores of Lake Ontario. Forest Bath is the English translation of Shinrin Yoku, the Japanese art of forest therapy or nature therapy. Sustainably harvested and packaged in a reusable mason jar, join us for a workshop focused on slowing down, relaxation and contemplation.  Organization: North Shore Apothecary
North Shore celebrates an often underutilized sense- the sense of smell. Nature provides some of the most wonderful, layered, complicated and downright lovely smells that can transport us back to our childhood, a place of meaning, or to our emotions. We've been expressing scent from plants, resins, mushrooms, bark & lichen for centuries dating back to ancient Rome, Greece and Egypt. Odorous plant matter was considered heavenly and was highly revered. Somewhere along the way, synthetic chemicals took the place of handcrafted natural expressions of plants. These synthetics do allow scent to last longer, but can also be riddled with chemicals, hormones, and preservatives. If you're like me, modern perfumes cause headaches and the odd but oh so wicked migraine. Natural scents are more gentle, and well, natural.

"LISTEN" – March 15, 1-4pm
1961 Queen St E (the former Whitlocks Restaurant)
THIS IS NOT A DRUM CIRCLE with David Chan
REGISTER HERE
**PLEASE BE ADVISED THAT THIS WORKSHOP HAS BEEN CANCELLED**
Music has been central to the life and livelihood of East York local David Chan for 30 years.  In that time, his passion for rhythm has propelled him from small town Ontario to the cacophony of cosmopolitan cities, and everything in between.  He has toured Canada extensively as member of Toronto-based groups DRUMHAND and Mr. Something Something, among others.  Now, raising a family in East York, David shares his love of music with students at The Music Proejct and anyone else choosing to take the time to 'listen'. For this 'Listen' workshop, David Chan will lead an exploration and discussion of the elements of rhythm, percussion, group music-making, and sound perception.  The workshop consists of a session at the Pop Up space, followed by a walk down to Woodbine Beach where participants will have an opportunity to play the interactive Centennial College Installation "The Beaches Percussion Ensemble".  Feel free to bring your own drum, but there will be percussion instruments available. Artist: David Chan
David Chan is the Artistic Director of The Music Project, and he leads the Music Foundations, Piano, and Percussion disciplines. David is a Toronto-based percussionist, pianist, and educator. Following the completion of a Bachelor of Music in Jazz Performance from McGill University, David traveled and studied music in Ghana, West Africa in 2005-2006. Since moving to Toronto in 2007, David has toured Canada extensively with his group DRUMHAND as well as the Juno-nominated Mr. Something Something; he has appeared on numerous recordings by DRUMHAND (co-founder), The Mike Field Jazz Quintet, and Shoot The Cameraman.

"TOUCH" – March 22, 1-4pm
1961 Queen St E (the former Whitlocks Restaurant) *Participants are to meet at the foot of Woodbine Beach to start this workshop, (on the boardwalk in front of the Donald D. Summerville Outdoor Olympic Pool (1867 Lake Shore Blvd E),
Felt Sculpture Workshop with Wendy Anderson
REGISTER HERE
**PLEASE BE ADVISED THAT THIS WORKSHOP HAS BEEN CANCELLED**
Felt artist Wendy Anderson will lead participants in the creation of a textural sculpture using "inclusions" of found-objects from Woodbine Beach in the area around Winter Stations and the wet-felting sculptural process that leads to her unique textile sculpture. These inclusions may be pebbles, driftwood, or the much-coveted beach glass. Participants will meet on the beach and be led through an afternoon adventure in texture, returning to the pop up and culminating in the creation of a unique sculpture that will be entirely inspired by the unique landscape of the place where Lake Ontario meets the shores.  Artist: Wendy Anderson
Wendy's work is a manifestation of the peculiarities that float without and within her as she bumps along in this world (and possibly others.) Sculpting in wool, hide, quills, bark and found objects, she plays with the relationship between color and form to redefine how you might look at an object, toying with the emotions evoked by the textures of our shared experience.
SOCIAL MEDIA CONTEST – CONNECT: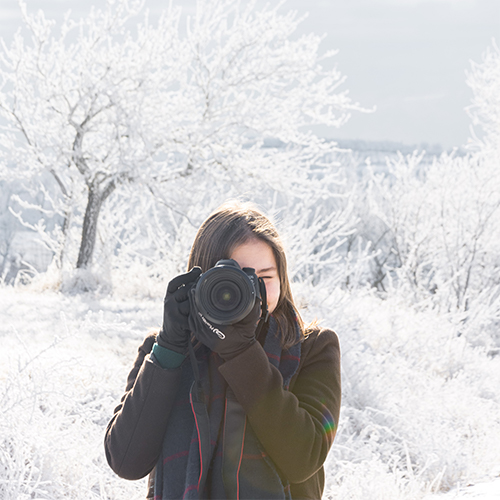 We're offering more fun ways for you to engage and participate with Winter Stations, 2020! Join The Beach Village BIA, Winter Stations and East End Arts for a social media contest on Instagram, Facebook, and/or Twitter, for a chance to win a gift basket!
The five senses are Touch, Taste, Sight, Smell, and Sound, which are all elements of how we connect to one another. Playing off the Winter Stations theme of 'Beyond The Five Senses', the theme for our 2020 photo contest is Connect. Share your experience with Winter Stations 2020 using our unique hashtag, #ConnectWinterStations2020, and one lucky winner will win a gift basket full of prizes from local businesses in The Beach Village BIA!

THE RULES:
Share your photo on the social media platform of your choice using the hashtag #ConnectWinterStations2020.
You must be following all three organizations on the social media platform of your choosing (Winter Stations – @winter.stations, Beach Village BIA – @BeachVillageBIA, and East End Arts – @EastEndArtsTO).
The photo contest will launch over Family Day Weekend, and a winner will be announced by end of March, 2020.
The winner will be chosen based on who represents the theme best!