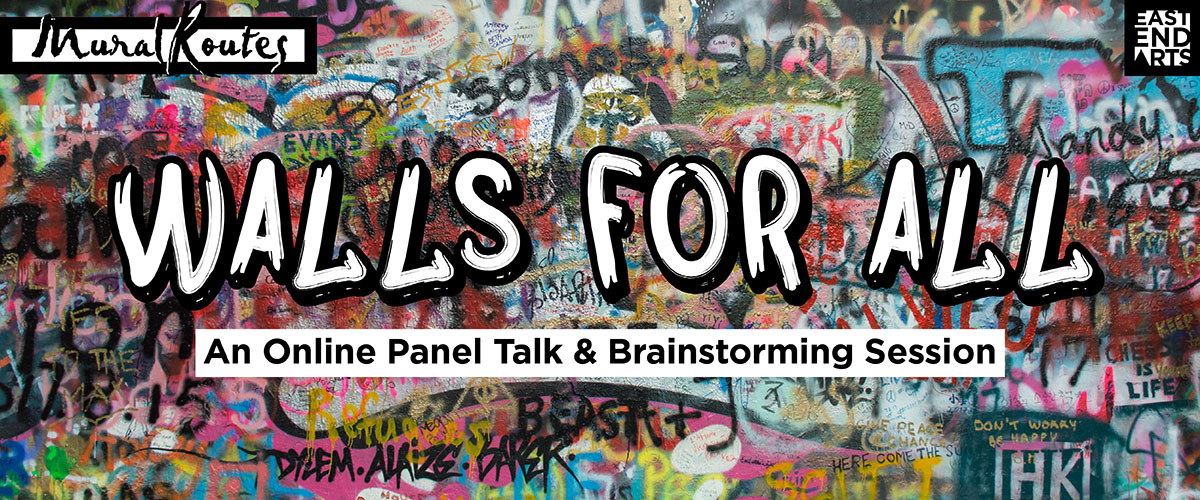 WALLS FOR ALL PART 2: ACTION PLAN
A Panel and Brainstorming Jam for women & gender diverse street artists
Tuesday, March 21st, 2023 | 6:45/7:00PM – 9:00/9:30PM
Online using Zoom
FREE | Register via EventBrite
Featuring Panelists Fiya Bruxa, Claire Browne, and Danielle Hyde
Although more women and gender diverse muralists have become established and well-known artists over the years, mural art has traditionally been -and continues to be- a (mostly white) male dominated field full of barriers and challenges for gender diverse artists. How can we create more space for women and gender diverse creators to participate in street art culture? How can we help these artists tackle many of the barriers they face? Join Mural Routes and East End Arts for an afternoon of learning and brainstorming with some of the best artists in the street art world to jam on how to make our streets for everyone, and our Walls for All!
About Walls For All
Organizations like Mural Routes and East End Arts have had countless conversations with women and gender diverse street artists over the years who have shared concerns about the barriers they face: they are offered smaller and/or less visible walls or projects; there is a lack of opportunities to connect and learn from other women/gender diverse folks who have developed a successful career; they continue to assist male lead artists but lack opportunities to lead the projects themselves; and they have to individually advocate for themselves (including in terms of equal payment), perpetuating the stereotype that women are difficult to work with.
Working in public space is also a challenge for women and gender diverse artists: available data suggests that the vast majority of these artists have experienced some form of unwanted sexual attention or sexual harassment in public spaces. And finally, mural artists who identify as women of colour, Indigenous, disabled, and/or queer face additional barriers to not only advance but to enter the field, and so many decide not to pursue mural art as a viable professional career at all.
Building on the success of Bombing Misogyny from 2021, and our first iteration of Walls for All from December 2022, this next Walls for All session will gather women and gender diverse street artists again to share and discuss common issues faced while producing murals in the public realm. Walls for All Part 2 will share the Draft Action Plan that the panelists and lead organizations have put together based on the findings from our first session. Walls for All aims to build a more equitable, accessible, and inclusive street art sector for all gender marginalized artists, while also helping to build a network and/or support group or muralists who share similar experiences and struggles.
Who is this session for?
Artists and creatives of all disciplines, creative space-makers, producers, arts workers and/or arts administrators who: Love working in the world of street art, mural making, or public art and want to share what they've learned over the years!

Big Dreamers who want to connect with others who love bringing beauty to the public sphere;

Folks who are looking for an opportunity to meet like-minded creatives from east Toronto and all across Canada!
What Can I Expect?
Following a brief review of the Draft Action Plan that our panelists and organizations have created based on the notes and ideas from our first Walls for All session, we will hop into some thematic Zoom breakout rooms where we will invite groups to collectively discuss different themes and ideas led by our panelists.
General Breakdown of the evening:
6:45 – 7:00 PM – Mingle & Meet Fellow Artists & Arts Workers (Optional)
7:00 – 7:10 PM – Hello and Welcome (How We Got Here & Where We Are)
7:10 – 7:30 PM – Sharing Draft Action Plan from Walls for All Session 1
7:30 – 8:15 – Breakout Room Discussions (4 themes below)
8:15 – 8:25PM – Bio Break
8:25 – 9:00PM – Sharing Insights; Discussion with Entire Group; Wrap-up
9:00 – 9:30PM – Decompress with Breathing Exercises (Optional)
Breakout Room Themes:
Safety & Funding
Street Art Culture & Career Development
Register:
If you're interested in joining us on March 21st, hit the button below to register on Eventbrite!
Accessibility Notes:
A few housekeeping and accessibility reminders: 
We are all Zoom pros now, but please remember to keep your microphone on mute when you are not talking – but turn it ON when you do. It would also be great if you could set your name in Zoom to include your pronouns.
Please try to not have any ceiling fans or bright lights behind you (and who wants their camera shooting upwards anyway). Also don't use any virtual backgrounds please – we understand you might not want to give away all the details of your home but we've learned for folks on the autism spectrum the glimmer around the edges of you might be distracting. We leave it to your best judgment – your safety and comfort is important too! 
Come into the room with an open mind, and your creative ideas. Ask questions, and have fun, but also be respectful to everyone else in the room. Mural Routes and East End Arts have a zero tolerance policy for bullying, harassment and hate of any kind.
The open portions of this panel, including the presentation of ideas from Breakout Groups (though not the rooms themselves) will be posted on our Youtube Channel . Live closed captioning will be available throughout the duration of the event.
If you require ASL interpretation or other accommodations for a disability, please contact Alex on the East End Arts team by Sunday March 19th, at alex@eastendarts.ca.
About the Artists: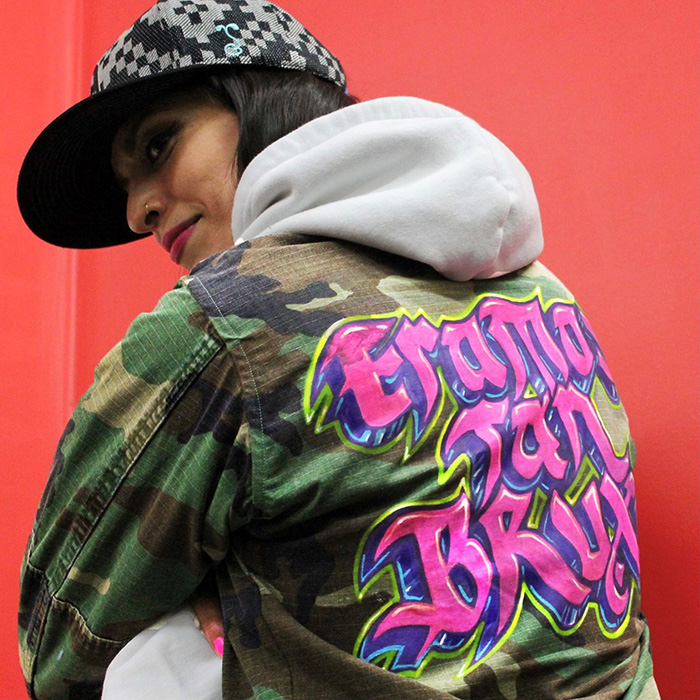 Panelist: Fiya Bruxa
Website | Instagram
Fiya Bruxa is an international award winning visual artist, actor, filmmaker, and playwright. Through magical realism, poetry and mathematics, her artistic vision questions and celebrates the beauty, dignity and perseverance of those who have, or continue to, overcome adversity and oppression.
Fiya's visual stories are expressed through canvas, mural, graffiti and installation. Her work has been exhibited in select galleries and international festivals, and one can find her large-scale murals in the streets of Toronto, Montreal, New York, Sweden, UK, Senegal, Argentina, Chile, Brazil, Venezuela and Colombia. In 2015, she painted the largest collective mural in Canada with her Essencia Art Collective, located in Toronto.
For over 15 years, this Latinx Canadian bruxa has collaborated with local and international communities using art as a tool for social change and community empowerment. Whether on her own or in collaboration with her Bruxas Crew or Essencia Arts Collective (co-founder and co-director), her arts-in-community work has mobilized and engaged hundreds of youth and community members on a variety of social and environmental issues.
She has also worked in public and private sector with a focus on policy development and program evaluation, in the areas of human rights, sustainability, innovation, international development, trade, and diplomacy. She holds a BFA in Theatre Performance from Concordia University, and a Masters of Global Affairs with a specialization in economic development and innovation, from the Munk School of Global Affairs and Public Policy at the University of Toronto.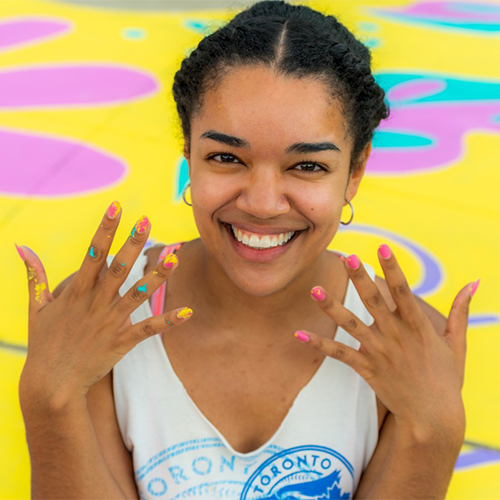 Panelist: Claire Browne
Website | Instagram
Claire Browne (she/her) is a multi-disciplinary visual artist and mural artist living and working in Toronto. She graduated from OCAD University in 2015 with a Bachelor of Fine Art degree. Her artwork features a focus on the botanical world, tropical spaces and the Black diaspora. Claire Browne has exhibited extensively in group shows in the Greater Toronto Area. Her work has been acquired as part of Scotiabank's private art collection.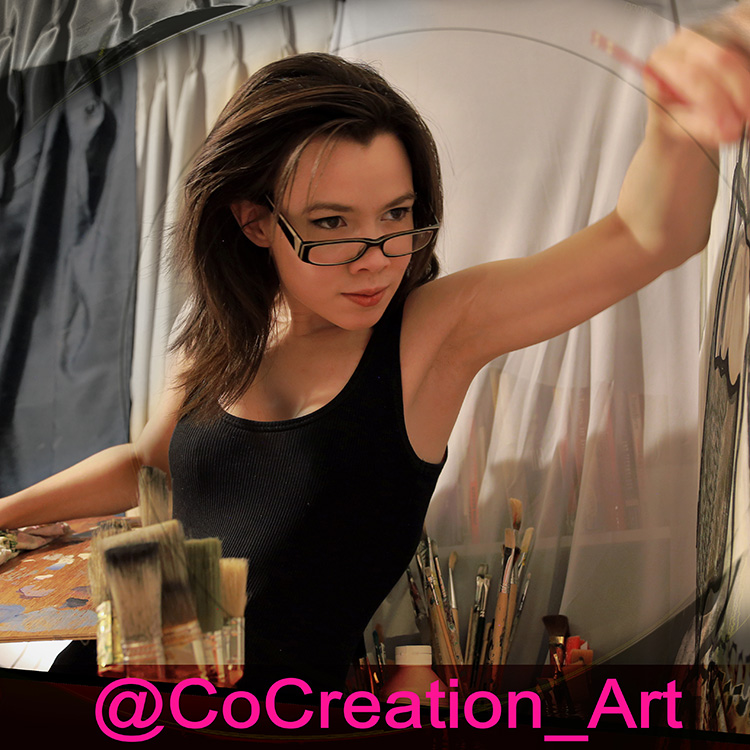 Panelist: Danielle Hyde
Website | Instagram
Danielle Hyde is a multi-disciplinary Indigenous artist and persons with a disability (OCD). She is a member of Red Urban Nation Artist Collective (RUN) creating Indigenous murals and place-making.
A blend of different mediums their work is centered by a practice that honours Art as alive and acting on its own co-creation. Danielle collaborates with all beings; seen and unseen, human and beyond-human, in this creative chorus to tell stories. Through conversations with Art on ethical relationality with the world generosity anchors our spaces. In creating windows of understanding we can commune in knowledge sharing that replenishes community alongside Art.
About The Presenters:

About Mural Routes
Mural Routes activates communities by facilitating the creation of responsive, collaborative murals, and provides opportunities to build and advance careers in mural art. Our vision is to be a leading resource for all artists, organizations and communities creating mural art.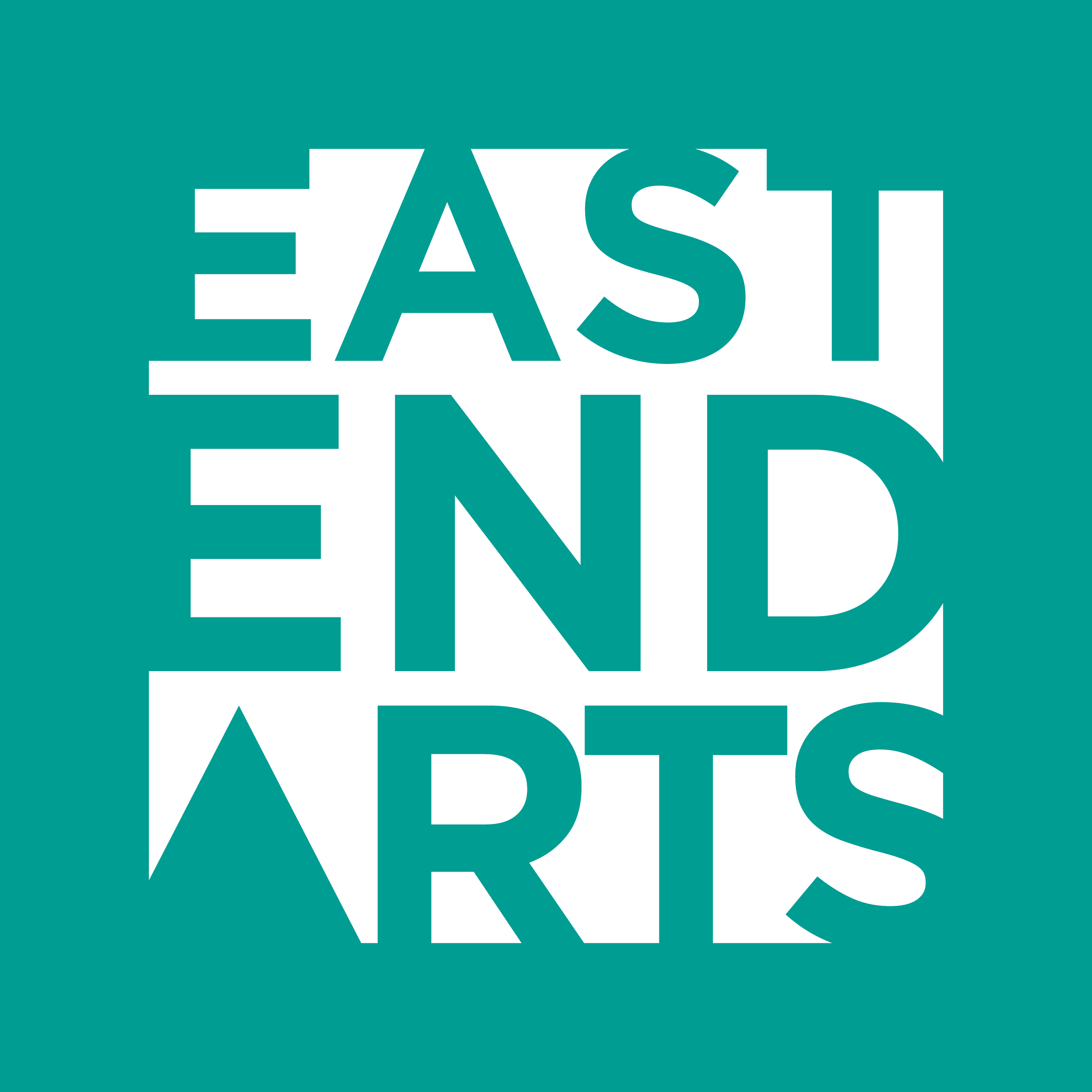 About East End Arts
East End Arts is a non-profit community arts organization that serves the east end of Toronto. We provide inclusive arts programming, events and services to our local communities, and we provide professional development opportunities to both emerging and established artists and arts organizations.
Funders:
Walls for All has been generously funded and supported by the Canada Council for the Arts.