BOMBING MISOGYNY
A Panel and Brainstorming Jam, exploring the gender in streetart
Thursday December 9, 2021 | 2pm-4:30pm
Online using Zoom
FREE or by donation | Register via EventBrite
Moderated by Natalie Very B
Featuring Panelists Monica Wickeler, Fiya Bruxa, Claire Browne & Danielle Hyde
In graffiti culture to "bomb" is to paint many surfaces in an area. Bombers often choose to paint throw-ups or tags instead of complex pieces, as they can be executed more quickly.

Street art is an important reflection of our society, and yet, it remains a field dominated by men. Women artists are rarely given the largest commissions, and like so much work in public, continues to be unsafe for femme and transfemme bodies. How can we create more space for women and gender diverse folks to participate in street art culture?
Join us for an afternoon of learning and brainstorming with some of the best artists in the street art world to jam on how to bomb the patriarchy (with spray paint)!
Following a panel discussion featuring leading artists from the field discussing their experience in the world of public art as women and enby folk, join us for brainstorming sessions in thematic breakout rooms. 
Who is this session for?
Artists and creatives of all disciplines, creative space-makers, producers, arts workers and/or arts administrators who:

Love working in the world of street art, mural making, or public art and want to share what they've learned over the years!

Big Dreamers who want to connect with others who love bringing beauty to the public sphere

Are looking for an opportunity to meet like-minded creatives from east Toronto and all across Canada!
What can I expect?
Following a panel discussion from some incredible women and gender diverse street artists from all over Toronto and beyond, we will hop into some Zoom breakout rooms where we will invite groups to collectively discuss different themes and ideas including, safety in the public realm, tagging, opportunities for youth, and community consultations. 
Breakout Room Themes
Take back the night

  – Women and Gender diverse folk in public space are still under greater threat of harm, in particular at night. How can we as artists in the public realm create safety?

Bubble Letters – Tagging – What's the deal and is it gendered? How can "official" street art invite or welcome "good" tags, is there such a thing?
Girl Gang – Opportunities for youth to engage early and learn skills? What are opportunities for mentorship?
Hell is Other People – What are ways we can better engage community members in the consultation process for murals?
Are you interested in attending? Come and join other artists, arts workers, creative place makers and community members to brainstorm big ideas on how we can tackle the patriarchy in the street art world, and create a more safe and empowered space for everyone!
Register:
If you're interested in joining us on December 9th, hit the button below to register on Eventbrite!
Accessibility Notes:
A few housekeeping and accessibility reminders: 
We are all Zoom pros now, but please remember to keep your microphone on mute when you are not talking – but turn it ON when you do, (Adam our Program Coordinator forgets every time and all his best lines go into the void). It would also be great if you could set your name in Zoom to include your pronouns.
Please try to not have any ceiling fans or bright lights behind you (and who wants their camera shooting upwards anyway). Also don't use any virtual backgrounds please – we understand you might not want to give away all the details of your home but we've learned for folks on the autism spectrum the glimmer around the edges of you might be distracting. We leave it to your best judgment – your safety and comfort is important too! 
Come into the room with an open mind, and your creative ideas. Ask questions, and have fun, but also be respectful to everyone else in the room. East End Arts has a zero tolerance policy for bullying, harassment and hate of any kind.
The open portions of this panel, including the presentation of ideas from Breakout Groups (though not the rooms themselves) will be posted on our Youtube Channel with closed captions following the event.
If you require ASL interpretation or other accommodations for a disability, please contact Adam Barrett our Program Coordinator by November 26, 2021 at adam@eastendarts.ca.
About the Artists: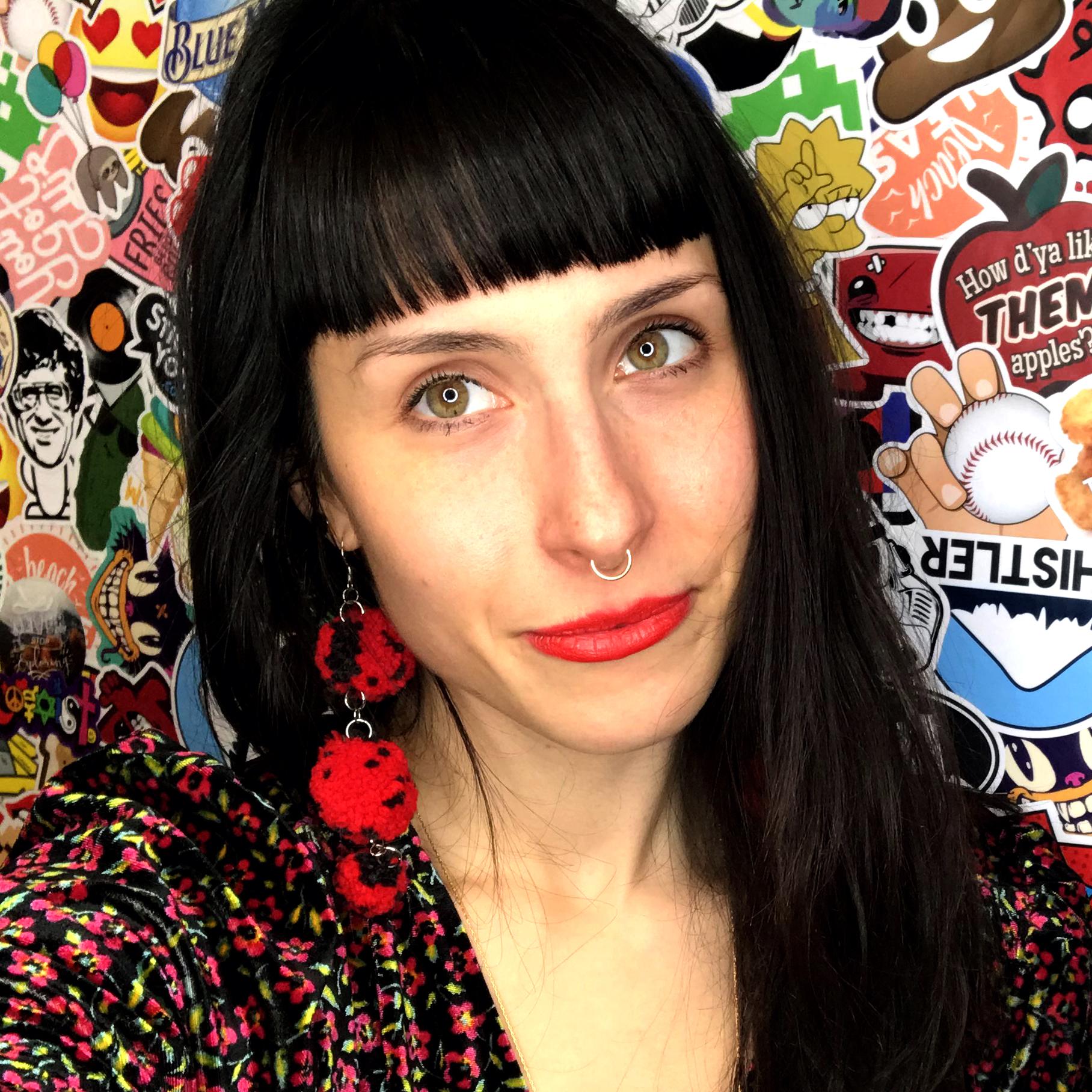 Moderator: Natalie Very B
Natalie Very B. (she/her) is a Polish-Canadian illustrator, muralist, and educator. She is currently concluding her studies at the Toronto Art Therapy Institute (TATI) in pursuit of a graduate diploma in Art Therapy. Having grown up in a country with a strong patriarchal regime and an obvious system of inequality, she strives to use her art to educate people about the importance of anti-oppressive practices.
Her bold and bright murals depicting the themes or nature and modern female empowerment can be found all across Ontario. She makes public art with the goal of changing preconceived notions of feminism by promoting self-love and body neutrality in the world. She painted her first mural at the OCAD building in 2015 and has fallen in love with working large scale ever since.
Her experience in painting on a variety of exterior and interior surfaces including concrete, brick, metal, wood, and glass has allowed her to collaborate with the City of Toronto, City of Hamilton, Arts Etobicoke, East End Arts, Lakeshore Arts, Stonegate Community Health Centre and Collective Arts Brewing; in addition to her work with the Junction, Mount Pleasant, Queensway, College West, and DuKe Heights BIAs, as well as dozens of private clients.
Claire Browne (she/her) is a multi-disciplinary visual artist and mural artist living and working in Toronto. She graduated from OCAD University in 2015 with a Bachelor of Fine Art degree. Her artwork features a focus on the botanical world, tropical spaces and the Black diaspora. Claire Browne has exhibited extensively in group shows in the Greater Toronto Area. Her work has been acquired as part of Scotiabank's private art collection.
Fiya's visual stories are expressed through canvas, mural, graffiti and installation.
Her work has been exhibited in select galleries, and one can find her large-scale murals in the streets of
Toronto, Montreal, New York, Sweden, UK, Senegal, Argentina, Chile, Brazil, Venezuela and Colombia.
In 2015, she painted the largest collective mural in Canada with her Essencia Art Collective, located in Toronto.
Her murals and graffiti have been published in magazines and she has participated in various international festivals including Peter Gabriel's WOMAD UK Festival 2016, Asinabka 2014, Artscape Sweden 2014, Sunfest 2013/2014/2015/2016, Manifesto 2010/2012/2013/2014, Fire Within 2012, 2MGraff 2011, Tercer Mundo 2010, Planet Rock 2010, Massive Art 2009, Muro Por la Paz 2009, and Allende Arts For Peace 2008. Fiya was selected to paint one of the "Play Me I'm Yours" pianos for the 2015 Pan American Games, as well as commissioned to paint a mural dedicated to the late Nelson Mandela (Artscape/Daniel Spectrum).
In 2012, her international artistic work was recognized by the General Consul of Chile in Toronto.
Panelist: Danielle Hyde
BIO COMING SOON!
Monica Wickeler (she/her) is a trained visual artist with roots in Luxembourg, who has worked in the large-scale painting industry in Toronto for over fifteen years in outdoor advertising as a mural artist, and in the film and television industry as a scenic artist. More recently she can be found reclaiming community spaces with her vibrant public art. She loves working together with Business Associations, City Councillors, and community members to produce meaningful public art that will leave a positive impact on the viewers. As an LGBTQ2S+ public artist, the most important aspect of Monica's process is working with the community to bring vibrant public artwork that ties the neighbourhood together. This process creates a thriving, competitive, and safe neighbourhood that certainly builds community strength. Many of her successful projects have resulted in an instilled sense of local pride, positive community engagement and creative placemaking.
Recommended Reading Before Joining the Event: 
Funders:
Bombing Misogyny is a part of ArtworxTO, Toronto's Year of Public Art 2021-2022.