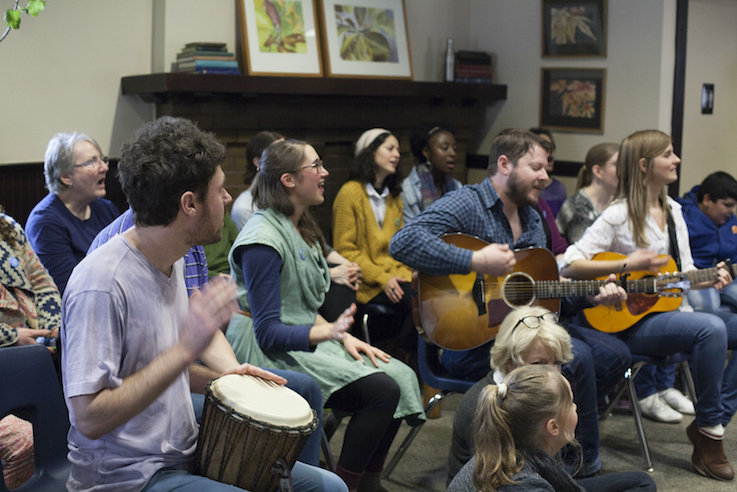 Rise and Shine Tuesdays in Riverdale
10:30 am – 12:00 pm
Sept 25 – Dec 11, 2018
St. Matthew's Clubhouse, 450 Broadview Avenue, Toronto
We are excited to be welcoming Sing for Joy back to St. Matthew's Clubhouse this season with a new 12-week fall season starting in September.
Sing for Joy is an all-inclusive community of choirs. They welcome all voices, and ages, and require no singing experience – just a desire to sing with others in harmony.
Songs are learned by ear in the oral tradition of call-and-response, drawing from many cultures and backgrounds. Moms and babies are most welcome!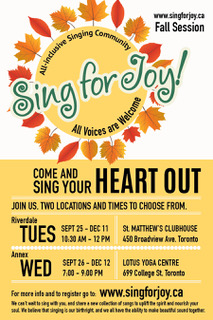 In each session, you will…
Learn joyful, diverse, easy-to-memorize songs
Make new friends and connect with community in a joyful, diverse, and welcoming environment.
Build confidence in your voice in an accepting, supportive space
Release the stress of your long day and work week
Exercise your body and mind through the practice of group singing
Build memory retention through the oral tradition singing
Enjoy a fun, relaxed, and accepting environment
What else do you get as part of the Sing for Joy community?
Monthly community events, potluck dinner, and movie nights
Participation at our Big Sing event at the end of each season
Toronto Street Singing and flash mob events
First-priority sign up and discounts on special events
For more info, rates and to register for the fall season, CLICK HERE. Drop-ins also welcome for those who want more flexibility, or to give it a try. Drop-ins are offered on a sliding scale of $10-20 per session. Pay what you can. Children 12 and under free. No pre-registration is required.
St. Matthew's Clubhouse is located at the south end of Riverdale Park. Take the 504 King streetcar or 505 Dundas Bus south from Broadview station and exit at the Langley stop. There free parking on Broadview Avenue and on neighbouring side streets (please do look at posted notices for parking times and dates) or paid parking available at Bridgepoint Hospital or local Green Ps.