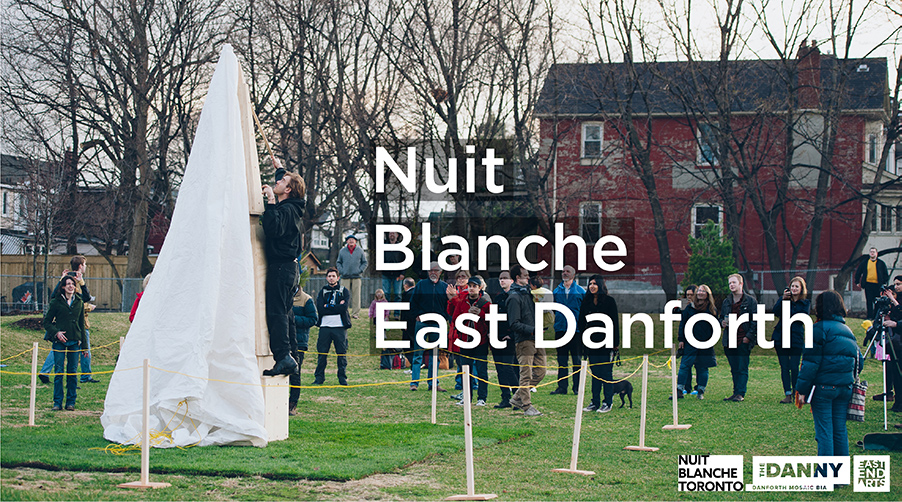 Nuit Blanche is coming to East Danforth! There are lots of ways to get involved – read on to find out more!
Toronto's sunset to sunrise celebration is the largest contemporary art event in North America. Since its inaugural year in 2006, Nuit Blanche Toronto has featured more than 1,400 official art installations created by over 4,900 artists, and attracted more than 1.2 million in 2018, including over 200,000 out-of-town visitors.
Now, it's time for the East Danforth to shine! Thanks in part to local Artist Kevin Winn who was chosen as part of the Independent Projects Program, and the Danforth Mosaic BIA who have stepped forward with an investment to animate Danforth East between Greenwood and Coxwell, our community has been named an official Nuit Blanche Toronto neighbourhood hub!
Perfectly situated on the subway line between the Major Nuit Hubs of Scarborough and Nathan Phillips Square, Torontonians will be invited to hop off the subway at Greenwood or Coxwell TTC stations to experience our fantastic creative east Toronto community. This also gives local families in the east end a closer to home alternative to access contemporary art.
Nuit Blanche, East Danforth
Date: October 5, 2019
Time: 7pm – 7am
Location: Danforth Avenue between Greenwood and Coxwell TTC Stations
Cost to View: FREE
HOW TO GET INVOLVED WITH NUIT BLANCHE, EAST DANFORTH:
VOLUNTEER OPPORTUNITIES
It will take a village of passionate community members to support the East Danforth Nuit Blanche Hub from sunset to sunrise on October 5th, 2019. East End Arts is looking for folks who can assist with set up, tear down and community outreach in the days and weeks leading up to October 5th. Interested in volunteering? Sign-up to be a volunteer here!
ARTIST OPPORTUNITIES
a) IN VIEW: East Danforth Storefront Installations
Are you an artist looking for a unique space to activate? Are you a business owner on the Danforth from Greenwood to Coxwell who wants to see their storefront brought to life as part of Nuit Blanche 2019? IN VIEW: East Danforth Storefront Installations pairs local business owners with artists from across the city to transform their storefront windows for one magical evening under the theme of Future Danforth. Thematically, Future Danforth invites artists to (re)interpret what the future of east Danforth looks like and means to them and the broader community. With changing perspectives, shifting boundaries, and new developments, we encourage artists to help us celebrate the experiences, viewpoints, and ideas of the future. Curated by East End Arts, artists will be paid an honorarium of $500 and are encouraged to use, and draw inspiration from repurposed and recyclable materials, household items, and wares that are relevant and/or unique to the respective local business to transform their storefronts. Learn more and apply to IN VIEW here.
b) Danforth Mosaic Business Improvement Area (BIA) EVENTS GRANT FUNDING PROGRAM
The Danforth Mosaic Business Improvement Area (BIA) is an organization that represents over 600 businesses along Danforth Avenue from Jones Avenue to Westlake Avenue. The goal of The Danforth Mosaic BIA is to make their retail strip a great place for merchants to do business through investment in streetscape improvements, advocacy, marketing, and events.The goal of the Events Grant Funding Program is to support the creation of events, arts and activations within the neighbourhood that will benefit the business district, and will help to make the neighbourhood a livelier and more vibrant place to live and visit. The next deadline for applications is July 31st, 2019, and this funding is the perfect avenue to mount your own independent project for Nuit Blanche 2019.Applicants can apply for amounts from $500 up to a total of $5000; however, we recommend that organizers consider applying for the amount that they need as opposed to the program maximum. Applications above $5,000 will not be considered. Learn more and apply here.

VENDING AND BUSINESS OPPORTUNITIES
If you are a business owner and member of the Danforth BIA, there are lots of ways you can get involved. Donate your shop as part of IN VIEW: East Danforth Storefront Installations, and be paired with an artist to envision

Future Danforth

. Also, you may consider extending your hours to give festival goers the sustenance they need to keep going late into the night and/or signing up as a food vendor for our night market in the Coxwell Green P! To sign up as a Food Vendor, contact:
Danforth Mosaic BIA Manager Colin Johnson:
Tel: (416) 875-3760
Email: info@thedanny.ca
ONE-ON-ONE INFO SESSIONS:
If you missed our info session on June 19th, or if you came and now have further questions, or if you have an idea/proposal you'd like to hash out and get feedback on, please book a personal 30-minute session with East End Arts on July 10, 11 or 12th!
DATES: Wednesday July 10th, Thursday July 11th or Friday July 12th
TIME: 30-minute time slots between 4:00 pm & 6:30 pm
LOCATION: Red Rocket Coffee, 1364 Danforth Ave, Toronto, ON M4J 1M9
REGISTER: HERE
ABOUT NUIT BLANCHE TORONTO

Nuit Blanche was originally conceived in Paris, France in 2002, with a mandate to bring contemporary art to large and diverse audiences in public spaces. In 2006, the producers of the founding Nuit Blanche from the City of Paris invited the City of Toronto to join an assembly of more than six founding European cities producing similar art and cultural events. Toronto was the first North American city to model itself based on the City of Paris Nuit Blanche, and has since inspired similar celebrations. The Toronto event is produced by the City of Toronto.
Nuit Blanche Toronto is a free, 12-hour contemporary art event that has a mandate to connect contemporary art to the broadest possible publics and to create opportunities for audiences to explore and engage with contemporary art in public space.
2019 marks the 14th edition of the event, with programming taking place in neighbourhoods across the city, including Scarborough, Don Mills, Bloor-Yorkville, Downtown, Fort York, West Queen West, Sterling Road, Danforth East and more. On Saturday, October 5, sunset to sunrise, the city will be transformed through contemporary art. This is an exciting opportunity to celebrate and showcase Toronto's arts community, the City's commitment to contemporary art, and installations that engage both uninitiated and devoted art lovers from Toronto and beyond.
ABOUT EAST END ARTS
East End Arts is a non-profit community arts organization that serves the east end of Toronto. We provide inclusive arts programming and events to our local communities, including youth, newcomers, seniors and priority groups. We also provide professional development opportunities to both emerging and established artists and arts organizations. Our vision is to unite, inspire and enhance the communities of east Toronto with the transformative power of the arts.
ABOUT THE DANFORTH MOSAIC BIA
The Danforth Mosaic Business Improvement Area (BIA) was formed in 2008 with membership comprised of commercial property owners and business owners on Danforth Ave. between Jones and Westlake. The BIA works in partnership with the City to create thriving, competitive, and safe business areas that attract shoppers, diners, tourists, and new businesses. Their vision is to create a vibrant and well-maintained business area with diverse shopping and dining opportunities and services to attract the local community as well as visitors.