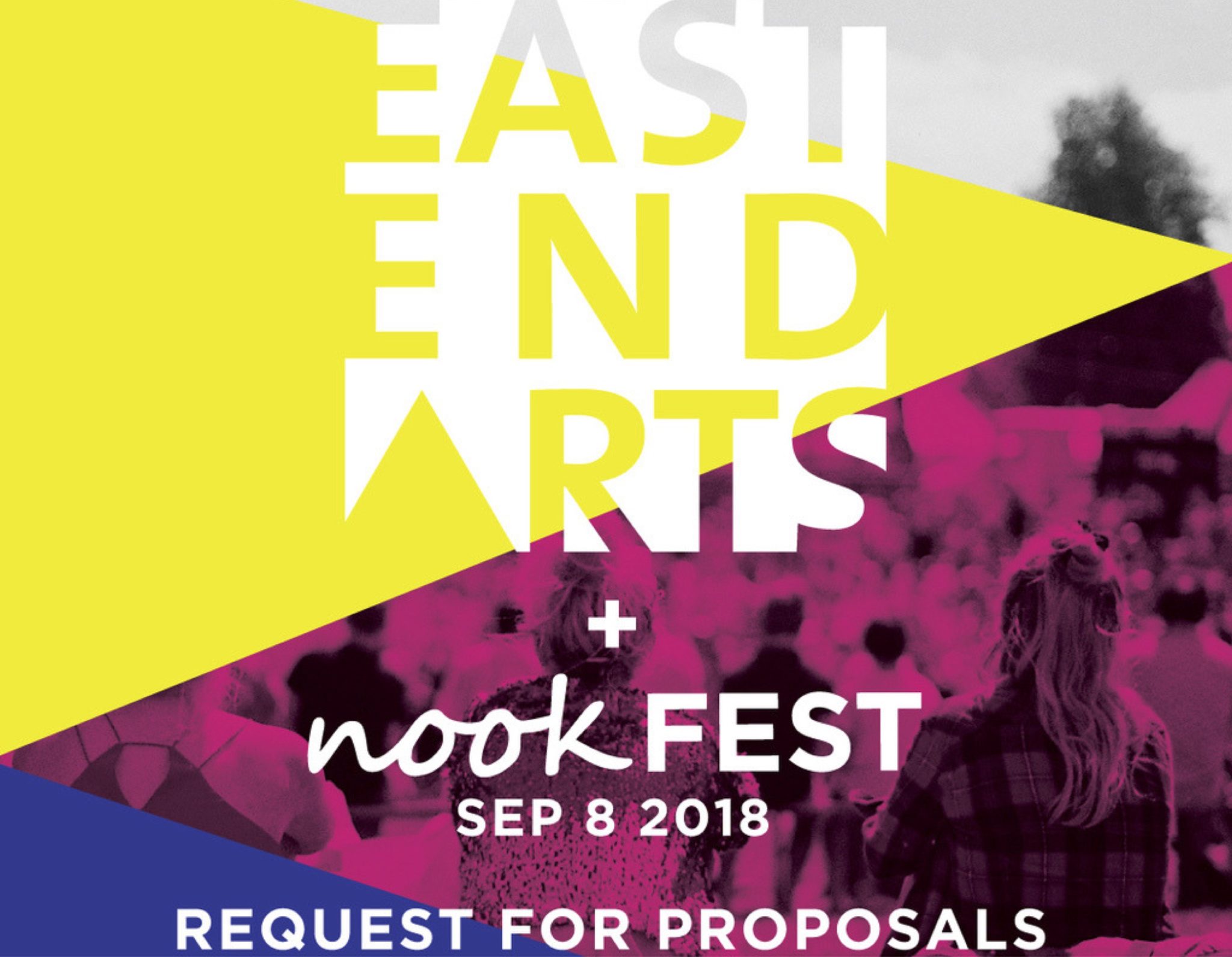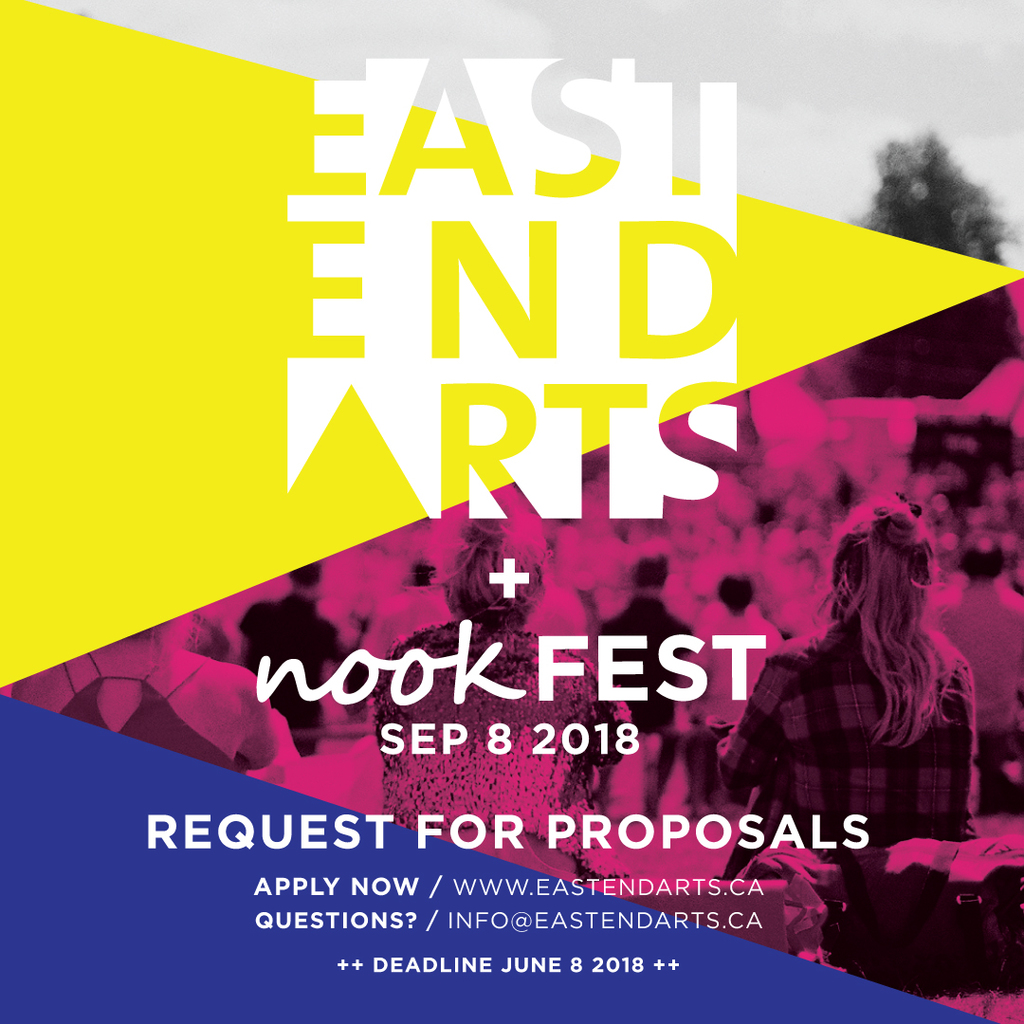 Request for Proposals: NookFEST Art Installations & Activations
Deadline: Friday, June 8, 2018
NookFEST is a community arts + music festival in Toronto's East end on September 8, featuring unique, hand-made crafts and the talented, dedicated artisans who make them. NookFEST's mission is to bring community residents and the arts together to celebrate hand-made excellence, music, food, and to support local artists.
In addition to the Artisans Market, music, and vendors, East End Arts and The Nooks aim to transform several locations within the festival into a series of temporary artistic experiences and activations that will showcase the range of incredible talent across Toronto and our east end community.
East End Arts will prioritize immersive and interactive experiences that allow our community to participate in collective art creation, and are that are durational over the length of the festival. East End Arts and The Nooks invite proposal submissions by June 8 for art installations and activations at NookFEST.
Proposals are encouraged from creators working across all disciplines and artistic practices, including but not limited to: installation art, visual art, and community arts. We are providing a platform for fresh and underrepresented voices, and unique perspectives, while creating a culture of city building and creative placemaking. Let your imagination guide you! Suggested themes include:
City Building: community, gentrification, inclusivity
Economic Vitality: retail, consumption, entrepreneurship
Cultural Fabric: identity, access, diversity, equality, newcomers
Environment: climate change, reused and recycled materials
When is NOOKfest?
NOOKfest takes place on Saturday, September 8, 2018 from 12 noon until 9pm. Artist load in will begin at 10am and must be open and ready to receive the public by 12 noon. Projects involving collective art creation and development should plan to be completed by 7pm. From 7pm until 9pm, the finished activation will be available for the public to tour and view. Artists should plan to remain on site for this period to talk about the work, engage the public in telling the story of how it came to be, and encourage dialogue surrounding the themes and outcomes of the project.
What are the budgets & compensation?
We hope to include as many projects as possible, and will make every effort to do so, but given the time sensitivity and minimal capital of this project, East End Arts and the Nooks can only commit to the following budgets:
Interactive/Immersive/Collective art-making experiences: $500 Artist Fee + Cost of Materials (up to $1000 budget request)
Stand-alone installations/displays: $300 Artist Fee + Cost of Materials (up to $500 budget request)
What kind of support will you receive?
• Access to site-specific locations in the laneway or surrounding street (Woodmount) of NOOKfest
• Professional documentation of your work
• Limited volunteer support with load in and out. If you are proposing an interactive activation you can request volunteer support to help run the activation
• Media relations support (Note: artists should feel comfortable with media interviews as they may be required to participate)
• Marketing and promotional outreach through East End Arts and the Nooks' networks (social media, e-newsletters and web)
What can you include to support your application?
• Submissions should aim to activate feelings of community, collaboration, and neighbourhood.
• Any supplementary audio/visual materials to help us get a feel for the work.
• Any logistical or technical needs. Please note we cannot guarantee power to your site. If you require power for any of the components you must plan for your own self-powered solution and include this in your materials budget.
• Any volunteer needs. Will you require volunteers to help run your activation or help the public with art making? If so, please detail them.
Please send proposals to info@eastendarts.ca, with the subject line "NookFEST Artist Proposal" by Friday, June 8, 2018. Proposals should be in one single PDF or Word document. Supplementary audio/visual materials can be included as email attachments, or external links.
Who is the point of contact if I have any questions regarding my submission?
If you have any questions, please contact Shana Hillman, Executive Director of East End Arts at shana@eastendarts.ca. No phone calls, please.
We are eager to receive your proposal. If you have any barriers to participation with this Request for Proposals, please email us explaining your situation and we will do our best to accommodate you.
---
Register to receive ARTS-E-NEWS, a monthly e-newsletter update from East End Arts that shares Toronto-wide opportunities for artists and arts-related events in the east end. Sign up for Youth ARTS-E-NEWS for news about youth opportunities and events.
Follow us online at our social media channels to stay in the loop!
Website | Twitter | Facebook | Instagram| #EastEndLove