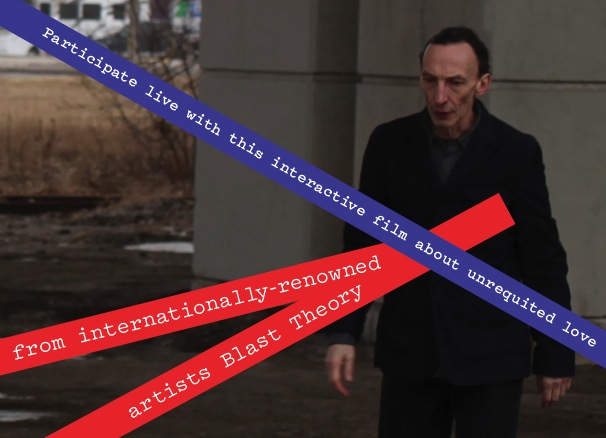 Luminato Festival & Blast Theory's
My One Demand – Community Film Screening
Friday, June 26, 2015, 7:30pm
Children's Peace Theatre
305 Dawes Rd., Toronto
FREE – One Night Only!
Pre-registration is required to secure a seat.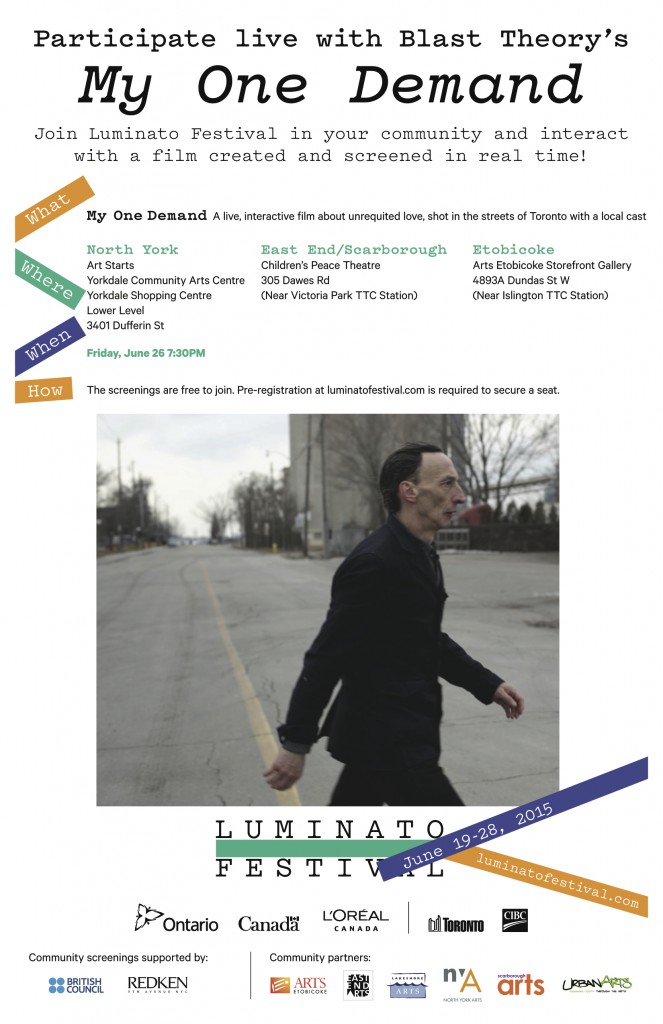 On June 25, 26, and 27, Toronto's streets become an open-air, interactive film studio for audiences worldwide with My One Demand, a film about unrequited love shot live with a Torontonian cast. Filmed in a single continuous shot and live streamed, My One Demand is an interactive film that follows seven people as they embark on a journey across Toronto.
Presented in partnership with Toronto's Local Arts Service Organizations, three moderated, neighbourhood screenings will take place on June 26 at 7:30pm. Pre-registration is required. Register for a screening in: East End/Scarborough, Etobicoke or North York.
Audiences watching the stream live online are encouraged to interact with the action happening on screen, taking the form of ghostly presences in the story.
Created by internationally renowned UK-based artist group Blast Theory, and featuring Faisal Butt, Sascha Cole, Clare Coulter, Gia Nahmens, Julian Richings, Brielle Robillard, Max Sebastián, and Maggie Huculak as the narrator, audiences watch and interact with the cinematic journey as the film unfolds in real-time from mobile devices inside the movie theatre or from their tablets or computers at home.
Starting with a baby in the arms of a woman walking out of Toronto General Hospital, the camera follows one person at a time as they move through the city as the sun sets. Each of the people followed is older than the person before and each person is very different from the next, reflecting the cultural diversity of the city. The seven people walk across intersections and down sidewalks, finding unexpected short cuts and vantage points. They might drop into a dingy bar for a shot of whisky or wriggle through a hole in the fence to huddle on a wasteland. And when each of them meets the next person, we see their encounter unfold live.
As these people walk on, a narrator tells the audience her own story of unrequited love, a story that hovers between the past, the future, and the present. All the while audiences watching the stream live online interact with the action happening on screen, taking the form of ghostly presences in the story.
While a camera crew follows each performer on their journey, the Blast Theory team will be in a control room in Toronto, overseeing all technical aspects of the production and receiving information from 1,000 online viewers who have subscribed to receive an interactivity access code.
My One Demand is part of Live Transmission, a collaboration project between The Patching Zone (NL), Blast Theory (UK), Translocal (FI) and Ontario College of Art and Design University (OCAD U), (CA) with the support of the Culture Programme of the European Union.