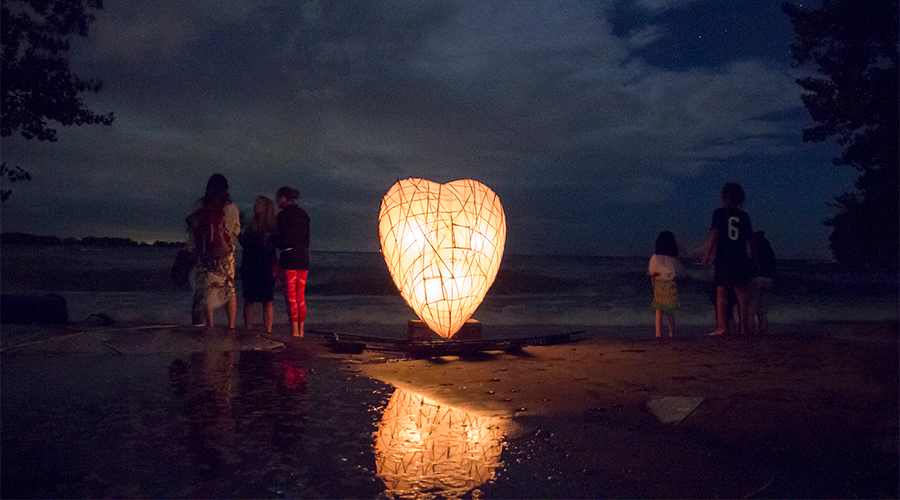 East End Spotlight is a monthly news piece where we highlight a series of east end artists, arts organizations, creative spaces & professionals that we want to shine a spotlight on💙!
For March 2021, we got in touch with some new artists and arts organizations who live or work in east Toronto. Scroll down to read more about the following people and organizations this month:
*Banner image from Shadowland Theatre "Fire Parade Heart"*
1. Artist Spotlight: Dainty Smith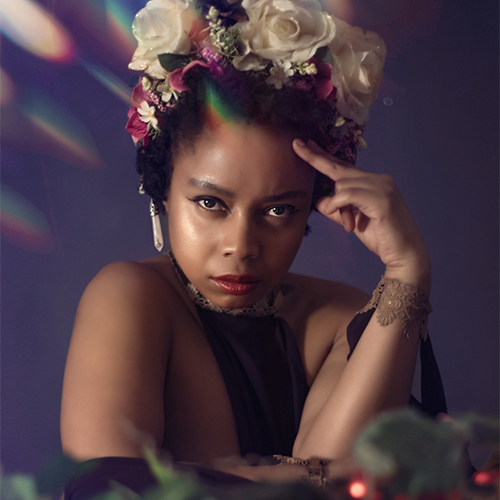 Name: Dainty Smith
Discipline: Storyteller: Actor, Burlesque performer, Playwright and Producer
Artist Website:
Artist on Social:

Instagram @daintysmith
Artist Pronouns: She/her
Tell our readers a bit about yourself and your art:
I love stories. And as a storyteller, the stories I am most invested in telling are narratives that center Black women and femmes of colour. Stories that allow for our wholeness and humanity. Our complexity and fragility.
Bio: Dainty Smith is a Toronto based Actor, Burlesque Performer, Playwright, Producer and curator. She believes that through the art of storytelling and a willingness to be exposed that genuine human connections can be made. Her performances often tell deeply vulnerable stories regarding race, religion, sexuality and challenging social boundaries.
She wrote and self-produced a multidisciplinary play titled Daughters of Lilith, which is currently part of B Current Theatre's Playwright Incubation 2021 season. The second play by Dainty Smith is titled Blood and Memory, which is currently being workshopped and supported by Obsidian Theatre in collaboration with Diaspora Dialogues.
Her diverse array of stage performances includes, Mayworks Festival, Rock. Paper. Sistahz for B Current Theatre, Caminos Festival for Aluna Theatre, The Rhubarb Festival at Buddies in Bad Times Theatre, and the Luminato Arts Festival. She is the founder of Les Femme Fatales: Women of Colour burlesque troupe, the first burlesque troupe for women and femmes of colour in Canada.
What are you excited about for the future of your arts practice?
I am excited about Afrofuturism that allows for Black women and femmes to thrive without apology. To grow, heal and bloom… and the work that I am creating is about creating work that is hopeful, resistant, sensual and daring, both in theatre and cabaret.
How can audiences support the work you're doing right now?

I am currently co-curating the Push.Pull festival with performance artist and educator, Golboo Amani. Push.Pull is a six-month online series of interdisciplinary events in performance art and QTBIPOC cabaret. We have curated events that run until May 2021, and all of our events are online and free. I would love to have folks show up (virtually) and check out the art and conversations that we are producing!
What are some upcoming Toronto arts events, programs or initiatives you're interested in?
I am always curious to see what folks are creating. I am endlessly inspired by the work that artists and activists like Ravyn Wngz, Syrus Marcus Ware, Pearle Noire, Frizz Kid art, Dolly Berlin are creating. Especially during this strange and hard time, it means a lot to me to see works that such beautiful folks are dreaming up.
A fun fact about you for our readers:
It's a terrible habit but I have a weakness for action flicks, anything where there's far too many fight scenes, buildings getting blown up, a quest for vengeance, all of the over-the-top drama.
2. Artist Spotlight: Elizabeth (Libs) Elliott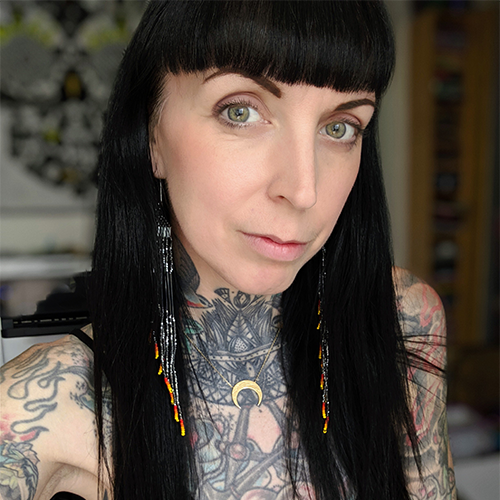 Name: Elizabeth (Libs) Elliott
Discipline: Textile Artist
Artist Website:
Artist on Social:

Instagram @libselliott
Artist Pronouns: She/Her
Tell our readers a bit about yourself and your art:
I'm a textile artist with a focus on designing and making modern quilts. I use a programming language called Processing to randomly generate digital geometric designs which I then translate into tangible quilts. I've been quilting for over 12 years and exploring this method of using technology in craft for about half of that time. In addition to making quilts, I design fabric collections, publish patterns and teach workshops. I've exhibited my work internationally and made commissions for both corporate and private clients.
What are you excited about for the future of your arts practice?
I've just moved into my first dedicated studio space in the east end so I'm really excited to have more room to grow and experiment with new ideas, which will hopefully allow me to exhibit more, new work. With the pandemic putting a halt on travel, I've started to teach virtual workshops but I'm looking forward to hosting small sewing workshops when things open up again.
How can audiences support the work you're doing right now?

I love connecting with local people! You can support my work by following me on Instagram or subscribing to my Patreon page: www.patreon.com/libselliott
What are some upcoming Toronto arts events, programs or initiatives you're interested in?
I always look forward to the annual DesignTO event, even if it's in chilly January. I also love to discover new outdoor art and murals popping up in the east end. I live off of Greenwood Ave. and I can't wait for the drab train underpass to be made more colourful! Maybe I need to try murals…
A fun fact about you for our readers:
I might be the most tattooed quilter you'll ever meet!
3. Artist Spotlight: Mayra Majano
Discipline: Visual Arts – mixed media: watercolour, collage
Artist Website:
www.mayramajano.com

Artist on Social:
Instagram @mayramajano
Facebook @mayramajanoart
Twitter @mayra_majano
Artist Pronouns: She/Her
Tell our readers a bit about yourself and your art:
I consider myself a mixed media artist as I often like to mix my mediums. My favourite mediums, at this moment, are watercolours and collage. I try to be mindful of how much garbage I create and how toxic the materials I use are. This influences my choice of mediums. The lockdown also has affected how I work; I've had to keep my works small because I'm working from home these days.
In 2012, I graduated from OCAD U with a major in drawing and painting and a minor in English. My work is an expression of my experience as a human, and all its identities, living this existence. Presently, it explores the dichotomy between female empowerment and commodification of its body, as well as the exotification of women of colour. As a first-generation Latinx woman, ethnic objectification is a common occurrence. For most of my life, I was oblivious to this, it was completely internalized. My art practice has become the vessel for me to deal with these kinds of issues.
What are you excited about for the future of your arts practice?
Through my art practice, I've begun to explore and dismantle my own identity and I am really looking forward to see where this all leads.  I am currently working on a series of works that explores my existence as a womxn while embracing my Latin roots.
How can audiences support the work you're doing right now?

Buy my art! Follow me on social media and share my work.
Support art from BIPOC artist especially women of colour as we are very underrepresented in the art world, especially black artists. Share, share, share the work you find.
What are some upcoming Toronto arts events, programs or initiatives you're interested in?
To be honest, I've been living in my bubble and have not ventured out into the city since last summer. However, I am really looking forward to checking out the Van Gogh exhibit downtown. I missed it last year so I am really hoping to make it this spring.
A fun fact about you for our readers:
The pandemic turned me into an avid One Wheel rider. When the weather warms up, you can find me riding along Woodbine Beach.
4. Artist Spotlight: Monica Gutierrez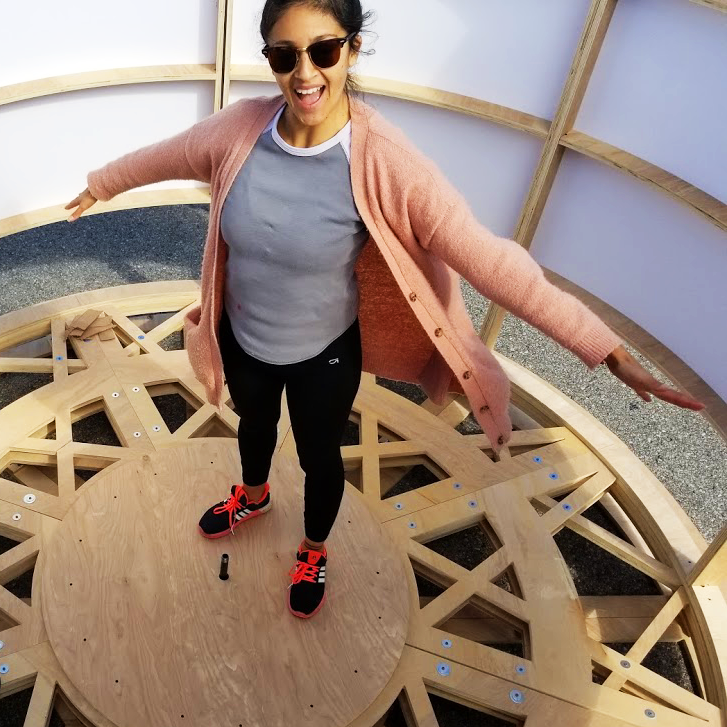 Name: Monica Gutierrez
Discipline: Interactive and media art
Website:
monicagq.carbonmade.com/

Artist on Social:
Instagram @moicagq

Artist Pronouns: She/Her
Tell our readers a bit about yourself and your art:
Although Scarborough is home for me now, I was born in Colombia and came to Canada as a teenager. I did Visual Arts at York U, completed the Mural Art Career Development program (Mural Routes), and have an MEd in Adult Education and Community Development from OISE. I've come to admire collaborative and community-focused art from working at local arts organizations that support emerging and young artists in Toronto and Latin America.
My first artistic passions were creating experimental videos and documentaries focused on the power of the arts and social justice issues. I've since translated these issues into public and interactive art. I've had the fortune of creating a Bell Box Mural at Lawrence and Birchmount, a community mural through the E.W.O.C Project (Equity for Women of Colour) in the east end, and an interactive "infinite" mural project called Revolutions at Nuit Blanche Scarborough in 2019.
Public art is a funny thing to attempt during closures and self-isolation. I've tried my best with some creative problem-solving when I created a neighbourhood multi-coloured light piece entitled "Not All Shadows Are Dark" supported by STEPS Initiative. Through March I'm growing this project by presenting "Not All Shadows Are Dark #2" with the support of the City of Toronto and East End Arts!
What are you excited about for the future of your arts practice?
I am looking forward to engaging with the public again in collaborative art, and to collaborating with other artists in projects. I'm also looking forward to exploring ways of combining media like video and animations into public installations.
How can audiences support the work you're doing right now?

Folks could follow me on social media and reach out with any ideas for collaboration or spaces that could use some colour and light!
What are some upcoming Toronto arts events, programs or initiatives you're interested in?
I am really looking forward to the ArtworxTO: Toronto's Year of Public Art 2021 and seeing how artists can help heal the City from the ongoing self-isolation and closures. I can't wait for artistic interventions in the community like Arts in the Parks, Artists in the Libraries and other amazing initiatives that bring art to the public realm and outside of exclusive spaces.
A fun fact about you for our readers:
Since the pandemic started my partner and I have had the time to notice the feral cats in my neighbourhood. We've been working with a cat rescue organization and have trapped and neutered four kitties and socialized two with more to come! 😻
5. Arts Spotlight: Shadowland Theatre
Organization Type: Nonprofit Theatre and community-engaged arts company
Website:
www.shadowlandtheatre.ca

Org on Social:
Instagram @shadowlandtheatre
Facebook @ShadowlandTheatreToronto
Twitter @shadowlandthtre
Tell us a bit about your arts organization, your history, your mission etc.:
Shadowland creates original theatre that entertains, engages, and inspires people to interact positively with each other and their environments.
The company was founded in 1984 by a collective of visual artists based on Toronto Island, but we collaborate with different communities across the GTA and Ontario. Shadowland is eclectic, multi-disciplinary, and celebratory, encompassing a holistic set of techniques that engage the senses of audiences, participants, and artists. We facilitate an expressive telling of community stories, incorporating strong visuals, humour, pathos and music. Shadowland's distinctive visual style often incorporates larger than life, bold and rambunctious images that complement busy urban landscapes or highlight natural surroundings. We work largely in the public realm where engagement activities and accessible performances enable viewers to see familiar places in a new light.
Shadowland's aim is to pass on visual theatre skills to emerging artists and people of all ages through workshops and training. We facilitate the telling of personal and community stories, and the collective creativity of community-engaged performance – all of which encourages personal growth and the blossoming of hidden talents and creativity.
What makes your arts organization unique or different?
Shadowland works in a highly expressive visual style of theatre using puppetry, masks, stilt-walking, animated images, music, fire and lanterns. We offer a visceral experience for participants and audiences alike, mostly performing in public spaces and with specific communities. Often the audiences undertake a journey, moving with the show, experiencing different landscapes as the narrative unfolds and being constantly surprised by the unexpected. We collaborate with Indigenous artists and knowledge keepers to ensure their voices are present in stories of the land.
Most of our work engages community members in the creative process. We create events together, and the result often goes beyond even our imaginings, it is truly a case of, the whole is greater than the sum of the parts.
What are you most excited about for the 2021 season?
Shadowland's season is quite different from many theatres as we perform mostly outdoors, so we are busiest in the summer. We definitely hope to be able to take shows into the parks and see some friendly, smiling audiences, even if we have to perform at a distance. There is very little that can replace the thrill of seeing the responses to our stilt performers, giant puppets and live music. We are very excited to be coming to East End communities where we received such a warm welcome in 2020, despite the pandemic limitations. One thing that was, literally, uplifting was playing to audiences on their balconies with people waving to us as we went by.
We have been surprised by the success of our online work over the last year and so in 2021 we will focus on filming everything we do, crafting it into short videos and sharing them online. In particular we have a project called Storyville which is a storytelling project, on Shadowland's website. It is a place where people can see and hear a story being told by a wonderful range of tellers, including Njacko Backo, Taborah Johnson, Alan Colley and others.
How can community members interact or support your organization right now?
Most of all we want the participation of community members in person, when it is safe to do so. If that isn't possible immediately, we are hoping that lots of people will get excited about making a lantern from our online workshop from March 15, so that, on March 20, we will light up the East End with beautiful glowing art works. In the dreary months of winter, creating light is so important, it helps make everyone feel better and more hopeful.
For support people can spread the word and get each other to participate. We all feel so much better when we do something active and positive like trying something new, sharing and taking a little risk, or being open to the beauty that others create.
Of course, we'd love people to like and follow us on social media, visit our website and sign up for our newsletter. That way we'll keep everyone in touch with all the things we're doing and any opportunities that come up.
What does #EastEndLove mean or look like to your organization?
To us it means that everyone is worth being listened to, to being included and allowed to tell their stories. We are a celebratory company so, being a part of something where we come together to acknowledge the richness of the community is very rewarding. It is an attitude, it needs a nudge and to be named in order to happen. When you believe in sharing and spreading love you enter into a different arrangement, you embrace the positive and push away the negative and everyone benefits. Shadowland invites everyone to join in, either to watch or participate. That is where we find our commonality and our humanity.
What are some other upcoming Toronto arts events, programs or initiatives that you're excited about?
In general, just anticipating the blossoming that will happen when the pandemic wanes. There have been many overdue and necessary seismic shifts that have happened over the last year with the emergence of unheard voices, new faces, and powerful, important ideas coming to the fore. We hope we can do our part to acknowledge and give space to them. We're pretty excited about seeing how creatively other artists are dealing with this new reality and are really looking forward to being surprised!