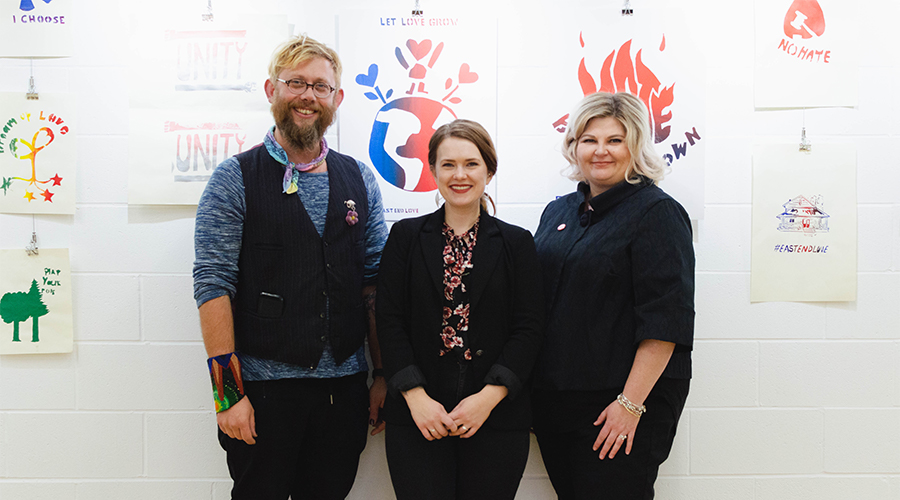 East End Spotlight is a monthly news piece where we highlight a series of east end artists, arts organizations, creative spaces & professionals that we want to shine a spotlight on💙!
For January 2021, we decided to do something a little bit different with our spotlight series! We're kicking off 2021 with Staff Spotlights, getting to know more about the three core staff members that make up the East End Arts team. Read more about Shana, Chelsea & Adam below!
1. Shana Hillman, Executive Director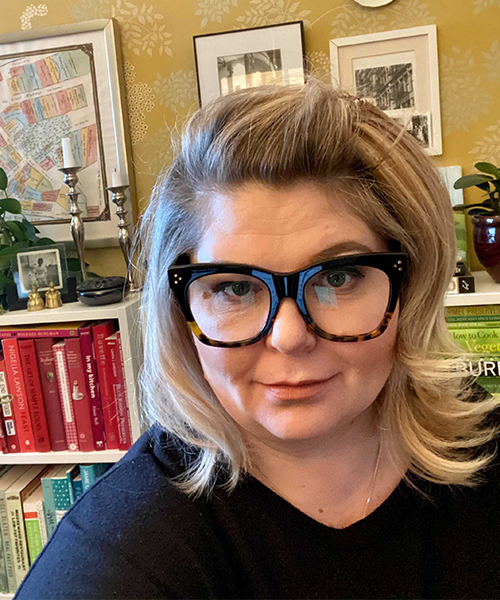 Name: Shana Hillman
Social Handle: My own personal Instagram is just food photos, but for a daily dose of cute I invite you to check out @captainpudgerton, Toronto's cutest and grumpiest beagle.
Tell us about your experience as an arts worker and/or artist:
To put it simply I've made a career out of problem solving, wrangling logistics and making artists dreams come true, but if you want the long and meandering journey….
I originally started in the Fine Arts program at the University of Toronto at Scarborough, (coming from a small town I didn't think to look at where Scarborough was), and focused on fine art printmaking, specifically lithography. On the advice of my roommate, because I was so shy, I signed up for a theatre performance class as an elective. Well didn't that open up a can of worms!
My first real arts job was working for the Banff Centre for the Arts assisting with their 65th Anniversary celebrations. I then found myself at the then Hummingbird Centre (now Meridian Hall) as an assistant in the programming department. This meant a lot of artist research, running profit/loss scenarios, preparation of artist contracts and I was the department liaison for marketing/PR, group sales, membership, facility operations and front of house departments. It taught me early on about how things like consumables and bar sales are important to the bottom line of your budget. I also coordinated local production services and troubleshot logistics (I can tell you where to park 10 big rigs filled with the set from touring production of CATS in downtown Toronto when the loading dock can only take one trailer at a time!).
From there I talked myself into a job at Toronto Dance Theatre where I was woefully underqualified but where I fell in love with dance. The company hosted an annual program where they would invite 4 choreographers to set a new work on the company. That year the program featured a stunning piece by Dominque Dumais. That first night in the theatre I had one of those transformative moments people talk about, (I imagine it's akin to the runner's high but I wouldn't know). The work featured a duet that was so heartbreakingly beautiful I found myself leaning forward in my seat wanting to be *just that much closer* to the dancers. For the rest of the week on box office and front of house duty after the program started I would close out the cash box and then rush up to the mezzanine in time to watch that piece. It sparked a lifelong love of contemporary dance. As someone with a visual arts background dance has always appealed to me – it's a visual language after all.
Next I went to the Dance Umbrella of Ontario where I worked for years with a diverse group of dance artists and smaller companies working in styles from Afro-Caribbean to Bharatanatayam to Flamenco to dance that verged on physical theatre and performance art and where I wrote literally hundreds of grants! It's also where I met Hari Krishnan and his company inDANCE that has been one of the longest and most fruitful collaborations of my life.
After DUO I moved to a sustainability program called Creative Trust: Working Capital for the Arts. Creative Trust's mandate was to improve the health and sustainability of some of Toronto's mid-sized performing arts companies. The program provided $4 million in deficit reduction and working capital awards for 22 companies, 150+ seminars, workshops and roundtables, and individual consulting to participating companies. There I was fortunate to work with a group of people who shaped both my career and how I thought about a healthy arts organization: Jini Stolk, Jane Marsland, the late, great Peter Brown, as well as a host of thinkers and researchers like Alan Brown of WolfBrown, George Thorn and Nello McDaniel from NYC's Arts Action Research, and the incomparable Donna Walker Kuhne.
Creative Trust was incredibly ahead of its time and looking back we were on the cusp of a period of insane change to come in the sector. With WolfBrown and Hill Strategies we did the first of its time audience survey where we contacted over 30,000 ticket buyers from our member companies to talk to them about their motivations, preferences and barriers to participation in art. It awoke the nerd in me and love of research and evaluation.
From there I took a 6-month break, did a triathlon and then found myself out of the arts at the YWCA Toronto helping wrap up a capital campaign for their new Elm Centre and, eventually, as the producer of the Women of Distinction Awards. Despite loving working to empower girls and women, it was only a couple of years before I felt the yearning for the arts again.
I returned to dance to work with Kaeja d'Dance, I was in love with how they were using contemporary dance to engage communities. Together we took their successful Porch View Dance Project from a grassroots local event in the Annex to a national event happening in parks and squares around Ontario and as far as New Brunswick. We also celebrated the company's 25th anniversary season, rebranded the visual identity, and in April 2016 took nine people to six cities throughout Mexico as part of La Red Noroeste de Festivales de Danza which made me fall in love with Mexico.
I was also fortunate while at Kaeja to be involved in two fantastic learning programs: The Metcalf Foundation's Creative Strategies Incubator (CrSI), which supported performing arts companies in developing new strategies to, or alternative sources of, revenue and engaging audiences and building communities around a company's work, and LEANARTS, a program piloted by the Association for Opera in Canada with MaRS and The Working Group to introduce arts groups to the tools and methodologies used by technology startups. It was there, brainstorming with my peers and talking about larger sectoral issues, where I started to think about how my knowledge and interests could help more than one company and could be put to work making positive change for our larger arts ecology.
Enter East End Arts!
What can you share about your creative upbringing?
My creative background likely comes from my Grandma Hillman who was extremely creative and a gifted artist, cook and seamstress. She and one of my Great Aunts had even worked as a IATSE wardrobe mistresses in the 40s here in Toronto and my grandmother nicked "souvenirs" from each show she worked on so she had the world's best costume trunk for all of my and my sister's variety shows. While I've spent the majority of my career working to support artists in their careers and achieving their goals I also had a side hustle for many years making jewellery that was carried at a few galleries in town and even took commissions for a few wedding bands (I think most of my clients are even still married!).
Most recently I served as part of the programming team for Toronto for Everyone, which brought An Honest Farewell: A festival to Toronto's Honest Ed's department store to life prior to its demolition. This 4-day festival honored the legacy of one of the city's most iconic institutions by creating an immersive art maze transformed by multidisciplinary artists from February 23-26, 2017. Over the course of the weekend, we welcomed over 15,000 guests.
I loved working with an amazing team to curate work for that event and with a good friend and co-conspirator created one of the most popular installations of the event – the famous Honest Ed's Birthday Cake!
Tell our readers about your role at East End Arts, and your hopes/dreams for this organization in 2021:
I guess I'm the chief bottle washer round here. A lot of my day to day is advocacy, funding (we're always looking for more money, while we're funded by the city it's only 49% and we need to raise the other 51%), I'm really stressed about what that will look like in 2021 – everyone is hurting and we're seeing corporations pull back and/or change where they are spending their dollars.
That said, I'm really excited about doing more research and evaluation work this year. We've gotten a grant from the Canada Council's Digital Strategies Fund to look at how Community Arts Organizations and practices have pivoted to digital in these Covid times and will look at best practices and tools we'll need moving forward to continue working in the digital space.
I was in love with our Winter is Coming event (thanks Adam!) and want to host more of these big conversations and find ways to create more talks and panels for the larger community alongside some of our more hyperlocal community focused work. East End Arts has been part of a lot of round tables and townhalls since the pandemic started, and now I'm thinking about how we can add our voice and learnings to national and international conversations. I recently was given a copy of San Francisco's Community Development Innovation Review by a colleague in California which looks at transforming community development through an Arts and Culture lens.
In order to challenge myself I've also enrolled in the Social Purpose Real Estate Training Modules from the University of Toronto's School of Cities this winter because I'm really interested in making space for artists and organizations and prior to the pandemic it was one of the biggest issues artists in our network were concerned about in our annual surveys.
I'm also super excited to continue working with our fantastic BIAs to animate our main streets/alleys and neighbourhoods – we've got some big plans to bring more public art – temporary and permanent to the east end and we're blessed that our BIAs are so visionary in this regard!
What are some upcoming art events or initiatives you're excited about?
This year marks the 20th anniversary of inDANCE and should have seen us touring across the US (including Hawaii #sadface) and visiting Germany as part of the Canada host country celebrations at the Frankfurt Book Fair. So, instead we're working on an exciting film project to celebrate the choreographic trajectory of courtesan-inspired Bharatanatyam to global contemporary dance works to queer dance creations that the company has created since 2000.
A fun fact about you for our readers:
I LOVE to cook. I've taken a ton of classes and workshops, everything from knife skills to cheesemaking to Moroccan cooking, and plan all of my vacations around food. I also love food history and podcasts like Smart Mouth, the Sporkful and the Dinner Party Download.
2. Chelsea Cameron-Fikis, Communications Manager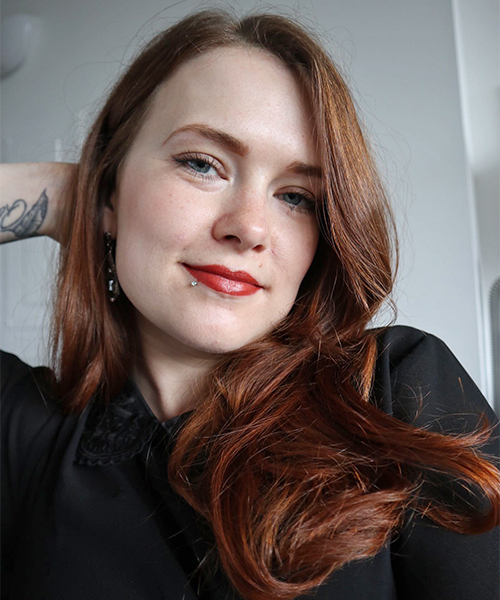 Name: Chelsea Cameron-Fikis, Chelsea Virgina (in honour of my grandmother)
Social Handle: I might be like every other millennial out there who has at least two Instagram accounts, but I post my artistic creations to @chelsvcreates, and love following like-minded creative people :)!
Tell us about your experience as an arts worker and/or artist:
I always like to say I'm a Toronto arts baby because truthfully, I am. I've only been working in the Toronto arts sector for three years coming this May, and I've only been really taking myself seriously as a creative/artist for the past two years, (you know, once I moved to Toronto and figured out that art is actually something people value and take seriously in larger cities).
The short story is that four years ago I rather spontaneously decided to leave my hometown of 26 years, Thunder Bay, ON, for something new and different. At that point in my life I was working in government administration, I wasn't feeling particularly inspired by my work, (the "Aha! This is what I want to do for the rest of my life" feeling), and my contract was coming to a close on December 31, 2016. "What better way to ring in the new year than to transplant myself to a new, big foreign city?" I thought, "Oh, and let's make it extra challenging and go completely alone, and not have English be the first language of the locals!" I packed two suitcases, flew to Montreal, QC, and in some ways never looked back.
I actually once heard that Montreal was deemed the "figure your sh*t out" capital of Canada (and maybe the world), and that certainly rang true for me, even in the short 5 months I was there. While I did not land the superstar writer or creative job I was hoping for during that time, my path eventually led me to come to Toronto to pursue a one-year graduate diploma… which landed me a placement… which landed me a job… which landed me second job at East End Arts, and here I am, speaking to you in the flesh as the current Communications Manager!
Professionally, I've always had writing be at the forefront of what I do. Even in government administration, I was quickly named the go-to creative copy girl for our letters and other official documents. The framed diplomas on my wall tell me that I hold a Master of Arts in English Literature (& Gender Studies), and a diploma in Professional Writing and Communications. I have always loved writing and felt that it came natural to me, I just think for the longest time I was unsure of what to do with that talent and passion. And so, discovering the world of professional communicating was the perfect puzzle piece for me, and now here I am working a job that I love, a job that I feel I am good at, and a job that makes a real impact on the people that live in my city.
Artistically I've always been a creator, I again just never really knew what to do with those skills or interests. Perhaps growing up in a smaller city where not many people have "Artist" as their LinkedIn title caused me to view my artistic talents and passions as hobbies versus something I could really take myself seriously with. Since starting my job at East End Arts not only have I bloomed professionally and started to find my own voice in a sector that offers so much creative potential, but I've also bloomed artistically. I'm both a visual and a literary artist that practices in illustration and photography, and nonfiction writing. I'm personally very excited about the ways I will keep growing my artistic skills. Translating some of my illustrative work to a larger public scale would really excite me, while I've also been slowly working on a collection of poems and personal essays that I hope I can publish one day too!
What can you share about your creative upbringing?
I can tell you that I come from a family of creators: my grandmother Virginia used to sit by her windowsill and tell me the most fascinating stories, or she'd be on her guitar teaching me songs she learned throughout her life; two of my aunts are professional seamstresses who create wedding gowns and costume apparel; another aunt is an all-trades type of person who can make greeting cards to rugs made out of old blue jeans; while my mother creates beautiful pieces of visual art in her front and back-yard gardens each and every year.
I too am and have always been a creative person. I enjoyed writing short stories at the age of 8; I had a polaroid or a disposable camera in my hand from age 9 until they stopped making them; I took singing, violin, piano, drawing and dancing classes all throughout my youth; I've basically spent my time doing something creative for as long as I can remember, from scrap-booking to painting; writing to singing. Not having an outlet for creativity has never been an option for me!
For the completion of my Master's degree I creatively wrote an online blog series, told from the point of view of a female narrator who slowly learns about the connection between the food on her plate and the larger societal systems and issues around her. Translating the issues that I care about into pieces of art can still be seen in the things I create today, from illustrations about activism and mental health, to photography about the natural world around me, which I care so deeply about.
Tell our readers a bit about your role at East End Arts, and your hopes/dreams for this organization in 2021:
I began my journey with East End Arts as the Marketing and Outreach Coordinator, and that has slowly developed overtime to the role I have today as Communications Manager. First and foremost, I create and oversee all of the marketing and communications materials for our organization, which really includes anything and everything from our social media presence to our website, our monthly newsletters and annual reports, our program and event communications, and so on. I always like to say that communicators are the unsung heroes of every organization, because they really are the only reason you know who an organization is, and the work that organization does. I also oversee individual donor communications, and lead on the design of our graphic design material. I've actually almost completed a certificate in Graphic Design from George Brown College since starting with East End Arts, which has really helped me to expand my communication skills to include visual communications as well!
As for my hopes and dreams for this upcoming year: well, I know that 2020 was hard for a multitude of reasons, but I really did love getting to know our audiences on a much deeper level through all our digital platforms. I am excited to continue connecting digitally with more of the artists and community members that make up east Toronto. Of course it's a no-brainer that I am also hoping the summer and fall of 2021 give us opportunities to have some modified in-person events and programs. I really do miss talking to people face-to-face who support the work we do and like to engage in our programs and events. Also, big fingers crossed for a modified, in-person Nuit Blanche, 2021! Our first ever Nuit Blanche Hub in East Danforth in 2019 was one of the most magical experiences for me as an arts administrator, and I would be thrilled to get that opportunity and experience again.
What are some upcoming art events or initiatives you're excited about?
Lately, I've been really excited about Firefly's Morning Coffee Sessions (creative writing sessions). I've been attending these a couple times each week to give myself some time and space to creatively write, and it really helps to start my day off on a creative and reflective note – I love these sessions! For the winter months ahead, I am really looking forward to Winter Stations 2021 down on Woodbine Beach. Seeing Winter Stations in person for the first time in 2019 was my first big exposure to public art of that scale, and it's left a favourable impression on me ever since, (also what is arguably better than being on a beach, by a lake, surrounded by impressive, large-scale public art pieces?!)
A fun fact about you for our readers:
I'm a lifelong curler and have been since the age of 4, (at that age it was called Sticks and Stones, and a helmet on the ice was definitely required as most of the kids just slip and flip around on the ice the majority of the time). Since moving to Toronto I have not successfully landed a new "home club", but it's my hopeful goal for 2021 to get back on the ice and to scream "Hurry Hard!" at my partner who I make do all the sweeping while I call all the shots ;).
3. Adam Barrett, Program Coordinator
Name: Adam Barrett
Social Handle: @hugsfromstrangers – This is a very cute, very old project of mine that I have been putting online slowly this year. Circa 2006 I hugged hundreds of strangers and took polaroids of the whole thing (to make a point about the importance of platonic touch in society). I know. Come torture yourself with the memory of touch with me!)
Tell us about your experience as an arts worker and/or artist:
Most of my career has been spent making theatre in some way or another. I studied at the Randolph College for the Performing Arts, to be a triple threat ("Act! Sing! Dance! Or DIE!" was the actual motto of the school for a very brief moment) and when being an actor turned out to be difficult (who knew!) I figured I would stay in the ballpark of performing and learn how to be a producer (there was a brief stab at scenic painting, a bit of stage managing, a really good run as an archivist for a theatre company, but basically, I have exactly the kind of anxiety disorder and level of "control freak"  that makes producing arts and culture events come naturally! I'm actually quite proud of the fact that my only formal training was in an acting conservatory, in a field that has a whole lot of masters degrees (no shade on masters, I just get a kick out of being where I am now with nothing but my wits and a solid foundation of contemporary vocal technique).
After about 12 years working as some kind of researcher or assistant or  assistant producer, or production coordinator or manager, trying to find time to be a playwright in there, and literally living my RENT the Musical Fantasy of retrofitting a warehouse into an arts space, I kind of burned out. I kind of burned out HARD. It was the Sesquicentennial that did me in: Producing four shows about Canada's History  with the iconic VideoCabaret that summer, surrounded by all the fanfare and controversy of Canada's 150 was … a LOT. And so I started to shift my practise away (ever so gently) from theatre and towards…something else.  I thought maybe I was going to be an environmentalist or work for a big enviro charity or something, but instead my friend Brad Harley called me  and offered me a job. And so, almost entirely by accident, that "something else" turned out to be the big amorphous field of Community Arts.  In 2018 I got the opportunity of a lifetime to work as General Manager of Shadowland Theatre, run by the incomparable Anne Barber and Brad Harley. Shadowland is one of Toronto's oldest and most important community engaged arts organizations, and they let me have big crazy ideas, and run with them. I got to roast marshmallows around a campfire with hundreds of children and call it art. And I was hooked. 
Community Arts, insofar as my personal relationship to the practise, is a way to remain an artist but fight off the loneliness and isolation I felt so often as a theatre producer, or sometimes writer, by placing my work in community. Community Arts doesn't require the same obsessive control, because, frankly, good communities can't be controlled, only encouraged. Artists are meant to be of the village, not apart from it. Or at least that's the working theory and it's so exciting to have the chance to test that theory in practise in my own community, in my own neighbourhood. There's a bit less glamour than producing film and theatre (I miss the galas, I won't lie), but there's way less depression.
What can you share about your creative upbringing?
I was one of those insipid children who always knew what I wanted to be when I grew up, and somehow managed to actually do it. I remember the first time I saw a play – it was the grade 6 production of The Wizard of Oz when I was in kindergarten. I was sitting so close to the stage that when the Wicked Witch melts in the cauldron, I could see the grade six kid crawl off stage, and somehow I fell immediately in love with the artifice of it all. The giant cardboard cauldron that somehow created an entire world. Art is lies, and I wanted to be a liar.
After kindergarten we left Toronto. I was raised in a small town in the middle of Ontario and like so many weirdos like me, I hated living in a small town at the time, but now I think that many of the values that I gained in that time, and almost all of my closest friendships from that time, have stayed with me and made me better, kinder. Small towns have arts communities just as vibrant as big cities, but that vibrancy exists at a different scale. I would never be where I am now without Lindsay Little Theatre and The Academy Theatre, The weird zine that ran out of the coffee shop, and the tiny art gallery attached to the town library (and all the weirdos like me who made those spaces amazing). 
I still got out of dodge and moved back to Toronto as soon as I could. After Theatre School I did about 8 Toronto Fringe Festivals in a row, spent a hot minute working in the film industry (I am not made for that pace of work, holy gruelling schedule, BUT I made one really excellent film, Trigger, if you get a chance, watch it), and discovered that I am the worlds worst waitress. With no standard "side hustle" available to me working in restaurants, I worked in just about any job that's 50 feet from a stage. I cannot recommend highly enough to emerging artists to get a job where you have to clean the toilets in a space you hope to someday exhibit or perform. Working those Box Office gigs builds character, and gives you an insight into the day to day functions of an arts organization that you can't get anywhere else.
Tell our readers a bit about your role at East End Arts, and your hopes/dreams for this organization in 2021:
Being the Program Coordinator at East End Arts is basically the best job you could ever imagine for somebody with the weird meandering path that I've described. I've struggled in the last five years of my career to define whether I am an artist, or an administrator. And of course, I am both. And my work at East End Arts is very both.  One day I will find myself drafting sixteen contracts and a critical path for an upcoming program or event, and the next day I will be brainstorming creative prompts and writing inspirational bits and bobs to create the program that I just contracted out.  It's an incredible balancing act, and often feels a bit like a dervish's whirl, but, reader, as you know, I am a triple threat and I know how to dance.
The thing that astounds me most about my work at EEA is the incredible opportunities for collaboration that it gives me. Most often with Chelsea and Shana, banging around the ideas for some upcoming happening, but also with community members and stakeholders, with random strangers and contract artists. Our work is deeply collaborative, and that makes it all the more satisfying.
What are some upcoming art events or initiatives you're excited about?
I am probably supposed to use this space to boost some other artists events, but I do that all the time, so instead I am going to talk about a couple of things that I am really excited about in my own practise this year. I am FINALLY going to finish the next draft of my play "Temple of the Divine Queer" and hold the darn workshop that I have been delaying for months (it's always harder to stick to deadlines when they are for your own thing, right?) AND – The details are still foggy, but I am really excited that it looks like summer '21 will see a series of music events on the porch at St Matthew's. I think "Porch Music" was just about the first idea I had for an EEA program, probably before my job interview. And while it seems insane to plan things as abstract and distant as "summer" from this deep pandemic winter, I'm pretty excited about having some tunes on the porch.
A fun fact about you for our readers:
I am a Chief Scout of Canada. For those of you not cool enough to know about the high levels of Canadian Scouting, that basically means I have the biggest highest badge you can get, a big plaque and letter from the Governor General of Canada, and that I stayed in Scouts until FAR beyond the age that most people stop. I was never a particularly gifted outdoorsman, but my Dad was a scout leader, and I did it as a way to spend time with him.