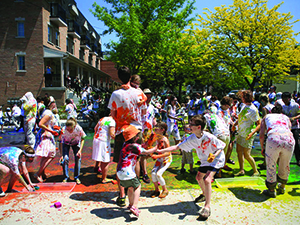 East End Arts is pleased to be co-producing the 2014 incarnation of Art of the Danforth, an experimental public art festival in Toronto's east end.  See www.artofthedanforth.com  
Events and installations now online!
Want to volunteer?  Sign up here.
The festival takes place in a remarkable neighbourhood on and around Danforth Avenue, roughly bookended by Greenwood and Woodbine TTC stations.
This is the third iteration of the festival in roughly five years, during which time the area has changed considerably.
With each edition, Art of the Danforth has been a reflexive and reactive festival, encouraging artists to respond to the changes in the neighbourhood and work with its current condition at that point in time*. Five years have allowed the festival to become an interesting long-term experiment into the roles and possibilities of public art in a neighbourhood.
For 2014, we're attempting to upend the very idea of a festival itself. The broad theme of AoD 2014 is whether this community needs a public art festival at all; essentially, we're asking curators to examine what roles do artists working in a public place play?
The 2014 edition of Art of the Danforth will take place May 2nd to May 11,  2014.
Art of the Danforth 2014 is produced by East End Arts, made possible by the generous support of Canadian Heritage, the Ontario Trillium Foundation, Danforth Mosaic BIA and the City of Toronto.  Thank you to our community partners: Danforth East Community Association, Children's Peace Theatre, Value Village, Linsmore Tavern, Home Hardware.