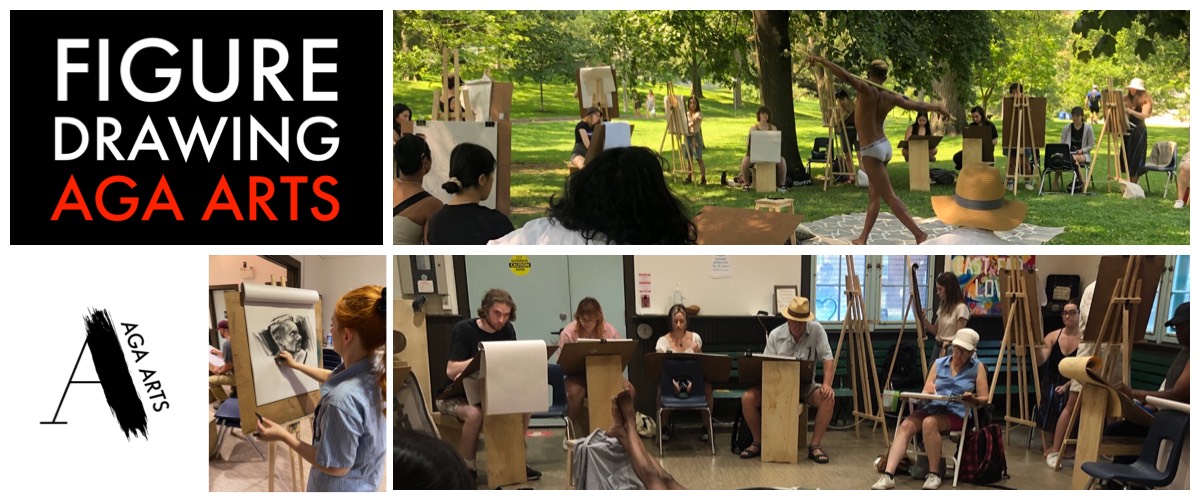 Life Drawing continues at St. Matthew's Clubhouse with AGA Arts for the fall 2023 season! Drop ins are welcome. Scroll down to learn more.
Life Drawing, Fall 2023
Various Sundays from October 8th to December 17th, 2023
12:00pm – 3:00pm
St. Matthew's Clubhouse, 450 Broadview Avenue, Toronto
Cost: $20, $15 w/ student card, basic materials available for purchase on site
Drop-in figure drawing hosted by AGA Arts. Enjoy an afternoon drawing from the live model. Select sundays 12-3pm – doors open at 11:30, come early to get a spot! Easels, chairs, drawing benches, boards and clips available to use on site. Newsprint pads available for $3. Just bring your own drawing materials. All skill levels welcome! $20 cash or credit (no debit) Nude model unless otherwise specified (18 +)
Sunday October 8
Sunday October 22
Sunday November 5
Sunday November 19
Sunday December 3
Sunday December 17
These are uninstructed gestural poses. Some easels, chairs, and boards provided. Newsprint is available for sale on site for $3.00. Please bring your own materials! All skill levels are welcome and encouraged to join. Be sure to follow AGA Arts for more updates and announcements!
The cost for each Life Drawing Session is $20 per person, or $15 if you are a student and can present a student card. Cash, Visa, or Mastercard is accepted.
Weeknight Portrait Sessions
This season, AGA Arts will also be offering additional drawing and portrait workshops. Be sure to join in for the following:
Introduction to Portrait Drawing. Tuesday September 26, 2023 – St. Matthew's Clubhouse, 6:30-9:30pm, and cost $65 to register.
"Working from the live model, instructors Jessie and Dmitry will guide you through the basic process of building a convincing and realistic portrait drawing. Starting with structure, and working our way to rendering light and shadow on the face, we will show you key techniques to capture likeness and help you build your skill set as a portrait artist. All materials included! We will be working with charcoal and each attendee will end the evening with a completed portrait drawing from life.:
REGISTER HERE
Drop in Long-Pose Portrait Sessions. Fri Oct 20, Tues Nov 14, Tues Dec 12, 2023 – St. Matthew's Clubhouse, 6:30 –  9:30pm, and cost $30 to attend.
"Expanded setup with lighting and background for painters and those working on long-format drawings. 3 hour single pose. Open to everyone, but also ideal for workshop attendees to put the skills they learned into practice! All mediums welcome."