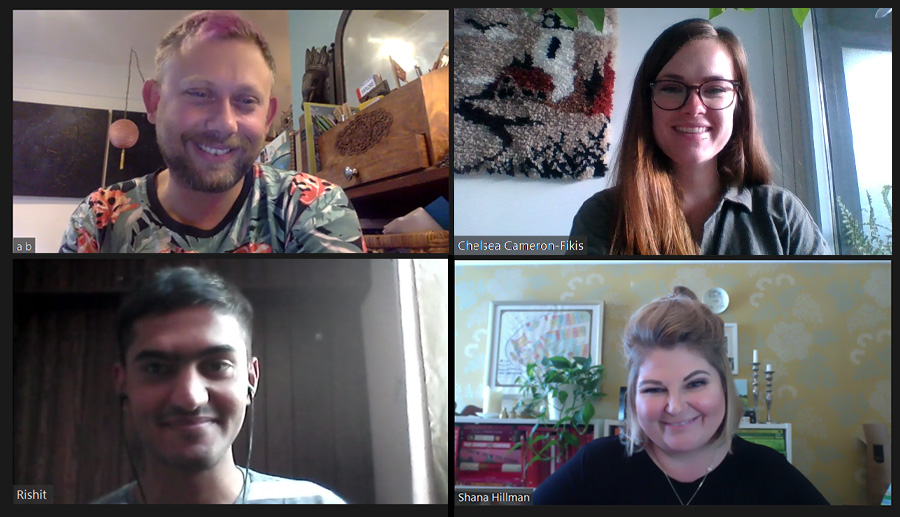 This month our Communications & Development Intern, Rishit Shah, wrote about his "virtual internship" experience with East End Arts this past summer! 
From a Zoom first day to a Zoom farewell, this phase zoomed in on a whole other world!
When the city-wide COVID-19 closures were announced in mid-March, it was my final month of college, and around the time when our internship placements were supposed to begin. We went from being pumped for interviews and selections, to being dumbfounded as to when, where and how we'd complete our internships. Of course, within two days the next steps for our internship were clear — everything was going to be virtual. I was so eager to work in a new environment and meet new people, but surprisingly kept my calm during these changes. Thankfully, I landed an internship here at East End Arts (EEA) — a small non-profit arts organization that operates (or used to operate, pre-COVID times) out of a cute little cottagey office in Riverdale Park. My "Zoom first day" ensued on May 11.
One month in and I already felt the strains of an online office life. A platform called Slack helped us communicate well and keep in touch every day, but could we have saved time had we been together in the office having the same discussions? And could I have petted my colleagues' adorable doggos and feline furballs while we were there? Absolutely! Not to mention, settling in during the first week also would've been a lot more comfortable in a real office environment, and in-person brainstorming and problem solving could've been more accurate and productive. But, I realize now that virtual platforms are quite useful. Moving ahead I might just use Zoom for even regular video calls with friends, or a platform called Asana for managing my daily tasks. On a side note, it's not pronounced the way you might've just pronounced it. It's Aah-Sun, two syllables my white colleagues still have a hard time pronouncing!
It's now August, I'm four months into my internship, and I've identified some clear pros and cons about my digital intern experience. Social isolation was one of the challenges. I mean, remember that time when humans met each other? Being at the office, I could've networked better with artists and arts workers; I could've enjoyed all the vibrant arts events organized by EEA and happening across the east end; and I also could've explored the neighbourhoods and restaurants in east Toronto. But, working from home did provide some fair balance. No commute? Bring it on! It was easier getting household chores done, cutting down on expenses, cooking whenever I wanted to and not having to pack lunch. I was expecting a boring experience when I was told I'd be interning online, but this journey was unique and I somehow managed to get through the social isolation and acquire the skills I needed as a professional communicator.
I performed a ton of valuable duties throughout this practicum at EEA. I managed an entire arts and culture events calendar on WordPress; I oversaw our Artist Opportunities Facebook group; I used Mailchimp software to help draft our monthly newsletter; I developed and designed posts for our social media platforms, including familiarizing myself with creative software like Adobe Illustrator and Canva; and I also conducted research relating to arts and culture, and prepared reports. In the communications field, these skills are super useful and I'm glad that I had a chance to learn it all in only about four months (even if it was all virtual).
Also, need I mention the fact that Toronto's arts and culture scene is mind-blowing? It's hard to put into words how much I've learned about artists and the arts sector since I've joined the EEA team. When I started out, I was so new to this sector, and I definitely didn't think there would be thousands of artists in one small #EastEnd community! This internship has introduced me to so many of them and has opened my eyes to another world – I've witnessed raw talent and the transformative power of community arts in this fast-paced, concrete world. I've come across excellence and sheer hard work. Right from the spotlights that we post on our social media highlighting artists from the east end, to recognizing arts organizations who are trying to provide as many opportunities, grants and resources for artists as they can, it's been amazing!
One of my favourite experiences from my internship was the Q&A interview I conducted for our #EEAblog with muralist Monica Wickeler. Monica and I met over a Zoom call and I loved how candid she was, relaxing in her white van in the backyard at the beginning of our call. Learning more about her murals and her history in what had long been a male-dominated art form was inspiring! Although this was a virtual interview, I thoroughly enjoyed interacting with her. Don't forget to read that blog post from earlier this month here.
And so, I finish my internship at East End Arts (EEA) officially on Friday, August 28, and I have mixed feelings — the excitement to transition to a full-time role after this (which I'll hopefully have secured soon), but also the sorrow of missing the EEA team, the arts and culture sector of Toronto, and everything I've done during my time here. I can't express in words how much easier the EEA team made it for me to work virtually. Big shout out to my immediate senior, Chelsea, for being the most understanding and supportive friend and colleague and thinking about my future throughout. I also want to thank Shana and Adam for being the two goofballs (me being the third!) with whom I've had the best time during our team meetings! All in all, this was one heck of an experience, and I don't think I'll ever stop being an EEA teammate! #EastEndLove