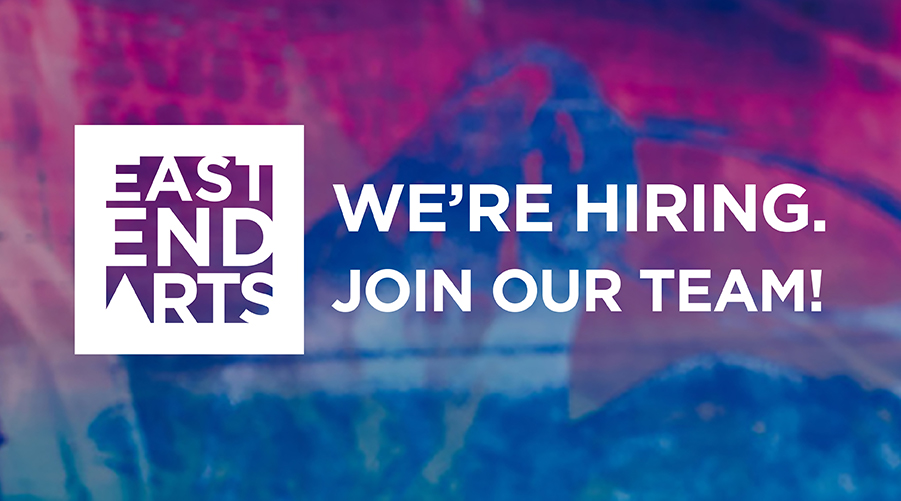 This job opportunity has now passed. We thank everyone who applied!

Work for East End Arts this fall! We're hiring one Canada Summer Jobs position, which will run for an 8-week-long contract. Join us as a Communications and Marketing Assistant! The deadline to apply for this position is Friday July 31, 2020, by 11:59 pm.
Communications & Marketing Assistant
Deadline: July 31, 2020
Start Date: August 31, 2020
Term: 8 Weeks, Full Time
Rate of Pay: $15/hour
Reports to: Communications & Development Coordinator and Executive Director
The Communications and Marketing Assistant's responsibilities will include supporting East End Arts' strategic communications and development activities over 8 weeks during the late summer & fall. This position will support promotions, marketing, research, and social media activities related to East End Arts' programming for the fall, (i.e. East York Days, ArtMEETS Fall Edition, and other potential programs that are confirmed closer to the date) . The Communications and Marketing Assistant will report to the Communications & Development Coordinator and Executive Director, and interface with the Program Coordinator.
RESPONSIBILITIES:
Developing social media content for online campaigns related to East York Days, our monthly Artist Spotlight features, ArtMEETS Fall Edition, and other potential programs, TBC;
Assisting with day-to-day social media management and engagement activities;
Assisting with the development of East End Arts' monthly e-newsletter as well as other digital and print pieces for communications and promotional use;
Sourcing and sharing information about local events, local community art projects, and local arts-related news from constituent organizations and artists;
Outreach to local artists and arts organizations to help promote our online calendar of events in our catchment area, and assisting in developing a long-term marketing plan for our calendar;
Sourcing and sharing information about upcoming artist opportunities to our Facebook Group;
Assisting with our online blog feature, helping to write and research for multiple posts each month;
Assisting with communications around development activities, including research & dissemination, writing, distributing information, and general community outreach;
Supporting East End Arts at events (virtually or in-person, as applicable).
EDUCATION, SKILLS AND EXPERIENCE:
Strong verbal and written communication skills, and the ability to generate strong, clear content in our brand voice for multiple channels;
Detail oriented, excellent organizational skills, and the ability to manage multiple tasks, schedules, and deadlines simultaneously;

Advanced computer competency in word processing, spreadsheets, data management (Eventbrite and Mailchimp) and all social media platforms (Facebook, Instagram, Twitter, LinkedIn);

Advanced problem solving skills. You are a resourceful and creative thinker when faced with a challenge, and you understand that every problem has a solution. You think ahead, anticipate potential problems/outcomes, and plan accordingly;

High level of initiative. You know how to take matters into your own hands and work both independently and as a team player;

Strong interpersonal skills. Comfortable working with a variety of stakeholders such as local artists, local politicians, small business owners and community groups with a commitment to quality customer service. You feel comfortable talking to strangers and building connections for our work and East End Arts;

General design or aesthetic skills, and the ability to generate visual content in alignment with our brand;

Passion for the arts. You believe that art can change the world, and want to learn ways to creatively bring communities together in different ways;

Can-do attitude, positive outlook with a strong sense of responsibility for your work.
Nice to Have:
Residence in the East End Arts programming area (east Toronto) preferred;
Post-secondary education in a discipline relevant to arts administration, communications, marketing, public relations, or fundraising;
Experience with any design software, including Adobe Creative Suite or Canva;
Fluency in languages other than English.
This position is supported through the Canada Summer Jobs program. CSJ 2020 includes new expanded eligibility to include all youth aged 15 to 30, which means youth who are not students are eligible. This change has been made to complement the Government's renewal of the Youth Employment Strategy (YES), announced in Budget 2018.
To be eligible, participants must:
be between 15 and 30 years of age at the start of the employment;
be a Canadian citizen, permanent resident, or person to whom refugee protection has been conferred under the Immigration and Refugee Protection Act for the duration of the employment; and,
have a valid Social Insurance Number at the start of employment and be legally entitled to work in Canada in accordance with relevant provincial or territorial legislation and regulations.
How to apply:
Please email cover letter, resume and three references as one single PDF document titled firstname.lastname.app to shana@eastendarts.ca by Friday July 31, 2020.
East End Arts is committed to building a more diverse workplace and encourage all qualified applicants to apply. Only those applicants selected for an interview will be contacted. No phone calls please.
ABOUT EAST END ARTS

East End Arts is a Local Arts Service Organization (LASO) mandated to serve the east end of Toronto. East End Arts' mandate is to unite, inspire and enhance the communities of east Toronto by cultivating an arts network, supporting local artists and increasing community arts engagement.
A NOTE ON SAFETY PROTOCOLS & WORKING DURING COVID19
Participant & Staff safety are of utmost importance to East End Arts and will be a priority during the job placement and program activities.  The position will be a mix of work at St Matthew's Clubhouse, work-from-home, and work out in communities.  A full set of safety protocols has been prepared in accordance with City of Toronto Health Guidelines and will be updated to reflect the most up to date information at the time. For candidates without home access to a computer, one will be provided.