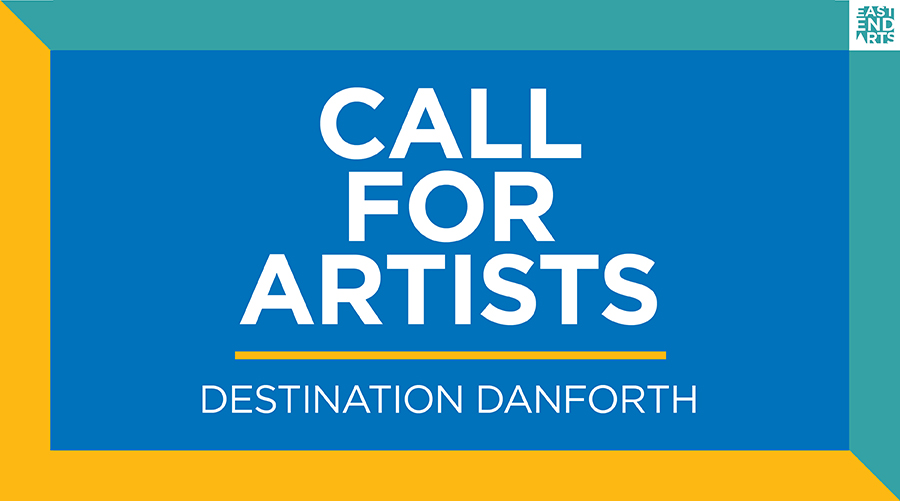 PLEASE NOTE THAT THE DEADLINE FOR THIS CALL HAS NOW PASSED.
East End Arts and StreetARToronto invite artists to apply to Destination Danforth! The deadline for this call is August 26, 2020 at 11:59 PM EST.
CALL SUMMARY
In partnership with the City of Toronto's StreetARToronto Program, East End Arts invites artists to submit proposals to participate in Destination Danforth. This Artist Call is Stage 1 of a Two Stage selection process (Stage 1. Artist Call/Proposal, Stage 2. Final Design Proposal).
In response to the COVID-19 pandemic the City of Toronto has fast-tracked implementing 40km of cycling infrastructure across Toronto, including the Danforth (from Broadview Avenue to Dawes Road). #DestinationDanforth aims to help local businesses recover from this pandemic, restore consumer confidence and give people safe alternatives to the TTC. The road to economic recovery goes through main street.
Over the course of the pandemic small local businesses have been hit hard. We know that bringing people back to places like the Danforth will be critical. This project is about making Danforth your destination, for now and into the future. The #DestinationDanforth pilot will see an unprecedented $4 million investment this summer to enhance our public realm, create new opportunities for patios, provide dedicated parking, and add the infrastructure we need so that people can walk, ride and roll through our Danforth neighbourhoods.
It's a defining moment in human history, when we've been asked to make large sacrifices for the public good and keep ourselves apart. There is also the realization that this is a marathon not a sprint. With this in mind there has never been a more important moment to remind one another that we care for each other.
#DestinationDanforth will also include a robust public art program including creative curb extensions, painted signal boxes and four signature murals (one within each BIA area along the corridor). On the walls we pass by each day on our anxious, worried ways down the street, we deserve a reminder: We may not be able to gather in large groups, but we are surrounded by beauty.
Production of the art will roll out over the next year, with four mural installations and twelve traffic signal boxes completed by October 2020. This Call is specifically to request proposals for 4 murals, one in each of the east end Business Improvement Areas- (Broadview Danforth BIA, GreekTown on the Danforth, Danforth Mosaic BIA, and Danforth Village BIA) located on Danforth Avenue between Broadview Avenue and Dawes Road. (Wall Locations TBA).
As part of the Destination Danforth art call, East End Arts is working with the four BIAs to identify walls and themes. The themes developed through this process form the basis of this art call and are included below.
Learn more about the Destination Danforth pilot at www.toronto.ca/danforthstudy
TO APPLY
Visit: https://streetartto.submittable.com/submit/172149/start-destination-danforth
GUIDING THEMES
There are two themes we are addressing with this call, submissions can respond to one or both themes:
Theme One: Gratitude, Resilience, HopeThe creativity of business owners on the Danforth is almost boundless. There are many creative and maker-based businesses across the four BIAs (some might even say that there's an art to running a business). Over the course of this pandemic, communities throughout the Danforth – and indeed, the city, province, country, and beyond – have shown incredible care and love for one another, and this has manifested in the form of many public displays of art. Children's chalk art, window scavenger hunts, light-up hearts made of blinking lights have filled our neighbourhoods with the evidence of this love. Let's celebrate these already-thriving moments and enlarge them into wall sized murals. This theme invites submissions that tell stories of gratitude, resilience and hope for our Danforth Community. Even when this pandemic is long behind these murals will remain to remind us of our capacity to care and show-up for one another. The artworks should speak to and celebrate: the service local businesses bring to the communities that they support, the community members and residents who support them in return, and the benefits and opportunities to support local and celebrate community pride.
Theme Two: #EastEndLove#EastEndLove was a community-engaged public art project, presented by East End Arts through 2018 and 2019. This project used conversation, collaboration, stencil screen printing, and public art to facilitate difficult conversations, and to spread messages of love and inclusion in our community. #EastEndLove was born as a response to the increase in discriminatory discourse and vandalism in the east Toronto community, and aimed to unite community members while building stronger, more inclusive and responsive communities at large.Sadly, since the completion of this project East End Arts has observed specific neighbourhoods and communities in east Toronto being subjected to an alarming increase in instances of racism, homophobia, xenophobia, and hate, including vandalism, anti-Black racism, attacks on local residents and more. Clearly the work is not yet done. This theme invites submissions in support of Black Lives Matter. The artworks should speak to past and current injustice against visible minorities, and the importance, benefits and opportunities to build a better future through inclusion, collaboration and knowledge sharing.
PURPOSE
The purpose of this call is to gather a list of artists or artist collaborations who will be short-listed based on relevant professional credentials and preliminary design concepts. Shortlisted artists will be contacted by August 31 and will receive an honorarium of $1000 to develop a final design concept, budget and material list. Final designs will be presented to the Destination Danforth Selection Committee on September 11th.
Please note that we only require the proposal in written form (Maximum 500-words) and documentation of past works at this stage in the process. This will include:
Artist Contact information
Short description of the mural you propose (Maximum 500-words)
Short bio including past experience working on outdoor projects of a similar nature and scale (Maximum 300-words)
CV (2 pages maximum)
Contact information for 2 references
Maximum 3 images of past work (jpeg format 72 dpi, dimensions of 1024 pixels on longest side – approx. 500 KB) (Please indicate location and date of installation)
Final Designs will be required from shortlisted artists in Stage 2.
Please note: Selected candidates for the Destination Danforth Murals must have, or may be required to successfully complete Working at Heights and Aerial Work Platform training and, if applicable to the wall site, will be asked to provide their course completion plan at the shortlisting phase if selected.
A. Eligibility Requirements
Artists located within the Greater Toronto Area (GTA)
B. Project Partners
Project delivery is being coordinated by East End Arts in collaboration with StreetARToronto.
StreetARToronto (StART) programs and projects are designed to celebrate the City of Toronto motto "Diversity Our Strength" and foster a greater sense of belonging among all. StART welcomes and actively seeks out partners for initiatives that support program objectives and works closely with partnership staff in other City divisions and agencies and supports City partnership activities.
East End Arts is a non-profit community arts organization that serves the east end of Toronto. We provide inclusive arts programming and events to our local communities, including youth, newcomers, seniors and priority groups. We also provide professional development opportunities to both emerging and established artists and arts organizations. For more information please visit www.eastendarts.ca
C. Project Sites
Four walls located in East End BIA's (Broadview Danforth BIA, Danforth Mosaic BIA, Greektown on the Danforth BIA and the Danforth Village BIA) will be identified.
Please note that the final dimensions, location and budget have not been finalized and are subject to revision. Additional information will be provided in stage 2.
D. Overall Project Deliverables
Overview of final project deliverables and artist responsibilities are as follows:
• The selected artist(s) will be responsible for submitting a paint and materials order.
• Shortlisted artist candidates will meet all deadlines as outlined in Section I: (Competition Schedule) and a work plan will
need to demonstrate how the project will be completed on time, within budget, in compliance with all applicable health
and safety regulations including COVID19 safe distancing and related practices.
E. Budget
The street art project estimated budget will be determined at the start of Stage 2: Final Design which will include site preparation, design, installation, drawings, permits (if required), insurance, artist fees, maintenance plan and applicable taxes. Shortlisted artists will be required to submit a detailed budget with their final proposal.
F. Selection Criteria for Artist Proposals (Responses to Artist Call)
The following evaluation criteria will be used in Stage One of the selection process:
Demonstrated excellence of past work in projects of similar size and scope: 25%
How the applicant meets the objectives of the call, including responding to the guiding themes and principles and relationship/relevance to the local community: 20%
Aesthetic potential for the proposal and whether it is appropriate for the large space and public environment in which it will be installed: 25%
Overall quality, clarity and cohesiveness of presentation package and its content: 20%
Project Budget and feasibility, including any proven capacity to complete the work on time and on budget: 10%
G. Competition Schedule
Deadline for submission of artist proposal – August 26
Notification of short-listed artists – August 31
Final Designs submitted – September 8
Final Selection Committee meeting – September 11
Notification of successful artist – September 11
Painting Schedule – September 16 – October 2
PARTNERS