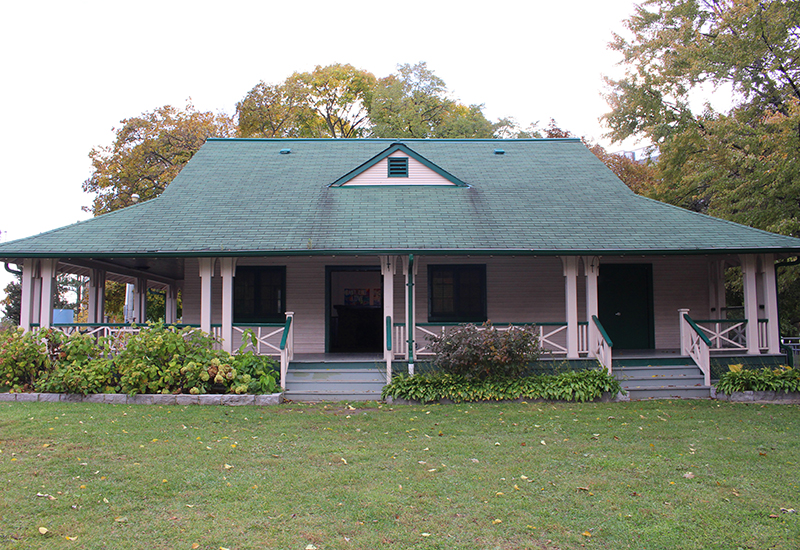 Monday, April 9, 2018, Toronto: East End Arts, one of Toronto's six local arts service organizations, will be moving into a new home at St. Matthew's Clubhouse (Broadview Ave at Langley Ave) at the end of April. Owned by the City of Toronto, St. Matthew's Clubhouse will serve as an office and animated arts space.
"Having a home at St. Matthew's Clubhouse helps East End Arts achieve our vision to offer inclusive and accessible community arts and cultural activities and events, and support the diverse needs of artists. We are thankful for the opportunity to develop St. Matthew's Clubhouse into a community and social hub. It is brimming with creative potential!" said Shana Hillman, Executive Director of East End Arts.
East End Arts will transform St. Matthew's Clubhouse into a space for artists and members of the community to learn about and express themselves through the arts, participate in community arts activities, engage with other artists, and connect with their neighbours and the arts community in creative ways. East End Arts will continue to present a wide array of inter-disciplinary arts activities – from visual arts to music, performing arts to creative workshops, exhibitions to professional development activities for artists, and more throughout all of the East end neighbourhoods that East End Arts serves. An Open House is planned for later in the Spring to welcome members of the public and together, imagine additional uses for the space.
Robin Sokoloski, Chair of East End Arts' Advisory Committee said, "Over the last five years East End Arts has made profound connections with the arts community and local businesses in Toronto's East side. Moving to this new location will continue to build East Ends Arts' network in new and dynamic ways."
East End Arts was born of the community when a group of artists, residents, and community arts enthusiasts came together to advocate for the arts and artists of East Toronto. The need for an East end arts service organization was identified in the City of Toronto's 2011 Creative Capital Gains Report and was championed by East end City of Toronto Councillors Janet Davis, Paula Fletcher, Mary Fragedakis, and Mary Margaret McMahon. In 2013, the City of Toronto approved funding for the newly formed East End Arts. The Toronto Arts Foundation has incubated East End Arts since 2013 as a strategic initiative aligned with its vision, Creative City: Block by Block, to connect every Toronto neighbourhood with the transformative social and economic benefits of the arts. East End Arts will become an autonomous non-profit charitable organization by the end of 2018.
"I am delighted to welcome East End Arts to their new home in St. Matthew's Clubhouse. The clubhouse is a wonderful heritage building located in a beautiful park – the perfect setting for an organization that aims to unite, inspire, and enhance the communities of East Toronto with the transformative power of the arts," said Ward 30 Councillor Paula Fletcher.
In November and December of 2017, East End Arts held a series of community consultations about the future of arts and culture in Toronto's East end. The results were published in an East End Arts Community Consultation Summary – a reference tool that East End Arts created to unite, inspire, and enhance East Toronto's vibrant arts and cultural community. The lack of affordable and accessible creative spaces for artists is a recurring theme and East End Arts is committed to its continued support of East Toronto's arts and cultural community at St. Matthew's Clubhouse.
Full details about the Open House at St. Matthew's Clubhouse will be announced soon on www.eastendarts.ca. The event will include an invitation for the community to attend an afternoon filled with local entertainment, participatory arts activities, and tour of East End Arts' new home. East End Arts anticipates great things to come as it enters this next chapter. We look forward to welcoming you to this new community arts and social hub in the East end.
www.eastendarts.ca | Facebook | Twitter | Instagram
Further information, photos, and interviews are available upon request.
Contact: Tanya Oleksuik, Communications Manager, East End Arts, tanya@eastendarts.ca 647-715-2150 x2
– 30 –
About East End Arts
East End Arts' mandate is to unite, inspire, and enhance the communities of East Toronto by cultivating an arts network, supporting local artists, and increasing community arts engagement. Serving City of Toronto Wards 29, 30, 31, and 32, East End Arts is in its fifth year of providing paid opportunities for artists, creating public art projects, presenting community arts and literary festivals, developing visual arts programs for youth, and offering networking and professional development events for artists.
While serving artists, arts organizations, independent galleries, musicians and venues, performing arts presenters, arts maker spaces, and the creative community at large, East End Arts promotes and shines a light on the abundant talent in the East end. East End Arts builds collaborative community partnerships, supports initiatives such as The Music Project to provide subsidized music lessons for local children, and is a passionate advocate for the arts and artists in Toronto's East end.