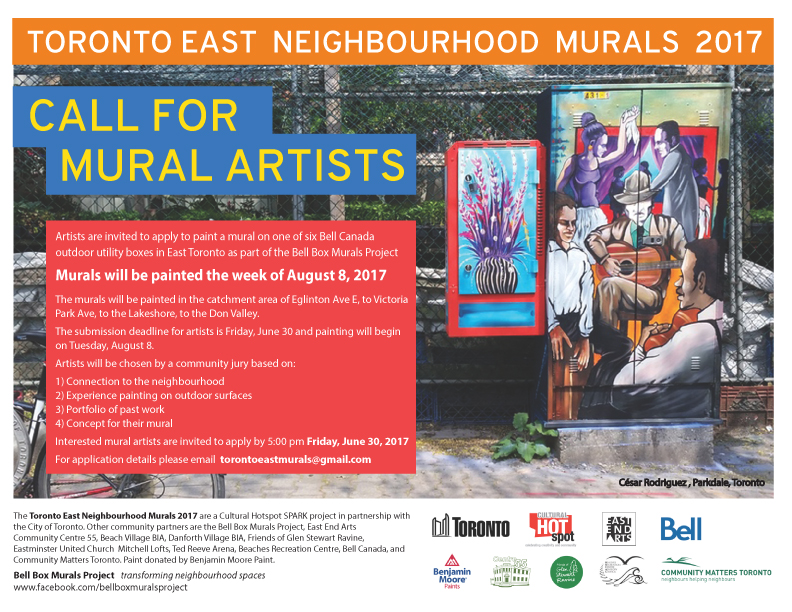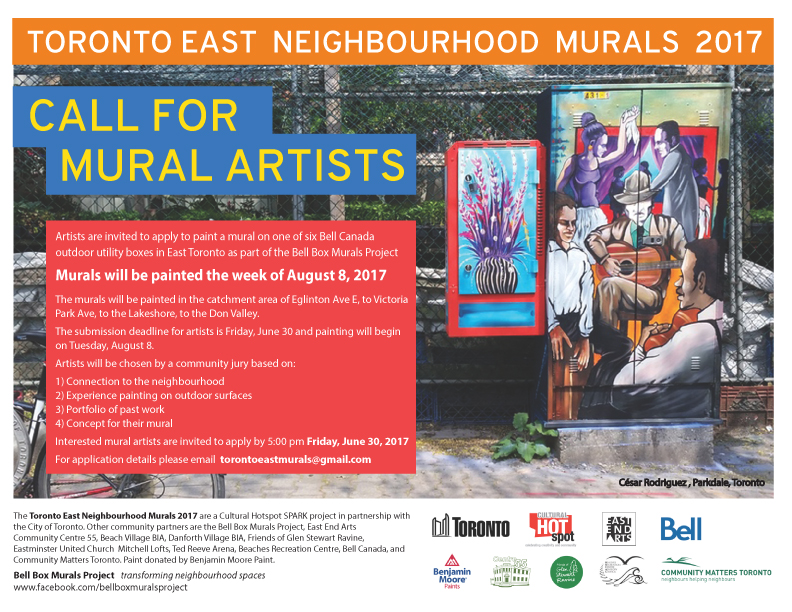 Call for Mural Artists – Toronto East Neighbourhood Murals 2017
The Bell Box Murals Project has an open call to paint 6 Bell box murals in the East end during the second week of August 2017. Local artists are encouraged to apply by June 30 for an opportunity to beautify your neighbourhood!
To Apply
Interested mural artists are invited to send an email to torontoeastmurals@gmail.com to receive full details and the Request For Mural Proposal that includes the selection criteria, box locations, themes, and application requirements.
The submission deadline for artists to apply is Friday, June 30, 2017 at 5pm
---
Artist Selection
For the open call boxes, artists will be chosen by four criteria:
Connection to the neighbourhood
Experience painting on outdoor surfaces
A portfolio of past work
A concept or sketch for the mural
Final artists will be chosen by a jury of community partners. Applicants will be notified of final jury selections on July 12. An unveiling event may be organized by local partners and the Bell Box Murals Project. More details to come!
---
Community Partners
For the Toronto East Neighbourhood Murals, the Bell Box Murals Project is partnering with the City of Toronto's Cultural Hotspot program and Community Matters Toronto, and local partners East End Arts, Community Centre 55, Beach Village BIA, Friends of Glen Stewart Ravine, Mitchell Lofts, Ted Reeve Arena, Beaches Recreation Centre, with paint generously donated by Benjamin Moore Paint.