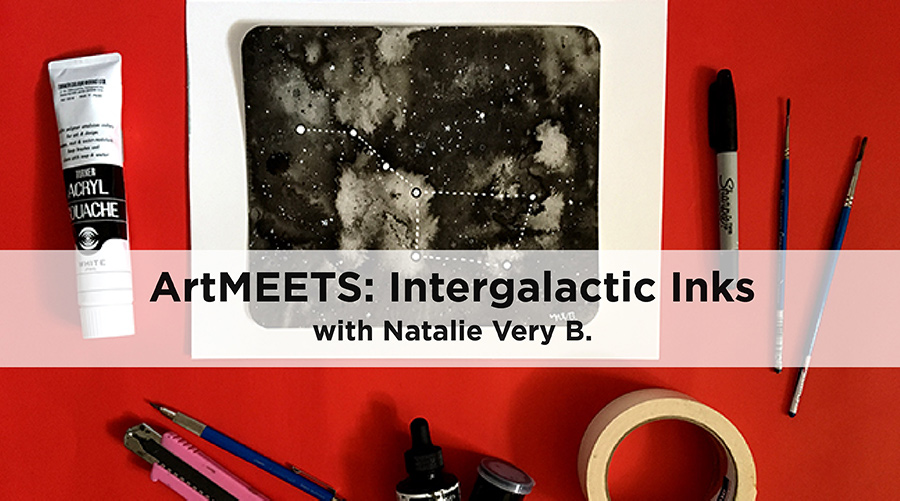 ArtMEETS: Intergalactic Inks!
Facilitator: Natalie Very B.
Saturday, July 20, 2019 | 1-4pm
St. Matthew's Clubhouse | 450 Broadview Avenue
Cost: $10 | Register on Eventbrite
ABOUT THE WORKSHOP
Experiment with India ink to create galaxy-inspired art!
India ink is a highly pigmented medium that can create fabulous textures on watercolour paper to become a magical background for unique intergalactic artwork. Learn about creative techniques such as egg drop, bloom, bleed, wet-on-wet, and more to create your unique cosmic landscape filled with stars, constellations, and faraway galaxies. No art experience necessary!
ABOUT THE FACILITATOR: NATALIE VERY B.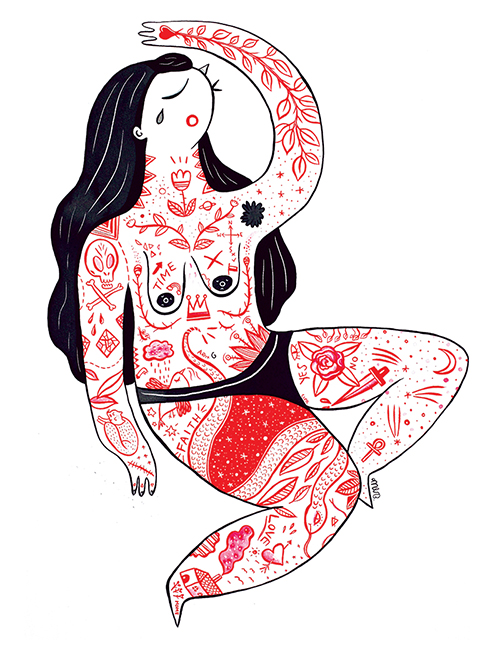 Natalie Very B. is a published award winning illustrator of Polish-Canadian decent. As an immigrant artist she often explores the concept of "home", and the sense of wistful longing and nostalgia that it brings out in her work. Her childhood experience became a strong incentive for her to make illustrations that depict women as beautiful, empowered, and strong. Her current work is devoted to the investigation of whimsical shapes of feminism in today's world.
Website  |  Facebook  |  Instagram
COST & REGISTRATION
In order to continue to support the ArtMEETS program and its facilitators, as well as to offset the cost of high quality art supplies provided during each workshop, each ArtMEETS workshop will be $10. Payment is to be made online at the time of registration, which will be done via Eventbrite. Payments through Eventbrite can be made with any major credit card, or through PayPal.
Unfortunately, East End Arts is not able of offer refunds or exchanges at this time. If you are not able to attend an ArtMEETS workshop that you've registered for, please feel free to transfer your ticket to a friend! If you're transferring your spot to another person, be sure to email them your ticket or hand it to them personally, and let East End Arts know in advance. Thank you!
REGISTER FOR INTERGALACTIC INKS HERE
ENERGY EXCHANGE
To ensure that the cost of each workshop does not serve as a barrier to participation, community members will have the opportunity to participate in an ArtMEETS workshop for free via Energy Exchange! An Energy Exchange is a way for you to pay for an ArtMEETS workshop with energy and time, as opposed to with money. Energy Exchange positions will include setting/packing up tables and chairs before and after an ArtMEETS workshop, participating in an ArtMEETS focus group, and more. Energy Exchange positions will be provided on a first-come, first-serve basis, with preference being given to individuals from low-income households, and/or those who identify as belonging to one or more of the following equity priority groups, as identified by the Toronto Arts Council and the Ontario Arts Council:
2SLGBTQIAP
Indigenous
Francophone
Person of Colour
Deaf
Person with Disability/ies
Person Living with Mental Illness