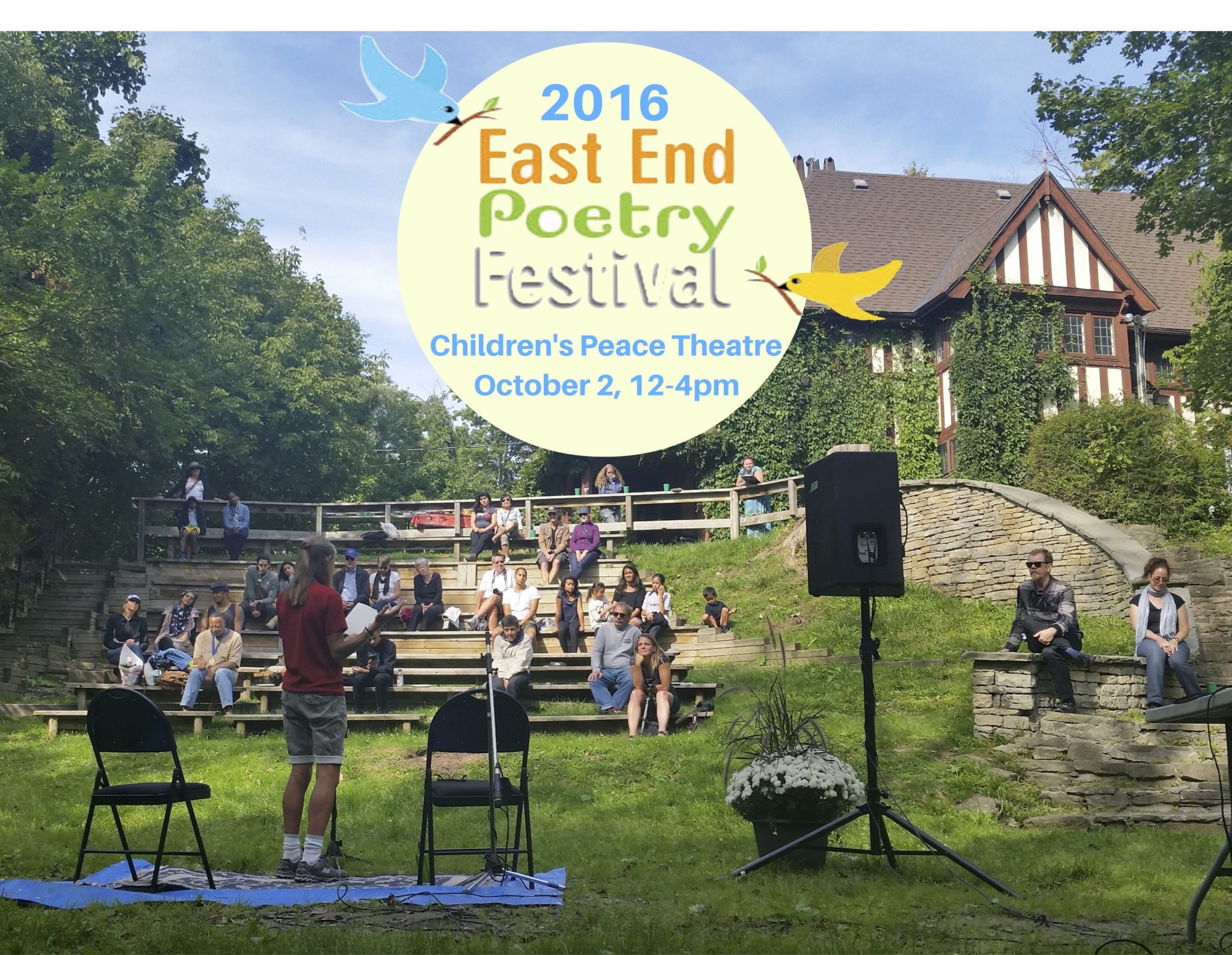 2016 East End Poetry Festival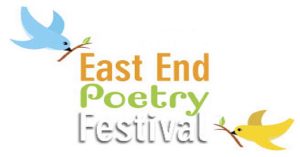 Sunday, October 2, 2016, 12-4pm
Children's Peace Theatre
305 Dawes Road, Toronto
Rain or Shine!
Facebook Event page
The 2016 East End Poetry Festival returns to the outdoor amphitheatre at Children's Peace Theatre on Sunday, October 2, from 12-4pm.
Enjoy an afternoon of poetry and a celebration of language hosted by internationally-acclaimed poet, novelist, and Toronto's Poet Laureate Anne Michaels. With readings by Ruben 'Beny' Esguerra, Shekhor E Gomes, Doyali Islam, and Lena Recollet. Also featuring live music by Liton Kazi and Ruben 'Beny' Esguerra, and a panel discussion with distinguished guests Subrata Das, Sheniz Janmohamed, and Connor Pion, moderated by Anne Michaels.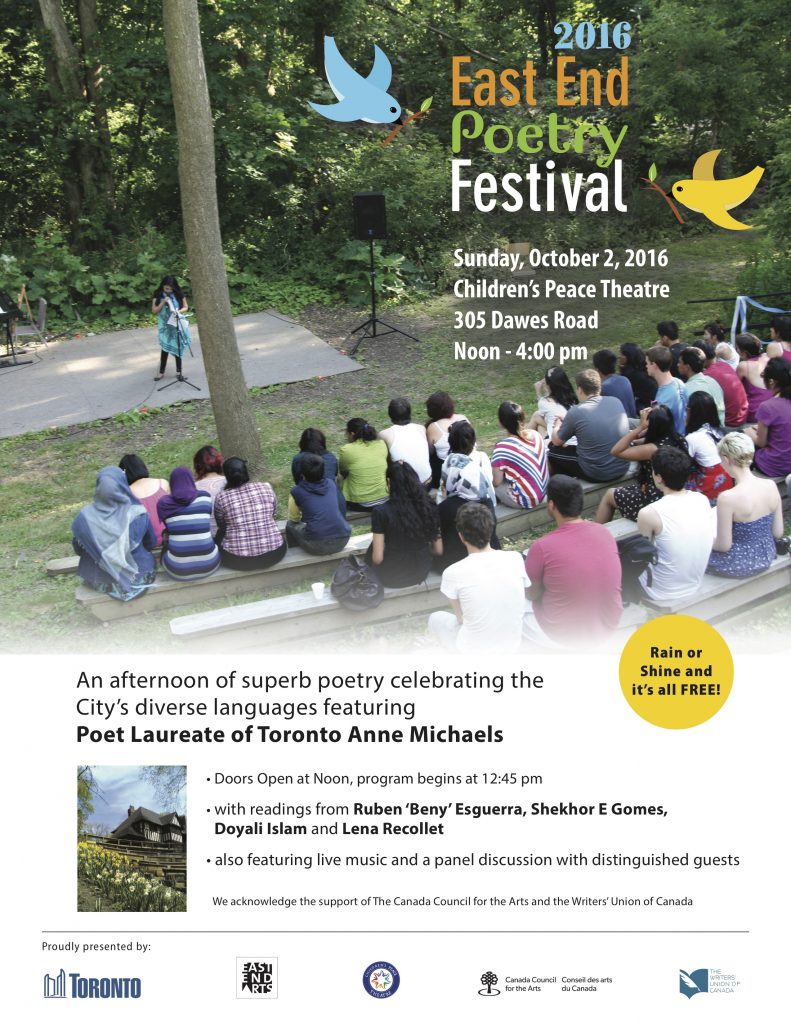 PROGRAM
12:00 pm – Doors Open
12:45 pm – Land Acknowledgement performed by Jamaias DaCosta.
12:50 pm – Toronto's Poet Laureate and Host Anne Michaels welcomes audience to the East End Poetry Festival and shares the importance of this year's celebration of language theme.
12:55 pm – Music by Ruben 'Beny' Esguerra.
1:15 – 2:20 pm – Readings by poets Doyali Islam, Ruben 'Beny' Esquerra, Shekhor E. Gomes, and Lena Recollet.
2:20 – Intermission. Food will be served.
2:25 – 2:45 pm – Acoustic Music by Liton Kazi.
2:45 – 4:00 pm – Panel Discussion with Subrata Das, Sheniz Janmohamed, and Connor Pion, moderated by Anne Michaels.
---
HOST and Panel Discussion Moderator
Anne Michaels, who was born in Toronto, is the author of five acclaimed poetry collections: The Weight of Oranges (1986), which won the Commonwealth Prize for the Americas; Miner's Pond (1991), which received the Canadian Authors Association Award and was shortlisted for the Governor General's Award and the Trillium Award; Skin Divers (1999); and Poems (2000). Michaels was shortlisted for the Griffin Poetry Prize in 2014 for her most recent poetry collection, Correspondences. Fugitive Pieces (1996), Michaels' internationally best-selling first novel, was the winner of the Orange Prize for Fiction, the Guardian Fiction Award, the Lannan Award for Fiction, the Toronto Book Award, among many other Canadian and international awards. Fugitive Pieces was also adapted into an internationally-released feature film. Her second novel, The Winter Vault (2009), was a finalist for the Scotiabank Giller Prize. She has also written works for theatre. Her books have been translated into more than 40 languages.
---
POETS
Ruben 'Beny' Esguerra
Born in Colombia – Ruben 'Beny' Esguerra is a multi-instrumentalist, lyricist and arts educator. As a musician, Ruben leads the 13 piece outfit New Tradition band, created to accompany international artists with some of the most sought-after musicians in Toronto, Canada.
As a composer, he has written original scores for the CBC, City Life Film, Amnesty International, and the National Film Board of Canada. As a lyricist and spoken word artist, he has presented his pieces in festivals held in Canada, Cuba, Venezuela, Colombia, and Chile. Highlights include being commissioned by the Remix Project and the Department of Canadian Heritage to create and perform a spoken word piece welcoming Canadian Governor General Michaëlle Jean to deliver the opening speech introducing the 'Ignite the Americas' conference.
As an arts educator, Ruben has worked at York University teaching and lecturing since the age of 22. Ruben currently facilitates workshops through the Ontario Arts Council's Artist in Education Program bringing drumming and storytelling as a healthy form of self-expression to inner city school as well as schools in rural areas across Ontario. He is currently the Program Coordinator and instructor for the Palisades Media Arts Academy based in Jane and Finch Toronto. Ruben is a PhD (ABD) candidate in Musicology/Ethnomusicology specializing in traditional and urban music.
Shekhor E Gomes
Shekhor E Gomes is mainly an elocutionist whose clear voice and powerful delivery has captured the audience in various programs in Toronto and the GTA. His on-stage presence portrays confidence and gives another dimension to his presentations. Alongside recitation, he is also writing poems. His first poetry book 'Monkolpo' (Verses of Mind) has been published this year by the Bengali Literary Resource Centre.
Doyali Islam
Doyali Islam is the winner of Arc's 2016 Poem of the Year Contest and CV2's 2015 Young Buck Poetry Prize for writers under 35. Her poetry has been published in Grain and Kenyon Review Online, and she has work forthcoming in The Fiddlehead. Her cultural heritage encompasses strands from Bangladesh and also the Middle East. She lives in Toronto, where she writes, interviews, and reviews. Find out more about her through her Facebook page and website.
Lena Recollet
Since the release of her first album, "I Am Woman, Kwe", Lena Recollet has won a Native American Music Award, 2013 for Best Spoken Word Recording and a medal for a nomination of Debut Artist of the Year. She was also triple nominated in 2012 for Aboriginal People's Choice Music Awards: Best Album Cover Design, Best New Artist & Best Pop CD. A multi-talented, driven and vibrant singer/songwriter, captivating with powerful lyrics, sultry spoken word, her poetry is bold in its lure. What makes her unique is her willingness to push herself beyond her limits and on occasion rise to live improvisation. She has had mentorship by Buffy Sainte Marie before opening for her at Phoenix Concert Hall for imagineNative Film Festival's "The Beat", where Lena's film screened prior to the performance.
Most recently, Lena collaborated with poet Just Jamaal on a hip-hop single "What It's All About". The latest collaboration has already aired on Think NDN's (Vancouver) "Never Been Idle"show, CIUT.fm (Toronto) and CHUO.fm (Ottawa). Jamaal is a member of Ottawa group "Missing LinX" who released an album in 2012 entitled "R.I.P. Charlie". Nationless Minds is a new record label on which Lena and Just Jamaal's collaboration "What It's All About" was recorded.
---
PANEL DISCUSSION
Moderated by Toronto's Poet Laureate Anne Michaels.
Subrata Das
Subrata Kumar Das is a writer, editor, blogger, online activist, and organizer of intercultural dialogues and literary activities. He has more than twenty five books and a good number of articles to his credit. He is the initiator of the first website on Bengali literature initiated in 2003. Since his arrival in Toronto in August 2013, as an immigrant, he has tried his best to contribute to the community newspapers and online portals, administered from Toronto, in their literary sections. Along with that, he has attended many literary and cultural programs organized in and outside the community. He has been invited to deliver speeches on several occasions on Bengali literature and culture. His 26th book, a literary non-fiction was published from Toronto last March. Currently, Subrata is working as the Executive Director of Bengali Literary Resource Centre (BLRC), a non-profit literary organization that recently published five books. Subrata is a member of The Writers' Union of Canada, Bangla Academy, Dhaka, Bangladesh and Asiatic Society of Bangladesh, Dhaka.
Sheniz Janmohamed
Sheniz Janmohamed (MFA) is an author, artist educator, spoken word artist, and occasional land artist. She has performed at venues around the world including the Jaipur Literature Festival, TedxYouth@Toronto, and the Aga Khan Museum. She has authored two collections of poetry: Bleeding Light (Mawenzi House, 2010) and Firesmoke (Mawenzi House, 2014). Through Mariposa in the Schools, Sheniz has visited dozens of schools and libraries to teach and perform. She is a firm believer in fostering community through collaboration, compassion, and creativity. In her own practice, she strives to embody her words through performance, mandala-making, and writing in the ghazal form. Sheniz currently serves as a Mentor-Artist for the Digital Media Arts Program at the Royal Conservatory, and when she's not teaching, she's working on her third book— a collection of nature-inspired ghazals. To learn more about her work, visit her website.
Connor Pion
ᐚᒋᔦ ᑵ ᐋᓃ ᐴᔔ ᑕᐣᓯ ᔐᑯ ᑲᓇᕒ ᓂᐣᑎᔑᓂᐦᑳᐢ᙮ ᑳᐏᐣ ᒪᐦᔑ ᓂᐣᑭᑫᓂᒫᐦᓰᐣ ᓂᐣᑑᑌᒼ᙮ ᓂᑕᐢᑭᓇᐣ ᐍᒥᐦᑎᑰᔒᐘᑮᐣᐠ ᓂᐣᑑᐣᒋ᙮ ᓂᒫᒫ ᐅᐱᐨᑎᑮᐠ ᐆᐣᒋ ᓂᐣᑌᑌ ᐊᑳᒪᑮᐣᐠ ᐆᐣᒋ᙮ ᒥᑭᓇᑰᑲᒥᐣᐠ ᓂᐣᑮᑭᐦᑭᓄᐦᐊᒫᑯᓯᔭᐣ᙮ ᐸᐣᑮ ᓂᐣᑕᓂᔑᓂᓃᒧᐏᐣ᙮ ᐊᓬᐁᐠᐢ ᒥᑲᐄᔾ ᓂᐣᑭᐦᑭᓄᐦᐊᒫᑫᓂᓂ ᑭᐦᒋᓇᒣᑯᓰᐱᐣᐠ ᐆᐣᒋ᙮ ᑭᐦᒋ ᒦᑫᐨ ᐊᓬᐁᐠᐢ ᑲᔦ ᑭᐦᒋ ᒦᑫᐨ ᓂᐘᐦᑯᒪᑲᓇᐠ᙮
Waaciye! Connor Pion nintishinihkaas. Kaawin mahshi ninkikenimaahsiin nintootem. Quebec nintoonci kaye Toronto noonkom nintishitaa. Mikinaakokamink nintashikihkinohamaakos, aanti kaa kakwe nihtaa Anishinaabemoyaan. Alex McKay ninkihkinohamaakewinini, Kitchenuhmaykoosibink oonci. Kaawin piiwitekaataken kitanishinaabemowin! Anishinaabemok, kaye Anishinaabemontawishin!
Connor Pion (Cree/Atikamekw/Métis/British/Irish) is a an advocate for and member of Indigenous Language Revitalization initiatives across the city, and has been involved in Anishinaabemowin/Anishininiimowin (Ojibwe/Oji-Cree language) learning, teaching, and programming through The Centre for Aboriginal Initiative's Ciimaan/Kahuwe'yá/Qajaq, as well as a student of Anishinaabemowin Instructor and Senior Lecturer Alex McKay at The University of Toronto since 2009.
---
MUSICIANS
Liton Kazi
Liton Kazi is the lead singer of the Shocking Blue Band of Bangladesh. An IT engineer by trade, Liton graduated from Chayanot Music College in Dhaka and has performed in many large live shows in Toronto and on television.
Ruben 'Beny' Esguerra
(please see Ruben's biography above)
---
This free, family-friendly event is proudly presented by East End Arts, Children's Peace Theatre, and the City of Toronto.