NUIT BLANCHE EAST DANFORTH: IN VIEW CALL FOR ARTISTS
Deadline: EXTENDED to Sunday July 10th, 2022 by 11:59PM
Toronto's sunset to sunrise celebration is the largest contemporary art event in North America – and after no in-person programs for 2020 & 2021, will be back at last in 2022! Thanks to our main partner, The Danforth Mosaic BIA, we're bringing Nuit Blanche back to our East Toronto communities for a second time between Greenwood and Woodbine TTC Stations!
Inspired by the Nuit Blanche theme "The Space Between Us", our thematic focus for our 2022 east end hub is "The Space Beneath Us". Looking down below the sidewalks and sewer grates, we draw inspiration from lost rivers and ancient shorelines, as well as the more recent stories of place, home, and the resurgence of nature. While the veneer of "civilization" begins to peel away, Nuit Blanche East Danforth will invite communities to create and celebrate stories of home, of wilderness, of memory, and of just how deep roots can grow.
This fall, we invite you and your familiars to join us for an impressive storefront gallery series, a silent dance party, neon coyotes in the park, and more! Scroll down to learn more about this IN VIEW Artist Call, and help us transform storefront locations within the Hub area into a series of temporary artistic experiences and gallery installations! We're also looking for business partners and volunteers to join us too!
What is IN VIEW?
IN VIEW is a series of storefront gallery installations which pairs local business owners with artists from across the city to transform their storefront windows for one magical evening under our hub theme "The Space Beneath Us". We invite artists to reflect on what the space beneath East Danforth looks like and means to them. Think of the ancient and buried waterways, the shoreline of Lake Iroquois, the shifting and changing landscapes, and/or how the land has changed throughout time.
Artists are encouraged to keep sustainability at the forefront of their designs, and use and draw inspiration from recyclable materials, household items, and wares that are relevant and/or unique to the respective local business to transform their storefronts.
When is Nuit Blanche?
Nuit Blanche takes place on Saturday, October 1, 2022 from sunset (7:00pm) to sunrise (7:00am). Artist load in time will be negotiated with the prospective host business owner upon selection and matching. Artists should aim not to disturb regular business hours; however, art installation and creation that is open to the community is a great way to build curiosity and excitement for the event. Should your idea include an interactive component for audiences, artists should plan to be onsite or have representatives there throughout the duration.
Other Ways to Engage
BUSINESS PARTNERS!
If you are a business owner and member of the Danforth BIA, you can volunteer your shop window to be a part of IN VIEW Storefront Installations! We're looking for 15-20 businesses who will be paired with an artist to explore the themes and learnings from the geology and geography we call home. If your window isn't appropriate for an installation and you would still like to participate, we invite you to consider extending your business hours to give festival goers the sustenance they need to keep going late into the night. We'll help promote your business on our hub map! 
If you are interested in becoming involved as a business in the Nuit Blanche East Danforth Hub, email Colin at the Danny BIA at info@thedanny.ca, or fill out this Google Form HERE.
VOLUNTEERS!
We're so excited that Nuit Blanche Toronto will be coming to East Danforth for its second time! It will take a village of passionate community members to support the East Danforth Nuit Blanche Hub from sunset to sunrise on the first weekend of October in 2022. Roles vary from Accessibility Assistants, Artist Assistants, Information Ambassadors, Behind-the-Scenes Assistants & more!
Are you interested in volunteering at one of Canada's leading contemporary art events in East Toronto? Learn more and sign-up HERE!
IN VIEW Artist Compensation
East End Arts and the Danforth Mosaic BIA will provide each IN VIEW artist with a $500 Artist Honorarium, inclusive of HST, per window installation, plus an additional materials allowance of up to $200 (reimbursable). 
IN VIEW Artist Support
Access to site-specific storefront locations on Danforth between Greenwood Avenue and Woodbine Avenue;

Professional documentation of your work;

Limited volunteer support with load in and out. If you are proposing an interactive activation, you can request volunteer support to help you run the activation. Please include this in the application;

Media relations support (Note: artists should feel comfortable with media interviews as they may be required to participate);

Marketing and promotional outreach through East End Arts, the Danforth Mosaic BIA and Nuit Blanche networks (social media, e-newsletters and web).
Selection Process
We are looking to activate a minimum of fifteen storefronts in our Nuit Blanche hub along Danforth Avenue. IN VIEW artists will be selected by a committee made up of East End Arts staff members, board members, Danforth BIA board members, and local artists. Priority will be given to artists from EEA's Priority Groups. Proposals will be evaluated based on the viability of the proposed installation, and its connection to our key themes.
Important Dates
Deadline for submissions is July 10, 2022
Results notification will be the week of July 25, 2022
Business matching will take place during the month of August 2022
Artist installation will take place during the week of September 26 – 30, 2022
Nuit Blanche East Danforth 2022 will take place on October 1, 2022 – October 2, 2022
How to Apply as an Artist to IN VIEW
Thank you for your interest in joining East End Arts and the Danny BIA in Nuit Blanche East Danforth 2022! To apply to our IN VIEW Artist Call, please email one single PDF document, which includes your answers and all support material*, to submissions@eastendarts.ca, with the following information:
Name of Artist or Collective
Postal Code
Website (if applicable)
Social Media Accounts
Artist Bio (200 words)
** This bio will be used as promotional material for selected artists.
CV & Headshot
** This headshot will be used as promotional material for selected artists.
Describe the installation that you to want create for IN VIEW 2022.
Please explain how your installation responds to the theme of "The Space Beneath Us".
What materials are required for your installation? Please include a budget for us. (Keep in mind that you will be able to reimburse up to $200 in material costs.)

Does your IN VIEW installation have any logistical or technical needs? Please note we cannot guarantee power to your site. If you require power for any of the components, you must plan for your own self-powered solution and include this in your materials budget.

Does your IN VIEW installation have any volunteer needs? Will you require volunteers to help run your activation or help the public with art making? If so, please provide details

.

Provide 6 examples of your work as support materials. Please include any supplementary audio/visual materials to help us get a feel for the work.
Please confirm if you are a member of any of East End Arts' Equity Seeking Groups:
-Local East Toronto Resident
-Female/Non-Binary Identifying
-Indigenous
-Black
-Person of Colour
-Person living with Disabilities and/or Mental Illness
-LGBTQ2+
-Newcomer
-Senior
-Youth
-Low Income Community Member
-High Density Tower Community Member
-Crescent Town Community Member
-Bengali Community Member
-Francophone
Please send your proposals to submissions@eastendarts.ca, with the subject line "IN VIEW Artist Proposal" by Sunday July 10th, 2022 by 11:59 pm.
*Proposals should be in one single PDF or Word document. Supplementary audio/visual materials can be included as email attachments or external links.
If you have any questions, please contact Nikki Cajucom, Program Manager, at nikki@eastendarts.ca. No phone calls, please.
We are eager to receive your proposal. If you have any barriers to participation with this Call for Proposals, please email us explaining your situation and we will do our best to accommodate you!
Deadline for submissions: July 10, 2022 at 11:59PM.
Funder
THE DANFORTH MOSAIC BIA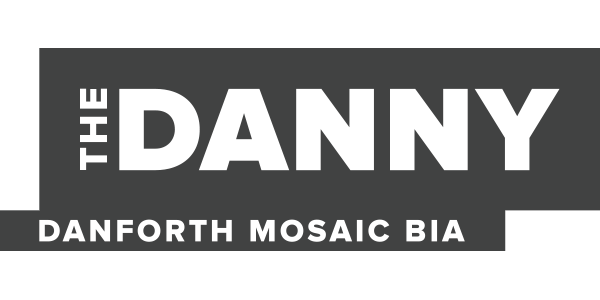 The Danforth Mosaic Business Improvement Area (BIA) was formed in 2008 with membership comprised of commercial property owners and business owners on Danforth Ave. between Jones and Westlake. The BIA works in partnership with the City to create thriving, competitive, and safe business areas that attract shoppers, diners, tourists, and new businesses. Their vision is to create a vibrant and well-maintained business area with diverse shopping and dining opportunities and services to attract the local community as well as visitors.