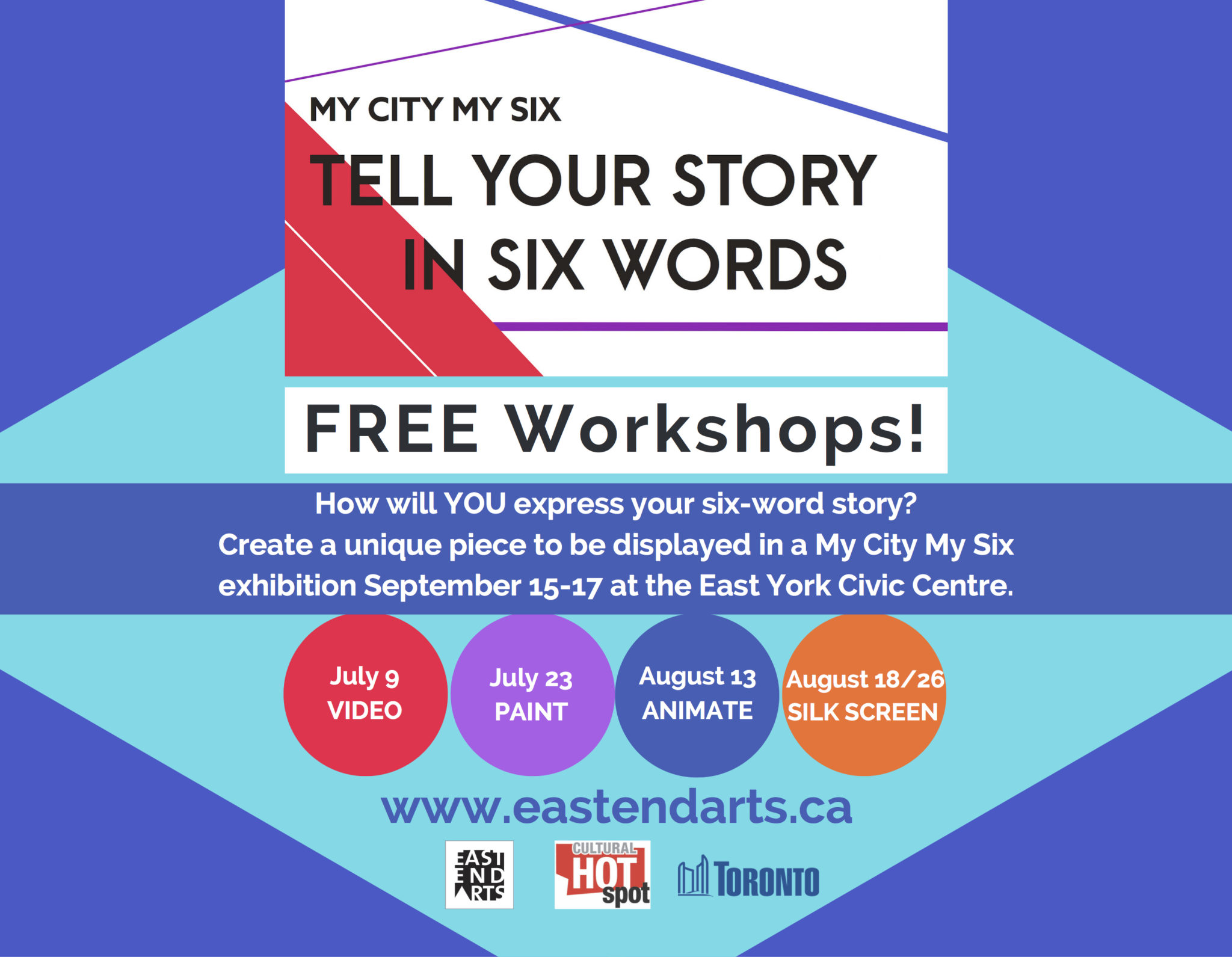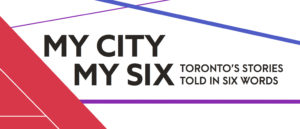 My City My Six is a participatory public art project that will reveal Toronto and its residents in celebration of Canada 150, six words at a time. The My City My Six project asks Torontonians of all ages and backgrounds to share something essential about themselves in six words.
This project is led by Toronto Arts and Culture in collaboration with the city's six Local Arts Service Organizations. Stories have been collected through emails, workshops, and events. A jury, including Toronto's Poet Laureate Anne Michaels, will select stories to appear in the exhibition, which will include transit shelters, transit interiors, billboards, and other public spaces. Local galleries, businesses, and public spaces will also be animated as part of the exhibition in September and October 2017.
---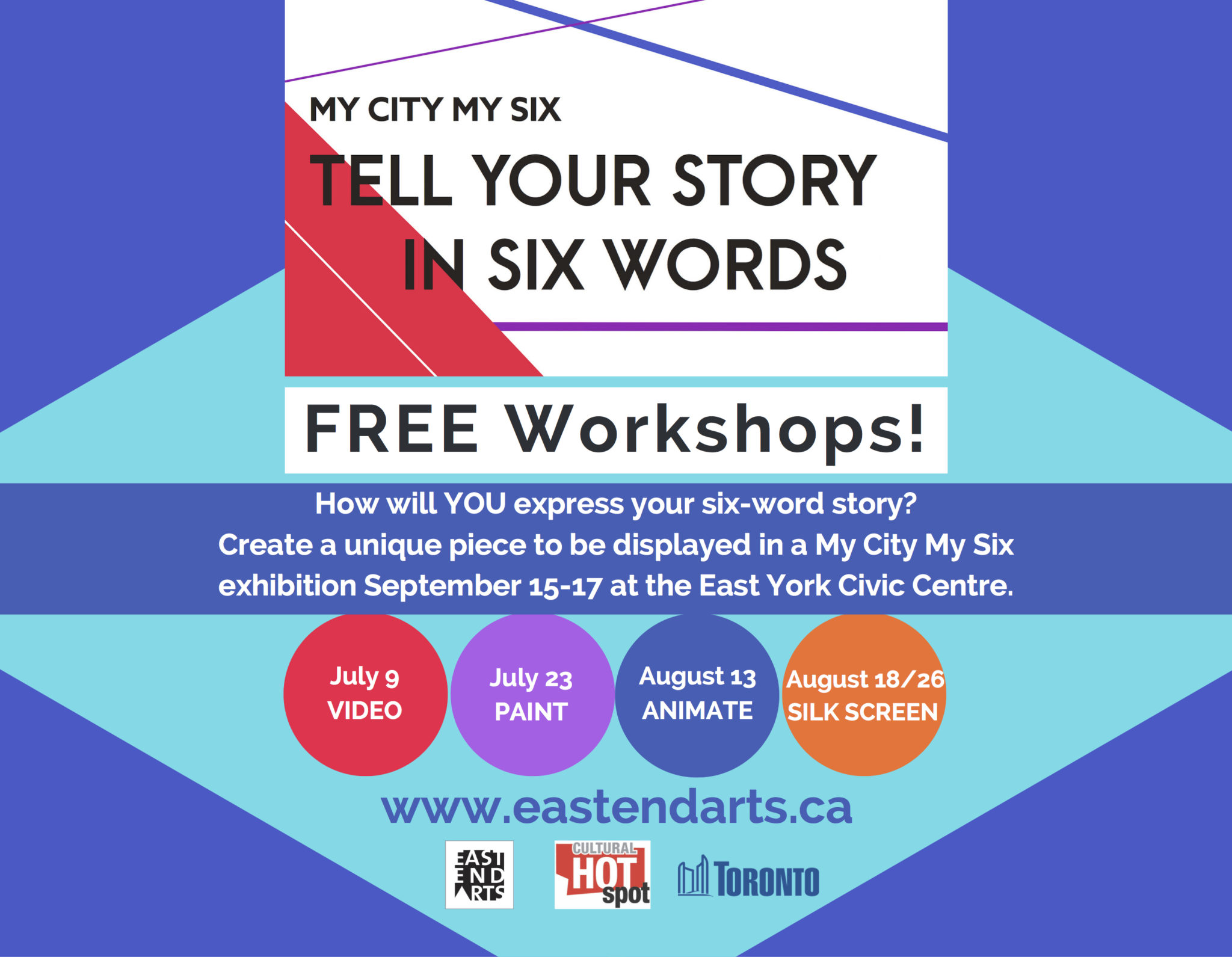 WORKSHOPS 
Take your story to the next level! East End Arts invites all those those who have submitted a story to the My City My Six project to join in a creative workshop to transform your words into a personal piece of art. All the pieces developed during these workshops will/can be included in the My City My Six exhibition at the East York Civic Centre from September 15–17, 2017 during the Weekend of Words. Please choose one of the following mediums to turn your written words in a unique visual expression and register for a workshop through the form below.
1 – Video Recording
July 9, 15 min. spots between 11am–2pm: Share your story on camera at Centennial College's Story Arts Centre
You're invited to be part of a video collage of people sharing their six-word stories on camera. They will be edited together to showcase the variety of stories people have written, and will be shared at the My City My Six exhibition at the East York Civic Centre from September 15-17, 2017. All languages welcome! 
*check out an EXAMPLE VIDEO
---
2 – Batik/Paint Workshop
July 23, 1–2:30pm OR 2:30–4pm: Add a visual component  to your story at Fresh Paint Studio + Cafe
Two fun and creative workshop options are available to help you turn your six-word story into a visual work of art. Join in a facilitated workshop creating a watercolour batik from 1-2:30pm OR be guided by your inspiration at a drop-in session from 2:30-4pm.
---
3 – Animation Workshop
August 13, 12–4:30pm: Animate your story, using creative technologies at ArtCave 
Learn to create video animation of your six-word story using tools and techniques like clay, paper, video editing, and drawing. Explore the world of animation in this workshop!
---
4 – BYOF (Bring Your Own Fabric) Screen-Printing Workshop
August 18, 1–4pm: Screen-Printing at Areej Art Gallery
August 26, 1–4pm: Screen-Printing at Artisans at Work
Do you have a piece of fabric you'd like to turn into a personalized piece of art? Join East End Arts and the inPrint Collective in a BYOF (Bring Your Own Fabric) screen-printing workshop. You'll learn the ins and outs of screen-printing, and have the opportunity to screen-print your six-word story onto a unique and personal piece of fabric.
For exhibition purposes, the following fabric specs are recommended:
Cotton, polyester, and muslin will work best. Any fabric that is not textured or has no shine will also work.
Plain fabric with little print will work best.
The maximum fabric size is 20" x 20".
Don't have any fabric? No worries! We will have blank muslin available for you to use.
---
Other Ways to Participate
Video Submissions – Can't attend a workshop but still want to share your My City My Six story in a recorded video message? Please submit your video through the form below for consideration in the exhibition, or email it to info@eastendarts.ca with the subject line: "My City My Six exhibition video submission".
Please include:
your six-word story
your first name (or you can choose to submit anonymously)
the name of your neighbourhood
your age
please ensure your video is shot horizontally and that the audio is clear. All languages welcome!
** in sharing your six-word story with us, you are consenting to East End Arts sharing your story in a public exhibition.
Beyond Six Words – At the Opening Reception of the My City My Six exhibition on September 15 at the East York Civic Centre, East End Arts will create the opportunity for individuals to share their inspiration and story behind the six-word stories they have submitted. If you are interested in participating and sharing your story in more detail, please complete the form and we will be in touch with further details.
---
REGISTER – Please choose one of the workshops and complete the form below:
Thank you for your interest in the My City My Six workshops. Registration is now closed. 
---
Exhibitions
East End Arts will be creating a local exhibition of six-word stories from the submissions received, and is hosting workshops in a variety of artistic disciplines to encourage participants to turn their stories into creative pieces of art.
The My City My Six exhibition is on display at the East York Civic Centre from September 15–17, 2017. The launch event will be in the evening of September 15, and the exhibition will be on display throughout the Weekend of Words, a series of literary events presented by East End Arts.
---
Community Partners
Many local coffee shops and cafes in the east end have joined the My City My Six initiative as community partners. Stop in for a hot beverage and friendly atmosphere to inspire your six-word story.
---
---
---
Here are some local sample six-word stories:
"From this soil, I grow roots."
– Adrienne, 33, Greenwood and Danforth

"Immigrants Made a First Generation Canadian."
– Stephanie, Todmorden Village

"Spring: hockey-stick farms are sprouting again."
– Jessica, 37, Upper Leslieville

"The best Neighbours and Miracles unleashed."
– Mark, 60, Main/Danforth