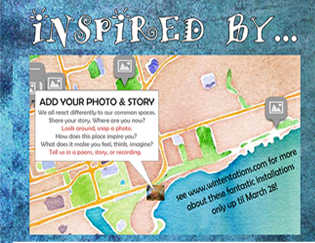 Workshop: Inspired By…Winter Stations
Thursday, March 19, 2015
1:00pm – meet in the parking lot of the Balmy Beach Club
1:10pm – the walk along the "Winter Stations" at Kew/Balmy Beach begins
2:00-4:00pm – workshop at 1934 Queen Street East (former "Binz" shop)
Join artists from East End Arts in a walk along the "Winter Stations" on Kew/Balmy Beach, followed by a fun story-telling workshop. Your snippets of inspiration will be included in the digital story map "Inspired By…"
"Winter Stations" showcases five winning designs that have temporarily transformed lifeguard stands along Key/Balmy Beach into creative art installations that are on display for the public to enjoy until March 28.
To participate in the workshop, meet at Balmy Beach Club (at the foot of Beech Ave) at 1 pm. The group will leave at 1:10 sharp! The workshop will be held at 1934 Queen Street East (former "Binz" shop @ Queen & Elmer).
Family-friendly! Free!
For questions or to register, please email: info@eastendarts.ca
If you can't make the workshop, but would like to explore or participate in the Inspired By… digital map project, you can find out all the details and how to submit your story HERE. How does the east end inspire YOU?