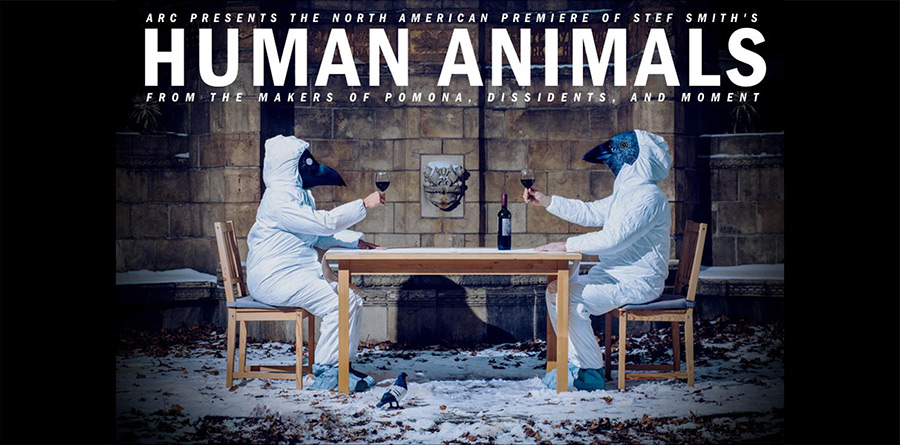 HUMAN ANIMALS ON NOW!
Since January 21, 2019, ARC theatre has been busy transforming our upstairs space at St. Matthew's Clubhouse for their newest show, HUMAN ANIMALS. A timely and provocative play about humankind's precarious place within the natural world, this is the first theatrical piece to be performed in our new home and we're so excited to have our communities come and see it!
From February 22 to March 16, 2019, HUMAN ANIMALS will transport viewers to a dystopian London in the near future, overrun with high animal and rodent populations – the mice are scratching between walls, the pigeons are diseased, and the foxes are beginning to rule the streets. The problem is growing – it's contagious!
Come join us! This is a show you won't want to miss. Visit www.arcstage.com for more information! Seats are very limited, so we encourage viewers to purchase their tickets online, in advance. Warning: This play features loud abrupt noises and brief strobe lights.
Dates: February 22 to March 16, 2019 (showtimes listed further down)
Location: St. Matthew's Clubhouse, 450 Broadview Avenue
Cost: Pay-What-You-Can-Afford ($5-$50)
Buy Your Tickets Online Today: humananimals.brownpapertickets.com
HUMAN ANIMALS is a dark and funny take on humanity's precarious place within the natural world – a world we've stretched to the breaking point. From Stef Smith, one of the UK's most exciting young female dramatists.
Featuring:
Aviva Armour-Ostroff
Deborah Drakeford
Carlos González-Vío
Ryan Hollyman
Andre Sills
Arlen Aguayo Stewart
Creative Team:
Writer: Stef Smith
Director: Christopher Stanton
Stage Manager: Tamara Vuckovic
Set & Lighting Design: Nick Blais
Costume Design: Jackie Chau
Choreography: Sarain Carson-Fox
Photos by Tanja-Tiziana
Video by Mallory Brown
Follow along on Social:
Facebook: @arcstage
Twitter: @arcstage
Instagram: @arcstage
Hashtag: #HumanAnimalsTO
Upcoming Showtimes:
Wednesday February 27, 2019: 8:00 pm
Thursday February 28, 2019: 8:00 pm
Friday March 1, 2019: 8:00 pm
Saturday March 2, 2019: 2:00 pm
Saturday March 2, 2019: 8:00 pm
Sunday March 3, 2019: 8:00 pm
Tuesday March 5, 2019: 8:00 pm
Wednesday March 6, 2019: 8:00 pm
Sunday March 10, 2019: 8:00 pm
Tuesday March 12, 2019: 8:00 pm
Wednesday March 13, 2019: 8:00 pm
Thursday March 14, 2019: 8:00 pm
Friday March 15, 2019: 8:00 pm
Saturday March 16, 2019: 2:00 pm
Saturday March 16, 2019: 8:00 pm